Learn the best changing table dressers for your baby!
I have twins so while I perfected the art of changing my babies anywhere, I also appreciated the importance of a good baby-changing station.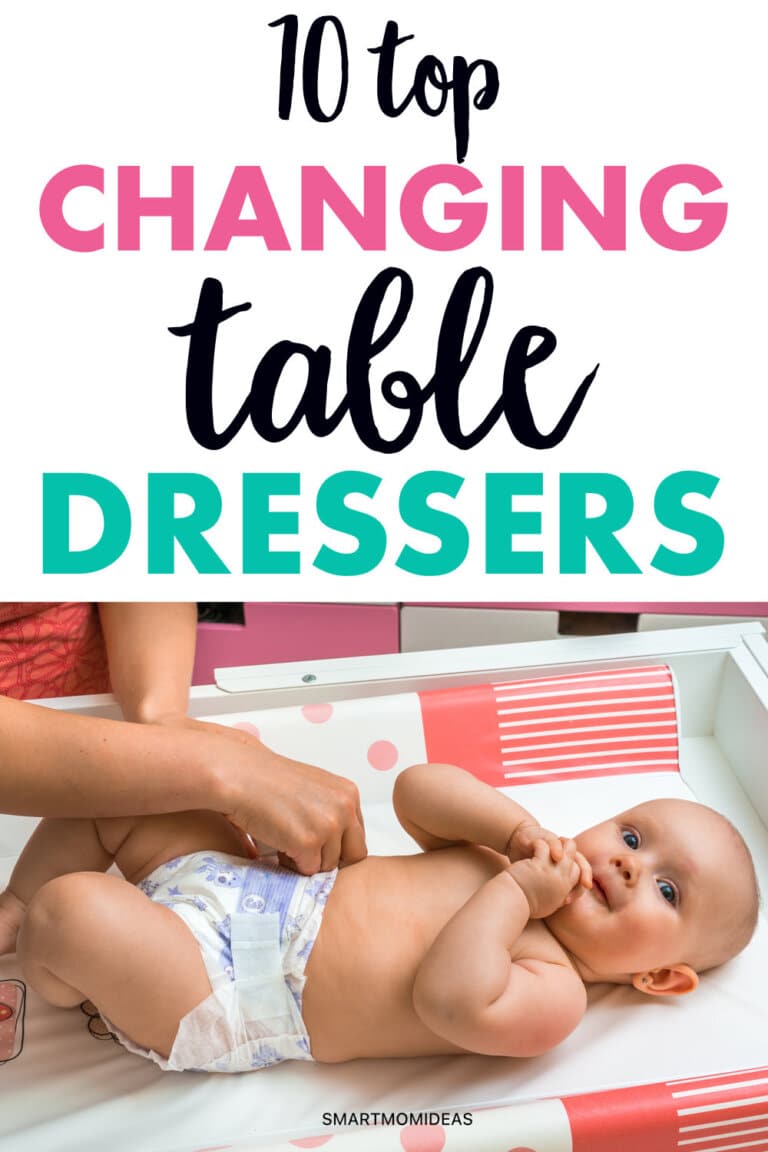 As long as your baby is safe from falling or other injuries, you really can change them anywhere. Many moms opt not to invest in a changing table for this reason.
However, there's something to be said about having all of your diaper-changing supplies in one place!
This cuts down on the panic of running around your home gathering up diapers, wipes, creams, and clean onesies for leaks and blow-outs.
If you're wrinkling your nose at the idea of buying a piece of furniture dedicated solely to diaper changes, have you ever thought about a changing table dresser?
Instead of wasting space on a changing table, you can combine the convenience of having one with the invaluable storage a dresser provides.
Bonus: Most of the changing table dressers on this list are convertible!
That means you can remove the changing tray and continue to use the dresser as your little one gets older.
So before you nix the idea of having a changing table, keep reading to learn more about the top changing table dressers for your baby.
But, first, a word on safety.
Tips For Choosing a Safe Changing Table
I see so many dresser changing tables put together by simply throwing a changing pad on top of a dresser.
This is why I wanted to show you the top changing table dressers for your baby – they are made with safety in mind!
But not all dresser changing tables are made the same.
Before you buy one, make sure you follow these four tips:
Check the safety strap. A changing table should have a pad that affixes to the top of the dresser with a safety strap to hold your little one in. It only takes a moment to turn around and reach for something for your little one to roll over and fall.
Look at the storage: Apart from wanting extra space to store things, open shelves may tempt your curious toddler. Drawers are great because they are closed and easy to access as you're changing your little one.
A good changing table will have barriers on all four sides of the pad if the changing pad is flat. Contoured changing pads only require barriers on two opposing sides.
Dresser height. How tall the dresser is could make a difference when it comes to bending and back pain. Also, dressers are climbing hazards so you want to make sure you secure them to the wall (many of the dresser changing tables in this list come with anti-tip kits).
With these tips in mind, let's look at the top changing table dressers for your baby!
The Best Baby Dressers With Changing Tables
1. Dream On Me Modern Changing Table and Dresser
This beautiful baby changing table dresser comes in three different colors and features a safety rail as well as a changing pad and restraining strap.
The three drawers are easily accessible and spacious enough to hold all of your little one's clothes and changing table essentials!
All the tools you need to assemble this dresser changing table are included and it is also CPSC certified – meaning it is compliant with consumer product safety requirements under federal law.
2. 6-Drawer Changing Table
This dresser changing table is eco-friendly dresser and has six easy-to-pull-out baskets.
The six roomy baskets are perfect for storing clothes, diapers, wipes, and anything else you need on hand when changing your little one.
The topper ensures that the changing pad stays firmly in place so diaper changes are both easy and safe.
3.
DaVinci Jayden 3-Drawer Changer Dresser
The DaVinci baby dresser with changing table has a more modern look with straight lines, profiled doors, and ceramic knows.
The top of the changing table is built for safety with rounded contours and a secure front panel. It is also made with non-toxic laminated particleboard, making it both sturdy and eco-friendly.
4. Babyletto Gelato 3-Drawer Changer Dresser

The name of this dresser changing table is super cute and the color is a perfectly soft shade of pink! You can customize this dresser with additional feet and knobs in a variety of colors (that are sold separately).
Included with this baby changing table dresser is an anti-tip kid for added safety.
The changing tray is also removable so you can keep using the dresser even as your baby gets older!
The Babyletto changer dresser is made with pine and is lead and phthalate-safe with a non-toxic finish.
5. Ikea Hack Dresser Changing Table
You can still make your own baby changing table dresser as long as you make sure the changing pad is secured to the dresser.
The changing pad used here is a secure-grip changing pad with contoured sides. So, really, you can just add one of these to any dresser!
But there's something fun about Ikea hacks and with their huge selection of furniture, it's super easy to find something that fits your style and decor.
6. Storkcraft 4-in-1 Convertible Crib Changer
If you're looking to maximize your nursery's space, definitely check out this 4-1 convertible crib changer from Storkcraft!
As a crib, it features an attached changing table with three drawers for lots of storage. It can then be changed to a toddler bed and a full bed.
When you think about it, this very well could be the only bed you ever need to buy for your child. The mattress height is adjustable to grow with your little one and the material is durable enough to last for years.
7. South Shore
Tassio Changing Table
This nautical-style changing table with a farmhouse rustic look.
It features three large drawers as well as a wall-anchor kit for added safety.
Just keep in mind that the changing pad and other accessories are not included.
8.
Babyletto Lolly 3-Drawer Changer Dresser
This dresser changing table has a very classy and clean look!
The changing station is removable on this one which is an added bonus.
This Babyletto has all the safety features as well: rounded contours, secure front panel, and non-toxic laminated particleboard.
9. Delta Children Sutton 3 Drawer Dresser
Here's another baby dresser with changing table that's the Amazon's top choice.
This one has three deep drawers for ample storage.
Like many changing dressers, this one is also CPSC accredited and includes an anti-tip kit with safety-tested mounting hardware.
10. Babyletto Hudson 3-Drawer Changer Dresser
I really couldn't resist adding this one onto the list – just look at that retro style!
This dresser changing table from Babyletto features a removable changing tray, three drawers, and one cabinet with an inner shelf.
Despite the retro look, this changing table is made with pine and hidden hardware so it has a clean and sleek look. It also comes with an anti-tip kit and is made with non-toxic finishes.
What Should I Store in My Baby Dresser with Changing Table?
Because you have a dresser handy, it would make sense to store some onesies and pajamas in the drawers. You never know a diaper leak or blowout is going to necessitate a wardrobe change!
You'll also want your diaper-changing essentials. Even though your baby is safely strapped into the changing pad, it's important to have what you need on hand so you don't have to leave your baby unattended.
Here are some essentials you should keep in your dresser changing table:
Diapers
Wipes
Baby Lotion
Toys and Soothing Items (not all babies like to have their bums changed!)
Grooming Kit (why not trim their nails while you're at it?)
Small Blanket
Diaper Pail
With the added storage a changing table dresser provides, you're ready to tackle diaper changes like a pro!