Ready to sign up with the best baby registry there is out there, mama? Look no further! Sign up for your Amazon baby registry today!
Creating a baby registry is a simple, fun, and easy way for your family and friends to send you the gifts you want and need for your baby.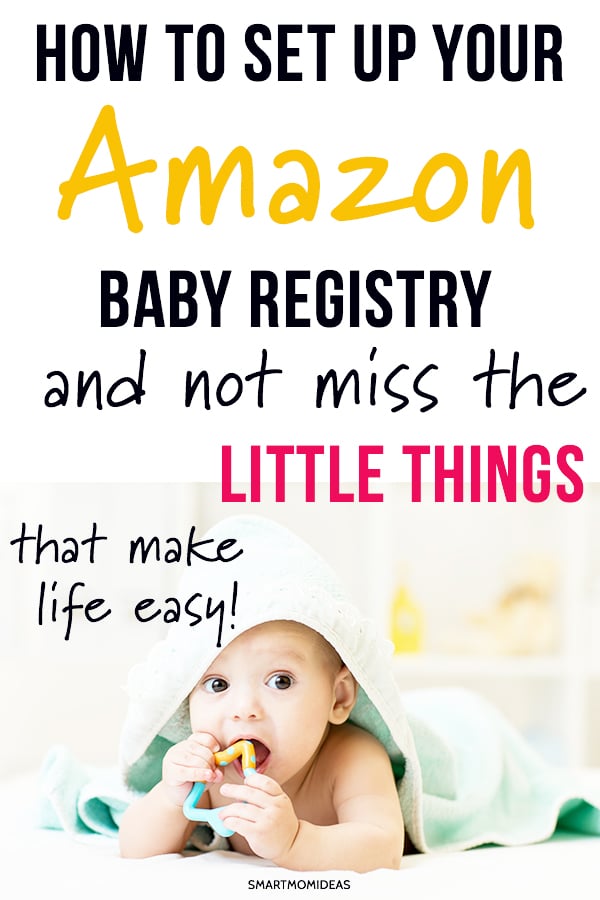 Your little one is going to need so many different things for his or her arrival that it can be hard to pick just one store to register with.
Thankfully, Amazon's baby registry makes an expecting mother's life SO much easier. I mean, I guess it's a no-brainer for those of us who are obsessive Amazon shoppers.
But, if you're not familiar with Amazon or its baby registry, let me first share some benefits to setting up your baby registry with Amazon:
Large selection – Find exactly what you need in their selection of millions of products
Mobile Friendly – Manage your baby registry from any portable device
Generous return policy – You have 90 days from receipt of shipment to return most of your items
Discount – Get a one-time 10% discount on select remaining items in your registry
Special discounts to Prime members – If you're already a Prime member, you'll enjoy rotating limited time offers
FREE welcome box to qualifying registrants – For parents and baby- $35 value.
Gift splitting – This allows your friends and family to collectively chip in to buy you those higher priced items you need.
Shop on other websites! – The Amazon Assistant allows you to shop on other websites and add those items to your baby registry.
Enjoy a wide range of prices – Find the prices that work for you!
As you can see, Amazon makes it all so easy, mama! The convenience and selections you have are incredible!
Amazon is also unmatched when it comes it providing outstanding shipping speeds and customer service.
Create Your Amazon Baby Registry
Go to Amazon's Baby Registry homepage and click "Get Started"
Complete the form that asks for the following information:
Your name
Email address
Expected due date
Address where you would like your gift shipped to
Then click the button that says "Create My Baby Registry. Once that step is done, your registry is now set up! Now all you need to do is shop on Amazon as normal.
To add items to your registry, click on the item you would like from the main search page. Look to right of the item displayed. Underneath the pricing and shipping information, you'll see the "Add to Cart" button. The third button down from there, you'll find the "Add to Baby Registry" button. Click that button.
After you click, a page will come up confirming you've successfully added that item. The page will also display information about items you've already added to your registry. You'll also notice Amazon's suggestions about similar items you may like.
What Should I Add to My Baby Registry?
I thought I had done some pretty intense planning for my delivery. But after my twins arrived, I realized there were more than a few things I wished my hubby and I had gotten ahead of time.
Although I did go on to by them after the delivery, I only wished I had known sooner how much certain items would save my life!
Use this handy checklist to help make sure you don't forget any important items for you or baby.
For Baby
Diapers
Diapers always seem to be at the top of the list, huh! It's because babies go through so many of them.
Whether you're going to use cloth or disposable, get ready because this recurring baby expense will last at least the first couple of years.
For that reason I'd recommend you start doing some research early to see what brand is the cheapest.
Baby Wipes
The cost is usually less steep if you buy them in bulk.
Blankets
Blankets are good for tummy time, when you're holding your baby, or to cover baby in the car seat. Just remember it is NOT recommended to cover your infant with a blanket when you lay him or her down to sleep.
It's a safety hazard and can lead to suffocation.
Infant Car Seat
Make sure your baby's car seat is rear-facing and properly installed. It can definitely be confusing so if you need a hand, check to see if there are any places in your local community that teach parents how to install their baby's car seat properly (free of charge!)
Diaper Bag
This is also a great place to store your maxi pads or other healing essentials for you when on the go, mama!
High Chair
Your newborn won't need this yet, but down the line FOR-SURE! Rather than try prevent every food mess, you'll eventually have to put them in their high chair and let them learn to feed themselves.
Clothes
Newborns grow really fast. And thus, they won't be in the same size for very long. But they also spit up alot and are prone to give you your fair share of blow out diaper surprises. 🙂
Here are some of the clothes to stock up on for your baby:
Onesies (long and short sleeve)
Sleepers (baby pajamas)
Baby outfits
Head Caps
Keeping baby's head warm is extremely important. But, like socks, it's hard not to lose them. Keep one in your diaper bag, a couple at home, and have a couple back-up caps.
Socks
Almost every family I know has a crisis revolving around socks. And gee, was it ever in our home too?!
Mesh bags help to keep the socks in one place before and after washing and drying them. The bags can be washed in the washer to keep your little one's socks together. In my opinion, this is a must!
Burp Cloths
Unless you want to change your shirt and baby's entire outfit three or more times per day, you need to keep quite a few of these around where you can reach for them quickly.
Cute Hair Bands and Accessories
If you're having a boy, you can skip the pretty hair bows. 🙂
But if you're expecting a girl, you can buy a selection of colors that will look adorable with many different outfits. If you plan on having newborn photos taken, choosing the outfit and accessories ahead of time is a smart move.
Baby Bath Supplies
Here is the most basic baby bathing items you'll need:
Bath washcloths
Baby towels
Baby body wash
Baby shampoo
Toy floaties
Baby hair brush and comb
Receiving Blankets
There will never be a shortage of times when your receiving blankets will come in handy. They're a great protective layer against germs when you're changing baby in public, for burping, or just for keeping your outfit clean when you're feeding baby.
Stroller or Baby Carrier
A stroller or baby carrier will help you a lot after baby is here. Strollers are a convenient way to transport baby, the diaper bag, and anything else you may have.
Keep in mind that some mothers like the thought babywearing. But I've found it's not for every mother as the extra weight on your body may only add stress and discomfort rather than relieve it.
Bassinet or Crib
If your baby will be sleeping in a crib, make sure you have a fitted mattress cover and no blankets to prevent SIDS (sudden infant death syndrome).
Contrary to what many believe, babies are more safe to sleep without anything in their crib at all. Experts recommend avoiding crib bumpers, blankets, toys, and all other objects that may lead to suffocation.
Rocking or Arm Chair
By no means is this an essential item. But it does provide comfort while your nurse your baby, reduces back pain, and creates a special bond between you and baby while they're on your lap.
Diaper Storage
Like most mothers, I found out quickly that motherhood is a lot less stressful when you have some sort of system and basic organization.
A diaper caddy will keep diapers and all other little things in one place so you don't have to spend time looking all over for them.
Laundry Detergent
Since your baby's skin is so sensitive, you'll want to use something other than what you use to wash your own clothes.
Baby detergent is dermatologist tested and is free of dyes and other chemicals that can easily irritate your baby's skin.
Baby Hygiene Kit
All of your baby's little items must have a place to 'live'. I can't count how many times I went in to find something for the twins and it was nowhere to be found. I was even more frustrated having to buy the same thing a second (or third!) time.
A simple toiletry bag is a great place to store things like your baby's diaper cream, nail clippers, body lotion, etc.
Baby First Aid Kit
Similar to the hygiene kit, you'll need a separate place to keep only first aid items such as:
For Nursing Moms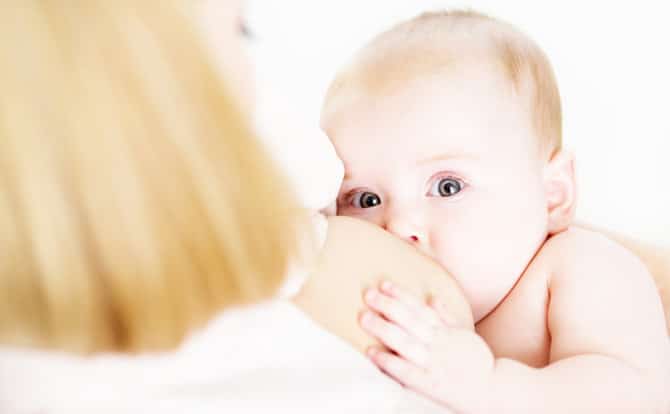 Planning on breastfeeding, mama? Here's what you'll need:
Breast pump
Nursing pads
Nipple cream (consider waiting to buy until you discover you do actually need it)
Baby bottles
Breastmilk storage bags
For Formula-Fed Babies
Baby Bouncer or Walker
When your baby gets older, a baby walker or bouncer will keep your baby entertained and allow them to get the stimulation and exercise they need.
It will also give you a chance to get a few extra things done while they're contained and content. 🙂
Pacifier
Funny thing is that while some babies cling to a pacifier, others just don't want it at all! Every baby is different. I'd suggest only buying one at first to see if your baby takes well to it.
Boppy
Breastfeeding made easier! Boppy pillows help support baby to feed at your breast while you're in a comfortable position. This will help prevent back pain from slouching or leaning forward. Especially as your baby grows!
For New Mom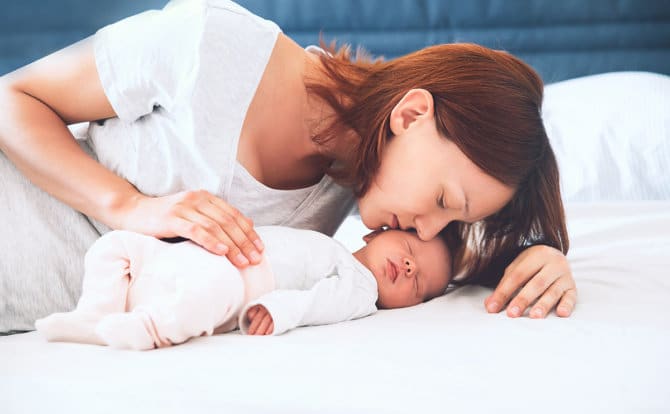 Nursing Bras
Try to avoid bras with underwire as this may cause more discomfort. Also, your body changes a lot during the postpartum period. I wouldn't buy to many bras (maybe only a couple).
You can always shop after you have your baby to make sure you're buying the right sizes.
Nipple Cream
I added this to the list as something to buy if you need it. There really is no way to tell before you have your baby.
Dry, cracked, or bleeding breasts are a nightmare…but not every mother experiences these symptoms. Do your best to prevent this by making sure you baby has a good latch every time you breastfeed.
Maxi Pads
With vaginal births, it takes a number of days for the bleeding to stop. With each passing day, your bleeding will start to look more like that of a period until it stops all together.
Don't stock up on too many pads, as you can always get more later as needed.
Comfortable Big Underwear
I wouldn't stock up too many of these underwear at all. They give you extras at the hospital if you ask.
You shouldn't really need them after about a week. They just come in handy so you don't get blood stains on your nice underwear. They also give you room to breathe in your lady parts so you don't irritate your stitches (if you have them).
Nursing Pads
You may or may not end up needing these long term, mama. About the third day after having baby, your breasts may become engorged and may start to leak even when you're not pumping or breastfeeding. Nursing pads stop the milk from leaking all over your shirt.
Nursing Tops
Breastfeeding is more relaxing when you don't have to lift up your entire shirt. Even at home! Have at least a few different sexy maternity breastfeeding tops that make you feel gorgeous.
Water Bottle
Drinking enough water is an absolute must. Especially to keep up a healthy milk supply. A special water bottle will motivate you to stay hydrated throughout your breastfeeding journey.
Stool Softener
The inability to poop is a miserable experience. Not to mention, if you had your vaginal area stitched up. Keep stool softener on hand because the last thing you want is to be constipated.
Witch Hazel Pads/ Tucks
Line your maxi pads with a couple witch hazel pads to relieve itching, swelling, bleeding, and minor pain. These are over the counter and can be used to speed up your recovery from a vaginal birth.
Quick Meals
Simplifying meals will allow you more time to rest and bond more with your baby.
That may look like premade frozen dinners or homemade meals you prepare in advance to store in your freezer. Investing in an Instant Pot is worth every penny because it doesn't require you to do a lot of standing in the kitchen.
You'll also be able to multitask while you cook and not have to worry about burning your food.
For more help, here are 25 Instant Pot recipes for the family.
Paper Plates and Plastic Silverware
Instead of seeing this as an added expense, try to see it as a component of your recovery process.
You don't want to be pressed to do things that aren't absolutely necessary. Using disposable dishware at least for one meal a day can give you a little extra breathing room to complete another task besides doing the dishes.
Pain Reliever
After you've delivered your baby, you may still experience minor aches and pains such as cramping or soreness. Keep your pain reliever near during your recovery. Check with your doctor in regards to consuming the proper doses of the right medication.
Peri Bottle
After giving birth vaginally, you won't be able to use soap or wipe down there for a few weeks. Your lady parts will be tender and extremely sensitive.
Use the bottle before, during, and after you pee. It will help keep you clean down there by cleansing the blood away so you don't get an infection.
Convenient Little Things
Keeping up your own hygiene and feeling good is important too, mama! Here are a few things you might want to keep close by when at home with baby:
Kleenex
Mints
Lip balm
Hair accessories
Cue tips
Lotion
A Lovely Mommy Box
This is something I suggest you put together yourself as opposed to buying a premade one. This is because no one really knows you like you do.
I encourage every expecting mother to create one of these. The box can be big or small. Add in things here and there that will help you get through your recovery with joy and ease.
Round the clock feedings, diaper changes, lack of sleep, and the overall adjustment can take such a toll that it can be hard to catch any moments to yourself doing something that makes you feel great.
Here are some ideas of things you might add to your box:
Sketchbook (for when baby sleeps)
Books you want to read
A journal and flair pens
Chocolates
A food gift card for the rainy days
Essential oils
Pen, paper, envelopes, and stamps to write your family and friends letters
You can keep this box alongside your bed or in a place in your home where you spend the most amount of time. 🙂
Then you can easily reach and grab for the little things that can make your tough days more joyful. Trust me, you'll be glad you created your box ahead of time!
Create Your Amazon Baby Registry Today
There ya go! A step-by-step guide to setting up your Amazon baby gift registry as well a list of items to add.
Amazon's baby registry makes it easy and convenient even for last minutes shoppers to chip in before your little one's arrival.
Congratulations on your pregnancy! Enjoy this time, mama! 🙂
Relax while making those last minute preparations and arranging your gifts in your home.
Over to you now. What baby (and mama!) must-haves did I miss that mommies should add to their Amazon baby registry?
Don't forget to pin me!