Learn how to get a perfect latch when breastfeeding
Congratulations!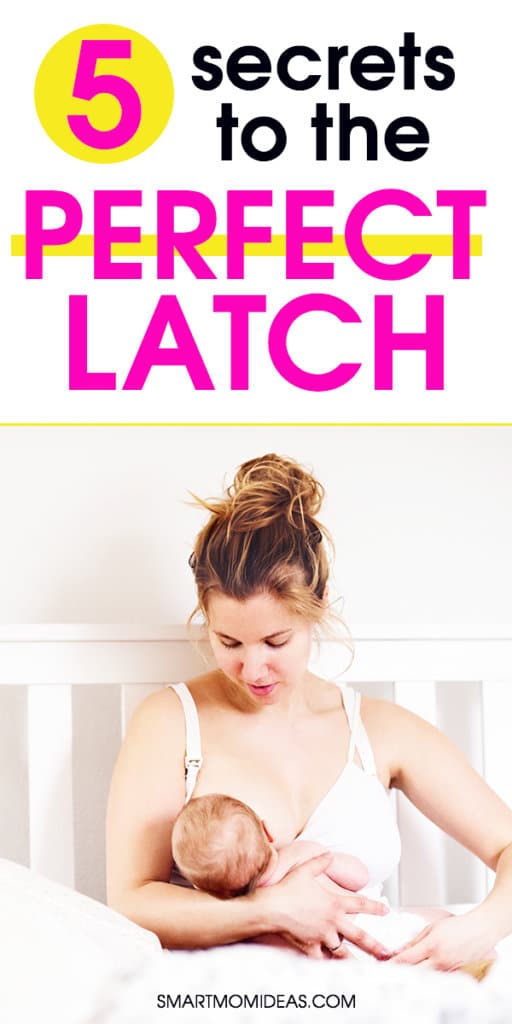 You made it through morning sickness, swollen ankles and needing to pee ALL the time.
And you made it through labor!
But now you – and baby – have to master breastfeeding.
Because even though breastfeeding is natural, it's definitely not always easy.
For me, after having twins, I honestly thought breastfeeding was going to be a breeze.
I mean it's natural, right?
Well, it wasn't easy. In fact, it was hard and it hurt at times!
One of the most important things to get right when breastfeeding is the latch.
A perfect latch helps to prevent sore nipples – ouch!
And a perfect latch helps your baby get more milk from your breast and stimulate your milk supply. Double win!!
My Story Breastfeeding Twins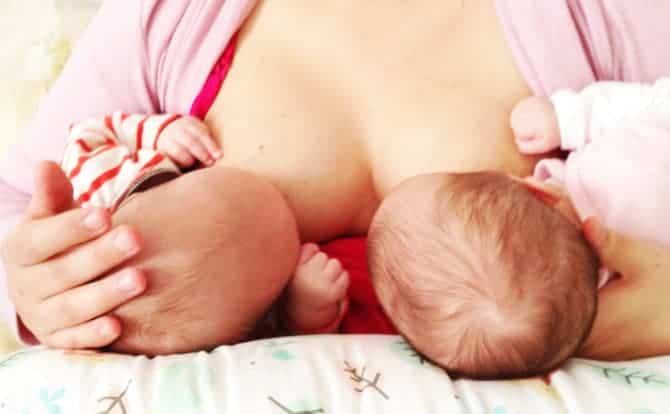 I had thoughts while I was pregnant that I would exclusively breastfeed. I mean that's all I read about and that's all I knew about.
But when I had my twins I realized early on that I did not have enough milk to give them. No matter what I was doing to tell my body I had to feed two mouths, I just wasn't producing as much milk as my twins needed.
And you know what mama? Don't beat yourself up if this happens. You have to do what's necessary to keep your little one – or one's – fed and happy!
In the beginning I relied on donor milk, but that can get expensive so I slowly transitioned to formula feeding.
I was able to still breastfeed (60-70% breastfeed) and successfully breastfeed my twins until they were around 14 months old.
But learning to breastfeed and trying to get that perfect latch was a lot of trial and error. My goal was to breastfeed both babies at the same time.
I used a special pillow to help me and I developed a breastfeeding schedule around supplementing.
So, if you need help with having a good breastfeeding latch, check out these proven tips.
I am not a medical professional and this should not be taken as medical advice. I'm just sharing things that worked for me. If you are concerned about you or your baby, please consult an appropriate medical professional immediately.
By the way, if you're recovering from a C-Section (I had one) check out this post on natural ways to recover from a C-Section.
How to Get the Perfect Latch for Breastfeeding
Check out this video tutorial first from a certified lactation consultant that explains how to get the perfect latch. She also explains what to do if you're struggling.
But how are new moms supposed to know what the perfect latch looks – and feels – like?
Here are some signs that you and baby have got the perfect latch:
Baby's chin touches your breast
Baby's lips are curled outwards
Baby's mouth covers as much of your areola as possible
Your nipples aren't uncomfortable
You can hear baby swallowing
Baby is gaining weight
And don't worry if all this doesn't come naturally.
Breastfeeding can take a lot of practice and is a really common worry for new moms.
And if you're worried about a low milk supply, check out this list of 15 milk supply boosting lactation recipes.
1. Get Comfortable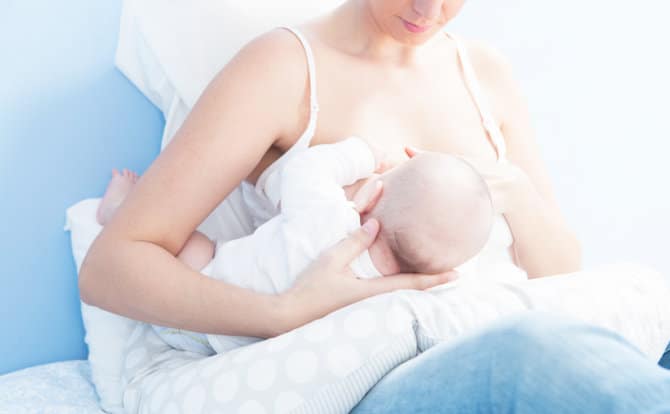 Yes, getting comfortable is one secret to getting the perfect latch!
Sit or lie back comfortably and if you like, use a pillow to support baby – so you arms aren't doing any of the work. A pillow is especially helpful once baby starts to gain weight.
You could use a regular pillow, but a lot of moms find that a nursing pillow is a life-saver. I know I did!
I love this one. This nursing pillow has a side pocket to store breastfeeding essentials! And, yes, the cover is removable so you can wash it easily.
And if, like me, you're a twins mama, I ended up using this back-saving pillow.
It's perfect for breastfeeding twins and the shape means that your babies won't roll off the pillow.
A breastfeeding pillow was truly a game changer for me.
The support of a pillow means that you don't have to shrug your shoulder get a latch – you want to be bringing baby up to the nipple. Don't try to get your nipple down to baby.
And if it helps, you can use a small foot stool to bring your feet up for a better breastfeeding angle – and to reduce shoulder strain.
This is a MUST if you're on the shorter side and your feet don't completely reach the ground then you're nursing.
A stool like this one would be perfect AND it would make a cute little stool for when your little one grows up – they grow up so fast!
2. Gather your Breastfeeding Essentials
Breastfeeding hungry twins, I quickly found that the more comfortable and relaxed I was, the easier it was to find the perfect latch.
Babies can just sense when you're scrunching your body up with tension and that makes them anxious too. So relax, mama!
One sure way to stay relaxed during breastfeeding at home is to gather your essentials into a little box or basket. No more shouting over to your husband, "can you fetch me my water, please?"
Keep items like nipple cream, cloths, water bottle and whatever else you need or want – I always kept a couple of snack bars in there for nursing emergencies.
And don't forget that breastfeeding is thirsty work. So, mamas, water is essential. I always kept my favorite water bottle within reach. This one keeps water ice-cold all day and holds upto 16Oz. Can you say 'life saver!'?
3. The Perfect Latch Step-by-Step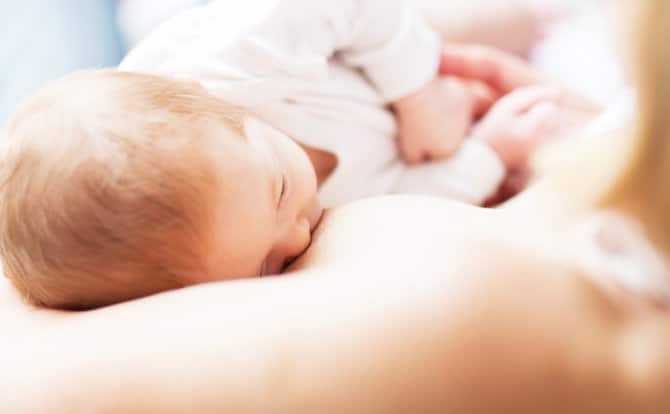 Once you're comfortable and have your breastfeeding essentials, you're ready to get baby onto breast!
Be sure to pull baby in close to you – tummy to tummy if you're using the cradle hold. Baby should be close enough for her to easily reach your nipple.
You may see baby getting ready to feed by opening her mouth wide. But if not, you can brush your nipple over baby's lips.
Baby will put her chin and then lower jaw on your breast first, below the nipple,. You can help her latch on by tilting her head back.
You can help baby finish the latch by tilting her head to get her upper jaw on your breast.
For the perfect latch, the goal is to get as much of your breast in baby's mouth as possible – your nipple should be towards the middle of baby's mouth.
You may find it helpful to hold or squeeze your breast to help baby latch on. Just be sure to keep your fingers away from your areola and baby's chin so as not to confuse her.
4. Be in The Perfect Position
Mamas, breastfeeding is tough.
And what works for one mama, won't work for all mamas.
Although the "cradle hold" seems like the classic breastfeeding position, it might not be the best for you and baby, especially if you're recovering from a c-section.
So you may have to try a couple of different breastfeeding positions before you can get the perfect latch and breastfeeding really 'clicks' for you.
Luckily, there are lots of positions to choose from. Here's a helpful article that rounds up 11 different breastfeeding positions – yes, 11!! And with names like clutch, dancer hand and koala, switching up your breastfeeding position could be fun!
And remember, what works for a newborn, may not work for a wriggly 6-month old.
So as baby grows, you may have to change breastfeeding positions. And yes, this can feel extremely disheartening, just when you thought you had breastfeeding nailed!
5. Don't Go It Alone
Did I say breastfeeding is tough already?
Haha, but seriously, breastfeeding is natural, but it's not always easy.
So if you're struggling or have concerns about your baby's weight, please get professional help. Here are some links to help you find professional advice no matter where you are:
And wherever you are in the world, the La Leche League International can offer guidance and encouragement for breastfeeding mamas.
But even if you don't have any specific issues with breastfeeding, chatting to other breastfeeding moms can be very encouraging. Check your local listings for breastfeeding support groups.
Get the Perfect Breastfeeding Latch
There you go!
We know that there are so many wonderful reasons to breastfeed – and it burns so many calories! Perfect for helping you lose that baby weight.
But breastfeeding is not easy.
Lots of new moms encounter some breastfeeding difficulties!
And remember that lots of great moms never get to grips with breastfeeding or can't breastfeed for whatever reason. What matters most is that mom and baby are healthy and happy.
Good luck, mama.
Don't forget to pin for later.