I gained over 60 pounds when I was pregnant with twins and I needed to find a way on how to lose baby weight.
What was surprising during my twin pregnancy, was that I had a very hard time gaining my initial pregnancy weight.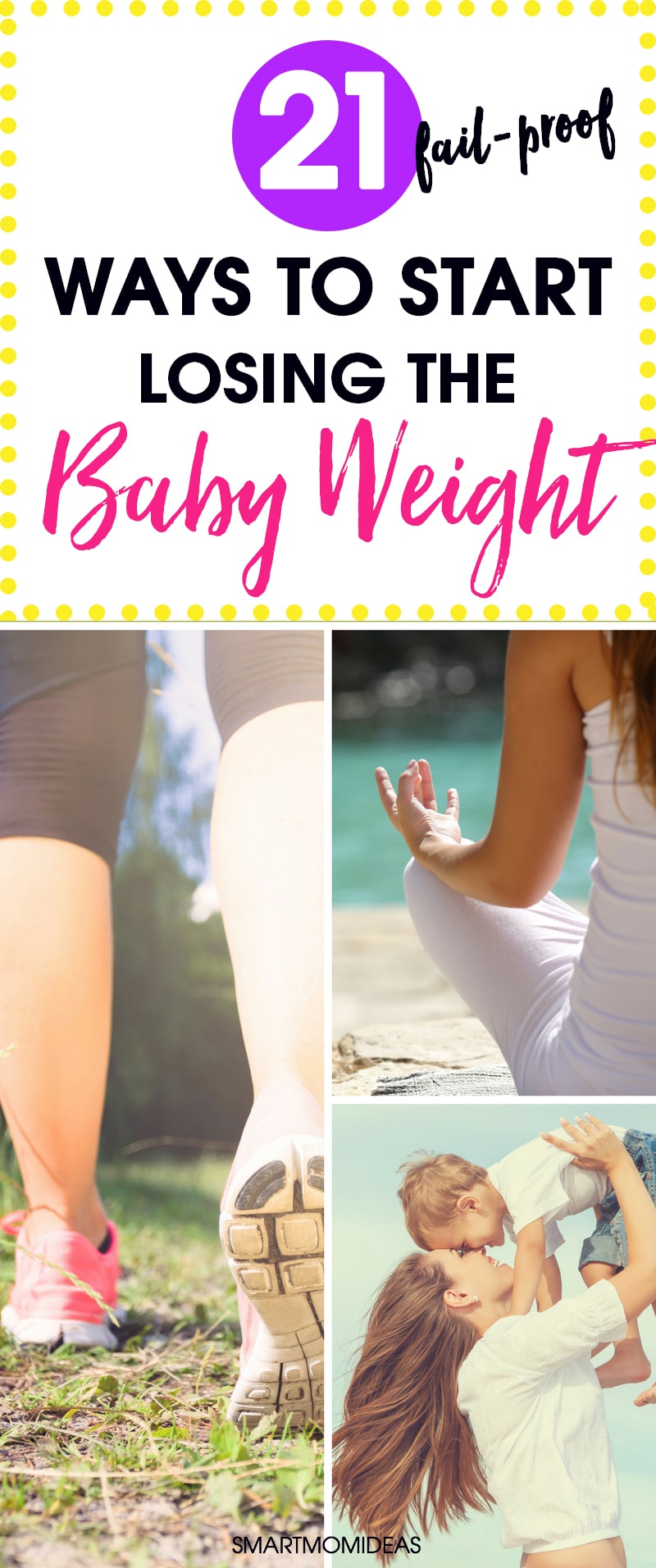 This was mostly because I was uncomfortable and had terrible morning sickness (more like all-day, every day sickness at all hours of the day!).
But, I knew I had to gain weight for my twins and it became easier over time.
However, now that my twins are almost five – yes almost 5 years old – I've gained a ton of weight! Oh boy. And working from home isn't helping (nor the cold winters).
How do you lose the baby weight?
If you're a new mom or a mom that hasn't had time for yourself because you're taking care of your children, you can do it moms!
There are simple, yet effective ways to cut calories, yet still remain healthy so you can learn how to lose baby weight successfully.
Some of these tips can be added to your day easily, while others take a while to adjust to.
Let's find out the 21 ways you can start losing the baby weight fast (and healthily).
1. Start with a Healthy Breakfast
Did you know that if you regularly eat breakfast, it will help you lose weight? According to MSN having a healthy breakfast can help you feel full longer and give you the energy you need to be a happy mom to your growing baby!
Typically a good and healthy breakfast includes a protein source and a slow-burning carb source. To help you find the best and healthiest breakfast choices, check out these awesome recipes to help you learn how to lose baby weight!
Breakfast Cups
Make healthy muffins using granola and honey or make a egg and veggie muffin cup to energize you. These are perfect for new moms with little time. Make six or 12 and you and your husband can eat them throughout the week!
3 Ingredient Banana Pancakes
This recipe is flourless and gluten-free so you don't have to feel guilty if you eat 3 – or 5 – of them. Your little one would love munching on them also! Give it a try!
Healthy Sticky Cinnamon Roll Baked Oatmeal
This delicious vegan approved oatmeal recipe is chewy and is actually healthy! It's high in fiber and high in protein too! The recipe has you add a scoop of protein powder to make this a super nutritious breakfast option.
Peanut Butter Overnight Oats
There are only a few ingredients in this delicious and protein filled breakfast! All you need are almond milk, maple syrup, and some natural salted peanut butter. This is the base to soak the oats. There are also Chia seeds to boost the nutrition level and give it some texture.
Healthy Breakfast Egg Muffins
These egg muffins are like mini omelets that are packed filled with your favorite veggies and can easily help you lose baby weight quickly. Just pop them in the oven to cook and then pop them in your mouth! You can add toppings like avocado and salsa!
2. Drink More Water
Everyone knows that you need to drink at least 8-8oz. cups of water. Well, for a breastfeeding mom, make sure to drink double or triple this amount. I started doing that once I was breastfeeding and made sure there was a lot of ice in it.
This habit hasn't left me and I'm glad it stuck! Drinking water is just healthier and cold water can help you lose weight!
To help you, you can pick out a nice thermos or canteen to hold your water.
My husband loves the Klean Kanteen. It has wide mouth and can hold a lot of water.
I personally LOVE my Thermos water bottle. It keeps my water frigid all day and can hold up to 16 oz! I drink at least 8 of those a day.
Here I am drinking water when I was doing a Facebook Live!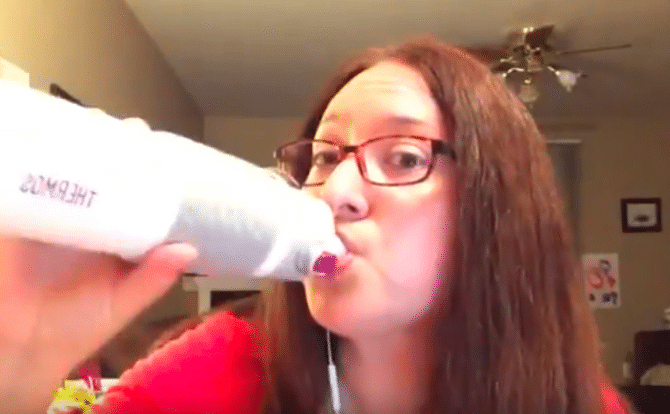 3. Stroller Walk Every Day
The simple act of walking can do wonders for your health and waistline for helping you with losing the baby weight. When my twins were barely 6 months old, I would give them two stroller walks every day. It was summer time and easy for me to just head out and walk around the lake near my home.
Each walk was over an hour since I was using this time for their naps! My twins didn't nap in their crib until they were probably 8 months or older.
I stopped doing walks since then and noticed my weight going up. So, if you're a new mom try not to give up your walk! I go to the gym to walk now! When the weather is warmer though, I'll incorporate the entire family to walk after dinner.
This is how I looked when I walked two hours a day pushing this stroller.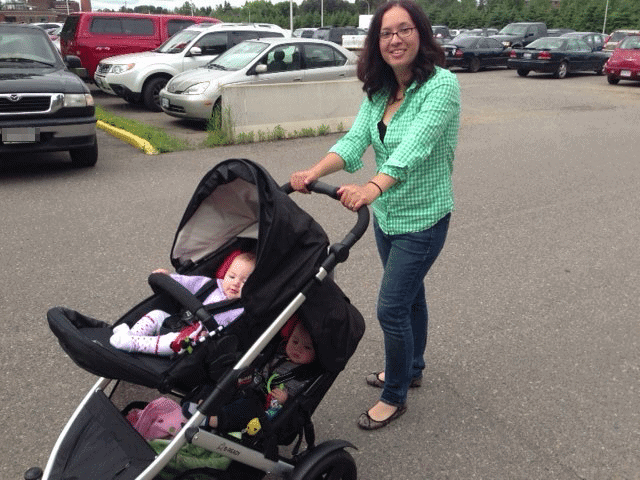 I loved this stroller, though, because of its smooth riding and it totally helped with losing the baby weight.
It wasn't bumpy for my twins and it helped them fall asleep within minutes! And what was great was even though I had twins in tow, the stroller was super easy to use!
4. Eat Healthy Snacks
You're going to feel hungry at first. Your body is adjusting to the food you are having and the limited calories. To help you fight the hunger, have a snack!
Here are some high protein, low carb, and veggie snack choices to make you feel full and satiated.
Deli meat – roll up turkey or ham
Nuts – a handful of almonds or walnuts will curb your hunger
Greek yogurt – it's packed with protein and probiotics to keep you healthy. Add some honey and fruit and it's a delicious snack!
Boiled eggs – I have a stash in my fridge for whenever I'm hungry (like now…because I'm writing this post!!!)
Avocados – I add a bit of salt, garlic powder, and lemon juice and I have me a delicious guacamole inspired snack!
Zucchini fries – yup! They're crunchy and fills the void of those sinful snacks you crave! Here's a recipe from Pinterest!
Kale chips – This is something on my to-make list! Here's a Pin-inspired recipe!
5. Feel Full With Healthy Fat
Fat keeps you full and it can be healthy for you. Incorporating more whole foods that are filled with nutritious fat can help you feel full longer. It will give you the energy you need to run around with your little one!
Some great healthy fat meals include –
Avocado Quesadillas
Avocados are a great choice for snacks and meals. It's a vegetable and filled with good fats. This recipe is vegan approved too!
Olive Oil Roasted Sugar Snap Peas
Olive oil is filled with monosaturated healthy fat and antioxidants. And according to Healthline, it can help prevent heart disease. Here is a super healthy snack using olive oil. You can premake them and eat them like chips!
Pineapple Coconut Sorbet
Can you believe this is healthy? It is! There is no added sugar and it's only 2 ingredients! Yes! And who doesn't just want a little sumpin' sumpin' at the end of the day???
And with the coconut milk as the fat source that's dairy-free, you'll feel good eating this sorbet!
6. Drink Green Drinks
I love green drinks. With just a little bit of fruit and a whole bunch of lettuce and spinach, it can give you all your vegetable servings for that day! And that's a good thing for helping you on how to lose baby weight!
What's great also is that green drinks can act as a detox for you. If you ate too much over the holidays then having a green drink every day can help back into some healthy eating habits.
Check out these delicious green drinks that you can sip on while your little one plays!
Pineapple Spinach Green Smoothie
With pineapple and banana to sweeten the drink, this smoothie is healthy and filling as well as filled with nutrition.
Mint Matcha Smoothie
Matcha green tea is a powerful food that's loaded with antioxidants for good health. What's great is that if you drink green tea after you exercise you burn 25% more fat!
Mango Avocado + Banana Green Smoothie
This delicious smoothie is filled with spinach for the veggie nutrition and mango for the boost of fiber, magnesium and vitamin B6! And there's even avocado for the healthy fat too!
This drink is like a meal and can keep you full all day!
Avocado Smoothie With Chia Seeds
This delicious smoothie is filled with healthy ingredients like almond milk, spinach, chia seeds, banana, and avocados! Yummy!
Healthy Pear Ginger Chia Smoothie
As moms, we tire out easily! I know I do! With this green drink, you won't feel like that anymore! There's ginger in this drink so test it at first. Too much ginger can make it "spicy" and may burn your throat. But ginger is good for you so do add it, just watch your tolerance for it!
Cucumber Ginger Green Smoothie
I love cucumber in my drinks, whether it's in water or a green drink. This drink is refreshing and healthy!
7. Try Some YouTube Exercise Videos With Your Baby
When my twins were younger and it was winter, I use to do exercise videos at home. They were easy to do and my twins had fun thinking I was dancing and playing with them!
What's great is that there are even exercises for new moms with their baby that will help with losing the baby weight! Check out these YouTube exercise videos.
This mom shows you 18 exercises you can do with your baby. Use your baby's weight and get fit!
As a new mom, your ab muscles are probably weak. You might even have Diastasis Recti. That's why it's important to do some low-impact cardio to strengthen those muscles and this video is perfect for that!
Here's a quick ab workout to strengthen those core muscles with your baby! Your baby will laugh and enjoy this special time with you.
If you want a full body workout, check out this video. It goes through essential exercises that cover all your major body parts.
8. Prepare Your Meals
For moms, this is the holy grail of organization. And you know what? I'm still trying to get on that meal prep train!
Preparing your meals ahead of time can not only save you tons of time, but it can also save you headaches and frustrations as a new mom.
You're exhausted, you probably need to shower and the last thing you want to do is make dinner.
So spend one day to do meal prepping and you'll thank yourself later!
To get you started here are the necessary equipment you need to get started:
Freezer – Having a stock of freezer meals is amazing. This is the freezer I like.
Food processor – cuts time in half when you're bulking meals.
Plastic bags
9. Eat a Plant-Based Meal
Did you know that if you started eating a plant-based meal every week, you'll start to lose weight? The more you switch to a plant-based diet, the more weight you can lose.
If this is too new for you, go slow. Start with a lunch that's all plant-based and then try a dinner. From there you can have all your lunches as plant-based and then eventually all your dinners.
For the best plant-based meals check out these fantastic Pins!
Teriyaki Cauliflower Rice Bowls
Lentil Chili
Eggplant Meatballs
Vegan Bang Bang Broccoli
Better Than Tuna Sandwich
10. Limit Your Carb Intake
Doing these steps to lose weight will also mean you'll lower your carb intake and help you with losing the baby weight. The culprit for weight gain has a lot to do with carbs.
Carbs are an insulin driver. Insulin is a hormone and fat is often dictated by hormones. Think about when you were pregnant. Your hormones helped you gain weight.
Boys mature because of hormones and girls gain weight as a young teen because of hormones.
So, if you limit your carb intake, you'll limit the process of fat accumulation.
You can do this easily by:
Having eggs or ham for breakfast instead of a bagel
Eating nuts and cheese as snacks instead of chips or crackers
Incorporating healthy fats like avocado and coconut oil
11. Break Up With Sugar
Sugar is also a carb and it's also making you fat! I know! That cup of orange juice or muffin isn't all that healthy.
So, it's time to say goodbye to sugar. To do that successfully, I would replace sugar with healthy fats (as I've mentioned before).
I would also drink more green drinks as a detox to help break up with sugar! And I would drink more water!
12. Use a Superfood Powder
Superfoods are super healthy for you and can help you learn how to lose the baby weight. What's awesome is that those superfoods like acai berry are turned into a powder that you can sprinkle over your food to give it a boost.
Here are 4 superfood powders you can start using today!
1. Chia Seeds
Chia seeds are truly a powerhouse nutrient trapped in a tiny seed! They are filled with:
Iron
Antioxidants
Omega-3 fatty acids
Fiber
Calcium
Did you know that if you mix Chia seeds in water it becomes a replacement for eggs in vegan cooking? Pretty cool eh?
2. Tumeric
Tumeric is a medicinal superfood that aids as an anti-inflammatory compound. And it can help with improving your brain health! Yay!
Tumeric powder can be used in cooking, put in shakes or sprinkled on top of food.
I like to add it to my chickpeas and lentil soup!
3. Mixed Greens
It's always a good thing to get your greens intake up in a day! They're great to aid in digestion and help you feel full.
And you can do that easily with mixed greens of kale, spinach and romaine lettuce.
You can get mixed greens in a powder to add it to your shakes easily!
4. Cacao
The powder used to make chocolate is actually good for you! Eat This, Not That says that if you have chocolate with at least 70% cocoa powder it's healthy for you!
Cacao powder has a ton of health benefits including anti-aging properties and has 40 times the antioxidants than that of blueberries!
13. Incorporate More Whole Foods
Being healthy is important for you and your little one and one of the easiest ways to start being healthy is to use more whole foods in your cooking.
This means eliminating processed foods and boxed meals.
This may be more time consuming, but it will gain years on your life in the long run! So, instead of grabbing that box of mac & cheese, why not try making a healthy mac & cheese instead?
14. Try an Iced Coffee Protein Shake
Who doesn't like coffee? I do I do!!
You can jazz up your protein shake with iced coffee! And what's great about doing this is that studies have shown that caffeine helps you burn fat by speeding up your metabolism.
So, instead of dumping sugar and cream into your morning coffee, enjoy it as a protein-packed shake. Here are 3 excellent recipes:
1. Banana Ice Coffee Protein Shake
2. Vanilla Latte Protein Smoothie
3. Peanut Butter Espresso Smoothie
15. Try Yoga
Let's face it –
Walking every day can get boring and doing work-out videos can make you exhausted. Instead, why not get the same benefits with yoga?
Yoga offers stamina, strength, resistance and more to aid in weight loss. And it's gentler enough that new moms can get started right away.
Check out this beginner yoga workout:
16. Start Drinking Green Tea
Green tea has a lot of health benefits. The biggest is cancer prevention. It's hydrating to aid in breastfeeding, is filled with antioxidants and it can aid in weight loss!
How?
Burns visceral fat – this is abdominal fat and one of the most dangerous fat to have.
Green tea gives you a metabolic boost – this helps lower the cancer risk
High levels of antioxidants – this can help speed up weight loss
17. Avoid Milk
For some people, milk can make you gain weight. I'm not one of those people, but for many having too much dairy in a day can aid in weight gain. If this is you, try avoiding milk as much as you can to help you with losing the baby weight.
Instead of having cereal for breakfast, opt for an egg omelet. Try not adding cheese to a sandwich or meal. I wouldn't remove all dairy from your diet. Have the cream in your coffee or have a little bit of ice cream one night.
I think if you limit as much as you can, you can splurge here and there!
18. Try a 3-Day Detox Cleanse
If you are gung-ho and want to take your health up a notch, try a 3-day detox cleanse. I only suggest this after you are done breastfeeding.
It's important to rid our bodies of toxins that build up in our bodies every day. You know you have excess toxins if you have a hard time losing weight!
Check out the popular Dr. Oz 3-day Detox Cleanse review here!
19. Get a Good Night's Sleep
It's true, if you don't get adequate sleep, you'll have a hard time losing weight and keeping it off. But, how can you if you have a newborn baby?
I suggest you focus on taking care of your little one. Co-sleeping or having your baby's crib next to your bed will allow you to have a better sleep for sure!
And with proper sleep you can make better eating choices!
20. Eat Only When You're Hungry
Now, if you're breastfeeding, it's important to nourish your body throughout the day. This means you're going to be hungry a lot! It's okay to eat more frequently, but make sure to grab an apple and not an apple fritter!
When baby is no longer breastfeeding, this is usually the time moms gain weight. This is exactly what happened to me. I was rockin' it the first year with my twins but the second and third and fourth year?
Yikes! I ballooned. It's only now that I'm really working hard at being healthy and fit.
Since I work at home, I can eat more and this is something I'm working on. Now that I eat more healthy fat like avocados, I'm not hungry as much. This helps me moderate my eating!
21. Make Being Fit and Losing Weight a Habit
You want to be healthy for your little one, right?
While it's hard to focus on yourself and not your child or family, it's important to have that self-care as a mom. So, when you're ready, make being fit a habit and weight loss will naturally occur.
While I exercise when I can, I know I'm getting closer to my target weight by the food I'm eating. After a while, it becomes second nature to make a salad or boil some eggs for a quick snack.
Get into that habit and you'll be rewarded!
There Ya Go Moms!
Wow! There are a lot of tips in this post! I hope you pin those amazing recipes and start on a great health kick.
Tell me in the comments what your health goal is and what you did to lose the baby weight for good!
Please pin me!!