Check out these ultra cute pole barn homes you'll simply love!
Looking for amazing pole barn home ideas?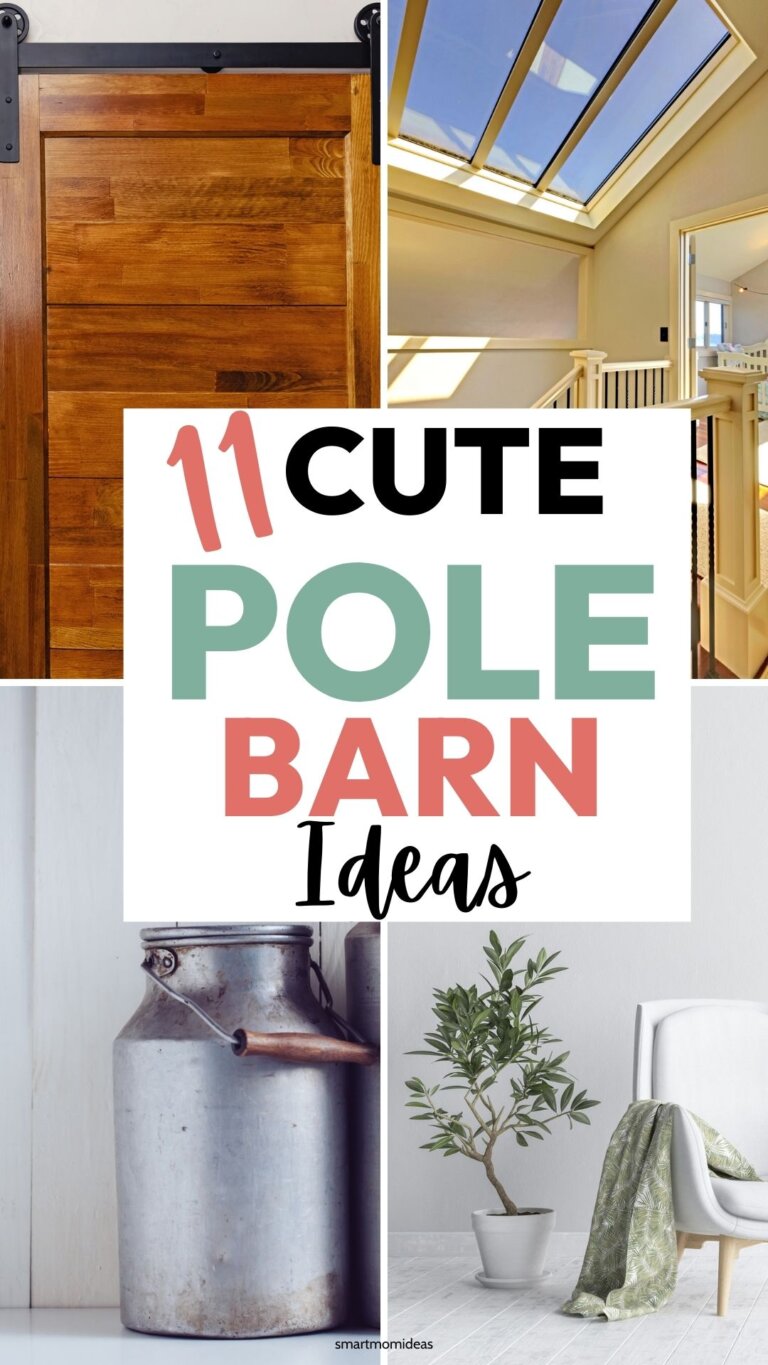 Here you can find all of the inspiration you will ever need to create the most amazing pole barn home of your dreams!
When it comes to trendy and functional home designs, pole barns are at the top of everyone's list!
There are many reasons why people would choose pole barn homes over other traditional or modular built homes.
Building pole barn homes or purchasing one is affordable and offers modern design options.
The main difference between a pole barn home and a conventional home is that a pole barn house does not have a foundation like a conventional house but rather poles are driven into the ground for support, hence the name, pole barn.
Many modern pole barn homes are considered metal buildings with easy-to-build structures with highly durable metal exteriors.
Why Have a Pole Barn Home
Pole barn homes are great for a number of reasons.
They are often cheaper to build than conventional homes of the same size.
They require fewer materials than traditional home builds and don't require a costly foundation.
Also, the construction of a pole barn home is simpler, saving both time and money when working with a contractor.
The floorplans!
Can we talk about the open floor plans for a minute?!
The ability to have such an open floor plan makes it easy to customize a pole barn home while also making it feel more open and bigger due to the lack of interior walls.
Not only does this give you great open space for entertaining and kids running around, but you can also really capitalize on all that natural light coming in.
Pole barns do not require load-bearing walls like other traditional home builds.
So your options for customization are truly endless.
Cute Pole Barn Homes
On your search for the perfect pole barn home, you might also hear them called "barndominiums," it's the same concept.
Take either a pole barn or barn and convert it into a home or build a new pole barn structure.
Let's take a look at some beautiful and trendy pole barn homes and how you can create something similar.
1. Large Indoor Ceiling Fans
If your pole barn home has high ceilings then having a few of these large ceiling fans is a must!
Imagine opening the doors and windows in the house during the spring and summer and having the fresh breeze circulate through the house with these beautiful large fans.
Recreate this pole barn home look
Industrial-sized fans work very well for such high ceilings and open spaces.
This bronze-brushed fan is perfect for the pole barn home look.
2. Statement Chandelier
High ceilings deserve some really amazing chandeliers!
Whether you opt for fancy, romantic, rustic, or modern, you are definitely going to need to add some stunning chandeliers to your pole barn home.
Recreate this pole barn home look
This rustic chandelier checks all the boxes and complements any natural wood surrounding it very well.
3. Outdoor Lighting
Be sure that you can see well outdoors without having to install ugly outdoor lighting.
These gooseneck outdoor lights are minimal yet fashionable. They work well over entryways and garages.
Recreate this pole barn home look
Recreate this look with farmhouse porch lights that have built-in dusk to dawn photocell so you never have to worry about whether you remember to turn the lights on or off.
4. Cozy Outdoor Space
What better way to enjoy a cool summer evening than sitting out on your porch under the soft glow of Edison lights.
The kids or grandkids are running around in the backyard while you sit in your favorite chair sipping your favorite beverage listening to sounds of laughter and the cricket singing in the background.
Recreate this pole barn home look
These Edison lights are great for hanging out on your patio, in your garage, or between trees. Create a cozy and softly lit space where everyone is going to want to hang out with these versatile lights.
5. Spell It Out
With a pole barn home, you're bound to have a lot of wall space to decorate.
Grab some large decor letter to spell out something like "kitchen," "pantry," or "laundry," for a wall decor statement in your home. You could even spell out your last name in your entryway.
Recreate this pole barn home look
Recreate this fun look with wood, galvanized steel, or even light-up letters.
They are light and easy to hang and make a really fun statement piece on an otherwise empty wall.
Barn Doors
Of course, you have to have some barn doors in a pole barn home or barndominium. Barn doors are such a cool and versatile piece to add to your home. You can salvage old barn wood and upcycle it to create an authentic, rustic piece, or you can get yourself a kit to build a new one.
Recreate this pole barn home look
One of the great things about pole barn homes is that you can do a lot of the building, both interior and exterior yourself.
This barn door kit can be put together and installed in no time.
6. Pantry Organization
Everyone wants to have a beautiful, organized pantry to store their grains, spices, and other kitchen goods.
It's so simple to find matching containers, label them, and put them on a shelf to keep all of your goods organized.
Recreate this pole barn home look
There's a lot of really neat ideas in this picture, so let's break it down.
Clear, glass food storage containers with wood covers, perfect for storing coffee, sugar, flour, grains, nuts, and noodles.
Mesh produce bags keep things like onion and potatoes fresh and looking great.
Make sure you have somewhere to put all of your beautiful new jars with these floating, wooden shelves.
Store all of those larger items from your kitchen in these woven cotton baskets.
The perfect place to toss all of your dirty dishrags.
7. Rustic Barstools
A large kitchen island deserves some rustic barstools.
These industrial-inspired stools perfectly complement the large open kitchen in the pole barn home while providing functional seating to family and guests.
Recreate this pole barn home look
These adjustable wood and iron bar stools are going to look great in your pole barn home kitchen.
Whether you are enjoying a cup of coffee in the morning or having after dinner drinks with friends, these barstools will be a conversation piece.
8. Statement Mirrors
One of the staples when it comes to decorating a pole barn home is the rustic yet minimalist look and large statement pieces. These types of mirrors are very easy to find online and at local home decor stores. You can even attempt to DIY one for yourself with old barn wood or wine barrels.
Recreate this pole barn home look
Extra-large and minimalist mirrors are great for bathrooms, bedrooms, and large entryways.
While large, these mirrors are easy to install and go with just about any type of home decor.
9. Faux or Real Greenery
When you have such large and open areas in a pole barn home, there are so many options for decorating.
While you're sure to get sufficient light for real plants if you don't want to have to worry about the upkeep, consider getting a large faux plant to add a pop of color to your home.
Recreate this pole barn home look
Find beautiful, faux plants up to 7 feet tall on Amazon.
This giant fiddle leaf plant would look amazing in an entryway, hallway, or tucked in any corner.
You can easily switch out the pot for something that better fits your decor and never have to worry about killing it.
10. Extra large Living Room Ottoman
When you are working with such large spaces, you can easily fit in larger pieces of furniture without it ever feeling crowded. This tufted ottoman fits in perfectly with the open space and the surrounding leather and rustic furniture pieces.
Recreate this pole barn home look
Your guests will love sitting around this lovely ottoman sipping their favorite glass of wine or whiskey while putting their feet up. This extra-large ottoman is great for holding drinks, books, or just sitting back and relaxing.
Of course, don't forget to get an ottoman tray to hold those drinks or snacks.
11. Tin Milk Jug
Every country home should include a milk jug somewhere.
Whether holding flowers in the bathroom or used for a kitchen table centerpiece, this rustic home decor item is a must-have.
Recreate this pole barn home look

These adorable little rustic vases can be used all over your pole barn home. While they make great vases, you can use them for a variety of things.
To Make Your Own Pole Barn House Feel
While figuring out the decor situation for your pole barn home is fun, there is a lot more that goes into it. While I mentioned many things to you can add to your home, here's a simple guideline you can use as inspiration and direction.
1. Have a Metal Exterior to Give Your Home that Pole Barn Feel
When it comes to pole barn homes, having a metal exterior is a popular option and it's what really sets your home apart from other homes.
Metal exteriors are often used because they are durable and can withstand the weather conditions better than other materials.
They can also give your home that trendy industrial feel that is so popular right now.
If you are looking for an affordable and trendy option for your pole barn home, consider a metal exterior.
2. Add Plants and Greenery
Another popular trend for pole barn homes is to add plants and greenery to the inside of the house.
This can help bring in an earthy feel and make the space feel more inviting.
There are many plants you can choose from.
If you are not sure where to start, consider adding some potted plants or hanging plants.
You can also add greenery around the windows or in the corners of the room.
3. Use Neutral Colors with Pops of Color Throughout the House
When it comes to choosing colors for your pole barn home, you will want to use neutral colors with pops of color throughout the house.
Neutral colors can help make the space feel bigger and more open.
They also allow you to change up the look of your space by adding different accent colors.
Some popular neutral colors for pole barn homes include white, black, green, and gray.
If you want to add some color to your space, consider adding pillows, throws, or artwork in your accent color.
4. Bring in Natural Light by Adding Windows and Skylights
One of the best ways to make your pole barn home feel more open and bright is to bring in natural light.
You can do this by adding windows and skylights.
But, this can be expensive to make this a goal for your home renos.
Windows will not only let in natural light but also give you a view of the outside.
Skylights are a great option if you want to add extra light to a space without adding windows.
Both options will help make your pole barn home feel more open and bright.
Whole House Inspiration!
There ya go!
I hope you enjoyed these wonderful and cute pole barn home looks that you can try out!
For more help, check out my beachy farm house look!
Please pin me!