Check out these egg chairs with stands for your home
Not only are egg chairs super cute, they work so well with so many different home decor options.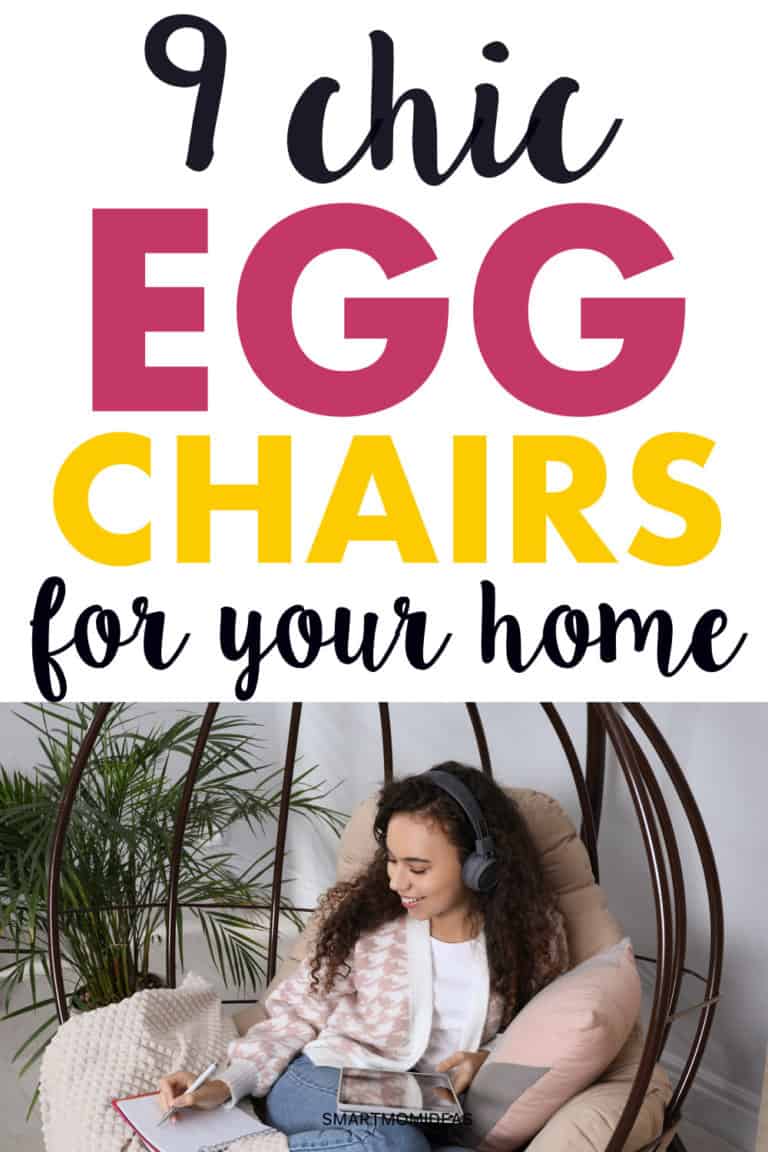 I'm sure that you've seen these adorable chairs all over social media.
Covered in fairy lights and fluffy pillows, they are great for snuggling up and reading a book or to take some fun photo opportunities "for the asthetic."
There are several different varieties of egg chairs.
Ones with legs that don't require a stand, hanging egg chairs with stands, and interior and outdoor options for both of these as well.
No matter what type of egg chair that you choose, just be sure that you ensure that you have enough space for these hanging egg chairs.
Look for a space in your home or outdoor area that provides a footprint of at least a 40" by 40" area for your hanging chair to be placed.
Obviously the size of the space you will need is dependent upon the style of hanging chair and stand you purchase.
From hanging chairs large enough to hold two people to stylish and unique finds, you're sure to find that perfect egg chair with stand that makes you look cool.
Of course, you can't forget the accessories as well!
Just keep reading to find the perfect chair and accessories for your area.
Hanging Egg Chair with Stand
If you are looking for hanging chairs that will fit into any type of home decor and be the spot that everyone wants to sit in, then you're in for a treat.
These hanging egg chairs are great for all ages and provide a wonderful area for reading or just hanging out with friends (pun intended lol).
1. Indoor/Outdoor Hanging Egg Chair
This hanging chair is great for both indoor and outdoor situations where you are looking for a unique piece of home decor.
With the ability to hold up to 350 pounds and a fairly small footprint at 38 inches by 38 inches, it's the ideal hanging egg chair for your patio, child's room, or home office.
Its neutral grey tones go well with any type of decor.
The weatherproof cushion is not only great for keeping it outdoors and standing up to the elements, but also great for children and their messy little fingers.
There's nothing worse than setting up a beautiful new piece of furniture and having it ruined by curious and sticky fingers.
If you are looking to further protect your purchase, consider using a waterproofing spray like the Scotchgard fabric water spray.
2. Holand Wicker Indoor/Outdoor Egg Chair
This durable and stylish wicker egg chair is perfect for any indoor or outdoor space.
While this one does not have a hanging stand, it might be better for tighter areas in your home where you can't fit a stand due to the height or the ceiling or surrounding areas.
This is also a great option if you want an egg chair for a child's room that you don't want them to swing around on.
Outdoor Egg Chair with Stand
Creating a blissful outdoor space is at the top of many people's list to do this coming Spring.
Why not do so with some of these super fun and adorable hanging egg chairs.
An outdoor egg chair with a stand is the perfect place to sit back and relax with a glass of wine and a good book. Get your relaxation on while the kids play out in the yard.
Check out some of these outdoor egg chairs to help you create your ideal and peaceful outdoor space.
3. Luxury X-Large Double Egg Chair
While egg chairs are perfect for one person to sit in and read your favorite book, sometimes you want to be able to share your hanging egg chair with your favorite person.
In that case, you are going to love this extra large, two person hanging egg chair with a stand.
Sit outside on a sunny day and enjoy the weather and company of your loved ones with this sturdy and large egg chair.
The perfect alternative to uncomfortable, wooden porch swings.
4. Patio Swing Chair
This is a single patio swing chair that has a bit of a different style than the others.
The "egg" part of the chair, made from wicker plastic, has a very organic design.
This chair would make a great piece in any outdoor location.
5. Golden Patio Swing Chair
The style of this chair is absolutely stunning!
As an outdoor egg chair, this would catch light and simply glow on sunny days.
Plus, it features a really interesting and unique design on the back end. Another aspect that makes this a parciulalry unique design is that it is completely round rather than the traditional teardrop or egg shape.
Outdoor Egg Chair Accessories
Have you ever purchased a piece of patio furniture only to have to buy new cushions the next season because they got sun bleached or ripped up.
While I absolutely love to sit outdoors when it's nice out but I hate when the outdoor furniture gets all gross.
So, I wanted to suggest a few outdoor egg chair accessories so that you can keep your outdoor furniture looking great year after year!
Egg Chair Cover
One of the easiest ways to protect your amazing egg chair is to get a cover.
They are incredibly affordable and will keep your egg chair looking great for years to come. Keep the rain, sun, bugs, and potential critters off of your seat!
This particular cover has a convenient zipper so you won't have to worry about struggling to get the darn thing off and on when you want to use it.
If you do have a double egg chair, you're going to need a larger cover too.
Furniture Protectant and Cleaning Spray
Your outdoor furniture can get pretty gross.
Build up of salt, dirt, bugs, melted popsicles, bird poop, you name it!
This spray not only helps to keep your outdoor furniture clean it also provides a UV protectant layer.
The only thing that this spray does not provide is waterproofing.
If you are looking for something that provides both UV protection and waterproofing, then the Sctoguard Sun and Watershield is going to be a better option.
Indoor Egg Chair with Stand
Indoor egg chairs with stands are synonymous with that boho chic, hippie look.
Grab a bunch of fuzzy pillows and some fairy lights to create the coziest spot in your home.
One of the best parts of purchasing a hanging egg chair with stand is that you also have the optinon to hang in from somewhere other than your stand, indoors if your ceilings allow. Just be sure to check with a stud finder that you are drilling into a stud for maximum durability.
6. Private Garden Indoor Hanging Egg Chair
The light color of this indoor hanging egg chair makes it great for any type of home decor.
The wicker material and stand are both durable and stylish.
The oversized cushion ensures that you won't be sitting directly on the wicker material and is comfortable enough for anyone to sit on.
7. SunnyDaze Hanging Egg Chair
This style of egg chair is slightly different in that it is a bit more open than the other models.
The main advantage of this is that you are able to have more positions to sit in while still staying comfortable.
It is a more elongated version of the other egg chairs on this list which can also make it more beneficial for taller individuals.
8. Birds Nest Double Egg Chair
The double egg chairs work well indoors as well as outdoors versions.
Large enough to comfortably fit two adults.
Or a nice large cozy space for two or more younger children.
This would make a great chair to place in a family room or children's room for a lovely little hang out spot.
9. Cobana Hanging Egg Chair
While this isn't as "egg" shaped as the other chairs on our list, it certainly makes for a great hanging chair in any space.
This is a smaller version of most of the other egg chairs on this list and is perfect for smaller spaces.
This is also a wonderful chair that can also go in an outdoor space as well.
Indoor Egg Chair Accessories
The chic, boho, hippie look is in! (Although I don't think it ever left!)
While the egg chair itself is a great addition to any stylish room, of course you need to add a few accessories to it!
Fairy Lights
Fairy lights provide that soft glow (in just about any color you could want) while providing great reading light.
Wrap the exterior of your chair with some battery operated lights and you've got yourself the perfect little reading area.
Faux Fur Pillows
Faux fur pillows are essential for the perfect snuggle spot.
There are tons of different options for color, texture, and size. Grab your favorite beverage and curl up with your favorite book.
Chunky Blankets
Whether you hand knit one yourself or purchase one, of course, your egg chair needs a chunky blanket as well.
There ya go!
I simply love the look of egg chairs for my home!
To have one on my patio and on lock stone looks nice!
Make sure to pin this!