Find some amazing and clever outdoor toy storage ideas for your kiddo!
As a busy mom with a toddler, it's important to keep the outdoor playtime fun and safe.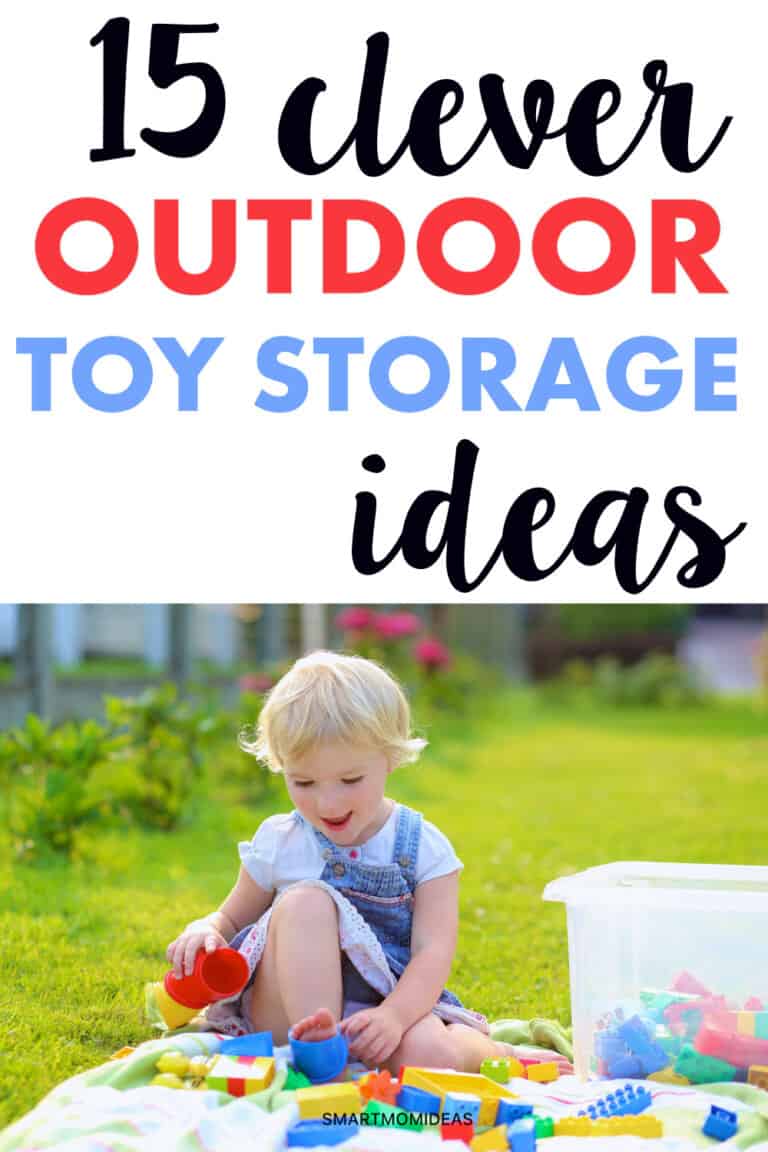 I should know! I'm a mom of twins – boy and girl – and when they were little kiddos I had my hawk eye on them!
One would go left and the other one would go right and start playing with their outdoor toys.
From shovels and pails to our water table and fun water toys too, my toddlers couldn't get enough.
But, there were always a mess with their outdoor toys after we were done playing outside. This caused a lot of frustrated.
There are many challenges moms face when it comes to maintaining an organized outdoor toy storage. From the toys scattered everywhere to the harsh weather, storage solutions can seem overwhelming.
Fortunately, there are easy storage solutions that can work perfectly for you.
I'll share x amazing outdoor toy storage ideas that will help keep your yard neat and tidy, and your toddler's outdoor playtime fun and safe.
Get ready!
15 Outdoor Toy Storage Ideas (for Ultimate Fun!)
Get a load of these fifteen storage ideas for all of those outdoor toys and pool toys.
Yes, they are messy but they can be neatly organized with these fun toy storage ideas!
1. Outdoor Toy Caddy

One of the most effective outdoor toy storage solutions is an outdoor toy caddy.
I absolutely LOVE these because it can be easily moved to different locations when I need it. Our backyard wasn't big in our first house, but my twins often went from the backyard to the front yard several times an hour so having a movable toy caddy was perfect.
The caddy can hold balls, trikes, shovels, and any other toys that your toddler loves.
2. Mesh Storage Bags

Mesh storage bags are another fantastic outdoor toy storage idea.
They come in various sizes and colors, they are affordable, and they can be purchased easily on Amazon.
These bags have enough space to store beach balls, bubble wands, and pool noodles, while also letting air circulate keeping them dry.
Go ahead and hang them on your fence to dry and at the end of the day you can round them up and store them in your garage, shed or storage bench!
3. Storage Bench
One of the best outdoor toy storage ideas is a bench.
This storage bench is a perfect dual-purpose outdoor and in-garage storage solution.
It provides seating for the parents and guests, and a storage space for toys.
It's the perfect way to declutter your yard, and it doesn't take up too much space.
Plus, if you don't have enough seating for outside, this would be perfect.
4. Outdoor Toy Chest
When my twins were toddlers this toy chest was perfect for them. I could store their little toy balls, shovels and pails right in one toy chest!
If you need another one make sure to label the chests differently to make it easier to clean up.
You can also place a lock on it, so that your toddler's toys are safe and secure.
5. Playhouse or Toy Shed

A playhouse or toy shed is another clever outdoor storage idea for a small backyard.
Playhouses are perfect for storing smaller toys such as wheeled toys, dolls, action figures, and blocks while also providing a safe and secure environment for them to play in.
Not only are they a great way to keep the outdoors organized but they can also provide hours of entertainment for your little one.
6. Outdoor Storage Box

An outdoor storage box is one of the most versatile and practical solutions when it comes to storing toys outside.
This is what we are using right now for all of our outdoor toys – from sports equipment, to extra chairs to pool noodles and more.
Not only does it provide the necessary space for outdoor play items like scooters, soccer balls, basketballs and baseball bats, but an outdoor storage box can also keep these items safe from the elements.
Outdoor storage boxes come in various shapes and sizes.
You can choose one that fits your space perfectly and keep it close to the play area.
7. Storage Locker
Did you know you could use a storage locker as a toy storage idea for outdoors?
I love this idea because it's durable, safe and can hold a bunch of toys.
You can keep larger items like tricycles, ride-on cars, wagons, and scooters in one convenient place.
This can be stored in your garage or on your deck.
8. Hanging Baskets on Fence

Hanging baskets offer an excellent toy storage idea for small outdoor toys and pool toys.
Hanging them on a fence is an attractive way to organize these items and keep them out of sight.
With baskets, you can easily store balls, skates, bubble wands, frisbees, and more.
Not only are hanging baskets aesthetically pleasing, but they're also durable and come in various colors to fit your outdoor decor.
Plus, with these plastic ones, they can be washed easily and used to store wet items.
9. Garden Tool Organizer
You have this garden tool organizer but you don't use it much because well, you have no time to garden.
Well, why not repurpose this into a toy storage idea?
Oh yea! Store noodles like you would a yard rake and squeeze in other pool toys like floaties and more.
10. Stackable Storage Bins

Stackable storage bins are a great way to organize outdoor toys and keep them out of sight, right?
These bins come in various sizes and colors, so you can easily find one that is perfect for your outdoor toy needs.
With using stackable storage bins for outdoor toys you will notice that you can:
Easily store small items: Stackable storage bins are perfect for storing small items like balls, frisbees, bubble wands, and more.
Have more organized space: With these stackable storage containers, you can easily organize the outdoor play area and keep it neat and tidy.
See vertical space is used: The ability to stack multiple boxes on top of each other allows you to make full use of the available space in your yard or patio.
Find that they are durable: Most stackable containers are made from sturdy plastic materials that can last through harsh weather conditions.
11. Pegboard Wall in Garage

If you have a garage, you can organize your outdoor toys and pool toys with this pegboard idea.
With a pegboard wall, you can easily store items like pool noodles, air mattresses, blow-up rafts, scooters, and rackets.
This outdoor toy storage idea allows you to fill up the space in your garage while keeping your items organized and accessible.
Pool Toy Storage Ideas
Every parent knows that pool toys can quickly become a mess and take up valuable space in the backyard.
But with the right storage solutions, you can keep your outdoor area neat and tidy while still providing plenty of fun for your toddler.
From mesh storage bags to pegboard walls, there are plenty of creative ways to store all those pool toys. Here are some ideas to get you started!
12. Use a Blanket Ladder

For all of those wet pool towels, go ahead and get this blanket ladder!
Oh yea! You can store it outside on your deck next to the pool area or in your garage.
It's perfect for the little ones to hang their towels too since the ladder has lower rungs that they can reach with ease.
13. Use the Fence
With fence hooks, you can hang wet items such as pool noodles, air mattresses, and beach balls off the side of your fence.
This is a convenient way to store these items without having to worry about them taking up space in your yard or garage.
Not only will they be organized, but also it makes them easier to access when you need them.
Additionally, fence hooks are a great way to keep your yard looking neat and tidy.
14. Use a Laundry Basket

For a budget-friendly toy storage ideas for pool toys, you can just use a laundry basket.
Find an old one or pick up a plastic one and store floaties, pool toys and more.
15. Use a Pretty Bucket for Lotion and Sprays
A pretty bucket is a great outdoor toy storage solution for lotions and sprays.
It's an easy way to keep these items organized and easily accessible while also providing an attractive and decorative touch to your outdoor play space.
With various colors, sizes, and shapes available, you can find a bucket that suits your taste and complements the design of your outdoor area. Plus, it's an easy way to keep all your lotions and sprays in one place.
Amazing Outdoor Toy Storage for You
Keeping your outdoor play area organized can be overwhelming, but it doesn't have to be.
With these amazing outdoor toy storage ideas, you can create a clean and safe play environment for your toddler, and still enjoy all the outdoors has to offer.
I hope this helped you and gave you new ideas to tackle your yard's organization.
Let me know if you have some more ideas for me!