Get some fun and cheap backyard summer ideas for kids!
Being home with my twins has always been my dream since becoming a mom – but working from home means I have to be creative with how I keep my little ones entertained.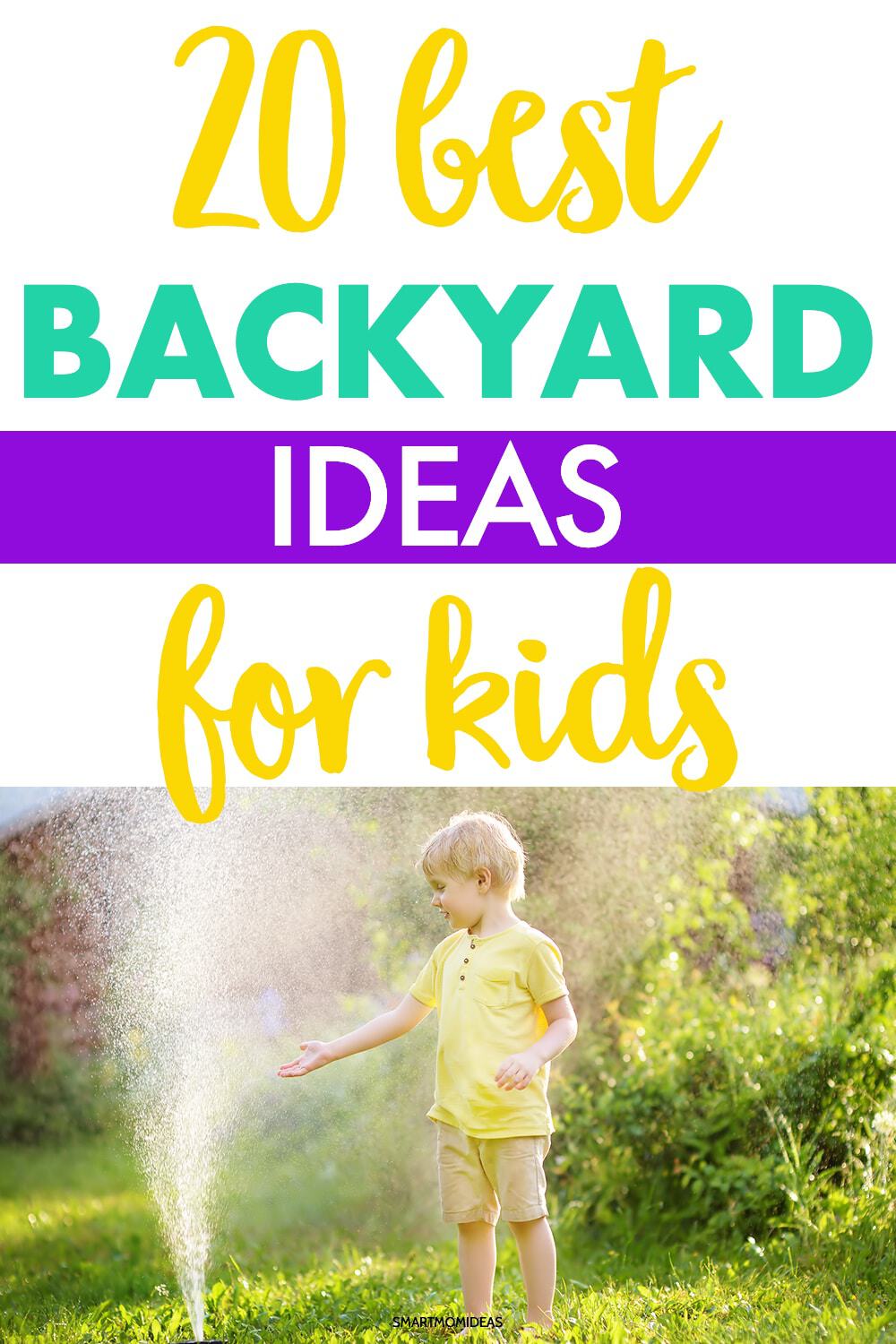 With warmer weather upon us, I am always looking for new ideas when it comes to fun and engaging activities right in our own backyard!
There are many benefits to having your child play outdoors (other than keeping them out of your hair for a moment or two).
For instance, outdoor play helps to reduce stress levels and improve mood in children. It also enhances physical and mental performance.
If you have a backyard, why not take advantage of this? Here are 20 of the best backyard ideas for kids this summer:
1. Scavenger Hunt
Write up a list of interesting finds and have a scavenger hunt in your backyard!
You can organize the list by colors or have your kiddos find items in alphabetical order.
Check out this outdoor explorer kit your little ones can use as they scavenge.
2. Stargazing
Sometimes the best backyard activities can happen at night – such as stargazing!
Grab a blanket and look up to the night sky to find the brightest stars and seasonal constellations.
You may even manage to catch a meteor shower this summer!
3. Slip and Slide
It's no surprise that the funnest backyard activities involve cooling off during hot summer days.
This classic activity will give your kids hours of fun as they slip, slide and stay cool.
Grab this Slip 'N Slide by Whamo for some wet and wild fun!
4. Water Balloon Pinatas
No backyard summer is complete without some water balloons.
However, instead of simply having your kids lob them at each other, why not create water balloon pinatas?
Fill up the balloons with water and hang them from your trees (or any structure in your backyard). Arm your children with a stick or baseball bat and whack away!
Just make sure you keep other kids away from the swinging.
You can use regular party balloons, but water balloons are designed to pop more easily.
5. Body Bumping
Ever wish you could put your kid in a bubble to keep them safe?
Now you can! And they can have a ton of fun running into each other and other obstacles in your backyard.
There's actually a toy for this called Bump 'N Bounce Body Bumpers that are designed just for this level of fun!
6. DIY Mini Golf
The best part about having fun in your backyard is using what you have to create fun games such as mini golf.
Use pool noodles to create paths and pop bottles full of water for obstacles. You can also cut holes in some boxes to create some tricky tunnels.
Don't forget to grab a plastic golf club and ball set at your local dollar store!
7. Inflatable Pool
Inflatable pools are great, since they are inexpensive, easy to install and easy to store away.
While your little ones will love splashing away in an inflatable pool, you can get creative by adding a small plastic slide or even throwing in some cool non-toxic water beads.
Or, once the pool is emptied and dried out, you can add some blankets and pillows to create a super comfy outdoor bed!
8. Backyard Camping
You don't need to go far to enjoy camping – just set up a tent in your backyard and you're good to go!
Drag that inflatable pool bed inside (if it will fit) or throw down some good ol' sleeping bags.
Make the experience genuine by bringing out snacks and lamps.
9. Swing Sets
Kids love to swing and many will spend hours enjoying this activity.
Most swing sets come equipped with additional goodies such as slides, swinging bars and even clubhouses!
If you're not interested in splurging on a huge set, you can always purchase tree swing that is easy to set up and your child or children will love!
10. Sprinkler Mat
These sprinkler mats are perfect for toddlers and smaller children who may not be ready for the inflatable pool just yet.
They require no inflation – simply a garden hose and running water.
The mat provides a fun place to slide and splash around on as streams of water spout from the perimeter.
11. Carnival Games
The best thing about these backyard sets is that they are easy to take out and put away – and they can be used inside on rainy days, too!
This carnival game set is great for outdoor play, whether it be for your little ones to enjoy or perhaps a backyard birthday party.
Plus, this activity is perfect for helping your little ones develop their hand-eye coordination skills.
This is something we set up for the family birthday party (hubby and I have our birthday's in the week!) and the twins loved running around and throwing bean bags.
12. Start a Garden
Did you know that gardening provides your children with the skills to help their development?
It's a great physical development activity that helps them develop their object control skills as well as body management and gross motor skills.
Check out this adorable all-in-one gardening set that includes tools, gloves and a carrying caddy. Grab some seeds and have your child work on creating a beautiful garden!
13. Bubbles
Are you one of those parents that enjoys sitting around for hours blowing bubbles to your child's delight?
Yeah, neither am I.
But kids love bubbles, so this super cute whale bubble machine is the ultimate solution to backyard entertainment for your little ones while you give your lungs a break!
14. Mud Kitchen
A quintessential outdoor activity for little ones is making mud pies. So why not give your kiddos a whole mud kitchen they can use?
You can buy a mud kitchen that features a real working tap, wash bucket and chalkboard panels that is easy to assemble and totally fun to use.
Or create your own mud kitchen using an old bench and buckets. Drag the hose over for hours of fun!
15. Mobile Mud Pit
If you don't feel like setting up an entire mud table, simply fill a wheelbarrow with dirt and water to create a mobile mud pit.
Equip your child with buckets and shovels and allow them to muck around as they hunt for hidden treasures or create muddy masterpieces.
At the end of the day, all you need to do is wheel the mud pit away to store or dump out.
16. Create a Splash Pad
Do you have a tarp? A sprinkler? Then you have a splash pad!
Lay out a tarp in your backyard and set up the sprinkler to create a super simple and super fun splash pad for your kids.
It's a great way to cool down and easy to put away when they are ready to move on to the next activity.
17. Trampoline
If you have enough room in your backyard, you should consider investing in a trampoline. Jumping is a great physical activity that appeals to kids of all ages – and adults too!
Make sure you get one with a net for maximum safety.
You can even amp up the fun of a trampoline by allowing your kids to draw on it with chalk (it washes off easily), stick a sprinkler underneath or grab some sleeping bags for a fun trampoline campout!
18. Potato Sack Race
Today's potato sacks are not built for racing, but these super fun potato sack race bags are!
These durable cloth bags are strong enough to withstand vigorous racing and even comes with a set of metals for the winners, the runner-ups and the runner-up-ups.
Combine this with the carnival game I mentioned above and you have a full day of fun and friendly competition!
19. The Grass is Lava
It's amazing that the games we played as children have made their way into the mainstream and now our own children are playing them!
The floor is lava is a popular indoor game for kids of all ages – so why not take it outdoors?
You can use anything to create a path across the lava grass – mats, cardboard boxes, chairs, etc. Incorporate the play structures you already have in your backyard, such as the swing set or slip and slide.
20. Build a Fire Pit
While this activity will certainly require parental supervision, sitting around a fire roasting marshmallows is the perfect way to end a day of outdoor play!
You can make your own fire pit by acquiring a used washer tub. The holes around the tub make for a beautiful ambient glow.
Or you can purchase a CSA approved fire pit that is safe to use during most campfire bans. This one uses propane, meaning that it is spark free and you don't have to use wood.
Just be sure to check with the current fire restrictions in your area.
Get Ready for Summer!
You can't go to a park or beach everyday, so enjoy the backyard space you have with these amazing outdoor play ideas!
Spend these beautiful days being the fun parent!
Now I want to know – how do you and your family enjoy your backyard in the summertime?
Let me know in the comments!