Cute and stylish planter box ideas you'll instantly love!
Although your yard is the perfect place for your kiddos to play, there's nothing wrong with wanting to make it look beautiful!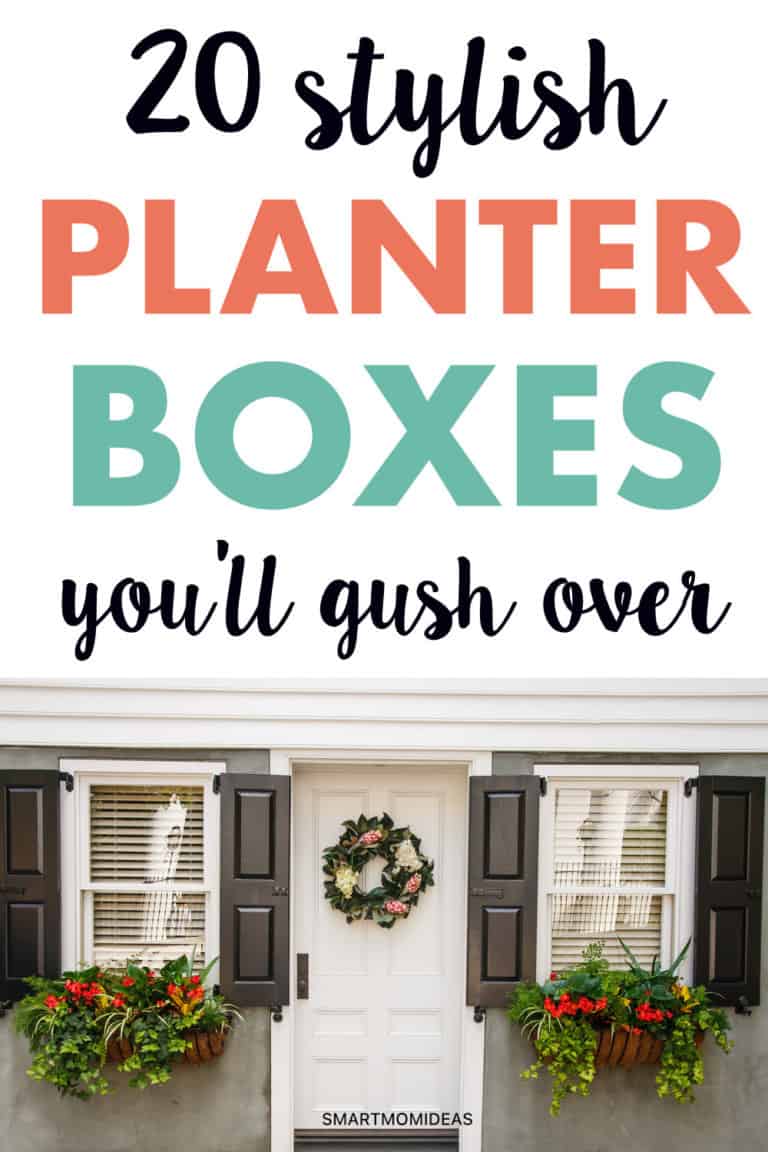 You can create an amazing green space and boost your curb appeal with stylish planter box ideas.
Planter boxes are perfect for planting gardens when you are low on space or simply want to create some visual appeal.
You can use them to show off your beautiful flowers or to grow your own vegetable garden.
A small planter box is perfect for growing your own herbs.
Planter boxes are available in a wide range of styles, materials, and shapes, so I know there is a perfect idea here for your home!
Amazing Planter Box Ideas for Your Home
For this summer, we will be re-siding the front of the home and I'm hoping I can add some planter boxes to the house.
I think it will look cute and help the kids with being more responsible (i.e. having to tend to the plants!).
Planter boxes can be used for flowers, vegetables, and herbs both inside and outside of your home.
For the DIY-inclined, planter boxes can be easy and cheap to make!
Let's take a look at some stylish planter box ideas and some tips on how to take care of your beautiful garden.
1. Circular Planter Boxes
Circular planter boxes are perfect for trees and crawling blooms and add nice curves to an outdoor space that is filled with straight lines, such as walls and fences.
Circular planter boxes can be made of wood or concrete.
2. Add Planter Boxes to Railings
Planter boxes don't have to be limited to the ground!
You can make the most out of your balcony or deck by adding planter boxes to your railings.
You can buy metal planter boxes that are designed to sit snugly over your railing or metal ones that hang and allow you to place pots and planters in them.
Railing planter boxes are perfect for trailing vines, bright blooms, and even homegrown herbs.
3. Use a Planter Box Inside
Yes!
You can even use these planter box ideas inside!
A little planter box would look adorable on your kitchen counter, or you can opt for a larger box to place by your front door.
A long, rectangular planter box can be placed by a window to grow herbs.
The possibilities are endless!
4. Build a Planter Box With Benches
If you have a large outdoor space or want to maximize on the space you have, you can make a raised planter box with small wooden benches on all four sides.
You can use the planter to plant vibrant blooms or even a small vegetable garden.
5. Group Planter Boxes Together
You can group planter boxes together to beautifully fill in the empty spaces of your yard, such as an unused corner.
Consider using the same style of planter with different heights or different styles in similar colors.
6. Planter Box With Trellis
Having a planter box with a trellis allows you to plant beautiful climbing plants such as sweetpeas, clematis, and hydrangea.
You can also use this planter box for growing vegetables, such as peas and beans!
7. Stepped Planter Boxes
A stepped planter box allows you to use multiple planter boxes in a smaller space by arranging them vertically.
The base is shaped like a triangle, so the boxes are not stacked on top of each other.
This gives you plenty of space to grow a variety of flowers.
8. Concrete Planter Boxes
Concrete planter boxes are durable and have a very neat and minimalistic look.
If you're handy, they're not super hard to make.
Use a hollow wooden cube and fill the sides with concrete.
9. Plant Wildflowers in Your Planter Box
Planter box ideas don't all have to be organized and Pinterest-worthy!
Simply planting wildflowers in your planter box is an amazing way to bring life and color to your yard.
10. Make a Simple Wooden Planter Box
The planter boxes themselves don't have to be complicated either.
Sometimes the most beautiful planter box ideas are simple boxes made of wood.
The natural color fits perfectly with any type of plant.
11. Grow Veggies in a Planter Box
These planter box ideas aren't just for flowers! You can easily grow vegetables in a planter box if you are limited with space.
Check out this cool potato planter that features a door on the side so you can easily get to your potatoes without digging up the whole plant.
This would be great for other root veggies too!
12. Decorate Your Planter Box With Ceramic Tiles
You can also take simple planter box ideas to the next level by decorating the outside of the box.
Using ceramic tiles is a great way to make your planter box look like.
You can combine different colors, designs, and textures.
Bright and color planter boxes are perfect for plants that are not overly colorful, such as homegrown herbs.
13. Window Planter Boxes
Window planter boxes are a popular and timeless way to add color and beauty to the front of your home.
You can even use pine boughs, burlap, and more to decorate your window boxes during the Christmas season!
14. Create a Planter Box Using Bricks
Bricks are a versatile and durable material that is perfect for making planter boxes – plus, you can often find used and recycled bricks!
To make a brick planter box, you'll also need mortar to make sure the bricks stay together.
You can use brick planter box ideas on either side of your front door or anywhere in your yard.
This is what my in-laws have done back in the day and it has held up really well!
15. Bird Feeder Planter Box
This is such as cute planter box idea!
The front looks like a typical bird feeder, but the back is extended to create a planter box for beautiful and colorful blooms.
16. Planter Boxes On the Go!
If you grow plants that can't survive the cold winter temperatures, you can build a planter box on wheels!
This planter box idea will allow you to simply wheel your plants inside during the winter.
You can also move them around your yard to take advantage of sunlight or move them to shelter during heavy rain and storms.
17. Hanging Planter Boxes
For smaller gardens and patios, you can take up less space by hanging your planter box from an exterior wall.
These are super simple to make too! Just attach wooden crates together with chains.
Be careful when you hang your planter, making sure you choose the right brackets to avoid damage to your walls.
18. Cascading Flower Planter Box
These beautiful planter boxes are made with holes around the sides to allow flowers to grow out and downward.
This creates an amazing cascading effect with your blooms!
19. Fairy Garden Planter Box
If you're looking for a whimsical planter box idea that your kiddos can help out with, add a fairy garden to your box!
Have your little ones create adorable fairy garden houses and add some beautiful blooms and outdoor fairy lights.
20. Wood Palette Planter Box
If you're looking for recycled and upcycled planter box ideas, why not make one out of old palettes?
Many companies will give palettes away for free, and you can pull them apart and restructure them into a beautiful planter box.
How to Garden in Planter Boxes
Now that you've seen these stylish planter box ideas, let's take a look at how you can best care for your planter box garden:
Choose the Right Plants
There are some flowers and vegetables that do very well in planter boxes! Here are some ideas for your planter box (although this is not an exhaustive list):
Flowers:
Begonia
Geraniums
Marigolds
Petunia
Zinnia
Nasturtiums
Creeping Jenny
Impatiens
Snapdragons
Vegetables:
Beans
Beets
Chard
Lettuce
Kale
Spinach
Onions
Radishes
Bell Peppers
Tomatoes
You can also grow any type of herb in your planter boxes!
Use the Right Soil
When you plant anything in a box or container, you need to use potting soil. Soil from your yard is going to be too heavy and bring along bugs and other issues.
Regular, good quality potting mix is perfect, whether you are planting flowers, herbs, or veggies.
You should also add a fertilizer to help your plants grow strong and healthy!
Take Care of Your Planter Box Garden
To make sure your planter box garden thrives, here are some tips for taking care of it:
Water at least once a day since plants in planter boxes are closely spaced and have a small amount of soil. Water more if the weather is dry and hot.
When you water, make sure to saturate all the soil.
Mix in slow-release fertilizer regularly throughout the season.
Prune and remove dead flowers and leaves to promote growth and keep the plant healthy.
And don't forget to take care of your planter box garden in the winter!
While you and your kiddos may be outside having fun during the winter months, your planter box needs some TLC during this colder season.
If you can wheel your planter box into a garage or shed, that is great. Otherwise, cover your planter in loose mulch and burlap.
Beautiful Planter Box Ideas
Are you ready to beautify your backyard? Bring some nature into your home?
These stylish planter box ideas will get you started on creating an amazing garden! From flowers to veggies, the sky is the limit.
Which one is your favorite that you're excited to try? Let me know in the comments!
And don't forget to pin for later!