Get the cutest fairy garden house ideas to turn your garden into a fairy movie!
Whether or not you believe in fairies, these DIY fairy garden houses are just the cutest!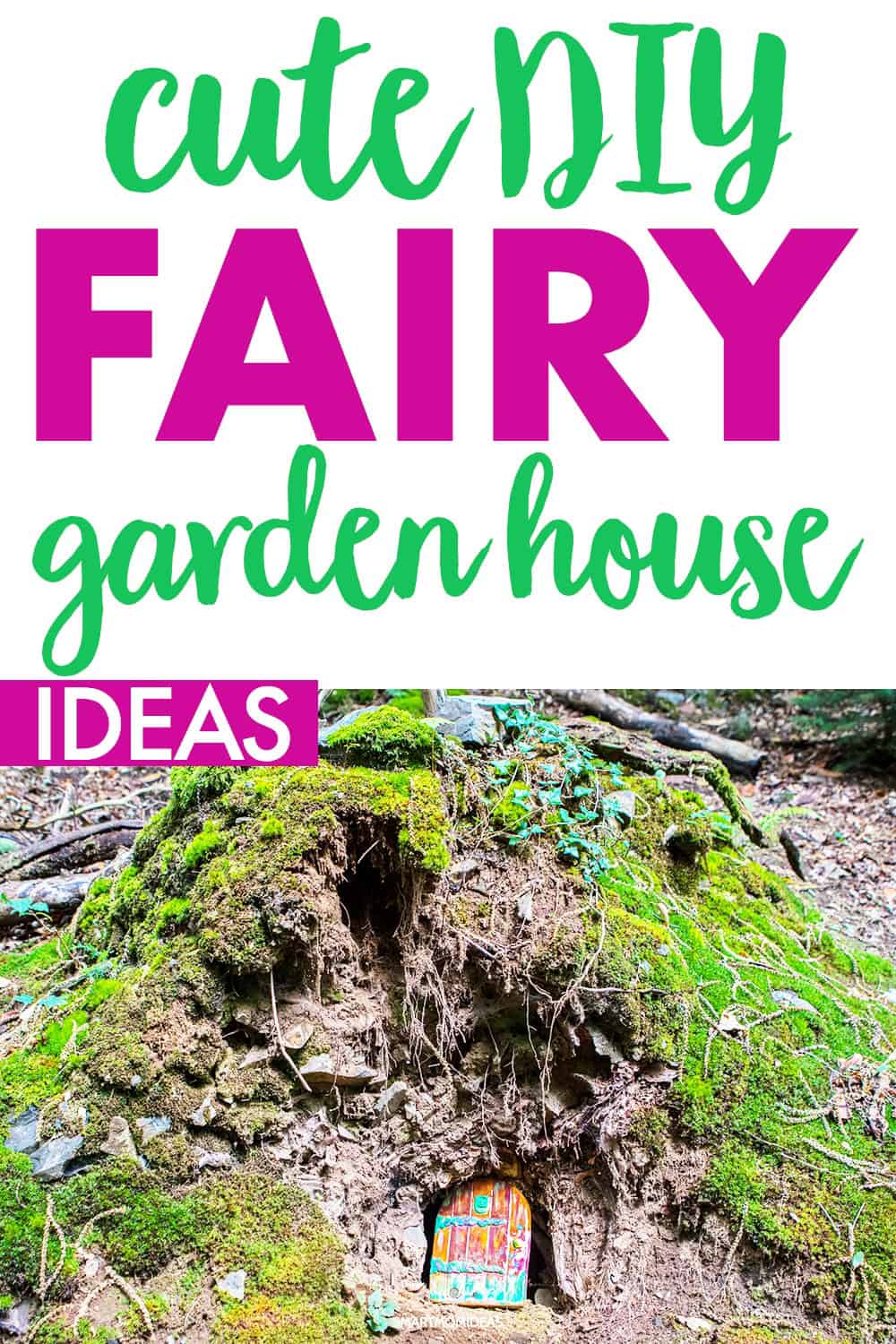 They can add a little extra magic to any outdoor space or garden.
My daughter is reading about fairies and is loving the whole idea of cute little fairy houses in our garden.
She's so excited about these DIY fairy houses and wants to try all of them in this list!
Oh my!
Doing a DIY fairy house may look hard, but it really isn't.
You can even get your children involved in helping you build a tiny fairy house for the garden.
Here are a few DIY fairy garden house ideas to get you started.
Flat Stone Fairy House
This is a great fairy house for those ambitious crafters. The basic materials that you will need are:
First, you are going to want to create the base of your house with the cardboard.
Glue the rocks together using the silicone sealant and put them one on top of another.
Remember to leave any openings for doorways or windows that you might want to add later. Once you have the main structure down, use the popsicle sticks to create the base for the roof.
You want to add enough so you can attach different sizes or bark without them falling through. Make sure your roof structure is dry before adding your "shingles," this is sure to save you some headache with things sliding everywhere.
Add your finishing touches with a popsicle stick door or windows.
You can also paint any part of the fairy house with durable outdoor paint, but I really love the natural look of the stone and other materials.
This fairy house is great because it is super durable once everything dries.
So if you live in a place that tends to have crazy weather, you are going to want to use materials that will withstand the elements!
Make sure you save any extra materials for other projects or more fairy houses!
*Pro-tip: Avoid using a hot glue gun whenever possible when making fairy houses.
While it is convenient and easy to use, the end result is definitely not as durable.
That is why a clear silicone sealant or E6000 should be your go-to. It holds up very well and can be easily hidden in the construction process.
Faux Brick Fairy House
This faux brick fairy house is simply adorable!
Rather than trying to use actual brick and mortar, you can easily put this fairy house together with styrofoam.
Got some lying around from Amazon orders? Put it to good use with this creative and easy to make fairy house.
However, if you want to go for a more realistic look and attempt to be a tiny mason, you can get these adorable, miniature bricks.
They actually offer a couple of different sizes and shapes to fit your miniature project needs.
For this faux brick fairy house, you are going to need:
Paint and assemble the bricks using cardboard as the base.
Then make a structure for the roof using some small sticks. You can then easily add greenery to complete the rooftop.
Stone Fairy House Planter
This fun DIY fairy house planter not only makes a cute decoration but also doubles as a working planter.
Use it to plant flowers that will draw in butterflies and lots of bumblebees.
For this planter fairy house, you will need:
Now it is just a matter of putting everything in the right place and gluing it down.
Start by gluing down the door and window and work around that.
It's useful to glue the moss down first and add the rocks over it, this way it looks like the moss is growing out from under the rocks. It's the little details that make these houses special, right?
If you are looking to make an entire fairy garden or a fairy village, don't forget to check out some of the fairy furniture on Amazon.
They have everything from dining sets to tiny bathtubs, the perfect addition to any DIY fairy garden.
Horseshoe Fairy Door
You can easily turn any tree into a fairy house, simply by adding a door.
This horseshoe door is very easy to make and looks great on any tree.
You can also customize it in whatever colors you want to match any surrounding decorations.
For this project, all you need is:
Cut the wood to match the size of the horseshoe and cut with a jigsaw.
You can either leave the door flat or make score lines with a box cutter. Alternatively, you could glue popsicle sticks to a piece of cardboard or thin piece of wood to create the wood planks.
Stain the wood part of the door and spray paint the horseshoe and hinges (or leave unfinished, up to you).
Then glue everything together with the E6000 glue (seriously the best crafting glue out there!)
DIY Gnome Home
Gnomes, fairies, are we really going to debate which mythical creatures are going to be living in these homes?
Nope, all we know is that they are super cute and we can't get enough of these adorable creations.
These gnome homes are so cute and remind me of the little hobbit homes that you would find in a Lord of the Rings movie.
This one starts with a flower pot…
Seriously, if you don't already have this glue, you are missing out!
It's versatile in so many different craft projects, from bedazzling dance costumes to gluing stones to fairy houses.
For this fairy house, simply start by turning the pot upside down and adding the saucer to the top.
Then glue on the moss assortment and stones on the sides and top of the pot. Add your door and mushrooms accordingly.
Solar Powered Fairy House
I love the use of solar lights in this fairy house! While you could add fairy lights to any of the fairy houses to make them light up, with a solar light you don't have to worry about batteries or waterproofing. For this unique project you will need:
You're going to want to make sure that the diameter of the plastic bottle is one to two inches smaller than the diameter of the solar light.
This will account for the addition of the rocks and clay to hold everything together.
Start by painting the frames to make little windows.
Glue those and the door on first then work the rocks around that. Spread the clay or silicone on the bottle to create a base to stick the stones to.
Try and leave some space between the rocks so the light can shine through.
Finally, add your roof. Take the top off of the solar light and attach it to the opening of the bottle.
Twig and Moss Fairy House
Looking to make an easy DIY fairy house out of things you can find in your yard?
This twig and moss fairy house is perfect for utilizing natural materials you find outdoors.
For this fairy house, you will need:
First, start with a base of cardboard, this will help hold everything together.
Use the clay to create something for the twigs to stick to on the bottom, this will be much easier than gluing.
Then build the structure of your fairy house using various twigs in a tee-pee type shape. You can use the moss to cover up the clay once it dries. You can add pine cones, acorns, and moss as you see fit.
Create a tiny roof using the bark you collected.
The wonderful thing about these DIY fairy houses, other than the fact that they are adorable, is that you can use many of the materials interchangeably. So it is fairly easy to create a whole fairy village with just a handful of materials.
Of course, feel free to add your own touches and other items that you might have laying around.
Things like buttons, clay or resin items, shells, repurposed Christmas ornaments, you name it!
The point here is to get creative and have fun!