Try these Easter games that everyone will enjoy!
My twins love Easter!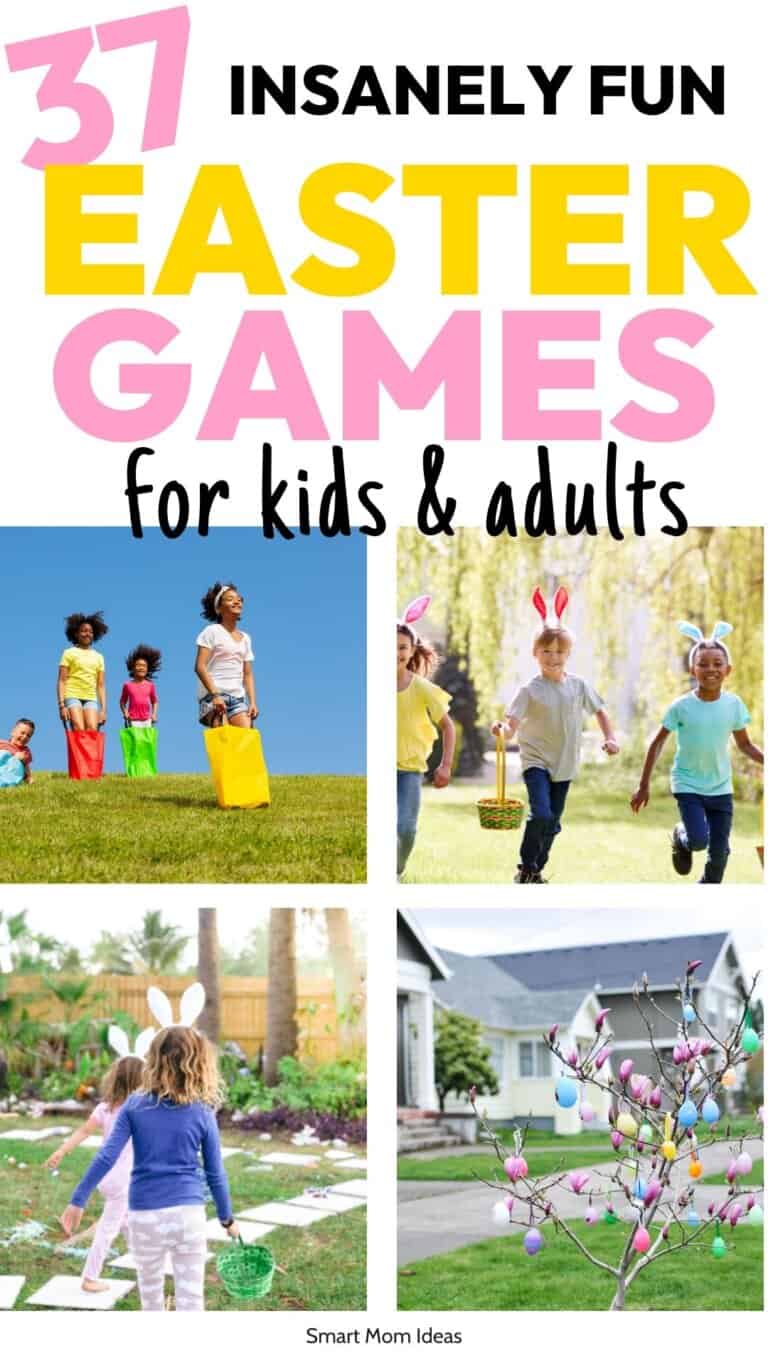 If your family celebrates Easter, this isn't only a time to attend church, but also a time for some fun Easter games!
From the beloved Easter Egg Hunt games to crafts and traditional Easter games, there's something for everyone on my list.
These Easter games and activities are based on whether you're a kid, adult, for the family or if you want to have fun outside with these games.
Many of these are twists of traditional Eater games, while others are ingenious, unique and hilarious to do!
Whatever choice you pick, find ones that your family or partner would enjoy the best!
So, enjoy this list!
Best Easter Games for Kids
Easter is the time of year where your family comes together to celebrate and have a good time.
This year, why not try something different and play some Easter games?
Here are a few ideas to get you started.
1. Extreme Egg Toss
Extreme Egg Toss is the perfect game for kids who want to have some messy fun without making a mess!
This hilarious interactive game comes with 40+ Egg-Mazing puns and sounds that will keep kids entertained for hours on end.
Whether they're playing by themselves or with friends, Egg Toss is sure to provide hours of laughs.
2. Easter Bingo Cards
These Easter Bingo Cards are a must-have for any Easter themed party or event.
The cute design and fun playing options is a great way to bond and have fun with your kids.
The bingo cards are specially designed for all ages.
This is perfect for you to play with your kids on Easter's event.
And with Covid-19 still around if you aren't able to attend your traditional Easter celebration with family then make this Easter extra special for your kids!
3. Easter Bunny Go Fish
Who doesn't love the classic game Go Fish? Every night we play a family game and Go Fish is usually our go-to game for the night!
Now, we can have fun with the Easter Bunny Go Fish set!
This adorable game is perfect for kids of all ages, and features cute Easter images which children can easily identify.
With this game, kids can play Go Fish by calling for cards by image or number.
It's the perfect addition to your child's Easter basket, and it provides hours of old-fashioned fun for girls and boys alike. So grab a deck today and get ready to have some Easter fun!
4. Matching Easter Eggs
If you have younger children, then these types of Easter games are perfect! This matching Easter eggs set is so cute and teaches your children about colors and shapes.
These 12 white eggs open up to reveal colorful interiors with embossed shapes.
Match the eggs by interior color and shape, then connect the pieces together and store them in the egg carton.
This is a great Eater activity for home or church daycares, and perfect for imaginative kitchen play!
Matching Easter Eggs are also a great option for your Easter egg hunt.
I love how you can store this game in a plastic egg carton, and the price is unbeatable!
5. Squawk
While this isn't technically an Easter game, it does have eggs! Squwak is a hilarious game with a nosiy chicken prop. Push the chicken while it's laying and if it pops, an egg drops and cracks. Collect the eggs to win!
This hilarious game features a squawking chicken and is perfect for kids of all ages.
You can vary how you play to keep things interesting, and everyone is sure to have a blast.
So next time you're looking for a fun family game night option, be sure to give Squawk a try – you won't be disappointed!
6. Happy Bunny
Happy Bunny is the perfect game for teaching teamwork and counting.
Roll the dice to move the bunny along the path, and pull carrots out of the board according to the corresponding number.
There are two types of carrots – those for the bunny to score, and those for the farmer.
When you reach the final space, compare your lines of carrots to see who wins! This fun and challenging game is perfect for all ages.
7. Hoppy Floppy's Happy Hunt
Join Hoppy Floppy on a fun-filled Happy Hunt for colorful carrots!
This easy to follow board game is perfect for kids of all ages, and encourages social skills and turn taking.
With no reading required, everyone can play together.
The little baskets are so cute and the rabbit squeezer is adorable – your kids will love playing this game!
8. Easter Dice Game
Why not try this cool Easter dice game? Just grab some colorful plastic Easter eggs and some dice from another game and print out this Easter game printable and play!
Roll the dice and do the action on the card like – "Trade with the person on your left."
This is perfect for the whole family to play!
9. Easter Scavenger Hunt
Why not create a scavenger hunt in your home?
For these types of Easter games, you'll need to prepare beforehand to gather all the materials.
For example, make sure you have on hand:
Carrots
Easter candy
Chocolate bunny
10. Easter Bunny Sticky Wall
For the toddlers who want to participate in some Easter games, why not try this cool Easter bunny sticky wall?
All you need is contact paper!
Draw a bunny on the non-sticky side and give your toddlers some cotton balls and have them go wild filling in the bunny!
11. Pin the Tail on the Easter Bunny
Looking for a fun Easter game that will keep the kids entertained?
Pin the Tail on the Easter Bunny is just the thing!
My twins LOVE this Easter game so much!
This poster comes printed perfectly with no issues, and it's downright cute.
Kids will love picking out their own horns and putting their names on them, then seeing who can stick theirs closest to the bunny's tail.
There's plenty of stickers to go around, so everyone will have a blast.
Easter Games for Outside
Get some ideas for Easter games if you want to take it outside!
You can create an Easter carnival or a fun scavenger hunt and more!
12. Carnival Easter Bean Bag Toss
Have fun with this carnival Easter bean bag toss set up.
This adorable game set includes 10 fun tin cans and 3 beanbags, all in a cute carnival-themed style.
Simply set up the cans in a pyramid and start tossing the beanbags to see who can knock them down the most.
Whoever knocks down the most cans wins!
This game is perfect for both adults and children, and is sure to be a big hit at your Easter celebration.
So don't wait, get your Carnival Easter Bean Bag Toss today!
13. Easter Inflatable Bunny Ring Toss
How cute is this Easter game? The Bunny ring toss is a cute and festive game includes 12 rings, 2 bunny ears, and 1 pump.
The entire set is completely inflatable, making it easy to store and carry.
Perfect for holiday parties, school days, or indoor and outdoor play! The Easter Inflatable Bunny Ring Toss is sure to be a hit with kids and adults alike!
14. Easter Outdoor Game Set
Enjoy the entire day outside with this Easter outdoor game set.
This game set includes everything you need for a fun day of Easter activities, including potato sack race bags, outdoor lawn games, bunny ears headbands, egg and spoon games, and 3 legged race bands.
Whether you're looking for a fun way to burn off some energy or just want to have some laughs, this game set is perfect for all ages. So round up your loved ones and get ready for some Easter fun!

15. Easter Bean Bag Toss
Check out this Easter game idea! The Easter bean bag toss is a fun and festive game to play this Easter!
This cute and colorful game is perfect for kids and adults alike, and is sure to get everyone into the Easter spirit.
To play, simply set up the board (one side features a festive Easter motif) and take turns throwing the bean bags at the target.
Whoever gets the most bean bags in the target wins!
The Easter Been Bag Toss is great for indoor or outdoor play, and is sure to provide hours of fun. So get your family and friends together this Easter and have a blast with the Easter Been Bag Toss!
16. Duck Pond Matching Game
What a cute addition to your Easter game fun outdoors! This duck pond matching game is perfect for both kids and adults, and is sure to get everyone laughing and having a good time.
The game comes with everything you need to get started, including a pond and ducks.
The ducks are made of durable plastic, so you don't have to worry about them getting damaged. And set-up is easy – just inflate the pond and you're ready to go!
So gather your friends and family, and get ready for some fun with the Duck Pond Matching Game!
17. Easter Egg Roll Game
For some big outdoor fun, then try out this Easter game idea! If you have a large cardboard box you can make this Easter bunny face with its mouth open.
Kick some balls into its mouth pretending they are eggs!
18. Pass the Egg
Who remembers this Easter game?
I would play this game after Easter Sunday mass with a group of kids.
It was a blast to play! You can use a real raw egg or just some plastic eggs filled with candy and toss the egg back and forth and see which team can keep the egg without it cracking!
19. Make an Easter Egg Tree
What a cute Easter game! Fill colorful Easter eggs with candy and then wrap each egg with tissue paper.
Then with some string, tie those to a tree. You can decide how kids can "pull" or "pick" or "choose" the Easter eggs!
20. Minute to Win It Easter Games
Remember the fast paced game Minute to Win It? It was an old game show where contestants had a minute to complete a challenge only using household items. This can be adapted for all holidays, Easter included!
Easter Family Games
Include the entire family – aunts, uncles and grandparents – for these Easter family games!
21. Easter Spoons
Easter is the perfect time to have some family fun with this Easter Spoon Relay game!
This race game helps to enhance kids' ability to concentrate, builds balance and coordination.
Plus, it's a great way to get some exercise.
This was a great durable Easter gam with a great price!
The game contains 12 spoons and 12 eggs, allowing for teams for an egg and spoon relay. Kids and family will love it!
22.
Nueplay Kids Smart Board Game
Nueplay Kids Smart Board Game is the perfect way to spend some quality time with your family and friends!
This educational toy game is interactive and a ton of fun, helping to nurture bonding between parents and children while also cultivating teamwork among friends.
The puzzles in this game get harder as you go, providing a challenge for kids and adults alike.
So gather round the table and get ready for some serious brain-teasing action with Nueplay Kids Smart Board Game – with an Easter motiff!
23. POP for Word!
What a fun Easter family game!
This fast-paced game is perfect for teaching kids common word endings and helping them with their rhyming skills.
And the best part is that it's really cute! The "pop" cards add a little bit of drama to the game, and it's sure to keep your kids entertained for hours.
POP for Word is also a great way to teach kids about sportsmanship and how to handle disappointment.
So if you're looking for a fun and educational game for your kids, be sure to check out Pop for Word!
And, how is is this Easter related? Well, everyone loves to eat popcorn and I just found it a nice fun game you can play outside even!
24. Jumping Jack
Jumping Jack is an adorable starter game for younger kids but big kids and adults will still enjoy this Easter game!
Spin the spinner to see how many carrots Jack needs to collect, then pull his favorite carrot and watch him jump!
Catch him if you can – if you do, you win!
So hop on over and get your Jumping Jack today!
25. Funny Bunny
This is the perfect Easter game for kids and the whole family who love bunnies and racing!
In Funny Bunny, players use one or multiple bunnies to race around the board and be the first person to reach the giant carrot.
Plan your routes and think ahead to win.
Each game is unique so this kids game can be played over and over.
The bunnies are cute and the cards and the game board is sturdy and the various moving parts function perfectly.
There's no assemble required, the cards are thick card stock and the plastic bunnies are not too tiny.
26. Easter Egg Tag
This ingenious game is easy to set up: an old shirt, a glue gun, tape, colorful plastic Easter eggs and candy.
Fill the Easter eggs with candy and tape shut. Then glue the Easter egg to the shirt.
Now the Easter game begins! The person "it" has to chase the person with Easter eggs on them and the object is to grab as many pieces of candy as possible!
Each member of the family can play!
27. Pin Rabbit Tails on Each Other
Put double-sided tape on large pom-poms and put them in a bowl.
Then have the family attach "rabbit tails" on each other. The one with the most pom-poms on them after 5 minutes loses!
28. Easter Egg Drop
In this hilarious Easter game, you transfer Easter eggs from one container filled with water to another.
The catch? You can only use your feet to move them!
This slippery and fun game is perfect for all ages and for the entire family!
29. Grandma's Easter Bunny Hop
Remember the game "What time is it Mr. Wolf?
In this Easter game one person is the grandma and the rest of the children and folks line up on the other side of the yard.
The object is to hop over to Grandma without her noticing. Grandma can turn around and if you are still hopping, you are out of the game.
If you are the person who can touch Grandma, you win and it's your turn to be Grandma!
Out of all the Easter games, I like this one the best for outdoors!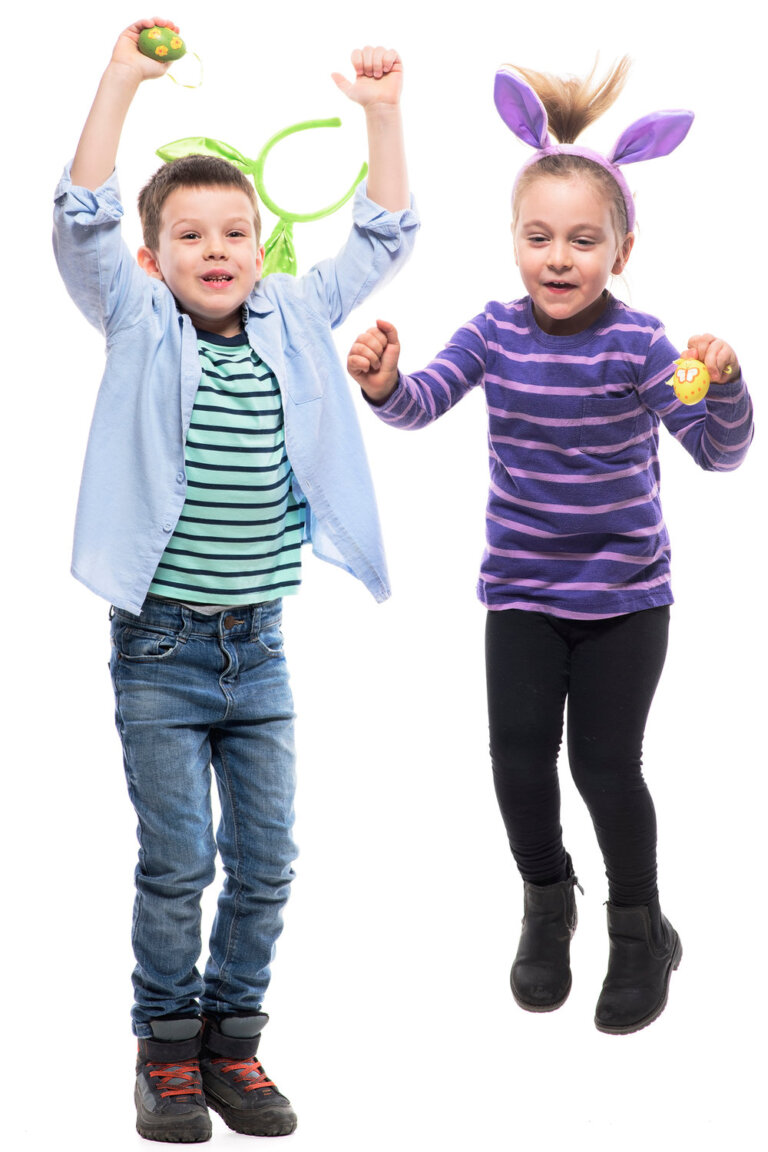 30. Easter Egg Hunt Up Leveled
Easter egg hunt is a classic Easter game, but why not up level it a bit?
Instead of only Easter eggs to find, why not have children and adults find small toys like:
Chicks
Rabbits
Rings
Cars
Visit your Dollar store to get a grab back of these items for your Easter egg hunt!
Fun Easter Games for Adults
You're an adult, and you want in on the Easter fun.
Easter isn't just for the kids anymore!
Whether you are newly dating, parents or you have aunts and uncles gathered around, why not have fun with your version of Easter games for adults?
Most of these will be a version of Minute to Win It as this is a popular game set up for adults and kids alike!
31. Nighttime Easter Egg Hunt
For a fun night on Easter, instead of doing an Easter egg hunt during the day, get some glow-in-the-dark easter eggs and hunt for those instead!
32. Watch Ya' Mouth – Easter Edition
Who doesn't remember this fun mouthy game?
Say funny Easter sayings with this crazy mouth guard and have others guess what you are saying.
Get some catchy Easter sayings here!
33. Chick Egg Drop Game
Use small coloful plastic Easter eggs for this fast-paced game!
Put the egg in between your legs and make it from one side of the yard to the other before everyone else does.
You can turn this into a relay and have teams and for a more challenging game, use large Easter eggs instead!
34. Viral TikTok Easter Game
Easter games have made it to TikTok…and I'm here for it!
In this viral Easter game, fill your Easter eggs with flour and, in teams, toss the egg back and forth while stepping away after each turn.
If the Easter egg cracks, you get floured!
35. Stringed Out Donuts
Who doesn't like donuts?
Similar to the Easter egg tree, with this adult Easter game, get some donuts and string and tie the donuts to the tree.
With your arms behind you (and a blindfold if you want) go searching for some donuts to eat!
The person who can find and eat the donut the fastest wins! Just be careful not to choke!
36. Egg Roll
With some hardboiled eggs that you can have fun decorating with yarn and markers, simply roll them down the driveway to see which egg wins!
37. Elephant Trunk Game
While this isn't really part of Easter games, it does make for a hilarious game!
With Elephant Trunk, get some pantyhose and put tennis ball inside. Push it to the end of the pantyhose.
On the floor, have plastic cups lined up. Place the pantyhose on your head and start knocking over cups!
Easter Games for All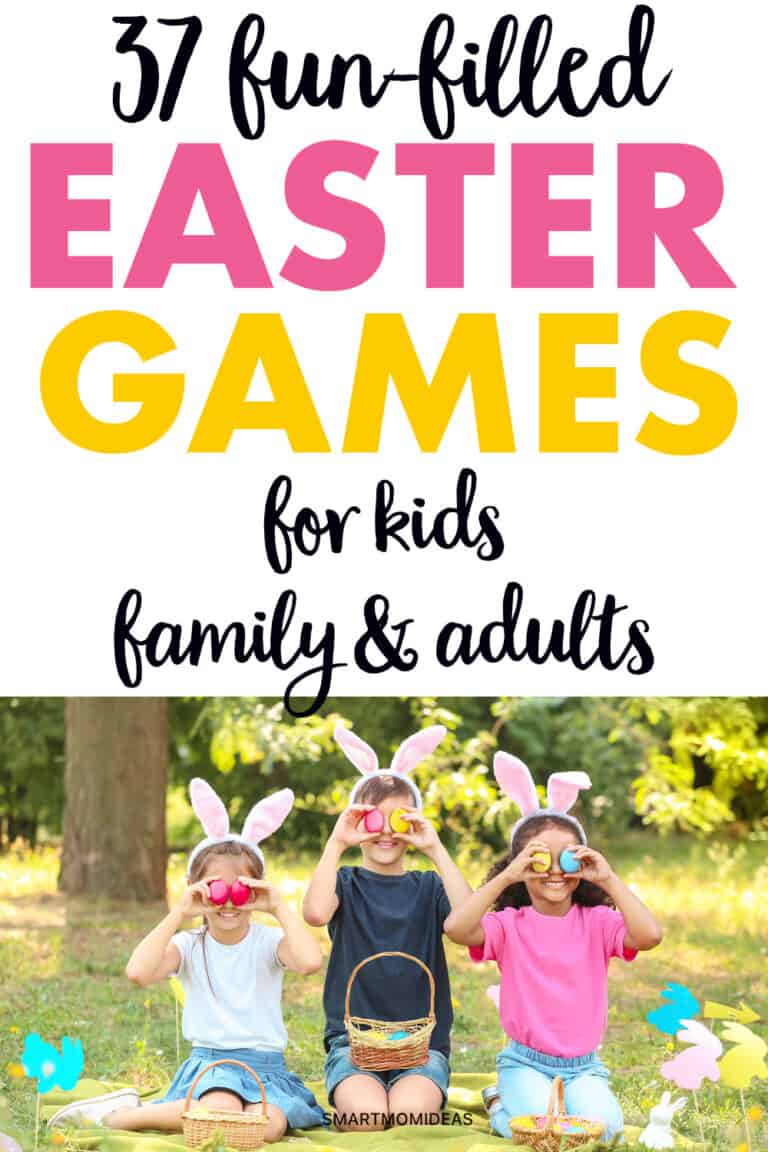 There ya go!
I hope you found some Easter games you entire family can try – kids and adults too!
For more Easter fun, check out these posts:
Let me know in the comments which Easter game is your favorite!
Please pin me!