Fun & Simple Easter Breakfast Ideas Your Kids Will Love!
Easter is such a fun holiday filled with family and food!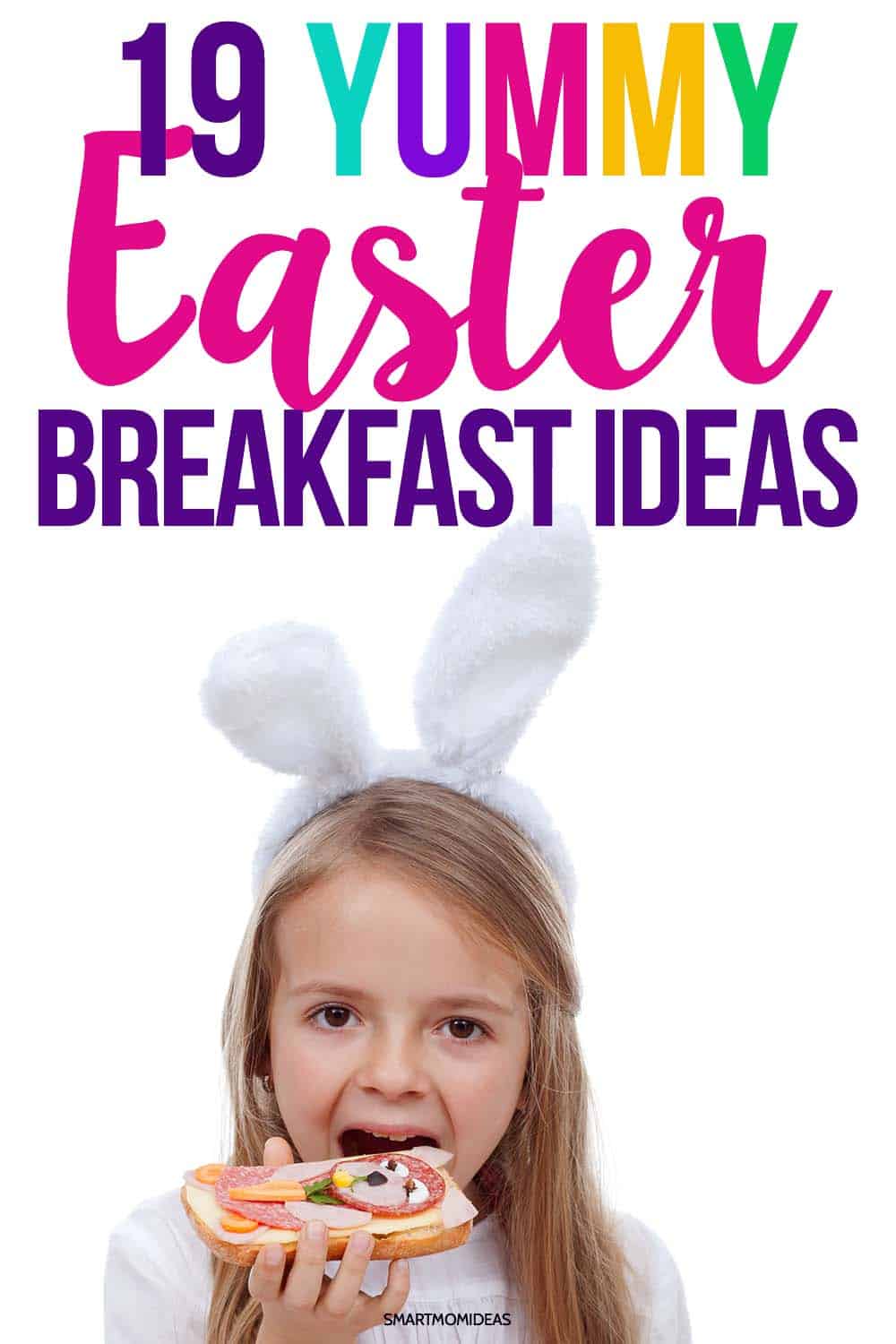 There are so many different things to love about Easter…
Dying eggs.
Looking for Easter baskets in all the nooks and crannies in the house.
Getting dirty looking for Easter eggs out in the yard.
And of course…breakfast (or brunch)!
Easter is a great holiday to go all out with making your family a big breakfast. But why not make Easter breakfast extra fun with these yummy Easter breakfast ideas for kids?
Here are 19 delicious and adorable ways to make fun breakfast ideas to serve your kids on Easter morning. This can also be a dupe for some fun Easter crafts too!
And I promise, these aren't just ways to rearrange food to make it look like bunnies and baby chicks, but we had to include at least a few of those because what kid doesn't love bunny butt pancakes on Easter morning?!
1. Edible Potato Nests
What is the one other animal that comes to mind when you think about Easter? Chicks! Bunnies and chicks are the main theme for all things Easter. These edible potato nests are a fun way to serve up some baby birds…I mean eggs.
These little nests are so easy to make and only require 2 main ingredients, hashbrowns and eggs. Simply prep the hashbrowns by adding a bit of oil, salt and pepper, and form them in a muffin tin.
Then add in a couple hard (or soft) boiled eggs and you're good to go.
This is also a fun way to use up those funky dyed eggs that you hardboiled with the kids.
2. Bunny in a Hole
Egg in a hole was one of our go to breakfast meals growing up.
They are simple to make, cute and delicious! Again, you only need a few ingredients for this and your kids are going to love eating these toasty little bunnies!
Grab your favorite bunny shaped cookie cutter, some bread, butter, and raw eggs.
Realistically you can use any Easter themed cookie cutter for this breakfast, bunnies, chicks, eggs, and so on.
Use the cookie cutter to cut your shape out of the middle of the bread.
Then butter one side, place it on your griddle and crack an egg into it. Cook this just like you would an over easy egg and enjoy!
3. Yogurt Pops
Let's face it, breakfast is probably the healthiest thing your kids are going to eat all day because you know everything else is going to be loaded with sugar.
Make sure they are getting in a bit of real food into their tummies with these yogurt pops.
While these look like cake pops, they are made with yogurt, fruit, and even granola for a healthy breakfast treat they won't be able to get enough of. Just be sure to get the egg mold in time to make them.
4. Granola Cups
While there are no bunny themes here, these granola cups are a unique way to serve up some yogurt, granola, and fresh fruit that your kids won't be able to get enough of. The unexpected ingredient that is holding these granola cups together? Marshmallow!
Yup, these are like a rice krispie treat meets granola, the kids will love them!
5. Granola Tarts
If you would prefer something a bit healthier than granola held together by marshmallow, then these granola tarts are a great option. These tarts also have more surface space to pack on more fresh fruit or other goodies.
Perfect for kids who can't get enough strawberries or blueberries.
6. Easter Bunny Twists
While these twists don't look like your traditional bunny shaped food, they have "ears" and are so delicious. Similar to a taste of a churro, you won't be able to eat just one of these, so be sure to grab a few before your kids eat them all!
7. Lemon Flower Tart
Lemon is the perfect flavor for any springtime get together. While these are classified as a dessert, are there actually any rules to Easter breakfast…?
We think not.
The main ingredient for this fun little breakfast item is pie crust and a filling.
If you or your kids aren't a fan of lemon flavored things, you can use any type of pie filling for the center part, or make a whole bouquet of different flavored flowers.
8. Maple Bacon Pancake Bites
You heard that right…maple, bacon, and pancake, all in one bite!
Sorry, let me wipe the drool from my face…
While these aren't bunny shaped, they were too good not to include!
These are little pancake muffins, drizzled with a cream cheese maple glaze and topped off with crispy bacon.
9. Funfetti Stuffed Crescent Rolls
I don't know about your kids, but mine will eat anything with the word funfetti in it. And just about anything tastes better wrapped up in a crescent roll. This crazy breakfast idea is like a pig in a blanket meets cinnamon roll meets cake!
Don't forget some extra sprinkles for the top!
10. Peep and Fruit Kabobs
Ok, so this is a healthier recipe, well kind of…
Simply grab some kabob sticks and pack on your kids favorite fruit with a colorful peep in the middle. Just make a deal that they have to eat the fruit first before they chow down on that adorable little marshmallow.
Or opt for these fruit kabobs with fruit cutouts of peeps and other fun Easter themed shapes.
11. Mini Pancake Stacks
Kids will eat just about anything on a stick, or any type of pancake for that matter.
Why not combine the two to create these adorable mini pancake stacks with fruit on top or in between each pancake.
Make it fun for your kids and have them help put this breakfast idea together.
12. Italian Easter Bread
I saw this recipe all over Pinterest while looking for Easter recipes for kids so I just had to include it.
While I won't get into the historical background here, just know that this sweet bread has a long history.
The cool part about this breakfast recipe is that the egg is baked right in the center of the bread braid.
13. French Toast Bake
Kids love french toast about as much as they love pancakes, but I can bet that you don't want to be standing over a griddle all morning making french toast. This french toast bake captures all the best flavors of classic french toast in a faction of the time and effort of making individual slices.
14. Waffle Bar
You've heard of a taco bar, and maybe even a baked potato bar, but a waffle bar?
This is such a creative and fun way to do waffles, especially if you are planning on having a lot of kids over Easter morning. While this idea calls for commercial waffles, there is always the option of making your own ahead of time.
Include sweet and savory items, different flavored syrups, sprinkles, candies. By the time you're done, even iHOP will be jealous.
15. Carrot Cake Cinnamon Rolls
We love carrot cake, we love cinnamon rolls, but together…*chefs kiss.*
Sometimes in life you have to take chances, and in this case the chance of putting two amazing breakfast/dessert recipes together turned out to be pure magic!
16. Sausage and Hashbrown Cups
What better way to have Easter breakfast than with fun, bite-sized breakfast bites? These yummy little bites only require a few key ingredients and are quick and easy to make.
Just pop them in a mini muffin pan and bake for bite-sized delights.
17. Sheet Pan Pancakes
Got a lot of kids to feed on Easter morning?
Just like with the french toast, you don't want to be standing around a griddle cooking all morning, you should be spending time with your friends and family. Create an easy and delicious breakfast with these sheet pan pancakes.
Twice as good, twice as easy!
18. Carrot Shaped Waffles
I am always amazed by the creative ways that people put together food items to look like other food items.
These fun waffles look like perfect carrots. They are colored orange and include green, sweet cream stems. Perfect for little fingers to pick up and eat.
19. Bunny Butt Pancakes
Of course this list wouldn't be complete without the classic bunny butt pancake stack.
Now, in my opinion, it's easier to prep these a few days before Easter so, again, you're not spending your entire morning in the kitchen.
Make the different shapes ahead of time, freeze them, and just warm them up in the microwave the morning of. It's like a fun little puzzle putting all the pieces together.
The fun part is that you can do this with a variety of different shapes, teddy bears, unicorns, and even pigs.
Bonus Easter Activity
While an Easter breakfast is a fun way to wake up for the day, why not also have some cute Easter coloring printable pages for your little one to color while they eat?
They'll surely enjoy this morning!
From bite sized pancakes to hashbrowns shaped like bird's nests, there are plenty of creative and fun ideas to make the kids for breakfast on Easter morning.
Many of these ideas you can make ahead of time so you don't have to worry about waking up at the crack of dawn or spending all day in the kitchen slaving over a stove all morning.
So tell me – which Easter breakfast idea will you try for your kids? Let me know in the comments below!
And remember to pin me!