Get healthy snack ideas for toddlers as well as meal ideas for those picky eaters!
Every day it's almost a battle trying to figure out what to feed my toddler. He's not that much of a picky eater, but if he could, he would eat the same three foods all the time – applesauce, Cheerios and grilled cheese sandwiches.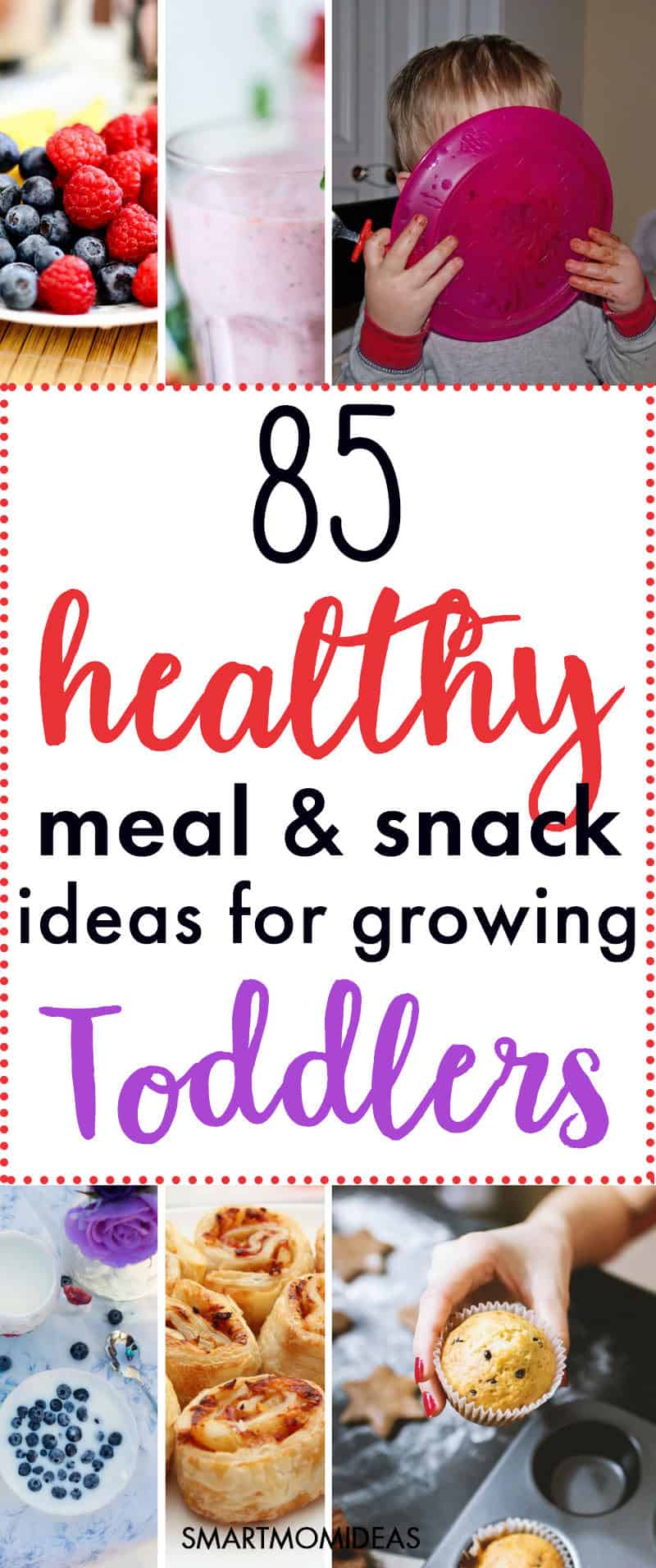 And while I don't have a lot of energy in a day – my toddler can beat me with his loud voice, jumping and running around – there are times when I give in and we have grilled cheese for dinner (with a salad OF COURSE) 🙂
But, now I'm armed! Yay! Here are 85 healthy meal and snack ideas for your growing toddler. I looked all over Pinterest for the best of the best!
Pro tip: to help you with all these amazing snack ideas, here are 5 meal plan apps moms + my favorite bento box for kids!
Before we get into it, here are my top nine snack containers for toddlers. If your toddler is anything like mine, snacks are on the floor and not in your toddler's mouth! Snacks spill or fall or make puddles all over the house! Don't let that happen to you!
Psst..my favorite from this list is this one.
Top 9 Snack Containers for Toddlers
Click a snack container from below to check it out more!
Healthy & Fun Snack Ideas for Toddlers
These toddler snack ideas come from The Lean Green Bean. When you think of a toddler snack think little finger food and dips! Kids love to dip, crunch and pop food into their mouths!
Strawberry yogurt, Cheerios and sliced strawberries
Cut up veggies – think "rainbow bags" of sliced carrots, red pepper, cucumber and toss in some black olives.
Homemade trail mix – this is the easiest and best way to make food fun! Mix together fish crackers, pretzels, craisins, raisins, dried apple and banana chips, chocolate chips and nuts (if your child isn't allergic).
Nutritious muffin and fruit – did you know you can sneak in veggies in your muffins moms? Here's a recipe for an amazing banana muffin with zucchini and flaxseed. My son LOVES these. Make batches of muffins and freeze them. They freeze well and last a long time.
Cottage cheese, avocado, and bananas
Wheat Chex with raspberries and popcorn – this is a sensory snack with color, texture, and crunch.
Cheerios and blueberries – you can't ever go wrong with cereal and fruit for a quick and easy toddler snack!
Hummus and cheese and crackers – my son enjoys hummus since he can "play" with it all day. He can dip his crackers, spread it on chips or pieces of bread and not get in trouble for making a mess!
This AMAZING and healthy recipe is from Real Mom Nutrition. I'm all about upping my kid's vegetable portions in a day.
Don't get my wrong; he loves tomatoes, peas, broccoli, avocado, and cucumbers. But, getting him to eat new vegetables can be a challenge.
I find the perfect thing is to disguise it and after he tries it and likes it (and asks for seconds and thirds) I let him know what's in it.
Most of the time he's surprised and happy and says, "Wow I didn't know I liked zucchini!" Bulls-eye!
For this recipe, you'll need shredded carrots, broccoli florets, a garlic clove, eggs, seasoned bread crumbs, cheddar cheese, onion powder, black pepper (leave out if your toddler avoids spicy food) and some canola oil.
Check out the full recipe and try it out!
This pin from One Crazy House totally caught my attention! I love snacks that are easy and quick to make. I can make them in the morning and run out of the house knowing that my son won't starve to death!
Dip blueberries in your child's favorite yogurt and freeze. Perfect for the summer!
Put washed grapes in the freezer and enjoy this nutritious and healthy cool snack.
Freeze yogurt into yogurt bites.
How about making a necklace of edibles? Perfect for the little ones. This snack necklace takes hours to eat through and they'll be so absorbed you might have some peace and quiet to read a book!
Make guacamole and give your toddler some fresh veggies like celery, red pepper, and cucumber. If your toddler doesn't like the spices in guacamole, use avocado only.
Make a peanut butter fruit dip and chop up some fruit like apples and bananas for a quick snack.
Check out One Crazy House for even more snack ideas.
My son loves smoothies. He can eat his weight in smoothies. And, I can include fresh vegetables without him blinking an eye.
Ziploc has 6 easy go-to smoothie packs you can make ahead of time for those crazy and busy mornings. None of them require ice, just frozen fruit like bananas. As for your base, you can use yogurt, juice like orange juice, milk or even tea.
Berry Blast
Sweet Sunrise
Kiwi Refresh
Green Monster
Tropical Treat
Pineapple Punch
Nutritious Breakfast Ideas for Toddlers
Kids just love when you decorate their food. It makes it new again and fun to eat.
This Teddy Bear toast from Crafty Morning is so cute and adorable!
With either peanut butter, Nutella, raisins, and bananas you can make your own Bear toast family!
The Seasoned Mom has 10 great breakfast ideas for kids and toddlers. I'm always running out the door so these will come in handy.
Miniature waffle sandwiches. Use whole-grain mini frozen waffles for this breakfast. Toast them and smear peanut butter or alternate (honey, Nutella, almond butter). Add some raisins or bananas if you want and make a mini sandwich.
Chunky Monkey protein smoothie. Use ice, a frozen sliced banana, unsweetened cashew milk, 1 scoop of protein powder, some unsweetened cocoa powder, peanut butter, a pinch of salt and some chocolate chips for decoration. Visit the Seasoned Mom for the full recipe.
3 ingredient cinnamon banana pancakes. All you need are bananas, egg, and cinnamon. Simple to make and you probably have all the ingredients right now.
No-bake mocha almond fudge energy bars. This recipe uses dates, almonds, unsweetened cocoa powder, coffee and dark chocolate.
Morning glory muffins. These muffins pair great with yogurt for a nutritious breakfast.
Overnight apple crisp breakfast parfait. You can use leftover quinoa, rice or oats for this recipe.
Toast shapes. Use cookie cutters and cut out cute toast shapes for your toddler. My son loves getting stars, hearts, and little animal toast.
Egg and cheese mini muffins. These are easy to make ahead and freeze.
Cream cheese & fruit rolls. Spread some cream cheese on a tortilla (yogurt). Add your child's favorite food and roll it up. Slice the roll into easy to eat bites!
Oatmeal breakfast bar. Set out a lot of topping for your child's oatmeal. You can use nuts, raisins, cinnamon, coconut, dried fruit and more.
Quick & Easy Toddler Lunches
Wow! All the hard work is done. The Lean Green Bean is the place for food ideas moms! Here are some yummy lunch ideas:
Sweet potato + a nectarine + pulled pork
Strawberries + cucumber with hummus + chicken & black bean quesadilla
Hard-boiled egg + avocado + strawberries + turkey slices
Watermelon + pesto tortellini + turmeric chicken + hummus and crackers
Blueberries + grilled chicken with ketchup + frozen peas + crackers
Butternut squash + grapes + avocado toast + turkey slices
Don't those pizza rolls look delish???
What Lisa Cooks has an easy recipe that only takes 20 minutes! Perfect for lunch.
And they are homemade, which means it's much healthier than buying frozen pizza pops or bagel bites.
These amazing looking turkey and cheese roll ups from Design. Dining. Diapers are to-die-for.
While these are totally healthy, they make a great delicious lunch if your toddler is fighting you for healthy food.
Have some fun, mom, and try these out!
Delicious Dinner Meal Ideas for Toddlers
Ok. I'm the type of parent that isn't a chef order cook. If I make a dinner, then it's for everyone.
But, I know there are times when my son just isn't having what we are eating and frankly, I miss having my spicy Chipolte chicken or creamy chicken and garlic Alfredo.
During those dinners, I do make something a bit different for my toddler. It only makes sense and if he wants to try what we are having that night, then he can.
Over at My Life of Travels and Adventures, Krystal gives 18 toddler inspired meal ideas. Here are my favorites:
Meatballs, carrots, blackberries, corn on the cob
Pasta, chicken, peas and string cheese
Spinach meatballs, mixed vegetables, and string cheese
Broccoli, squash and BBQ chicken
Aren't these mini chicken pot pies so adorable?
Easy Toddler Meals has four ingredient chicken pot pies.
Use a muffin pan to make them and your child will devour them.
I know, I know…
This is not that healthy for dinner, but it's fun and perfect for game night.
While this does take some time to make (an hour) if you have company coming over to watch a sports game you can prepare this and amaze your friends.
Time to stock up moms!
Get your shopping list ready and mark your calendars to include these awesome quick and healthy meal ideas for your child.
I can prep snacks and smoothies to last weeks and stock up on lunch and dinner throughout the week. Doing this ONE thing (having a meal plan) was what really helped me cut expenses and become a stay-at-home mom.
Tell me what sort of go-to snacks and meals you give your toddler. I'd LOVE to know!