Yummy school lunch ideas for the picky eaters in your home!
No matter what time of year, it's never a bad idea to think of kids' school lunch ideas for picky eaters.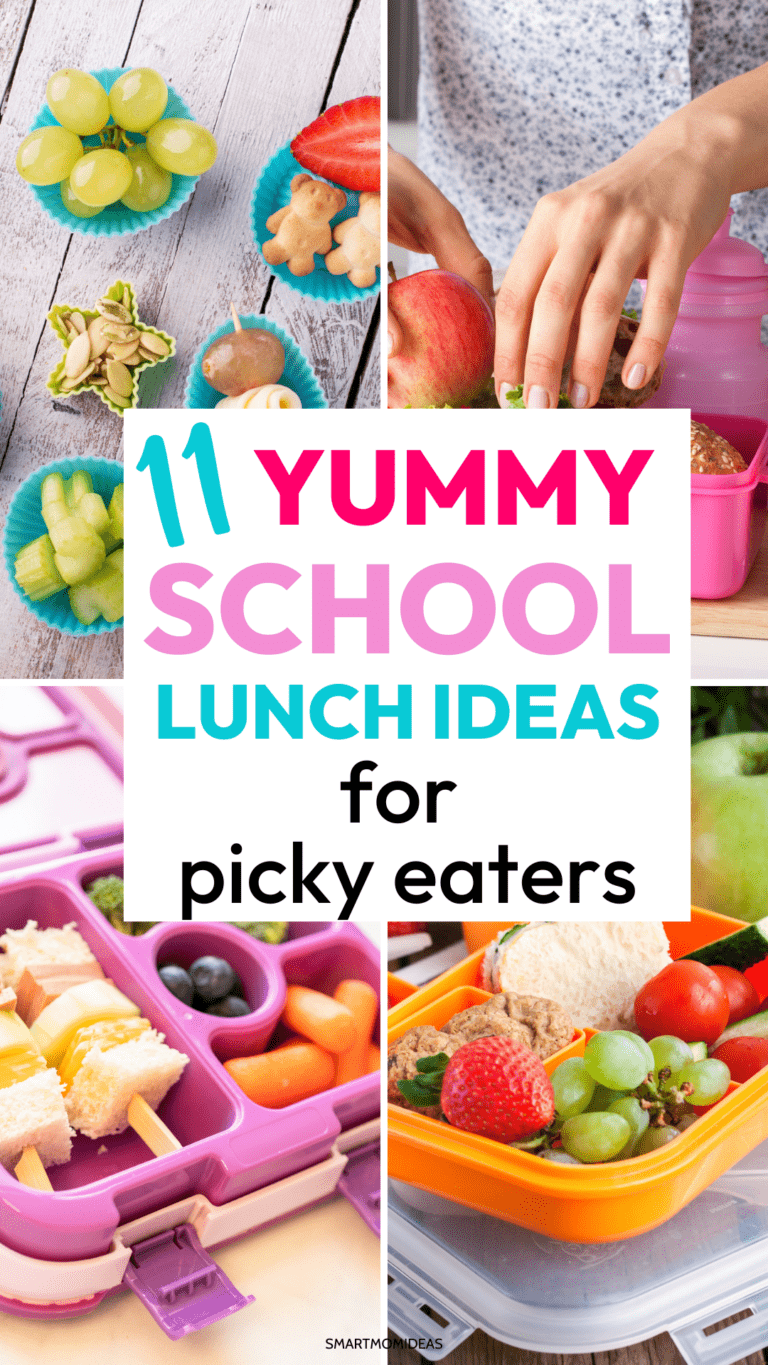 It often seems that kids fall into one of two categories: eating everything they can get their hands on or being very picky eaters.
My twins fall into the picky eating category.
While my daughter loves many vegetables like peppers, cucumbers and carrots, my son only enjoys tomatoes.
While my son loves pasta and yogurt, my daughter will not touch those options.
Picky eaters might not like the texture or taste of something, making meal planning and coming up with nutritious and delicious lunch ideas for kids is difficult.
And for me, it's difficult. I find having set days of certain types of lunches helpful and it helps my twins know the expectation of what's to come.
How to Pack A School Lunch Your Kids Will Love
While a brown bag and a PB&J sandwich might have been perfect when we were growing up as kids, creating homemade school lunch ideas for picky eaters is a bit more challenging.
You want to be sure that kids are not only getting healthy options but are going to like what you are packing them and dare I say…even look forward to eating a cold lunch at school.
A perfectly balanced school lunch includes a main course, fruits and veggies, a healthful snack, and something to keep them hydrated.
The main course should include something higher in protein to help keep them feeling full and energized until dinner.
Of course the more fruits and veggies we can get in them the better.
If they are picky with fruits and veggies then this is a great opportunity to test out your baking skills and add some fruits and veggies into baked goods.
This book is one I use a lot to help my picky eaters enjoy what I cook!
A healthful snack is not something that is full of sugar but something they can easily snack on during the day if they are still hungry.
And finally, while they should always have water with them, it's never a bad idea to include some extra beverages in their lunchbox, coconut water, flavored water, or low sugar juice are great options.
Be sure to also pick out a lunch box for your child that will easily fit the foods that they will eat that are durable and will last them a while.
Some great options for this are bento boxes if you are looking for an all-in-one option and Sistema containers if you are looking for mix and match options or want to pack healthy lunch ideas for kids salads and yogurt parfaits.
I love Sistema's brand.
My twins are able to open their school containers on their own and it makes them feel proud about doing that!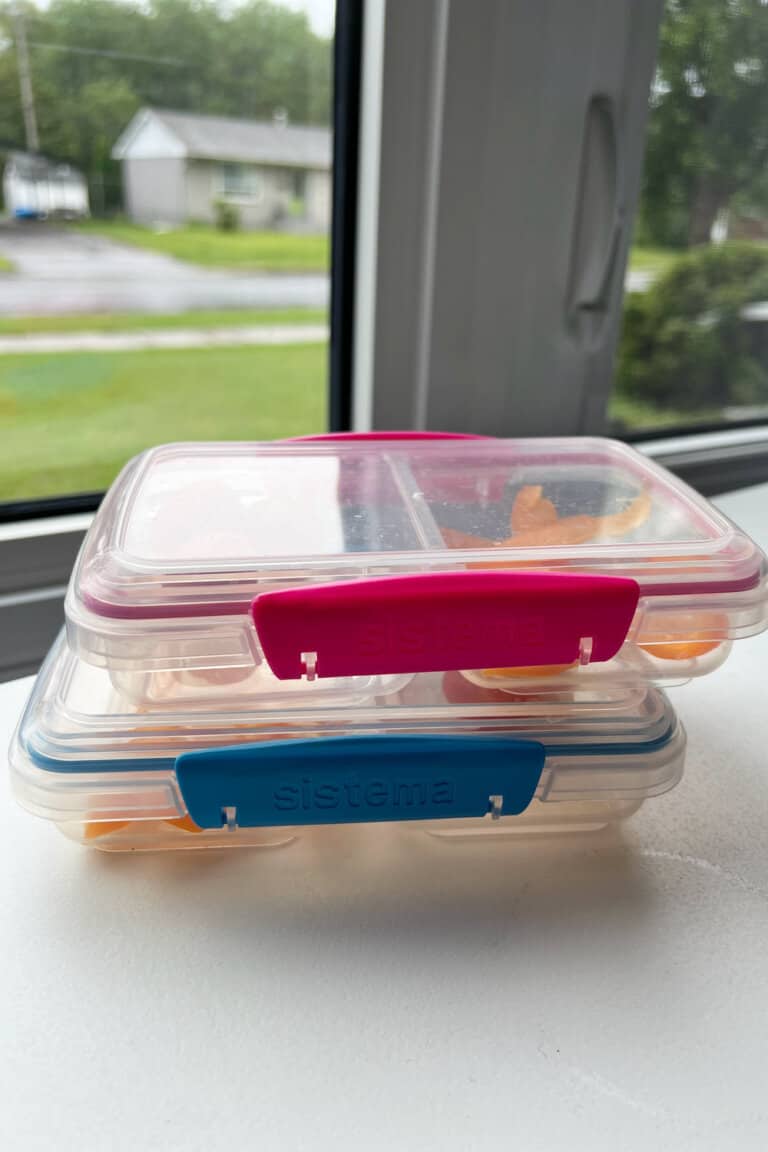 Things to Avoid Packing
Obviously, we want our children to be energized enough during the day without having to worry about them being overly hyper and crashing.
This is why anything with added sugar should be avoided.
Be sure to carefully read labels as there are many things that we may believe are healthy options but are actually just clever places to hide more sugar and preservatives.
You also want to make sure that you avoid packing things that are carbonated, overly messy, and things that can only be eaten reheated.
Kids won't always have a microwave (maybe older ones might have more access to this), their lunches get tossed around in their backpacks, and kids are just messy in general.
Why make more of a mess for yourself to clean it up?
School Lunch Ideas for Picky Eaters
Here are X homemade school lunch ideas for picky eaters.
1. Pinwheels
Pinwheels are good lunch ideas as there are so many different ways to make them.
They are fun and easy for kids to make as well. Simply grab out your ingredients, lay them out, and roll them up. You can make pinwheels out of many ingredients that you already have on hand, they store well and are easy to pack. Even the baked versions taste just as good cold the next day.
Need some cold school lunch ideas for picky eaters? Start with these 20 tortilla pinwheel recipes.
2. Sliders
While sandwiches are a great idea to pack in cold school lunches, they can get pretty old pretty quick, especially when you have a picky eater. But what is another hearty alternative to sandwiches? Sliders!
These chicken and waffle sliders are great fresh or taken to eat cold the next day.
Even if they pick the sandwich apart, they're sure to eat all the individual bits.
Chicken isn't their thing? Then try out these big mac sliders and your child can "have it their way."
Of course, if they are always wanting breakfast, then try out these make-ahead breakfast sliders.
3. Salads
Salads are a great easy lunch idea for kids that they can even help to make.
Get creative with this chicken apple salad on a stick or these chef's salad lettuce wraps.
They may even like this delicious honey BBQ chicken salad that they could eat on its own or in a lettuce wrap.
Even the pickiest eaters often have certain tastes that they love to eat.
This cold sesame peanut zucchini salad has one over extremely picky eaters. And you can never go wrong with a Mexican pasta salad.
A great way to pack in more veggies and high-protein foods.
4. Sushi
Don't worry, I'm not suggesting that you pack raw fish in your kid's lunch (do that at your own risk).
What I am suggesting is that you create some fun and healthy "sushi" options as another alternative to the main course. If you want more traditional sushi that includes some veggies and leftover chicken, then this kid-friendly sushi is perfect.
You can make kids sushi out of pretty much anything, like these peanut butter apple cinnamon sushi rolls.
A fun and interesting spin on a traditional peanut butter sandwich.
Or how about this fruit sushi that uses natural fruit leathers!
You might also want to try out breakfast sushi using crunchy breakfast cereal like rice krispies or fruity pebbles (I know we said no added sugar, but this is minimal).
Allergy-Free School Lunch Ideas for Extremely Picky Eaters
You can easily pack in a lot of veggies and up the nutrition with protein-packed pasta.
Of course, if you are dealing with a picky eater that also struggles with allergies, then you know how difficult it is to know what to make for lunch.
With allergy-free recipes, you're looking for things free of dairy, nuts, and gluten-free.
While it might be easy to find gluten-free snacks, the main courses often pose more of a challenge.
A simple meat and cheese roll-up is a great option, you can even use dairy-free cheese.
If you have an older child that is able to assemble their lunch, then perhaps a deconstructed taco/nacho bowl would work well.
It allows them to include what they like and don't while also giving them a healthy option.
Another filling and allergy-free option is a cold pasta salad.
You can easily pack in a lot of veggies and up the nutrition with protein-packed pasta.
5. Kabobs
If your child has the right size lunchbox, kabobs are another great option for cold school lunch ideas for picky eaters. Take that boring, old sandwich and turn it into a fun-to-eat kabob with these creative kabob ideas, aka, sandwich on a stick.
Peanut butter and jelly: A cut-up PB&J sandwich with sliced bananas and strawberries.
Turkey club: Toast, slices of deli meat, cheese cubes, cherry tomato, and folded lettuce
Pizza: Slice of bagel, pepperoni, string cheese, and cherry tomato.
6. Mini Pancakes or Waffles
The thing that I really love about pancakes and waffles is that there are so many ways to make them and you can easily sneak in additional fruits and veggies your kids wouldn't normally eat.
You can go with the traditional silver dollar pancakes, they're sure to gobble those up.
Or, opt for some mini pancake muffins. I have to warn you, these are addicting!
These are a great option for customizing with chocolate chips, fruit, or even cinnamon chips!
While these sweet potato waffles are technically a "baby" recipe rather than packed lunch ideas for school-aged kids, it's a great way to pack in some extra veggies.
7. Muffin Tin Meals
Oh, the things you can make in a muffin tin!
One of these amazing easy lunch ideas for kids is these ham and mac and cheese lunch box muffins.
Pretty much any type of meal you can make into a bite-sized muffin tin meal. What about these muffin tin corn dogs, delish!
You can even pack things like bacon, egg and toast cups, and mini deep dish pizzas.
8. Mini Muffins
Now I know I already have mini pancakes and waffles for a school lunch idea, but you can't go wrong with a power-packed nutritious muffin.
My twins adore muffins and every Monday for school we do Muffin Monday.
Some Monday's it's a traditional blueberry muffins, while other Mondays I may sneak in some veggies.
9. Dippers
Why not change it up and do some lunch ideas that need dipping sauce?
I don't mind sending over a fruit salad with a yogurt dipping sauce or marshmallow fruit sauce.
You also can't go wrong with some apple slices and peanut-free butter.
Finally, try some bread sticks with pizza sauce.
Sometimes, changing the look of the lunch idea is all you need to get your picky eaters to eat!
10. Bento Lunches
I love me some Bento lunch boxes and there soo many Pinterest Bento creations!
11. Leftovers
Don't forget about the leftovers from dinner last night or Sunday morning breakfast. Not everything needs to be reheated and we all know not to waste food!
We also know that there are some days that you just don't have time (or the energy) to pack a lunch.
Just toss together some healthy snacks, whatever fruit is ripe, and things out of the fridge that you know the kids will eat. It's better to give them something, even if it isn't the healthiest than to send them to school with nothing.
School Lunch Idea for Picky Eaters
Whether you're searching for gluten-free school lunch ideas for picky eaters or are just trying to find quick and easy things your kids will actually eat for lunch, we've got you covered.
From healthy muffin tin recipes to quick and easy wraps and salads, these school lunch ideas for picky eaters are perfect for letting the littles help and customizing to their liking.