Find easy lunch box ideas for your kid going to school for the first time with a bento box for kids.
The time has come.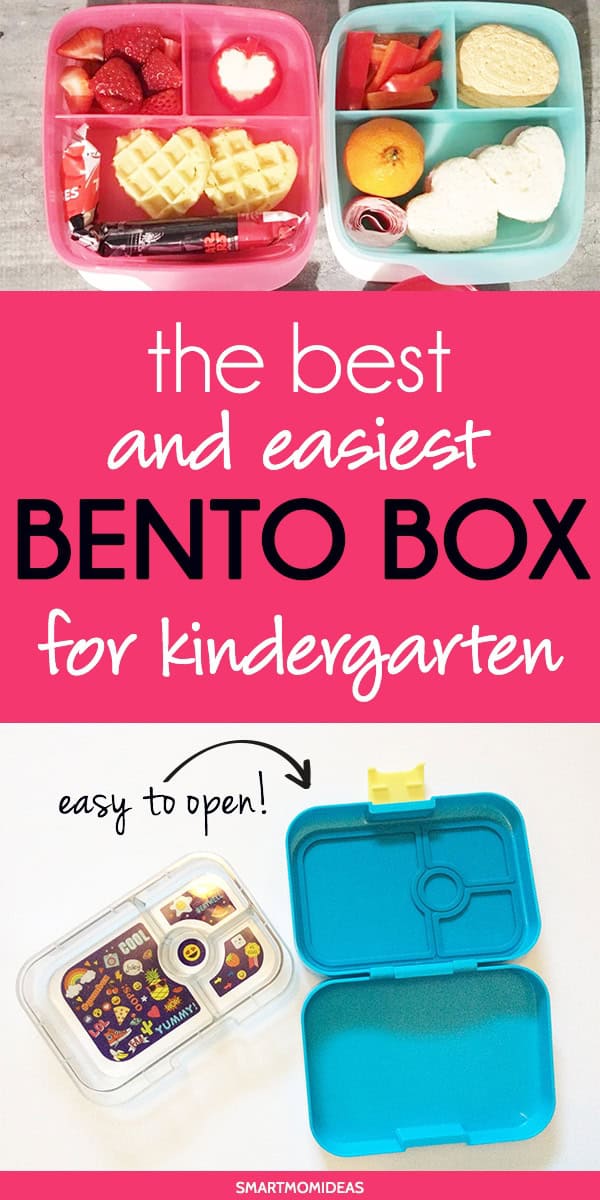 It's the week before school starts and your child is going to kindergarten!
There are so many things to plan, but the one thing lingering for you is lunch.
How will your child eat lunch BY THEMSELVES? And….NOT MAKE A MESS?
I don't know about you, but the summer before my twins headed to kindergarten, my daughter still got food in her hair after lunch, and my son would wipe his mouth on his sleeve.
And me? I'm opening up packages, tearing off lids and cleaning up after them with a washcloth!
Yes…call me the helicopter mom, but with twins, meal time can be quite hectic, loud and messy!
Needless to say, I had to work over the summer for my twins to be more independent with eating lunch by themselves.
And you know what mama?
Bento boxes are what helped them! And the lunch box ideas are endless with this creative lunch box!
What is a Bento Box?
A Bento box is a single-portion meal, split up into small boxes. Bento boxes are perfect for toddlers, kids and adults. And they make it easy for Kindergartners.
My twins have one snack and lunch break and I use two boxes to easily help them identify #1 break and #2 break.
Bento lunch boxes are also small enough that it doesn't weigh down your child's backpack or make it stuffy so that they can have extra clothing or school items in their backpack.
Finally, the best thing about using a Bento box for kids is that they are easy to open, easy to clean, and make eating healthy super fun!
But, there are so many Bento boxes out there and even Bento inspired lunch kits out there, which makes lunch box ideas a cinch. Which one do you choose?
I share with you my favorite one and give you list of my top favorites for kids going to school!
The Only Bento Box for Kids
My favorite reusable Bento box that is leakproof and perfect for tiny appetites is the Yumbox.
It has different size boxes for all types of food like:
Bananas
Yogurt or applesauce
Roll-ups
Sandwhichs
Fruit
Veggies
And the best part is that it's a cinch to open. Kids as young as 3 years old can use the Bento box easily and happily! The portion sizes are a good size for children up to 8 years old.
My son is five and since I use two lunch kits, this is more than plenty for him!
With a removable tray, I can wash it by hand or put it in the dishwasher.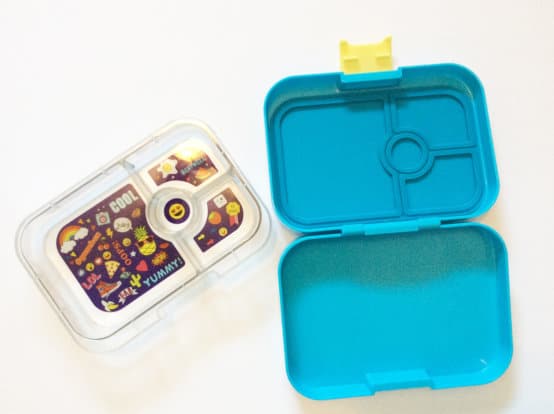 Both of my twins love the Yumbox and over the summer they use it as a treasure box or safe keeping box. And yes, I let them play with the Bento box because it's so durable and long lasting!
If you want more ideas for the best Bento box for kids and gain some lunch box ideas, check out my top list.
1. Bentgo Kids Children's Lunch Box

The Bentgo lunch kit is rubber-coated, making it drop-proof and easy to clean.
What's nice about this Bento box is that each box comes with a recipe book with 30 kid-friendly meals! You can't beat that.
2. Sistema Bento Lunch Box

The Sistema Bento lunch box comes in many fun colors – but it's a surprise what color you get!
This Bento styled lunch kit can hold a sandwich under the lid and even a juice container in the box. No need for an additional lunch bag when you get this Bento box.
3. Rubbermaid LunchBlox Sandwich Kit
Mamas, this Bento inspired lunch box is amazing! I was going to get this instead of the Yumbox, but they were sold out and I couldn't wait! What is unique about this Bento box is that the lid (section) serves as an icepack. How functional is that?
The ice pack also can lock in little containers so that the entire lunch is contained and locked!
The lids are easy enough for kids to open (I tested it on my four year olds), but they weren't entirely easy. In either case, it makes for a great lunch kit for mom!
4. OmieBox Bento Lunch Box
The OmiBox Bento Lunch Box is sophisticated! It has two temperatures for hot and cold food. This comes in handy for my twins as they like their hot lunches at school!
Even though it looks small, when it's closed up, it looks like a typical lunchbox. And that's one thing that's different from all the other Bento boxes – theirs function as a lunchbox too.
You can't go wrong with that.
Lunch Box Ideas
Get some inspiration for your bento box with these lunch box ideas.
1. Holiday Theme Lunch Box Idea
Make your child laugh and excited with a holiday-themed lunch box idea.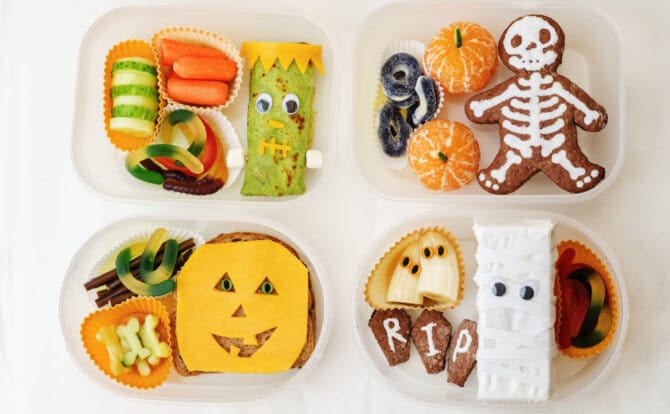 Some halloween lunch box ideas:
Make a pumpkin shaped sandwich
Decorate a gingerbread cookie like a skeleton
Make a veggie roll mummy
Use gummy worms on top of chocolate pretzels
Add chocolate eyes to bananas for cute ghosts
2. Funny Faces Lunch Box Idea
Have fun carving out funny faces for your child's bento box lunch!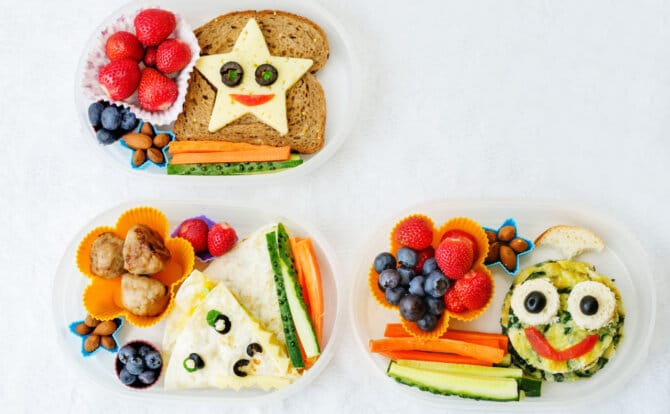 Here are some cool sandwich face ideas for your child's lunch box:
Happy face with olives for eyes, cucumber for nose and red pepper for smile
Moustached man for your child's cheese quesadilla. Use black olives to create a decorative moustache.
Star man on your sandwich. Place a star shaped cheese slice on your child's sandwich for a whimsical look.
3. Lettuce Man Lunch Box Idea
I don't know about you, but my children aren't a big fan of leafy greens. So I had to be inventive for their school lunches.
I found that making a crazy lettuce man a cool lunch idea that my children loved and gladly ate.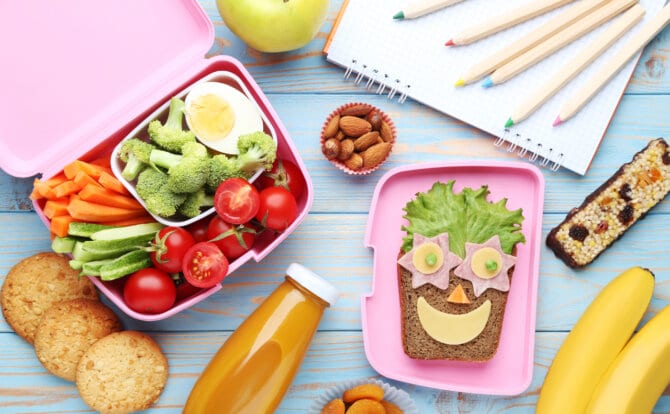 Head Off to Kindergarten in Style
The first day of school is a big milestone. I was excited and sad when my twins went to kindergarten. As a stay-at-home mom, this was a challenge for me and for them!
But, knowing that my children would do fine at school – and during lunch with the Yumbox – gave me some peace of mind!
Tell me your favorite Bento box for school in the comments!
Don't forget to pin me!