Adorable mom and daughter Halloween Costumes to try out!
Ok, so you already find matching dresses and outfits for you and your daughter, why not coordinate your Halloween costumes as well?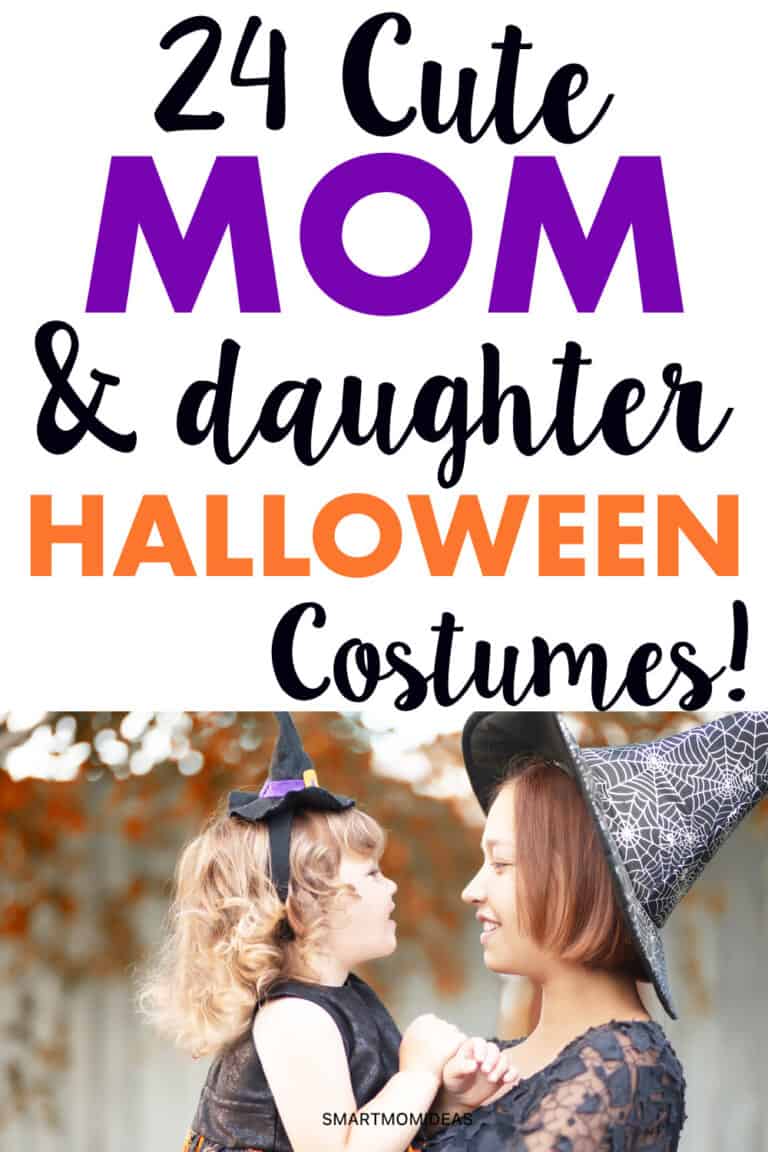 And with Halloween being the funnest holiday (at least we think so), it's a time for moms and daughters to put their creativity to the test.
While you are a super mom the other 364 days of the year, it's fun to be able to put on a real cape and play the part of someone else for a change.
The great thing about putting together matching costumes for you and your daughter is that you are able to tap into your creativity and let go, have fun!
Pick spooky outfits or go the DIY route.
Dressing up together for Halloween is just another fun way to bond with your daughter.
In this post you will find many options for mom and daughter Halloween costumes, no matter how old your daughter is, she won't want to pass up the opportunity to play dressup with mom on this favorite holiday.
Whether it's characters from their favorite movies, TV shows you used to watch as a kid, or classic children's book characters, you're sure to find something you and your daughter will love to wear together!
Of course, don't forget about all the super cool DIY ideas too! Nothing says bonding like spending time creating your costumes together first.
Cute Mom and Daughter Costumes from the Classics
While your daughter might not have as many great memories from these shows and movies as you do, it's still something you can share with her that she will remember for years to come.
From The Magic School Bus to hanging out with the Greasers, you're sure to find something you both love.
1. Miss Frizzle and Liz Ard
Hop on the Magic School Bus as Miss. Frizzle and her trusty sidekick Liz the lizard guide their class along the next crazy adventure. Of course, don't forget the bright orange wig to complete the look!
Whether you are off exploring the solar system or driving to the core of the Earth, you're both sure to have a great time on this ride.
2. Power Rangers
Who says we have to leave saving the world up to the boys?!
Let her know that the girls on the team can be just as strong.
While the pink Power Ranger may have been the only girl on the team, she could still kick some butt! Mom and daughter can dress up as the pink Power Ranger and take out those bad guys for good!
3. Jurassic Park
If you've got a little hatchling, then consider this Jurassic park themed mom and daughter costume.
Mom can easily throw together a park ranger themed costume from what she's already got in her closet or find a few items at the local thrift store.
And her little one can go as the cutest baby dinosaur around.
Of course, mom could always go as a dinosaur too!
4. A League of their Own
A League of their Own is one of those legendary movies that every generation should be exposed to!
With this costume, mom and daughter can go as the iconic female baseball players.
Available in sizes XS to XL, this costume would work well for a daughter that is a little bit older.
These also make a great mom and daughter costume even if you have a little one.
Of course, if dad wants to tag along, he can go as Coach Jimmy.
5. Pink Ladies
Whether your favorite character was Sandy or Frenchie, you can still remember every song of the movie.
And while your precious little daughter might be a bit too young for this iconic movie, she'll love the pink jacket and the adorable accessories to go with it!
6. Little Red Riding Hood and Grandma
Watch out for the big bad wolf!
Little Red Riding Hood and Grandma are on their own with these adorable costumes.
Or maybe the wolf has already eaten grandma and stolen her clothes and is trying to get Little Red all to herself!
7. 80's Workout
Start sweating the oldies with these adorable mother and daughter, 80's themed workout costumes.
While she won't be able to follow along to the classic Jane Fonda workout videos, she'll enjoy the bright colors and fun accessories of this retro costume.
Meanwhile, you'll be singing "Let's get physical, physical," while you're doing your calisthenics down the street.
8. Ringleader and Lion
Tame that vicious beast as the ringleader of your own circus!
We know that everyday is a circus in our house, why not dress the part! Your adorable little girl can be a lion, tiger, or bear, oh my!
9. Cinderella and Her Fairy Godmother
Cinderelly, Cinderelly, night and day it's Cinderelly!
Do the mopping and the dishes! Cindrella's Fairy Godmother is here to give her everything she has wished for and more with a night of joy and candy!
Your daughter will feel like a true princess in this classic Cinderella costume.
10. Care Bears
You can't get more classic than the Care Bears!
From the very beginning they taught us that sharing is caring and to always look after others.
Channel your favorite Care Bears like Cheer Bear for your daughter and Funshine, Tenderheart, or Grumpy Bear for yourself.
11. Bumble Bee/Flower Pair
How adorable is this Halloween costume duo?
Mom can be the bright and yellow bumble bee and your daughter can be a beautiful flower!
Or, if you want, change it up and have your daughter be the bee that buzzes around you!
12. Robber and Bag of Money Pair
Who can't resist this cute mom and daughter Halloween costume get up?
I absolutely love the bag of money for your toddler daughter and the robber costume for mom is stylish!
13. Cowgirl and Horse
This is such a cute mom and daughter Halloween costume idea!
Mom can be the cowgirl and your daughter can prance around in her horse costume!
You can take funny pictures of mom pretending to ride her horse!
Kids Costume Ideas for Mom and Daughter
While you might find the shows that she watches are not as great as the classics you watched as a kid, she loves them all the same.
Either way she will love to dress up with you and collect that candy!
14. Paw Patrol
Paw Patrol, Paw Patrol, we'll be there on the double!
Yes, now we've all got the song stuck in our head! Skye has been your daughter's favorite character since the minute she started watching the show.
Have a little fun with her, dress her up as her favorite character and you can go as a firefighter (all you need is a hat if you're feeling a little overwhelmed by picking out a costume for yourself, or as the leader of the pack, Marshall.
15. Mommy and Baby Shark
You're sure to have people singing this famous song to you as you walk down the road to collect candy.
While you could opt for the traditional mommy and baby shark costumes, why not get the onesie versions instead?
They will keep both you and your baby shark warm and you can wear them for pajamas afterwards.
Although we can't guarantee that she will ever want to take it off!
16. Cruella and her Dalmations
Do you have an older daughter that is currently obsessed with the new Cruella movie?
Oh the fashion!
Celebrate her creativity with this child's Cruella costume and you can be either an older version of the budding fashionista or one of the Dalmations that desperately longs for.
17. Mandalorian and Baby Yoda
Ok, we all already know that technically his real name isn't Baby Yoda, but that's what everyone calls him.
While these might be considered "boys" costumes by many, we don't judge what our daughters like and fully support her!
Dress up as the great protector, the Mandalorian and keep your Baby Yoda by your side.
18. Moana and Te Fiti
While every little girl would proudly dress up as their favorite Disney character Moana, it's not often that you see Te Fiti.
She is the mother after all, the giver of life, just as you are.
You can get the beautiful Te Fiti cape or take the easy route and just order one.
19. Ursula and Ariel (from the Little Mermaid)
Ooo! Such a great Halloween costume idea! Mom can be the wicked Ursula that steals Ariel's voice in the Little Mermaid.
But Ariel prevails and turns out to be human!
Way to go Ariel!
20. Flintstones
How cute is this mom and daughter Halloween get up? Go back to the old days when you watched Saturday morning cartoons and introduce your daughter to the funny Flinstones show!
Dress up as Wilma and have your daughter be baby Pebbles!
21. Minnie Mouse Twins
Who hasn't watched the Mickey Mouse show over the years?
Your daughter will jump with delight at the thought of dressing up as her favorite character: Minnie mouse.
And to be the same as mommy? Precious!
Adorable DIY Costumes for Mom and Daughter
Of course you love to DIY any time of the year, but you really go all out on Halloween! So grab the hot glue gun, some tape, paint, and balloons and let's get started!
22. Bubble Bath
This is such a cute idea and if you are really good at making stuff out of cardboard (or in this case a foam cooler), then try your hand at making a bubble bath costume for you and your daughter.
Your daughter can either be a loofah or a rubby ducky!
For the loofah, all you need is a matching onesie and tulle, no sewing required!
23. Sun and Sunglasses
If you would rather be channeling summer when it's starting to get chilly out, then check out this sun and sunglasses DIY costume.
Another super easy costume that only really requires some cardboard, paint, and a little bit of creativity.
Your little one will be shining bright in this adorable costume.
24. Picasso and the Painter
So I have to admit…I saved my favorite for last.
If you are ok at painting and just love art in general, this is certainly a unique costume that you can try out.
Grab the traditional "french painter" costume for your daughter and then paint your face to mimic a Picasso painting.
While you don't specifically need a bright green suit jacket, you can easily put together an art deco outfit from items in your closet or that you get from the thrift store.
There Ya Go!
Putting together these costumes with your daughter is sure to be a special treat for her and time spent together and neither of you will ever forget.
For more Halloween costume inspiration, check out these guides: