Find the perfect family Halloween costume that everyone will love to wear.
Halloween is the one time of the year where moms can let loose and become someone else – and not have to worry about chores or keeping a tidy house!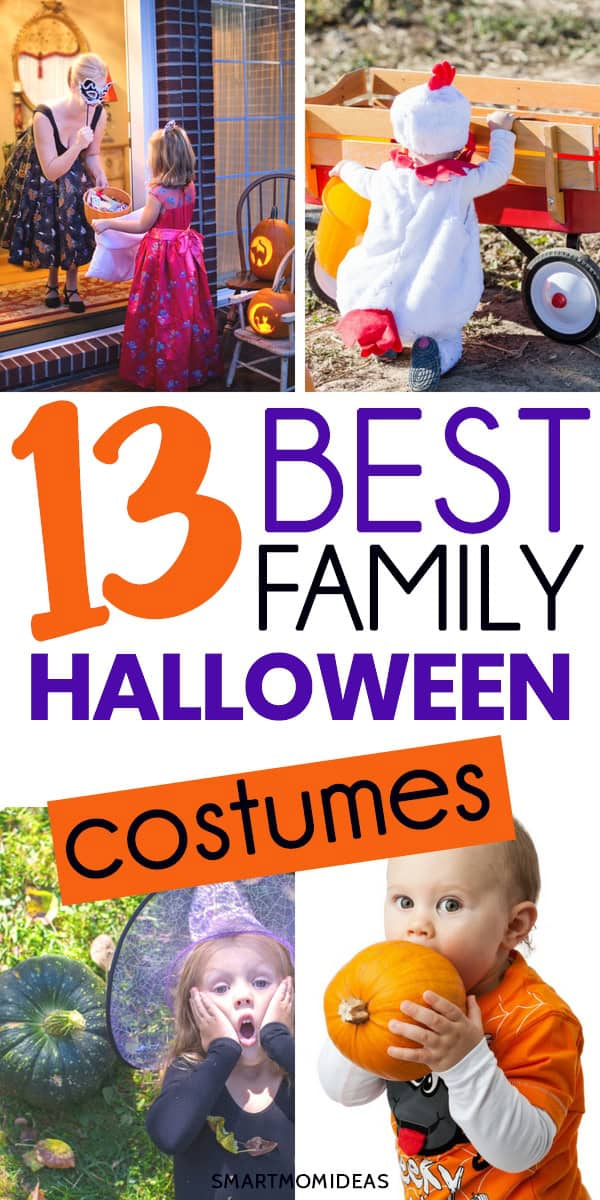 Yes!
I'm all for that for sure!
For a mom that runs a tight ship at home, to let loose and go trick-or-treating, prank my hubby and more, Halloween is one of my favorite times of the year.
I also love decorating my house for Halloween – you know the standard ghosts, spider webs, pumpkins and scarecrows!
And now that the twins are old enough, family Halloween costumes is the way we will go this year!
I just love this time of the year and as my twins get older, they find more creative ways to dress up!
Over the years my twins have been a witch, skeleton, unicorn, butterfly, Davey Crockett, Batman, a princess, Mr. Peely from Fortnight and more!
But, the first few Halloweens, were so darling cute for my twins!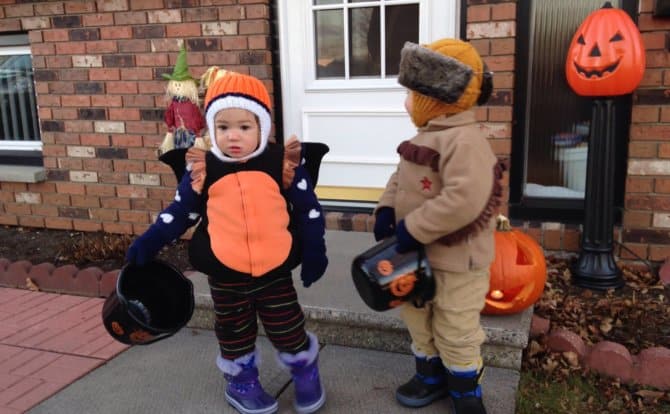 My daughter was a cute baby butterfly and my son dressed up as Danial Boone (or Davey Crockett… I'm not sure!).
With no idea why they were dressed up, or why they had buckets, it certainly was the funnest and cutest time for me!
While there are many DIY Halloween costumes on Pinterest, I always end up waiting until the last minute to pick up our Halloween costumes.
If that's you mama, then why not just pass on the DIY this year and go for ease and comfort instead 🙂
And before we get into these family styled costumes, make sure to check out these adorable mom and son Halloween costume sets!
Check out these 13 family inspired costumes for Halloween – for a baby and mom Halloween costume fun and more.
1. Addams Family Halloween Costumes
The quirky family on TV comes to life for Halloween.
You can be Morticia and your husband can be Gomez and your children?
Well, Wednesday and maybe cousin It? The possibilities are endless!
2. The Shark and Fisherman Halloween Costumes
Your husband and baby can pair up with this matching family halloween costume.
Your baby is the shark and your husband is the fisherman that caught the shark!
How cute is that?
3. The Donut and Police Officer Family Costumes
Your husband can dress up as a police officer, you can hold a cup of coffee and your daughter can be the donut!
4. The Dinosaur Family Costumes
If your son or daughter loves dinosaurs then why not all dress up as dinosaurs! How cute would that be?
5. The Flintstone's Family Costumes
Do you remember watching the Flinstone's when you were younger? I sure do!
It was one of my favorite morning cartoons growing up!
Well, why not BE the Flinstone family for Halloween? This family halloween costume will totally stand out in your neighborhood!
6. The Incredible Family Halloween Costumes
My twins are just learning about The Incredibles and it's fun watching the movies! And for Halloween, you can become the Incredibles with these Disney family halloween costumes!
7. Wizard of Oz Family Costumes
This was another favorite of mine! Dress up as the scarecrow, the tin man and Dorothy as a family for Halloween!
8. Safari Family Halloween Costumes
How cute is this family Halloween costume? One parent is a bushman from the safari and everyone else can be a jungle animal!
9. Peter Pan Family Halloween Costumes
Peter Pan was an all-time favorite of mine. And my twins enjoy that movie too!
Why not dress up as Captain Hook, Wendy, Peter Pan and Tinker Bell? So cute!
10. Gnomes Family Halloween Costumes
Aww! This is so adorable. These family inspired Halloween outfits are classic!
With beards and cute hats, any boy or girl (or mom or dad) would enjoy this outfit!
11. Ghostbusters Family Halloween Costumes
Such a classic movie, right? With slime, science and a big marshmallow ghost, who wouldn't enjoy dressing up as characters from Ghostbusters?
12. Alice in Wonderland Family Halloween Costumes
Don't you love this idea? Alice in Wonderland Halloween costume comes with so many options for the family.
You can incorporate a rabbit costume, the mouse and so much more!
13. Robbers Steal the Money Family Costumes
Have your child or children be the robbers and the parents the money. You can run away from the "robbers!" How cute is that?
Family Costumes for Halloween
There ya go! Some of the best family halloween costumes to have a fun family night on Halloween!
Don't forget to check out my round up of Mom and Son Halloween Costumes!
In the comments tell me which family costume is your favorite!