Check out these cute and adorable mom and son halloween costumes!
Fall is such a favorite time of the year for many people.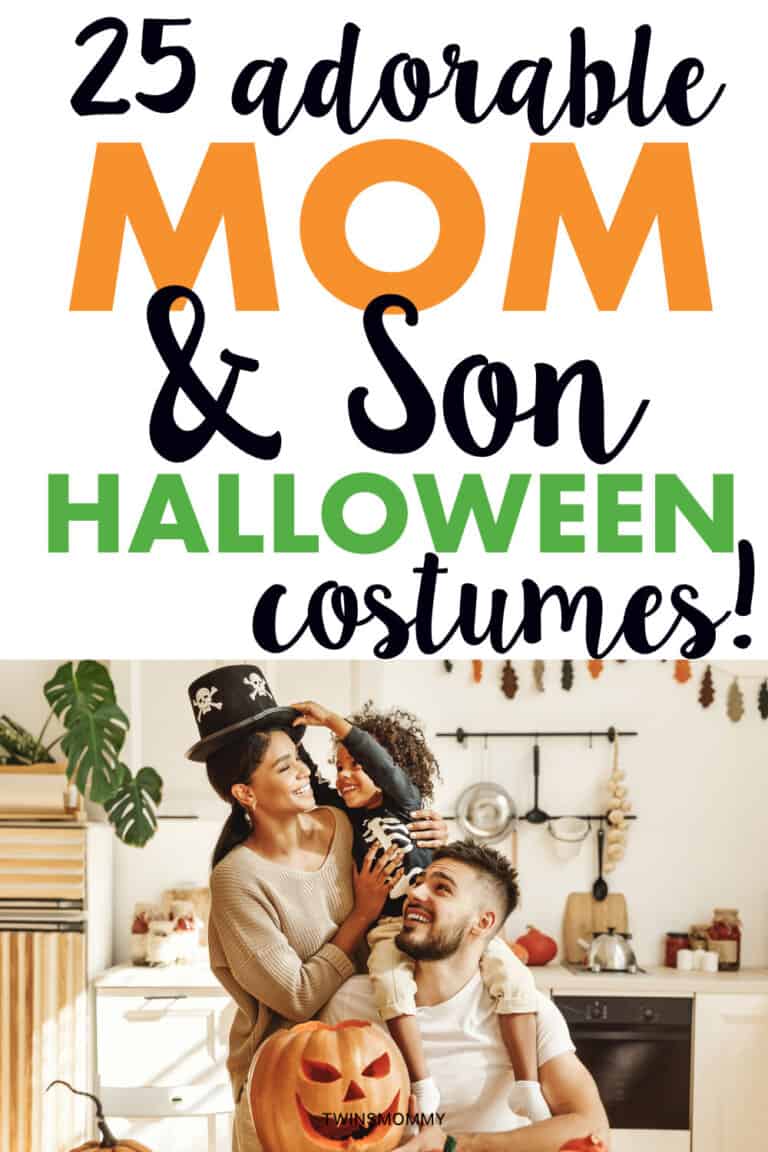 The cool, crisp air.
The smells of apple cider and pumpkin spice fill the air.
The soft sweaters and warm drinks abound.
The fun fall decorations you put in your home for a cozy feel.
And of course, Halloween is a favorite holiday for many people as they get to dress up and decorate their homes with spooky spectacles.
And of course, we can't forget the Halloween costumes! Some people spend the rest of the year planning out the perfect outfit to stun their friends and family on Halloween.
But we know as a busy mom you don't have time to spend countless hours hot gluing and sewing mom and son Halloween costumes.
This is your opportunity to have fun and play dress-up with your little guy. If he is old enough, have him help pick out the Halloween costumes' theme, from cute to classic, there's something for everyone.
Opt for dressing up with your little guy, or guys, or even make it a whole family affair. While there are tons of creative ideas to choose from with just you and your little guy, there are even more really cool ideas for the entire family.
There are many ideas for mom and son Halloween costumes to choose from, hero and villain, best friends, and classic frenemies.
Whether he's obsessed with superheroes, can't get enough Disney, or something else, there are plenty of adorable and cute costume ideas to choose from.
Adorable Disney Mom and Son Halloween Costumes
Everyone loves a good Disney Halloween costume.
Reminiscent of their favorite movies they watched as a kid or hopping on the newest movie trend.
I LOVED introducing my twins to Disney movies and my daughter loved Frozen while my son loved Peter Pan!
Disney fans can be pretty hardcore.
Whether you are planning your next trip to the Magical Kingdom or just enjoying the occasional classic Disney flick, any Disney-themed costume is always a good choice.
While some of these are technically Pixar characters, we love them all just the same!
1. The Incredibles
Go out in style as Mrs. Incredible, aka, Elastagirl, and her trusty sidekick Dash.
While thankfully your little guy doesn't have real superpowers to deal with, he can sure pretend to in these fun costumes.
2. Cruella Deville and her Dalmatian
Channel your inner diva with this stunning Cruella Deville costume.
And what makes this costume even better?
An adorable little Dalmatian puppy to bring along with you. You're both sure to get lots of candy and compliments in this costume.
3. Moana and Maui
Mama will make a beautiful Moana with little Maui by her side.
Of course, don't forget Maui's magical fish hook!
This Maui costume for boys is perfect for keeping him warm while also playing the part perfectly. A great Halloween costume for those living in warmer weather.
4. Monsters Inc.
23-19, there's a human item in the Monster world! Your little monster will feel safe and sound with you by their side in this crazy hazmat costume.
Of course, make sure that you have your little boy with you too!
5. Elsa and Olaf
Do you want to build a snowman?
Thaw every frozen heart you walk past in this Elsa and Olaf mom and son costume.
The perfect costume for those living in cooler climates and need some extra layers while out trick or treating.
6. Jasmine and Raja
Channel a classic with this adorable Princess Jasmine and her tiger Raja costume. Mom can be an exotic princess for the day while her little guy can protect her as her loyal sidekick and best friend Raja.
7. Tinker Bell and Peter Pan
Didn't love the antics of Tinker Bell in the Peter Pan Movie! I know my twins had a laugh!
To celebrate their friendship why not dress up as the adorable Tinker Bell and your son can live the action movie and become Peter Pan!
Cool Superheroes Costumes for Mom and Son
Every little guy loves his superheroes.
So why not strengthen that mom and son connection with these adorable superhero costumes?
You two will make a strong duo while walking around the neighborhood for more candy!
You're sure to be flying high with this fun and easy-to-put-together cool superhero costume for mom and son.
8. Batman and The Joker
Your little guy will be proud to defend Gotham City from his arch-nemesis, The Joker in this adorable Batman costume.
Or maybe mama wants to tap into her superhero side with this women's Bat[wo]man costume and save the city from that pesky little villain.
Either way, you'll be dressed to impress.
9. Transformers
The battle between the Decepticons and the Autobots is as old as time.
We all know that Bumblebee is a favorite among the little guys and of course, mama is the protector of the alien robots, Optimus Prime.
10. Teenage Mutant Ninja Turtles
Leonardo, Raphael, Donatello, and Michelangelo, those pizza-loving mutants are iconic costumes that anyone will recognize.
While you and your little guy could each go as TMNT, this would also make a great costume if you've got a couple of little guys.
Mom could dress up as the turtle's trusty sidekick, April O'Neil.
11. Superman and Supergirl
While Kryptonite might be Superman's weakness any other time of the year, it's the candy that might get him in trouble now! A few iterations of this costume could be a mom as Supergirl or even Lois Lane.
12. Mario and Luigi
Hey, it's me…Mario! While Mario isn't your "normal" superhero, he's still a well-known character in the superhero realm.
Stomping mushrooms and saving Princess Peach.
My twins love playing Mario on the Wii and Nintendo Switch!
Otherwise, dress your little guy up as Mario and you can be his faithful companion, Luigi.
13. Daphne and Scooby Doo
Oh the classic Scooby Doo show! This was a hit when I was a kiD and I remember waking up early for some Saturday morning cartoons while my mom made breakfast!
And hey! These can also be cool superheros!
Those were the days! And with the latest Scooby movies, my twins have been introduced to this mystery-solving gang.
As a mom and son duo, why not dress up as the adorable Daphne and your son can have fun being Scooby!
14. The Hulk and She Hulk
My son loved playing with his superhero action figures but once he played The Hulk on Fortnite, this became his favorite character.
If this is your son's favorite as well, why not each dress up as The Hulk? The She Hulk costume is pretty cool and together you'll look great!
Cute Classic Halloween Costumes for Mom and Son
You can never go wrong with a classic costume.
Whether it's from a movie, tv show, book, or other beloved childhood characters, you're sure to receive compliments and "aww, how cute" as you collect your candy.
15. Charlie Brown and Lucy
Charlie Brown…you blockhead!
Cute, gullible, little Charlie Brown and his football, he never learns, does he?
Other trick-or-treaters are sure to get a kick out of this adorable Lucy and Charlie Brown costume.
Don't forget to bring the football along for full effect.
Psst…if you already have black shorts for your little guy, all you need is a Peanut's shirt!
16. Magic School Bus
Everyone's favorite teacher, Miss Frizzle, is ready to take her class on a one-of-a-kind adventure on her Magic School Bus!
My twins have seen her shows in school even and enjoy the crazy adventures the Magic School Bus takes the kids!
17. The Cat in the Hat
"The sun did not shine. It was too wet to play, so we sat in the house. All that cold, cold day."
-Dr. Suess Perhaps one of the most classic Dr. Suess stories of all time.
The Cat in the Hat is always causing mischief with his ideas. The ideal costume for a mom with a Thing 1 and Thing 2!
18. Curious George and The Man in The Yellow Hat
That silly monkey is always getting into things.
This show was a hit in my household. My twins loved watching George the Monkey get into trouble and fun situations. And I loved the show because it was a family show!
You're sure to turn heads with this Curious George and Man in the Yellow Hat costume.
They'll be plenty of monkeying around with this adorable costume set.
19. Minnie Mouse and Mickey Mouse
Ok, Mouseketeers! Mickey Mouse and Minnie Mouse are about as classic as you can get!
You're sure to feel just as adorable as your little guy in this Minnie Mouse costume.
You can also opt out of the costume and go for the Mickey Mouse outfit instead!
Bonus…if you are planning a trip to Disney anytime soon, you can also use these costumes there!
20. Addams Family
While this is a great idea for the entire family, you can easily pull this one off with just you and your little guy.
Dress up as the queen of Halloween herself, Morticia.
Your son can either go as Gomez Addams or Pugsly to complete the look.
He could even dress up as Uncle Fester or Lurch.
If Morticia isn't your look, then opt for Wednesday Addams.
21. Little Red Riding Hood and The Big Bad Wolf
"My…what big teeth you have. The better to eat you with my dear!"
You'll want to gobble up your little guy when you see how adorable he is in this Big Bad Wolf costume.
Little Red Riding Hood isn't scared of this forest!
22. Baby Shark and Mommy Shark
Baby shark…we all know the song!
While I wouldn't say this is a "classic" costume like the others, it is very well known and everyone you walk past will know who you are.
Although if you don't want to hear the song a million times while you are trick or treating, then this might not be the best option.
Opt for the mommy shark costume or even a onesie outfit that you can wear as pajamas afterward.
23. The Flintstones
Everyone will adore your little Bam Bam with these Flintstones costumes. Betty Rubble and Bam Bam are a classic combination that is sure to get some compliments. Of course, don't forget his clubs!
24. Wizard of OZ
Follow the yellow brick road! You and your little guy will be off to Oz in no time in these adorable Wizard of Oz costumes.
Go as Dorothy and the Tin Man, Scarecrow, or Cowardly Lion.
A truly wonderful classic that your family and everyone else will love.
25. Peppa Pig!
Oh man! Don't you love the cute and adorable Peppa Pig show?
My twin toddlers watched it back in the day and my son started to say "torch" for flashlight from watching Peppa!
So cute! For this Halloween, why not mom and son dress up as Peppa pig and George pig?
Which Mom and Son Costume Will You Pick?
With all of these Halloween costume ideas, you're sure to find something that will fit you and your little guy perfectly!
As moms, we spend so much time taking care of everyone else and being serious all the time. Halloween is a time for us as moms to let loose, have fun, and be someone else for a change.
Many of these costumes are great as you can repurpose them for future years and pick and choose to play different characters.