Get some cozy fall decor ideas for your home this season!
I think it's safe to say that fall is a favorite season for many of us out there.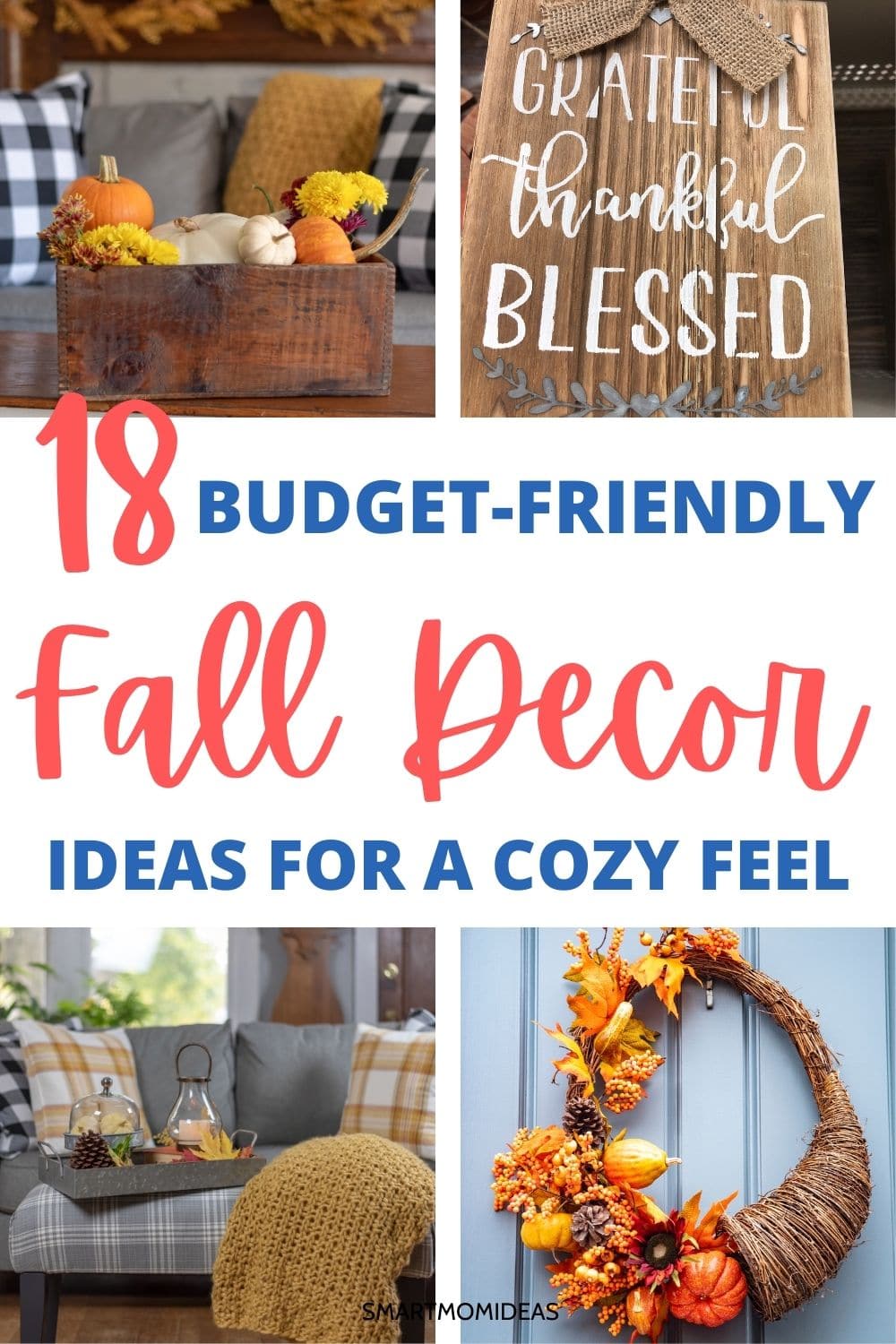 The cool breeze, chunky sweaters, and pumpkin spice…everything!
Oh, and of course, just one more reason to redecorate your home for that cozy fall feel.
While traditional fall decor screams everything pumpkin, there are so many more options for creating that oh so cozy fall decor in your home. Color changing leaves, spiced potpourri, and flannel, just to name a few.
So don't wait until there's snow on the ground (where I live that can be next day!) and get your creativity out with these fun fall decor ideas for your home.
Here are 18 fall decor ideas to inspire you.
The Best Fall Decor Ideas for Your Home
When you are planning out your fall decor, there are a few essentials that you can mix and match and rearrange into many different fun and cozy elements.
Faux pumpkins – A must for decorating in any room of your house. These white rustic harvest set is perfect for any home.
Faux Fall leaves – While you can certainly go out and gather real leaves (check out decor idea #17), these perfectly decorated fall leaves will last you for many seasons.
Wheat stalks – Bring the feel of the outdoors inside with these cute little wheat stalks. Put them in a wicker basket or vase for an instant magazine-style look.
Straw bales – A perfect compliment to simple and rustic fall decor. Use straw bales for your front door fall decor and place some pumpkins or scarecrows for a festive look.
Wicker baskets – Stay stylish and organized with these wicker baskets. Place blankets inside them, toys to keep hidden or magazines and books for a tidy fall look.
Flameless candles – Create that warm, cosy feeling with these flameless candles, perfect if you have kids or pets that tend to knock things over.
Faux berries – Add a pop or color with some faux berries to any assortment. I like to use them for my wreathes and mantle.
Decorative lanterns – These rustic wooden lanterns are a great piece of decor that you can use for just about any season.
Burlap – A versatile fabric that can be used to accent decor or to create your own DIY pieces. Use burlap for a table runner to instantly turn your dining room into a fall theme.
Mason jars – Because there are a million and one things you can do with mason jars!
Now, let's look at some fall decor ideas that people are using this season.
1. That Perfect Fall Fireplace
What better way to spend a chilly fall evening than curled up next to your fireplace?
Create that perfect fall feel by adding an assortment of faux fall leaves above your mantel, adding a few faux pumpkins on top, and some decorative baskets with more faux leaves, flowers, and a pumpkin at each site of the fireplace.
Just use caution if you are planning on using the fireplace! As a safer alternative, you can always use flameless candles placed on a candelabra. The perfect way to relax and sip your favorite fall beverage.
2. Minimalist and Neutral
The great thing about fall decor is that it can be very simple and still look amazing.
This decor idea is more of a neutral palette with a pop of color from the chunky orange blanket.
Hang up a simple "Hello Fall" sign, pair with some tiny wheat stalks, neutral colored pumpkins, and large wicker baskets.
3. A Simple Centerpiece
https://www.instagram.com/p/CE2UGDuBqtA/
Create a simple centerpiece for a dining, coffee or end table with some flameless candles surrounded by faux leaves, pumpkins and berries. Simply arrange on a natural wood tray and place in your desired location.
4. A Cozy Corner
Accent pillows are a seriously underrated piece of decor!
Just by swapping out a few pillows, you can easily change the feel of an entire room.
Create a cozy little corner in your home by adding some fall themed accent pillows, maybe changing out the rug to something more textured, and adding a few chunky blankets.
Besides, fall is all about snuggling up and being as cozy as possible, right?!
5. DIY Wreath/Frame
Create a fun and easy DIY wreath for your front door with this burlap wrapped frame.
Simply wrap a thick frame in burlap, add some faux fall flowers, and a cute little "hello fall" sign to complete this piece.
6. Festive Porch Decor
Ensure that everyone who comes to your home knows that you are all about those fall feels!
Easily create a festive porch by adding a few hay bails, faux pumpkins, and mason jars with flameless candles.
7. Pumpkins and Lanterns
You can create a cute little fall decor idea by placing an arrangement of pumpkins and lanterns on a table, hutch, or even your fireplace mantel. Add a seasonal floral or leaf arrangement and some decorative fall signs to complete the look.
8. All The Fall Front Porch
If you are the type of person that loves fall, I mean, really loves fall, then you are going to love this fall porch idea.
Create a stunning fall porch by adding various sizes and colors or real pumpkins, an assortment of mums, larger wheat stalks, and some rustic display boxes to complete the look.
9. Cozy White Setting
While most people think of fall and picture browns, oranges, and reds, you can also create stunning and cozy decor using white and other neutral colors.
This fall decor idea uses a white chunky blanket, white faux pumpkins, white accent pillows with fun fall sayings, and a bit of faux greenery and buffalo check for a pop of neutral color.
10. Antique Wood Crates
Create some warm fall themed decor by stacking antique wood crates on top of one another, on tables, or stairs and adding other fall themed decor.
This cozy little corner includes stacked antique boxes, some wheat stalks, a cozy plaid blanket, sprigs of leaves, and faux pumpkins.
Decorative Beads and Flags
One decor item that people might not associate with fall are flags and beaded garland.
However, they come in many different colors and textures to suit a wide variety of seasonal decor ideas. Additionally, you can add them just about anywhere. For this decor idea, they have been added to a fireplace along with some faux pumpkins and rustic candlesticks.
The nice thing about using burlap flags is that you can easily customize them by painting them with fun, fall themes and patterns.
Festive Fall Wreaths
You can easily add some festive fall feels to any room by hanging a wreath.
While you can certainly DIY your own, you can also easily find a lot of different style wreaths available online or at your local craft store. From bright fall leaves to greenery and neutral colored themed, you are sure to find a few to suit any room.
Macrame
Using macrame in your cozy fall decor is a great way to add a bit of softness to your living area.
There are a lot of available options to decorate with macrame, from table runners (like the one that was used here) to plant holders and beautiful wall hangings. You can easily dress up a cozy fall wall by adding a macrame tapestry and some faux greenery.
DIY The Perfect Pumpkins
If you haven't already discovered, the Dollar Tree has so many amazing things that you can turn from blah to outstanding.
While there is certainly no shortage of faux pumpkins available in stores and online, purchasing a bunch to decorate your humble home can really add up. Not to mention, it can be difficult to find exactly what you are looking for.
So…the solution?
DIY your very own pumpkins to perfectly fit your desired decor. With some paint, fabric, and even glitter, you can turn any boring old dollar store pumpkin into the perfect piece of decor.
Whether you are looking for a neutral palette or something a little more spooky, you can easily turn dollar store pumpkins into something amazing!
Give Thanks (And Hay Bales)
If you are looking to create a larger conversation piece of decor in your home, then grab some big hay bales and get to work! You can always check out your local farmer's market or farm to see if you can get some authentic bales at a discount.
Top these bales with a mix of large and small pumpkins and a This setup makes a lovely backdrop for all of your fall inspired pictures. Did someone say #instaworthy?!
Festive Fall Table
Of course, everyone's favorite place to gather is the kitchen.
Create a festive scene by going all out on the table centerpiece.
Start with a rustic table runner, top with a variety of pumpkins of all different sizes and textures, and throw in some fairy lights for good measure. Add some height by placing a farmhouse french pitcher vase in the center with an arrangement of leaves, pinecones, and flowers.
Waxed Fall Leaves
Why use fake leaves when you can use real ones? The only problem with this is that they can get kind of messy when they dry and start to crumble everywhere. If only there was a way to prevent that…
Enter, waxed leaves!
These are so simple to make and they look so beautiful when they are finished!
Simply gather up all the most colorful leaves that you can find (what better excuse to go for a fall hike?) Break out your mini crockpot or double boiler, melt some paraffin wax and dip your leaves.
This is a fun decorating project that even the kids can help out with, unless you want to keep all the fun to yourself!
Soft Lighting
Adding soft lighting anywhere will give your space that warm and cozy feel.
You can easily do this with adding fairy lights within decor or adding warm white string lights to outdoor decor.
And of course, don't forget about those flameless candles.
For smaller areas where you want that candlelit feel without the fire hazard.
Amazing Fall Home Decor Ideas for You!
The great thing about cozy fall decor, is that there are so many different options to create that wonderful fall feeling.
From those bright orange pumpkins to those muted neutral wall tapestries, find that perfect mix of decor to fit any space in your home.
Did you like these ideas? I love the table fall decor ideas as I can easily create some neat fall center pieces.
If you are looking for some farmhouse home decor ideas, make sure to check out my post on a beach theme farm house look!
Or, if you are pregnant and looking at nursery decor ideas, check out my rustic nursery ideas here.
Over to you – what are your fall decor ideas?
Remember to pin me!