Get a rustic and beachy look with these beachy farmhouse ideas for your home.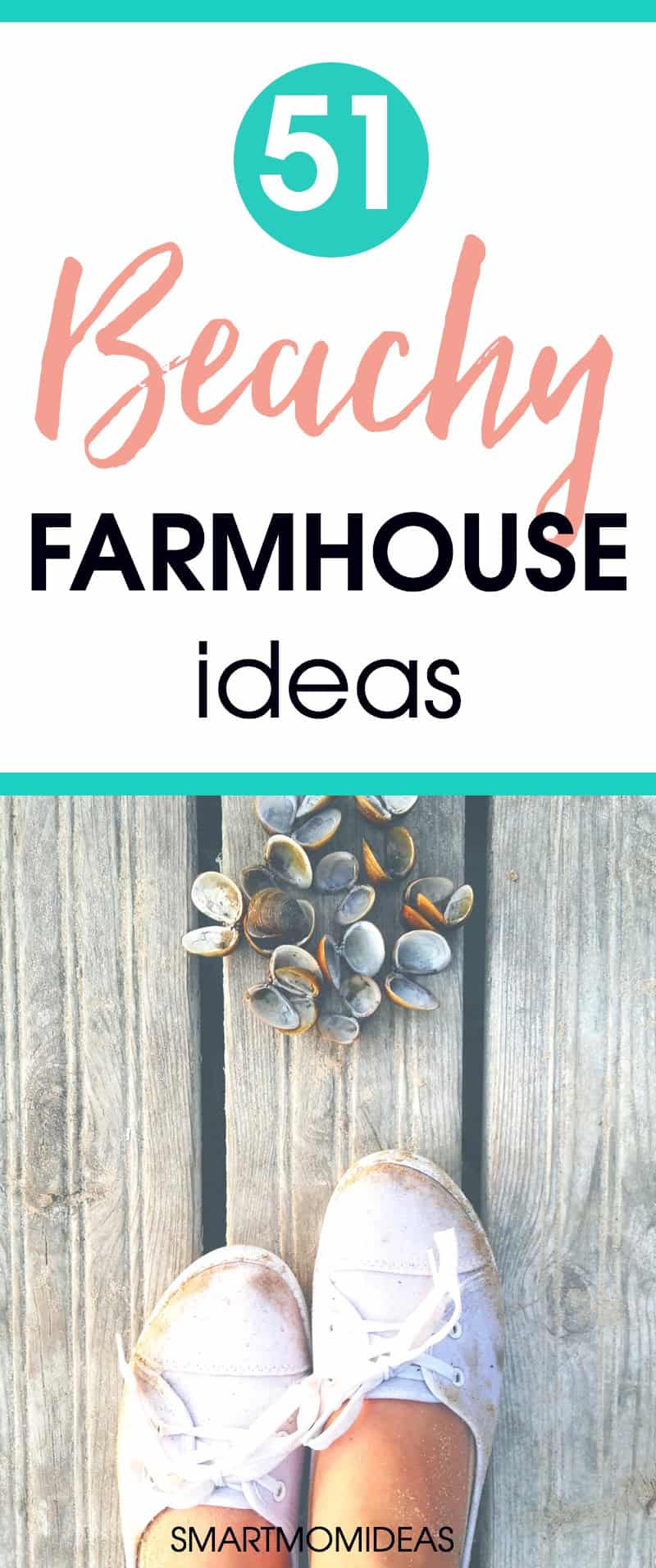 I grew up in California.
What I remember the most is the smell of ocean in my hair and sand in between my toes whenever I headed inside. I would spend all day at the beach and now, as a grown-up and mom to twins, I long for that day to come again.
If you want a beachy feel to your farmhouse inspired decor, look no further! In my house I like to collect ship-inspired weathervanes, barametors and anything that comes from the beach.
What I love about the beachy farmhouse decor are all the natural elements incorporated like weathered down mirrors, rope-wrapped candles, and wooden art that almost looks like it's been from a shipwreck.
Whether you want a beachy farmhouse kitchen or living room, these 51 ideas (many are DIY too!) can help you decorate your home as if the ocean is right outside your window (wouldn't we all love that!).
51 Beachy Farmhouse Style Ideas
1. DIY Sea Glass
Learn how to turn old rum and vodka bottles into coastal inspired sea glass from Sadie Seasongoods.
2. Weathered Wood
Doesn't this weathered table look perfect for your home? Get inspired from Brandi Sawyer on how to create this one of a kind look.
3. Seashell Centerpiece
This DIY project is super easy if you're a busy mom like me! You can grab some sea shells like these and an old rustic wooden tray or trough like this one and place it in your beachy farmhouse bathroom or guest room.
4. Farmhouse Wall Treatment
Take one wall of your living room or bedroom and turn into a rustic farmhouse feel. This DIY farmhouse wall treatment from Refresh Restyle is gorgeous!
5. Beachy Knick Knacks For Your Bookcase
An easy way to add the beachy farmhouse look is to add coastal and nautical knick knacks to your bookcase.
Learn how Sand and Sisal decorates her home for a farmhouse look.
6. Rope-Wrapped Candle Holders
This easy DIY beachy farmhouse decor is simple enough for your child to help you! I love these beachy scented soy candles for this DIY project.
7. Wooden Whale Art
Finding Home Farms has an amazing DIY wooden wall art using reclaimed wood from damaged homes. Wow!
8. A Pottery Barn Hack
Raise your hand if you LOVE Pottery Barn, but it's a tad too expensive? Me, me, me!!! Well Down Home Inspiration has a hack for a rope knot table lamp.
9. Driftwood Mirror
This easy and beautiful driftwood beachy farmhouse mirror is perfect for your living room or bathroom. Sustain My Craft Habit has a DIY tutorial on how to make this using this mirror.
10. Glass Buoys
Craftberry Bush has a beautiful and nautical DIY project for your beachy farmhouse. This project it a bit more skilled than the rope knotted lamp, but if you have the time and passion, you can have fun with this project.
11. Rustic Sailboat
Don't you LOVE this sailboat?! With my nauticalness passion for my home, this would be a great addition!
12. Beachy Farmhouse Color Pallette
Don't you love these color choices from City Farmhouse? This can totally be adapted for a beachy farmhouse feel.
13. Farmhouse Art
While this farmhouse art has a grammar error (use "then" not "than), either way, it's perfect for those long days at the beach or to get that beachy farmhouse feel. This rustic slatwood is perfect for the canvas of this project.
14. Nautical Wreath
You can make this beachy farmhouse wreath with simple and natural materials in under 30 minutes!
15. No Sew Pillow
With some burlap and a starfish pattern, you can have this no-sew pillow for your beachy farmhouse in no time!
16. A Farmhouse Wreath in 30 Minutes
This simple but nautical feel wreath is gorgeous! And it only takes 30 minutes to make!
17. Rustic and Beachy Farmhouse Table
One of the easiest ways to turn your furniture into a beachy cottage look is to use a dry brush finish in a nautical color. Elegance and Peonies has a great tutorial on this.
18. Seashell Lights
Aren't these adorable? These seashell lights can be added to a room or bathroom and immediately make it feel like you're at a beach house.
19. Sisal Shade
Just like the rope-knot lamp, this sisal shade from Sand and Sisal can transform a plain-looking lamp into a beachy farmhouse item.
20. Driftwood Seahorse
What a cute and nautical inspired driftwood seahorse. Creative in Chicago has a budget-friendly DIY tutorial on how to make this seahorse for your beachy farmhouse!
21. Shell Art
The Party Teacher has a simple tutorial on how to make this modern and very chic beachy art for your house.
Check Out 30 More Beachy Farmhouse Ideas
For some more ideas to turn your house into a beachy farmhouse, check out these!
Get The Beachy Farmhouse Look
I love putting the beach life into my home. Having blue tones with whale pillows or a seahorse wall decor can quickly turn your home into a beachy farmhouse. Throw in some towels and a sisal welcome mat and there ya go!
Now that my twins are 5 years old, I can finally start to decorate my house for adults! 🙂
And if you want more ideas, here are some cute pole barn homes ideas for you!
Over to you – tell me your favorite beachy farmhouse item!
Please remember to pin me!