Make everyone take a double look with these desk chairs with no wheels for your home office!
As a work-at-home mom, I spend A LOT of time in my office.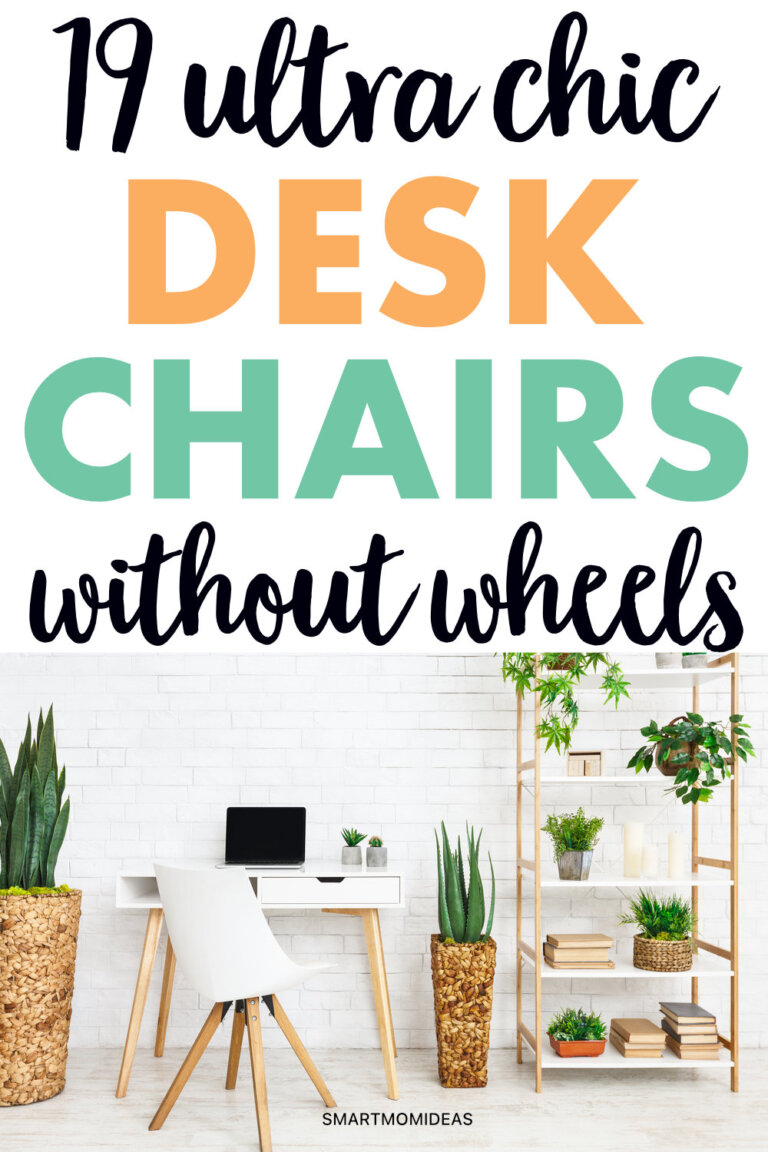 This is why making my office space functional and chic is very important.
When you're looking to enhance the decor of your office at home, you should start with your desk chair.
Not only is this where you will be parking your body for most of the day but the right style can really enhance the look of your space!
To help you figure out which chair is perfect for your home office, I've put together a list of desk chairs with no wheels.
But, first, let's talk about why you should consider wheel-less chairs in the first place.
Why Should I Use a Desk Chair With No Wheels?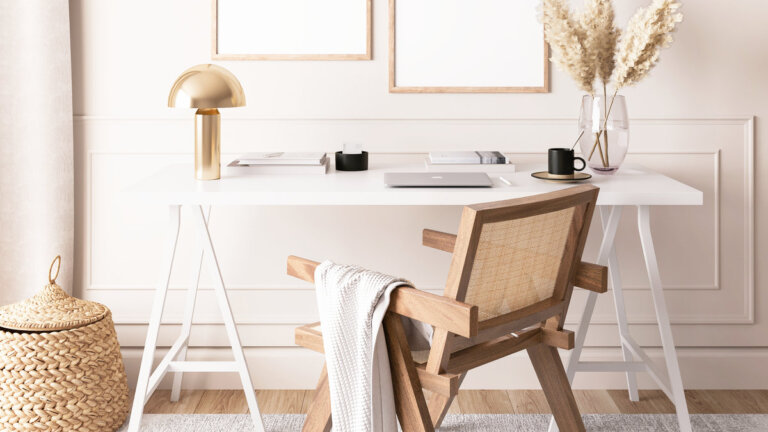 More often than not, people use rolling office chairs when working at a desk, right?
However, there are some advantages to going wheel-less in your office!
Desk chairs with no wheels are easier to assemble and typically cost less than rolling office chairs because they don't require a lot of features and accessories.
However, if you want to opt for something more stylish, you may end up paying around the same cost for a desk chair with wheels – but it will look amazing!
Plus, many people opt for wheel-less desk chairs because of the type of flooring in their home office.
If you have wood or hardwood floors, rolling office chairs can cause quite a bit of damage!
Unless you want to lay down a rug or carpet in your office, desk chairs with no wheels are the way to go.
Overall, desk chairs with no wheels are stylish and you can really customize the look of your chic office!
And, well they are stylish and chic aren't they!
How to Choose the Best Desk Chair With No Wheels
The type of office chair with no wheels you choose depends entirely on what you need it to do!
While you want to choose a style that is chic and visually appealing, you will need to consider other factors – especially if you spend a lot of time sitting in your chair.
Here are some things you should keep in mind:
Material: Desk chairs are made with a variety of materials and fabrics but you want to make sure they are long-lasting and provide you with optimal comfort and breathability.
Ergonomics: Check for a chair for your desk area with an adjustable seat height and lumbar support if you plan on sitting in it for prolonged periods of time.
Flooring: Desk chairs with no wheels can still cause scratches and scuffs to your floor (though not as much as rolling desk chairs can). If your floor isn't scratch-resistant, avoid chairs with metal legs.
Just keep these tips in mind while you are choosing your wheel-less desk chair!
19 Desk Chairs With No Wheels for Your Office Area
1. LEAGOO Fabric Padded Armless Office Area Desk Chair
This desk chair is super stylish and simple, making it versatile to suit your office design – all without desk chair wheels!
Even though it doesn't have armrests, it is built to be sturdy and has a curved backrest and seat.
In fact, its u-shaped design helps to release pressure from your back and hips to promote good posture and provide strong support for your back.
2. AmazonBasics Classic Leather Office Chair
This office chair with no wheels has a sleek and contemporary style with a durable metal frame.
It features black leather upholstery and a professional appearance.
Its solid black color makes this chair easy to work into your office's decor and customer reviews indicate that it is super comfortable!
3. AVE SIX Langdon Faux Leather Desk Chair
What can I say about the rose gold base? I love it!
Plus, the tufted faux leather seat makes this chair look chic and stylish.
The faux leather is extremely soft and the entire chair is very comfortable.
This desk chair with no wheels is also easy to assemble and easy to clean.
4. Studio Designs Home Spire Swivel Desk Chair
I really like this chair with no wheels because it doesn't look like an office chair! It has a comfortable and sleek armchair look to it.
The soft, cotton-like fabric is 100% polyester and is tailored to the firm foam to give you comfort and support. Plus, it swivels and there are plastic floor glides on the bottom of the legs to prevent scratching.
5. Flash Furniture Desk Chair with Flip-Up Arms
This comfortable desk chair has the look of a rolling office chair but without wheels.
Its high back ensures proper support and the arms flip up to relieve pressure from your shoulders and neck if needed – they also flip out to the side so you can slide the chair under your desk!
And the ventilated mesh back ensures that air circulates around your body so you don't get uncomfortable or itchy.
6. EMIAH Padded Swivel Desk Chair No Wheels
Check out this super swanky desk chair with no wheels!
The unique pleated design gives this chair a classic leather look – and the leather is actually microfiber leather so it is waterproof and easy to clean.
This chair is also fully adjustable so you can change the height as well as the recline and the backrest and seat are designed to provide back and hip support while you are working at home.
7. ARMEN LIVING Modern Chair
If you love the retro look or need a desk chair for a small space, check out this stylish rounded chair.
It features a walnut wood finish with wear-resistant fabric that mixes modern with contemporary.
It also comes in different colors: Charcoal, green, and blue. Plus, the foam filling provides both lushness and the ergonomic design ensures proper support.
8. SONGMICS Standing Desk Chair
Have you ever used a standing desk?
My husband swears by his but even if you are enjoying the health benefits of standing while you work, sometimes your body needs a break!
This standing desk chair is easily adjustable and provides the perfect height between sitting and standing so you can feel energized and productive during the day.
The seat is upholstered with thick high-density foam for maximum comfort.
9. Flash Furniture Contemporary White Leather Side Reception Chair
This chic chair with no wheels as an office chair is perfect for working from home. In fact, one of my mom blogger friends uses one and loves it!
This chair is perfect for small home offices and offers a timeless quality and sophistication.
It features a curvaceous frame and chrome frame finish, making it a stylish addition to any space.
Plus, installation is a breeze – you can have this chair up and ready in just 5 minutes!
10. Boss Office Mesh-Back Chair
This pewter-framed office chair is a great way to add a pop of color to your office area at home!
It features a breathable mesh fabric and is available in charcoal gray, blue, pink, orange, purple, and red.
It also has tilt tension controls as well as a pneumatic gas lift seat so you can adjust the chair for maximum comfort.
11. Giantex Stylish Desk Area Chair With No Wheels
Here's another classic leather desk chair with a unique mid-century look! It has solid beech wood legs, non-slip foot pads, and is covered with hot-stamping cloth to give it that mottled look.
This chair can swivel 360 degrees and has high-density sponge to provide proper support to your body while you work.
12. Sleekform Ergonomic Kneeling Chair for Desk
I was really curious to find out the benefits of using a kneeling desk chair while working at home.
Apparently, kneeling chairs help to align your pelvis and spine while strengthening your core muscles.
According to customer reviews, this type of chair does take some getting used to but overall people find it super comfortable and beneficial for their bodies!
13. Tufted Velvet Shell Chair
If you're looking for a stylish, yet comfortable chair to add to your workspace, look no further than the Tufted Velvet Shell Chair!
This teal-velvet accent chair is perfect for anyone who wants to add a pop of color to their décor.
The cushioned seat and wide shell-shaped channel tufted back will keep you comfortable at your desk, while the easy-to-assemble design makes it a breeze to set up.
Plus, theTufted Velvet Shell Chair with no wheels is incredibly sturdy, so you can be sure it will last for years to come while you start working from home in your make-shift home office!
So go ahead and treat yourself to this must-have chair…you deserve it!
14. Christopher Knight Home Mid-Century Modern Fabric Club Chair
Stylish and comfortable that will match your home décor? Look no further than this Mid-Century Modern Fabric Club Chair!
This gorgeous chair with no wheels is perfect for any room in your home and for your home office. It has a deep, luxurious cushion that's comfortable for those long work hours at home.
Plus, it's unbelievably easy to assemble – just minutes from start to finish!
15. Mid-Century Modern Chair With No Wheels
If you're looking for a stylish and comfortable chair for your make-shift home office then Mid-Century Modern Chair with no wheels is your desk chair!
This desk chair is perfect for your modern living room decor or bedroom.
It's easy to assemble and looks beautiful with a variety of decors, from mid-century modern to country chic. You'll love spending time working in this chair or just chilling in the chair at the end of the day!
16. Modern Swivel Accent Chair
I'm obsessed with this chair with no wheels!
It's so much comfier than a traditional office chair and it looks great in any room!
The mid-century modern style and candy blue color match my home decor perfectly.
The four beech wood legs finished with walnut lacquer extend outward from the swivel base and make it super easy to move around.
You have to get this chair for your work office!
17. Convenience Concepts Take a Seat Charlotte Accent Chair
Isn't this desk chair so cute?
With solid wood legs and true black linen upholstery, it's a stylish and sturdy addition to any space you decide to put your home office in.
Plus, the removable cushion makes it super comfortable.
If you're looking for a versatile chair that'll add some chic style to your room, than the Charlotte accent chair is the perfect addition.
18. Ergonomic Steel Chair Without Wheels
Looking for a comfortable and stylish chair for your home office? Then look at the Ergonomic Steel Chair!
Made of fleece fabric and filled with a high-density sponge, this chair is soft, comfortable and breathable, making it perfect for long hours at your desk.
The support legs are made of carbon steel and are painted black to match any decor, while being scratch-resistant and heavy-duty.
Plus, it's easy to clean – just wipe down with a damp cloth!
My Favorite Chair With No Wheels
Check out what my favorite desk chair is!
19. HomePop Modern Swoop Arm Accent Chair
Looking for a modern and stylish accent chair with no wheels to add to your living room furniture?
The Modern Swoop Arm accent chair looks cute and is perfect for your home office!
This chic chair features a slightly curved back along with side swoop arms to create a comfortable seating experience.
Plus, the design is sure to add a touch of luxury to any living space.
What are you waiting for?
Which Desk Chair With No Wheels Will You Choose?
So which one are you going to choose? Let me know in the comments!
With this list of stylish and functional chairs to choose from, there's a perfect desk chair there to make your office space super chi
FYI, that's me and it's 100% true! lol Soooo comfy!
Please pin me!