Find perfect Amazon stay at home jobs for you!
Still skeptical about those stay at home jobs you hear stay-at-home moms talking about? I totally get it. I was too until I learned the truth for myself.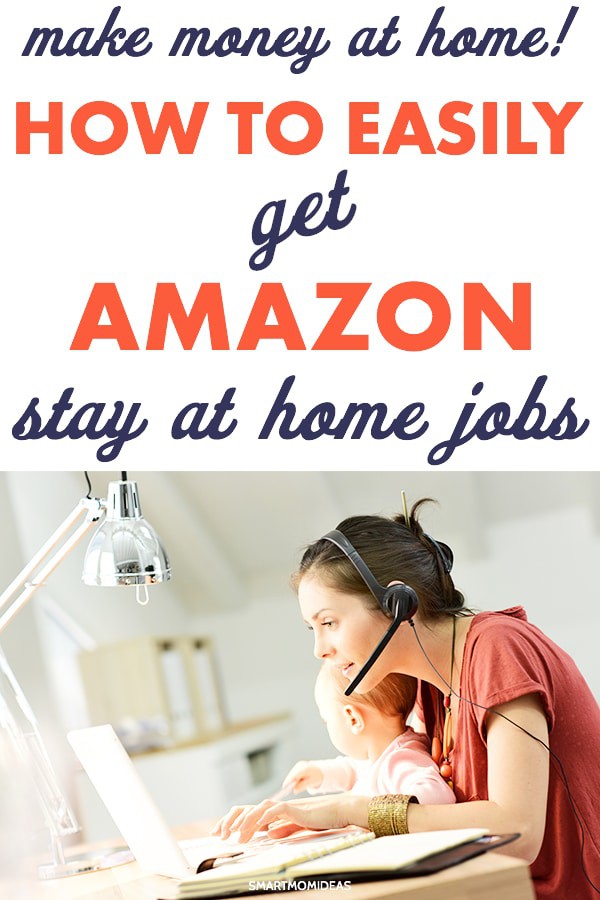 Not only are these type of jobs real, but there are actually a lot of legitimate work from home opportunities for people of all skill-sets.
Amazon for example is one of them. This ecommerce platform has had amazing success and continues to have sustainable growth each year.
And in that, Amazon has created a huge variety of work opportunities within the job market.
I'm here to share eight Amazon stay at home jobs you can do to earn an income from your cozy home office.
Amazon Stay At Home Jobs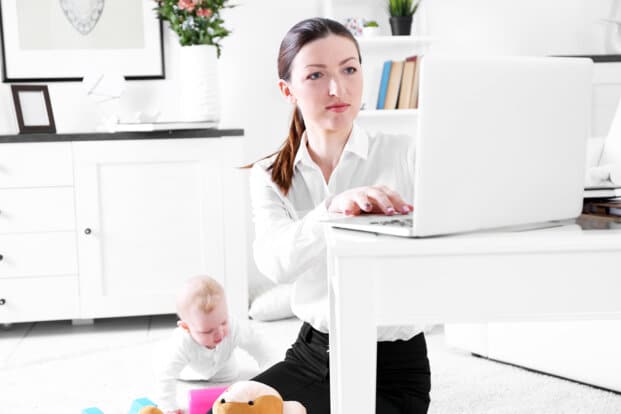 1. AWS Partner Trainer
Do you have sales experience and can effectively communicate to an audience at different stages in their buying journey? This may be the job for you! Amazon is looking for individuals with hands-on AWS or cloud experience.
AWS (Amazon Web Services) is platform in the cloud that is used by hundreds of thousands of businesses in 190 countries around the world.
You must have excellent communication skills as you'll be teaching AWS partners on how to use the platform, all while establishing outstanding customer relationships.
If this is your skill-set, go ahead and apply!
2. Solutions Architect (AWS UK Public Sector)
Are you knowledgeable about the cloud and working for national public safety organizations? Do you have in-depth knowledge about applications, operating systems, virtualizations, and cloud-native architectures?
You will be designing and building cloud computing systems for some of the most important national security and public safety organizations.
This role is best fit for a highly technical and analytical person with experience in architecture, systems, software, and network engineering.
3. Migration Delivery Consultant
You should have strong interpersonal and problem solving skills as well as experience managing a technical team. You should also have experience with cloud migration and be able to build and improve systems and processes.
Amazon is looking for a AWS (Amazon Web Services) expert to help build their AWS Application Migration Competency Center. You will help organizations understand the AWS migration, how to operate it, as well as how to improve their cloud application portfolio with AMS.
4. K-12 Education Enterprise Account Manager
Are you passionate about education and have a background in technology and business development? Mama, this may just be the job for you!
You need to have a BA/BS degree and experience managing a pipeline in a CRM.
Here are just a few of the duties you'll be performing in this role:
Ensure customer satisfaction as well as a comprehensive account plan
Improve market awareness
Maintain a strong pipeline
Create and explain value propositions around Amazon's AWS services
You definitely need to be someone that can work productively with no supervision as this is a role where you'll be expected to meet the objectives and tasks that you're given on the appointed deadlines.
You'll be expected to take control, produce exceptional results, and work productively without supervision.
5. Senior Loss Prevention Manager
Are you familiar with Amazon's Fulfillment centers? This role requires you to provide security services and asset protection throughout Amazon's fulfillment centers located in the UK.
This includes protecting lives, buildings, data, and intellectual property.
They are looking for someone with a Security and Loss Prevention related background. You must also be someone that is comfortable leading a team and being a hands-on supervisor.
This role requires that you:
Serve as department's liaison and security subject matter expert for senior management
Ensure physical security standards including access control and system monitoring
Report and track metrics
Lead team to address and report on security incidents
6. Customer Service Associate
With all its competitors, Amazon is on their A-game when it comes to providing excellent customer service and customer user experiences.
They're looking to hire individuals for their customer service associate positions that will provide their valued customers with the speedy, friendly, and efficient care they deserve.
You'll help customers expedite their orders and problem-solve post sale orders.
You'll be speaking directly with Amazon's customers so it's extremely important that you are patient, friendly, and are absolutely dedicated to making sure every single customer has a positive customer experience.
Amazon is looking to hire people with the following qualities:
Detail-oriented
Ability to multitask and work in fast paced environment
Problem solver
Ability to discern customer's needs and problems and offer sympathy
Ability to maintain composure and professionalism in difficult situations
7. Senior Program Manager, Fleet Communications
Amazon is looking for a senior program manager who will lead all of their fleet communications of the Amazon Branded Vehicles Program.
You will deliver and build out all fleet-related communications. You must have a passion for developing and implementing processes. You must also be analytical, resourceful, customer-focused, team-oriented and possess the ability to meet tight and demanding deadlines.
8. Design Project Manager
Amazon's Global Specialty Fulfillment is looking for a qualified designer to work closely with stakeholders, business teams, and other internal and external partners to design, create, implement, and execute various new projects throughout their lifecycle.
You must have a BA or a BS in construction management, project management, architecture, engineering, or an equivalent from an accredited university. You must have excellent communication skills, and be able to multitask and work simultaneously on different teams and projects.
While this is a work from home position, you must be willing and able to travel at least 30% of the time.
Some of the duties for this role include:
Coordinate with contractors, operations, and maintenance teams to ensure technical and operational expertise
Negotiate scope, price, and terms and conditions for all design works
Lead and review design consultants with regard to costs, schedule, and quality
Want to Search More Jobs?
And those are just 8 of hundreds of Amazon's work from home job listings. To find more that match your skill-set, head over to their career page and take a look to find positions that are a great match for you.
I bet you'll find something that fits your background, interests, and schedule.
Increase Your Chances of Being Hired
How will you land the job you want when there are so many other people applying?
Learn how to tailor your resume in a way that makes you stand out from the crowd. A lot of applicants make the mistake of sending the exact same copy of their resume to about 30 or more so employers and then are surprised to hear crickets.
I used to think that was okay too. I mean, nobody let me in on the little secret that can literally make or break the decision of the hiring manager.
It's not enough to qualify for the job. Your resume has to come to life on paper.
I don't want you to waste your valuable time like I did. My advice? Take time to customize your resume for each different position you're applying to.
I know it takes a bit more time than sending out the same one for each position. But it's SO worth it! And hey, that's what makes you stand out!
Find the Perfect Amazon Stay at Home Job for You!
As you can see, there's a ton of opportunity out there, mama! There are an abundance of Amazon work from home jobs that are a perfect fit for you. I encourage you to apply!
Put yourself out there. Don't assume you won't be the one who gets hired. If you want to work from home for Amazon, go for it!
Over to you now. Found any Amazon work from home jobs that weren't listed? Share with us in the comments below!
Don't forget to pin me!