The only diaper rash cream that worked for my son
When my son was a baby, he was faced with a triple threat: Cradle cap, eczema, and diaper rash.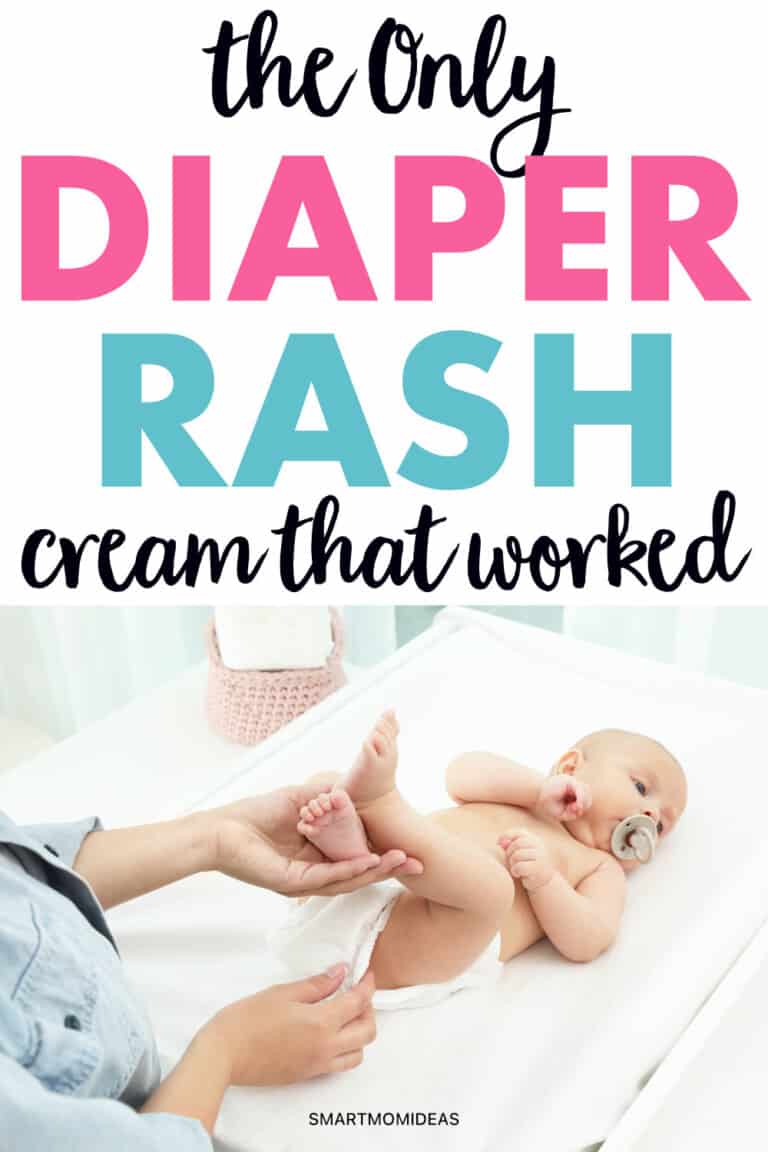 Can you imagine how itchy and uncomfortable that would be? I felt so bad for my little one and I tried everything I could to relieve the discomfort.
Luckily, I came across Aquaphor 3-in-1 Healing Ointment and to this day, I swear it is the best diaper rash cream out there!
It helped heal my son's diaper rash quickly, and it's hypoallergenic so it didn't irritate his skin and make the rash worse.
But before you grab up a diaper rash cream to help sooth your little one's skin, it's important to know what causes diaper rash and what to look for in a cream.
Then, you'll see why Aquaphor is easily the best diaper rash cream on the market!
What Causes Diaper Rash?
Diaper rash is an irritation in the area that is covered by your baby's diaper.
It often looks like small, red bumps around your baby's stomach, bum, genitalia, and thigh folds.
The moisture from your baby's urine causes their skin to become more susceptible to chafing and the urine itself causes irritation to the chafed area.
Unless you can change your baby's diaper each and every time they pee, it's nearly impossible to keep all wetness away from their skin and most babies will end up with a diaper rash at some point.
This is why diaper rash treatments are popular!
Because they create a barrier between the skin and the urine, they help prevent diaper rashes but also treats any that do pop up.
Types of Diaper Rash Treatments
While I highly recommend Aquaphor 3-in-1 diaper rash cream, there are a variety of other products out there with a lengthy list of ingredients!
The important thing to remember when choosing a diaper rash treatment is that there are two main types of cream:
Petroleum-based creams such as Vaseline and zinc-oxide products like Desitin.
Petroleum-based diaper creams work well on mild rashes, while zinc-oxide will provide more protection from irritation when it comes to moderate to severe rashes.
There are also thicker pastes and creams that work well to soothe rashes as well as ointments that can prevent rashes from happening in the first place.
Aquaphor Healing Ointment Versus Diaper Rash Cream: How Does It Work?
Aquaphor diaper rash cream is different from other diaper rash treatments because it is formulated to prevent, soothe, and treat diaper rash – hence the 3-in-1!
So instead of buying different types of creams for mild to severe rashes, you can use one product whether you are just noticing the development of a rash or if one has already started to cause your little one discomfort.
Aquaphor is made with 15% zinc oxide and 41% petrolatum, so it works well to create a protective barrier on your baby's sensitive skin.
As I said, my son already had sensitive skin so this product worked great to help his diaper rash heal naturally while not aggravating his eczema.
It's also hypoallergenic as well with no preservatives or fragrances, making it extra gentle on the skin.
The other ingredients include panthenol and glycerin which also encourage healing but also moisturize the skin.
So you can also use this all over your baby if they have dry skin due to weather changes or other sensitivities!
Plus, this ointment can also soothe minor burns, cuts, and scrapes (this goes for older kids and adults, too!).
So when it comes to comparing Aquaphor 3-in-1 diaper rash cream to other products, it is ideal for sensitive skin and has multiple uses – eliminating the need to carry around a variety of skincare products for your little one.
Other Top Diaper Rash Creams You Should Check Out
Desitin Diaper Rash Cream
Desitin is a common household name when it comes to diaper rash treatment. Desitin is a zinc oxide cream that soothes skin and prevents rashes while moisturing baby's skin.
It's formula works quickly to calm inflammation, redness, and pain.
Boudreaux's Butt Paste
Boudreaux's Butt Paste is not only fun to say but it has an easy-on, easy-off formula that is popular with many parents.
However, it does contain boric acid, castor oil, wax, and mineral oil.
While these aren't dangerous ingredients, they could spell trouble for baby's with sensitive skin conditions such as eczema.
Overall, Boudreaux's Butt Paste is found to be highly effective against severe cases of diaper rash.
A+D Original Diaper Rash Ointment
A+D Ointment is primarily known as a healing ointment used for burns – but this petrolatum and lanolin combination is great for diaper rashes!
It helps to prevent and soothe diaper rashes by creating a protective barrier that keeps wetness away from your baby's skin.
Cetaphil Baby Diaper Cream
Cetaphil baby diaper cream is made with calendula extract which comes from the marigold flower.
It's been proven as a safe and effective way to soothe skin.
This product also contains vitamins E and B5 to help heal the rash and can be used for general skin rashes too!
Weleda Diaper Rash Cream
Some parents don't like the thick consistency of pastes, but Weleda diaper rash cream has a thinner formula that makes it easier to apply.
It's oil-based as well and contains calendula to help soothe skin and clear away the diaper rash.
Burt's Bees Diaper Rash Ointment
Burt's Bees diaper rash ointment is enriched with shea butter, lavender oil and jojoba seed oil to help revive your baby's skin.
It's also proven to be safe, effective and non-irritating – perfect for everyday use! Plus, the white layer it leaves on your baby's skin when his diaper is removed acts as a barrier to wetness. It's also easy to wipe off with a baby wipe, and also comes off easily in the bath.
The Honest Company Sprayable Diaper Rash Cream
When it comes to taking care of your little one, you want only the best.
The Honest Company's Sprayable Diaper Rash Cream – from Jessica Alba – is gentle and touch-free, perfect for preventing and treating diaper rash.
This ultra-gentle cream forms a protective layer on your baby's skin to soothe any irritation caused by diaper rash.
With just one or two sprays, you can easily apply this cream and enjoy its long-lasting effects. Plus, it's very easy to clean off and has no unpleasant smell. So give your baby the best protection possible with The Honest Company's Sprayable Diaper Rash Cream.
How to Use Rash Cream For Diaper Rash Treatment
No matter the diaper rash treatment you choose, it's important that you properly apply it to your baby's skin to maximize healing and reduce discomfort.
Before you apply the rash cream, clean and dry your baby's skin thoroughly and be sure that you're changing your baby's diaper often. Spread the cream liberally and let it dry a bit before putting on a new diaper.
The great thing about Aquaphor is that it contains zinc oxide, so it only needs to be applied 2-3 times per day.
This means that you don't have to apply it every time you change your baby's bum – it will create a protective barrier that will last through a few diaper changes.
If you find the rash is persisting, double check that you're applying the cream correctly before jumping to a different product.
Of course, if the rash doesn't start to go away several days of home treatment, it's time to go see your doctor to make sure the rash isn't severe or caused by something else.
FAQ's on Diaper Rash and Diaper Rash Cream
1. What Heals Diaper Rash Fastest?
Bathing your baby in a warm bath with soothing oatmeal can help heal diaper rash quickly.
When you bathe your baby, make sure to use a mild soap and avoid scrubbing their skin. After the bath, apply a thick layer of diaper rash cream to help soothe the area.
2. How Often Should I Change My Baby's Diaper?
It's important to change your baby's diaper often, especially if they have a diaper rash.
The wetness from urine can irritate the skin and make the rash worse. Aim to change your baby's diaper every 2-3 hours or as needed.
3. What is the Best Way to Prevent Diaper Rash?
The best way to prevent diaper rash is to keep your baby's skin as dry as possible.
This means changing their diaper often, especially if they have wet or soiled it.
You can also use a barrier cream every time you change their diaper to help create a barrier between the skin and urine.
4. When Should I See a Doctor for Diaper Rash?
If the diaper rash is severe or does not improve after a few days of home treatment, you should see a doctor. They may prescribe a stronger cream or ointment to help clear up the rash.
The Best Diaper Rash Cream!
Because Aquaphor 3-in-1 is formulated to protect, soothe, and heal, it really does a great job when it comes to your baby's diaper rash!
Instead of buying multiple products, you can use one to help your baby feel comfortable and happy.
I know it worked for my son!
What about you? What's your favorite go-to diaper rash cream? Share your suggestions in the comments!