Get ready for lasting nursery themes right now!
One of my favorite parts about finding out I was pregnant with my twins was planning out the perfect nursery.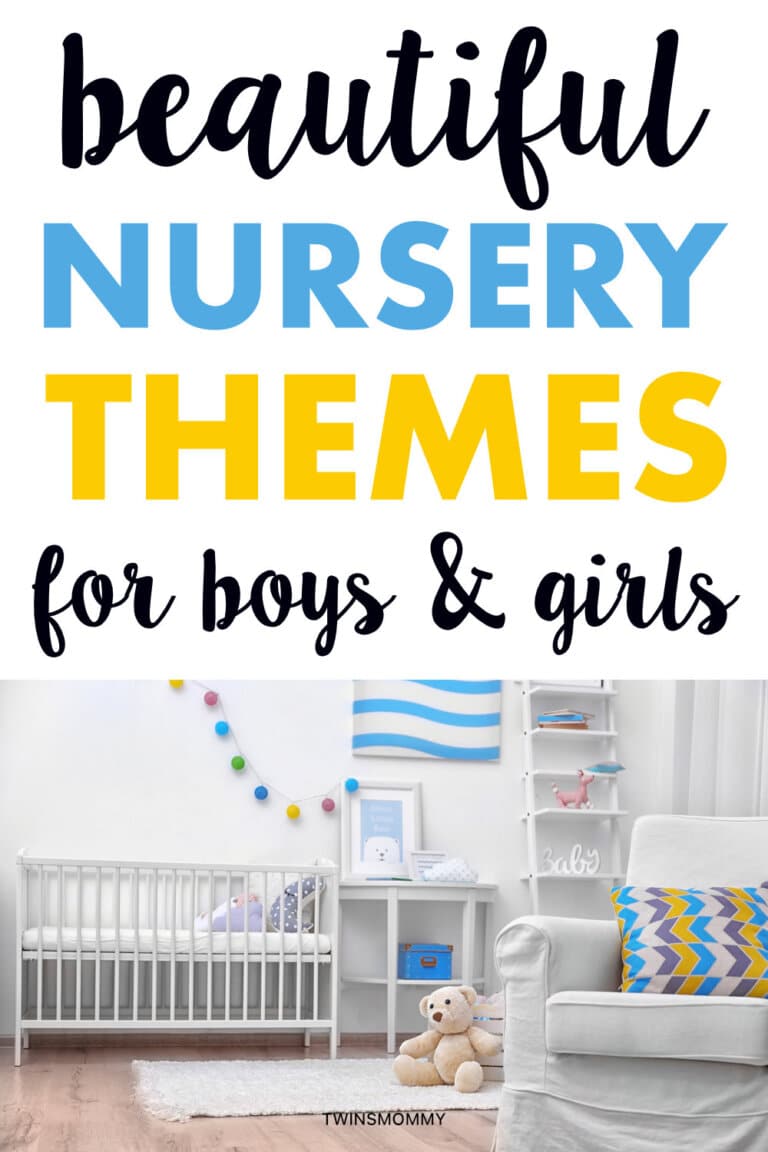 I would spend hours sitting in the room, imagining my little ones in their cribs, surrounded by the cuttest nursery decor.
While they might quickly grow out of their swaddle wraps, you can choose a nursery decor that will grow with them.
No matter how large or small the space that you are decorating for your little bundle of joy, there are plenty of timeless nursery themes that will never go out of style.
While modern rustic nursery themes always seem to be in style, there are a few others to consider when putting together your nursery.
When choosing your nursery themes, you can either focus on a specific color palette or specific theme.
You won't have to worry about doing a complete room remodel when they get old enough to talk with these great themes that never go out of style.
But before we get into which nursery themes might be best for you, let's take a look at some nursery essentials.
Timeless Nursery Themes
Picking your nursery theme can seem like a really difficult task, especially if you are leaving the gender of the baby a surprise.
Many of these timeless nursery themes are gender neutral or can be with a few simple tweeks.
You can choose to decorate the room with just a specific color, or you can go all out on a theme for the nursery. Whatever you choose, be sure that it's going to be something both you and your child will like in the future. Unless you are planning for an entire remodel a few years down the road.
Sleepy Grey
Choosing grey for your child's nursery is a great way to incorporate those cool, neutral tones, giving it a calming vibe. You can choose from many different shades or grey to get just the right look you are going for.
Choose darker tones for nursery themes with clouds and rain and lighter greys for nursery themes with bunnies or bears.
A Rainy Day
Using that darker grey, this nursery theme of clouds and rain works great in a larger room where you will still get a lot of light.
If you are working with a smaller space, be sure to use lighter tones to make the room feel bigger.
Bunnies
Bunnies aren't just for Easter. Putting together a nursery filled with bunnies works well as a gender neutral nursery.
Pair with other bunny themed items like blankets, sheets, wall decor, and a cottontail mobile. Greys and tans work well in this nursery theme.
Pink, White and Gold
While pink, white and gold are super on trend right now and you really can't go wrong with picking white and off-white as your main color palette for your baby's nursery.
You can stick with white and add gold throughout with furniture and decor. Think about adding some pops of color to the nursery with live or fake plants placed around the room.
White and gold are elegant and can be tied into many different classic themes. Other accents that go well with white and gold are dusty rose or black.
Dark Blue
Dark blue isn't your classic "boy's blue." While it's bold, it is certainly a timeless color choice. It can be paired with many other complimentary colors like grey, gold, and bright white. It also pairs well with other classic themes, such as nautical or weather nursery themes.
Nautical
While you might think of nautical as ship anchors and seashells, there are so many different versions of nautical you can really put a personal twist on this nursery theme.
Nautical can include light blues and other neutral colors with accents of rope and waves. It could also include brighter colors and mermaids.
One thing is for sure, there is no shortage of adorable whale and shark decor to adorn your nursery walls.
Black and White
Black and white nurseries are bold and can lend them self to so many different themes.
Whether you are searching for something bold, like this black and white nursery with a pop or neon, or something a little more traditional with this geometric design, you're sure to find some great ideas starting with a black and white base.
Mountains
While this is a more modern nursery decor, it is one that will last a long time. Mountains and nature are grounding and bring the outdoors into the nursery. Mountains create a sense of wonder and adventure.
This nursery theme pairs well with neutral and earth tones and is sure to grow with your little traveler.
Gender Neutral
Gender neutral color themes are great for any type of nursery. Think tans, browns, yellows, and various shades of green. These look great on their own, or paired with nature themed nurseries.
Some great gender neutral ideas include nature, rustic, and farmhouse themes.
Neutral Rainbows
Whether it's a mural on the wall, crib sheets, or an adorable lamp, neutral rainbows are in and seem to be here to stay.
They are cute, lend themselves well to all sorts of DIY and craft ideas for nurseries and kids rooms and work for both boys and girls.
These neutral rainbows give a nice boho vibe and are bright yet relaxing to look at.
Farmhouse
Farmhouse decor gives off such a cozy vibe, your little one will want to spend all of their time there. Whether you are decorating for a boy or girl, there are plenty of adorable farmhouse nursery ideas to include in your decor.
For that real farmhouse feel, add some authentic barn doors to the entrance.
Floral
Fancy some flowers? Whether you choose small and subtle or big and bold, you can never go wrong with a beautiful bouquet in your little one's nursery.
You can add pops of posies with peel and stick wallpaper or adorn the room with roses on bedding and wall decor.
Spring blooms pair well with all types of color palettes and other nature themes.
Safari
Safari themed nurseries have been around forever. These are so much fun to decorate with such a wide variety of colors to choose from.
You can go with more neutral tones while adding pops of colors with fake tropical plants.
What about going bold and colorful and creating a space full of wonder for your little wild child.
Woodland
Is there anything cuter than little forest animals covering the wall and sheets of your little one's room?
Decorate your baby's nursery with one main woodland animal, such as a fox, or include lots of little creatures for your little baby bear to look at.
This nursery theme is great for both boys and girls as it is gender neutral or you can easily add more dominant colors.
Boho Theme
The boho theme brings in a lot of desert accents and aztec motifs. Add texture with dried floral arrangements and wicker furniture.
Dusty rose and taupe colors lend themselves well to this nursery theme.
What Are You Waiting For?
There it is! A ton of inspiration for setting up your dream nursery theme. From bold, solid colors to fun and floral themes throughout.
Don't get too stressed about which nursery theme you are going to go with. Your baby is going to love it no matter which nursery theme you choose. This is supposed to be a fun and exciting experience for the mama to be.
Don't forget to take lots and lots of pictures as you continue to add things to your nursery as it evolves.
It's always a fun process to see how your nursery changes as it gets closer to delivery and then even more so after baby arrives.
You can make the nursery extra special by adding a few special items, such as items from your and your partner's childhood. This could be a favorite childhood stuffed animal you display on a shelf or an afghan that your great grandmother made when you were born.
Adding that extra special touch can really bring the nursery together and add more sentimental value to it.
So there you have it, start making your dream nursery wish list!