Are you as obsessed as I am with these baby room ideas?
Are you getting ready to welcome your baby home?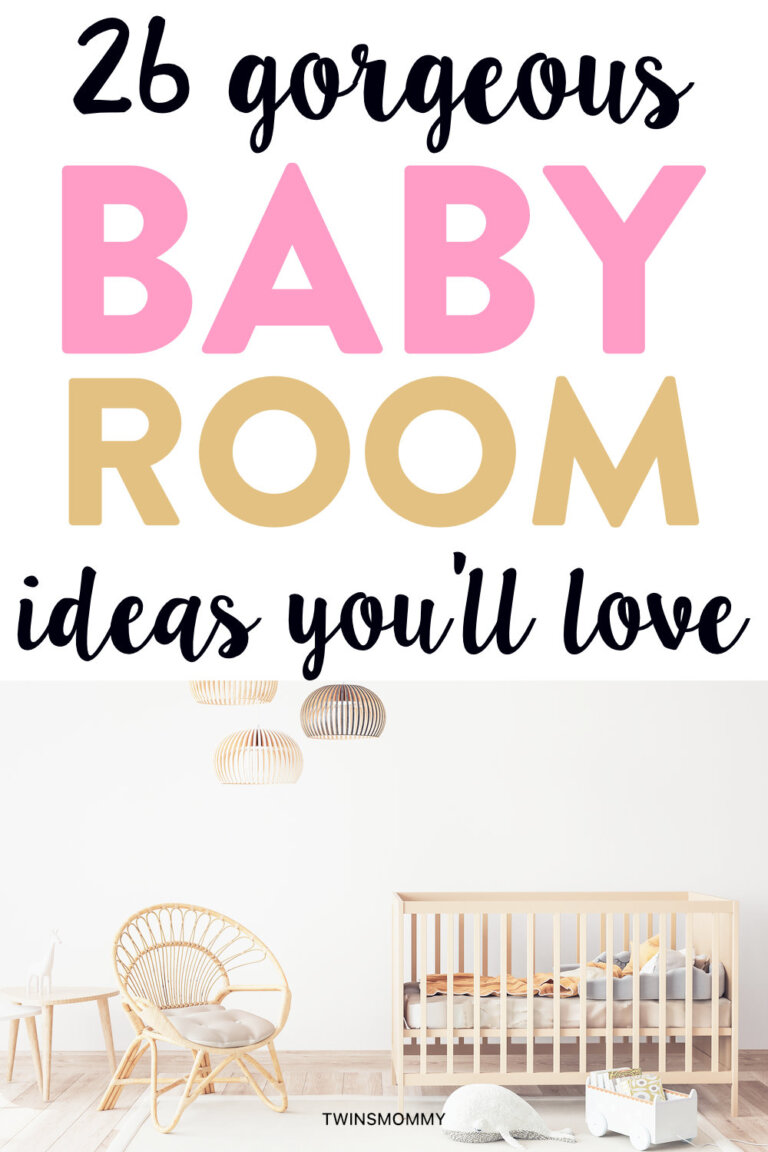 I know a large part of preparing for a new baby is getting their room finished!
Whether you are working with a smaller nursery or have lots of space, there's a lot to consider when it comes to how you want to decorate your baby's room.
I remember how excited I was when I was pregnant, thinking about how I was going to decorate my little ones' room (yes, I had twins – that was fun!).
Even though your newborn baby won't appreciate the effort you put into it, there's something magical about creating a special space for your little one.
Maybe it's the realization that, yes, you are actually about to have a baby!
Or perhaps creating something new is a perfect way to welcome something new.
Either way, sometimes trying to figure out what your want your baby's room to look like can be challenging.
Thankfully, there are many gorgeous baby room ideas out there.
From beautiful organizational ideas to adorable decor items, you're sure to find something on this list that will spark your imagination!
Choosing a Theme For Your Baby's Room
Picking a theme for your baby's room can be a difficult task. Sometimes it can be hard to pick one "theme," or maybe you're leaving your baby's gender a surprise.
Whatever the case may be, keep in mind that your baby's room doesn't have to be "Pinterest Perfect"! It's all about creating a space that is comfortable for both you and the baby.
Again, your newborn isn't going to care if their walls are plastered with Star Wars decals or if a sheep stuffie hangs out with a dinosaur stuffie on a shelf.
When it comes to decorating a baby's room, I'd suggest starting with a color or theme. From there, you can add a variety of colors, textures, and items to create a room that is both adorable and functional.
While this list does include some themed items, most of these baby room ideas can be adapted no matter the theme you have chosen!
So, are you ready to get started? Let's go!
26 Baby Rooms Ideas That Are Gorgeous!
1. Cube Shelf With Bins
Get the Look:
Take advantage of the closet space in your baby's room with a cube shelf and cloth bins.
You can even place some bins on a top shelf for more storage! I love these foldable storage bin cubes with handles for easy access.
2. Dresser Changing Table
Get the Look:
In this post, I wrote about changing table dressers that are perfect for smaller spaces.
They combine both a dresser and a changing table so you can have everything you need on hand! You can buy a dresser changing table like this one from South Shore or grab a removable changing tray and convert any dresser into one.
3. Rolling Diaper Caddy
Get the Look:
Speaking of having all of your diaper-changing essentials in one place, check out this rolling cart diaper caddy!
All you need is a simple rolling cart to easily organize your diapers, wipes, creams, and onesies.
4. Black & White Art
Get the Look:

Black and White Barn Animal Prints
When it comes to baby room ideas, it seems that minimalist decor is all the rage!
I'm seriously OBSESSED these black and white barn animal prints because they are adorable and can match any color scheme you have in mind for the room.
5. Gender Neutral Natural Textures
Get the Look:
Gender-neutral baby rooms are super popular right now, especially if you're keeping the gender a surprise.
These rattan pieces give the room a natural feel and you can easily coordinate them with soft colors to create a calming space.
6. Floating Wall Shelves
Get the Look:
I love these rustic floating wall shelves for baby storage because they have a bar across the bottom where you can hang your little one's adorable outfits!
Use the shelves to display stuffies, books, and other treasures.
7. Comfortable Arm Chair
Get the Look:
Reclining Chair with Adjustable Footrest
When it comes to caring for your baby during the day or night, you definitely want something comfortable to sit in. I really like this chair because it doesn't look like a recliner, giving it a classy look – but it has an adjustable footrest for maximum comfort!
8. Upholstered Rocking Chair
Get the Look:
If you prefer a chair that rocks, check out this upholstered rocking chair. It doesn't have the hardwood look and feel and can easily be matched to your baby room ideas when it comes to decor.
9. Pegboard Diaper Station
Get the Look:
To get this look, take this pegboard wall organizer kit and frame it with wood.
You can then paint or stain the wood to match the room's decor. The kit also comes with shelves and hooks so you can easily add diaper-changing necessities or decorations.
10. Closet Door Organizer
Get the Look:
Over the Door Hanging Organizer
Take advantage of door space with an over-the-door hanging organizer. I love how this one has a neutral pattern as well as little windows, so you know exactly what is in each bin. Use it to store diapers, onesies, socks, toys, lotions, and more!
11. Wooden Hanging Swing
Get the Look:
This super cute and safe baby swing is a great way to keep your little one occupied while you tidy their room. It's suitable for 6-month-olds! Make sure you are always with them supervising!
12. Clouds
Get the Look:
Just looking at this baby room idea makes me want to curl up and sleep!
The neutral tones are soothing and the cloud pillows are absolutely adorable. You can really round off this look with some watercolor prints.
13. Persian Area Rug
Get the Look:
Rugs are a great way to keep your baby's room warmer and give them a soft place to play as they get older.
While there are many styles of rugs to choose from, I was drawn to this vintage-looking Persian rug and its classy look.
14. Felted Mobile
Get the Look:
Boho Felted Mobile and Musical Mobile Box
I find that baby room ideas nowadays are all about soft textures.
A felted mobile is a great way to add some softness to the room. You can even attach it to a musical mobile box to help lull your little one to sleep!
15. Lacey Crib Canopy
Get the Look:
Crib canopies are excellent for adding a touch of color and texture to your baby's room.
I'm OBSESSED with the look of this lacey canopy!
It really gives the room a classic look but can be paired and layered with so many other textures and colors!
16. Animals Around the World
Get the Look:
The best thing about wall decals is that they are easily removable, so you don't have to worry about painting over them when your little one outgrows their baby room theme!
This one is super cute, showing animals all over the globe.
17. Fake Foliage
Get the Look:
If you're looking for natural baby room ideas, why not add some fake foliage?
An artificial palm tree is a safe and easy way to add some greenery to the room. You can easily use a fake plant for a boho theme, natural theme, or jungle theme.
18. Fairy Lights
Get the Look:
There are so many things you can do with fairy lights!
In this baby room idea, the lights are used to illuminate a tree, but you can string them along the curtain rods or around a crib canopy – the possibilities are endless.
This set of fairy lights comes with a remote so you can easily turn them on and off and adjust the brightness of the lights.
19. Oversized Stuffie
Get the Look:
Sometimes, baby room ideas can be functional and gorgeous!
No matter the theme of the room, you can always find an oversized stuffie to match.
Plus, your little one will love snuggling up with it as they get older.
I couldn't resist posting this sloth one but there are so many others you can choose from.
20. Wooden Baby Gym
Get the Look:
Wooden toys for babies have proven to be safe and developmentally beneficial!
And you don't have to have a natural look or feel to your baby's room to take advantage of these classic-looking toys!
I especially love this baby wood gym that allows your little one to lay on their back and play with the hanging toys above.
21. Wooden Wardrobe
Get the Look:
Wood Garment Rack
So your baby probably isn't going to be getting up to pick out their own clothes – but how adorable is this little wooden wardrobe?
It's a great piece because it lets you organize and display your baby's clothes and, once they get older, they can easily access it to pick out their own outfits.
22. Hanging Pendant Light
Get the Look:
Rattan lights have such as open and natural look and feel to them.
In a baby's room, it's a perfect way to match the light fixture to natural wood while providing soft light throughout the evening.
23. Hanging Stuffie Shelf
Get the Look:
Trust me when I say this: Your baby's room is going to get stuffed with stuffies!
You can help mitigate the clutter by using these hanging shelves to display stuffies around the room. Plus, it looks like the stuffed animals are swinging – how cute is that?
24. A-Frame Crib
Get the Look:
5-in-1 Convertible Crib
What did you think of the fairy lights earlier in this list? You can string them along a beautiful a-frame crib!
This one by Storkcraft is convertible so it can be easily changed to a toddler bed, daybed, full-size bed, and playhouse. I highly recommend getting a convertible crib since it will grow along with your little one!
25. Personalized Name Wall Art
Get the Look:
Add a personal touch to your little one's room with this custom wooden name sign! They are laser cut from natural birch wood and you can paint them any color you want to match the room's decor. It's definitely a keepsake your child will want to keep as they get older!
26. Rocking Animal
Get the Look:
It may be a while before your baby can enjoy playing on a rocking animal, but how cute will this look in your baby's room?
With so many different animals to choose from, including this adorable llama, you can easily find one that fits your baby room theme!
Gorgeous Baby Room Ideas to Get You Started!
There you go! Some great baby room ideas to inspire you!
Just remember to have fun decorating your baby's room and don't get caught up on making it "perfect." This is supposed to be an exciting experience, not a stress-filled adventure in coming up with the perfect theme and color scheme.
Plus, you never know how many changes you'll make before your baby arrives! You'll know the space is perfect when you feel happy and relaxed in your baby's room.
Which items on this list are you most excited about? Have you already figured out how you want to decorate the room? Let us know in the comments!
And make sure you pin this post for later!