Learn what to pack in your diaper bag for the first time mom
The diaper bag…it will most likely be your purse for the foreseeable future.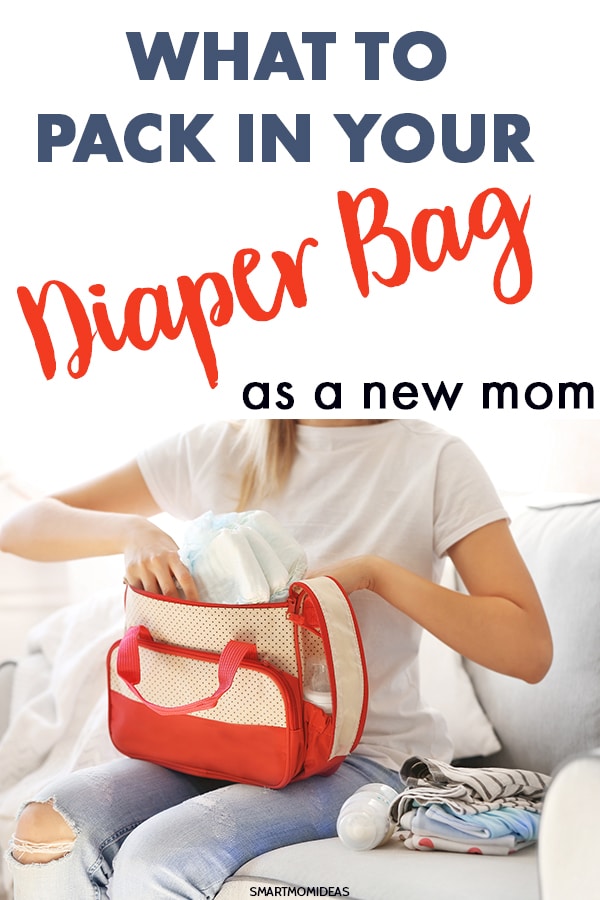 It will hold everything from diapers to your tampons and clothes that have been spit up on. But what do you really need in this wonderous bag of treasures?
As a new mom, just about everything can be overwhelming.
Having a fully stocked diaper bag should help to eliminate some stress and make sure you are fully prepared in the event of a diaper blowout, a boo boo, or aunt flo unexpectedly showing up.
Here is a full list of what to pack in a diaper bag with some suggestions for some stylish and highly functional diaper bags.
The Best Diaper Bags
Just like with every other baby product, there are about a thousand different diaper bags to choose from.
You might not think that choosing a diaper bag is a big deal, but it is! You have to make sure that you have enough room to hold all of yours and baby's things, enough pockets to store small essentials, that things won't spill out if it tips over, and of course that it is stylish!
Do you go with a backpack style, over the shoulder, gender neutral, or unicorn pink?
Although style is important, functionality is key. Let's take a look at some of the hottest diaper bags on the market that are not only super functional but are super stylish!
HaloVa

If you are looking for a super durable and stylish backpack style diaper bag that even your hubby will be proud to carry around the HaloVa diaper bag is a top choice!
It is water resistant and easy to clean oxford fabric, so you won't want have to worry about spilling milk or baby food on it (trust me, I know how that goes!) It also comes in 16 different colors, from standard black to ice cream cones!
There is one large main compartment that can easily store diapers and wipes with insulated and wet clothes pockets for storing milk bottles and any soiled clothes.
Bag Nation
This amazing bag from bag nation comes with a lifetime warranty. This backpack style diaper bag can hold everything!
It will not only hold everything but frees up your hands with a hand dandy wipe dispenser on the side. This lovely twill design is also water resistant and is built to last. With 14 different pockets, you will have no shortage of storage space! Although it can be a bit bulky, you will certainly have room for everything!
Mokaloo Nappy Bag

What more could you ask for in a diaper bag?!
The Mokaloo Nappy Bag is insulated, waterproof, and has a USB charger for your phone!
This lovely twill designed, backpack style diaper bag comes with durable zippers, reinforced straps, and a waterproof exterior. Once your baby has outgrown it, you can even use it as an everyday or travel bag. It even comes with additional straps to attach it to your stroller.
Itzy Ritzy Diaper Bag

Another great stylish and functional diaper bag made of vegan leather and major organizational capabilities.
With a total of 13 pockets, 9 on the inside and 4 on the outside, including two specifically for bottles with insulation and a felt-lined pocket to keep valuables (like your phone) in.
It is a three in one diaper bag that goes from a messenger bag, to a tote, to a backpack with a simple switch of the straps. It has straps to easily attach to your stroller and rubber feet to help keep the bag upright and the bottom clean.
For Baby
While there are many thing you could pack in your diaper bag for baby, there are obviously some essentials. Things like diapers and wipes are pretty obvious, but there are many things that you might not think of until a situation arises, like a diaper blowout. Here is a list of things to include in your diaper bag and to restock when you have used them all up:
Diapers
Wipes
A plastic bag(s) for dirty diapers
An extra outfit with socks
Extra pair of shoes or booties
A burp cloth
A bib (or two)
Non-perishable snacks and a sippy cup (or extra bottle)
Extra empty bottles with milk or formula
Seasonal items such as sunscreen, jacket, hat, and extra mittens
Things you should always keep in the bag:
Changing pad
A blanket or nursing cover
Pacifier (or 12)
Some hand sanitizer or sanitizer wipes
Some board books and smaller toys
Facial tissues
First Aid Items to keep in your bag:
Vaseline
Thermometer
Diaper rash cream
Nail Clippers
Tweezers
A bulb syringe
Tylenol or Ibuprofen
Benadryl
Any medications for gas, teething relief, and saline solution
Band-aids
For Mama
Many moms treat their diaper bags like their purse, I mean you might as well seeing you are going to be taking it everywhere with you anyways! Plus, it can be a pain in the butt to have to carry around two different bags all the time or switch items from one bag to another. So what are some of the things that you should keep in your stylish new diaper bag for you?
You wallet
Keys
Phone
Extra phone charger
Non-perishable snacks
Water bottle
An extra shirt (cuz your little one is bound to spit up on you right before something important)
Lip balm
Lotion
Body spray
Deodorant (in case you forgot to put some on this morning)
Gum
Nail file
Compact mirror
Feminine products
Sunglasses
Sunscreen
Basic makeup essentials
For Nursing and Pumping Mamas
Of course if you are nursing and pumping there is about another hundred more things to carry in your bag. You might as well just invest in a suitcase at this point. But in all honesty, as mothers we need to be prepared for just about everything.
Weather you are a working mother or you get to stay home with your little one, nursing and pumping does take a lot of work. If you are planning on leaving the house for any period of time you need to make sure you have anything you could need in case of a pumping or nursing emergency.
A nursing cover
Ice pack
Milk storage bags
Extra batteries (if you have a battery pack for your pump)
A travel sized pump
Gallon ziplock bag to place pump parts in
Extra pump membranes
Nursing pads
Lactation snacks
For Formula Fed Babies
One of the biggest things to make sure you keep in your diaper bag when you have a baby that is formula fed it more formula!
But who wants to lug around a giant can of formula all day?
Instead, try these portioned sized formula dispensers. These easy stack and go containers fit perfectly into a pocket for a bottle. There is even a pour spout that makes it simple to prepare a bottle one handed.
Also pack an extra water bottle or two with high-quality filtered water for easy bottle making.
At some point you are bound to forget something in your diaper bag, this list should hopefully leave you feeling prepared and confident that you can handle any situation with your fully stocked (and stylish) diaper bag!