Check out these adorable nursery bookshelf set up ideas!
Setting up your nursery is a huge deal!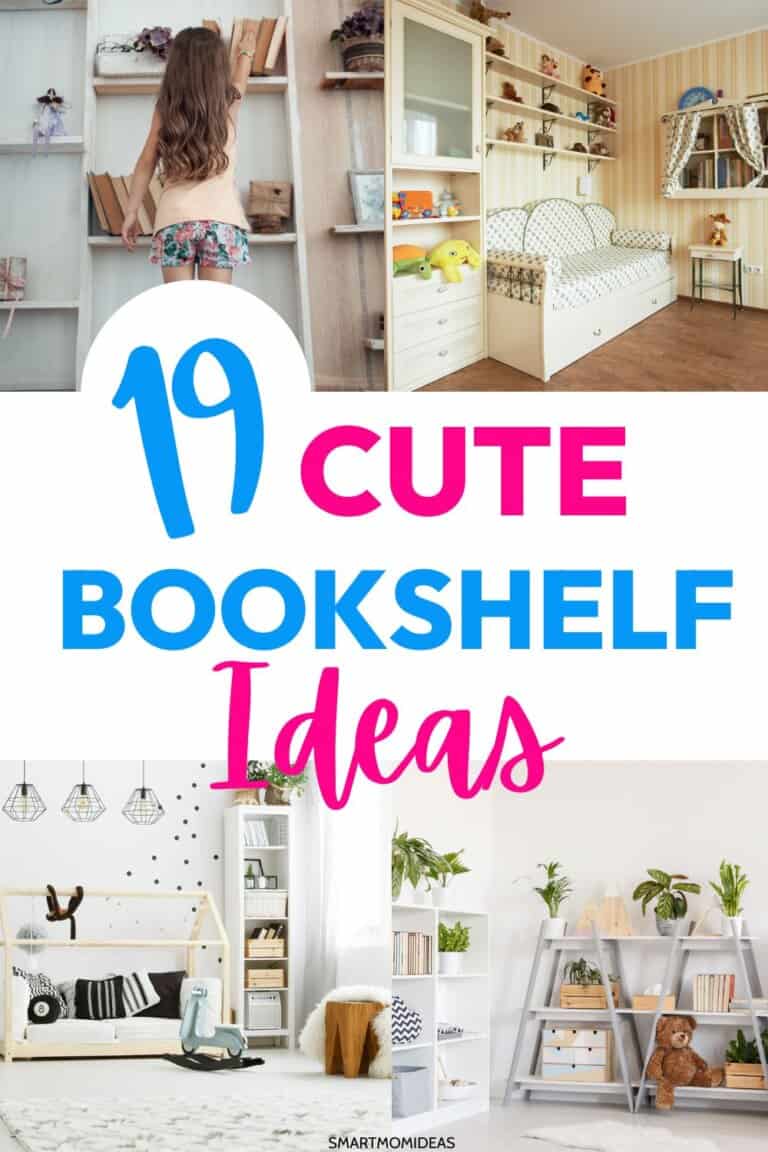 This is the first room your baby will ever know, so you want it to be cute and stylish.
But this is also where they will be taken care of and play, so it needs to be functional as well.
One element you have to include in your baby room design is a bookshelf.
Maybe your one-month-old won't be reading Brown Bear right away, but it's a good idea to have this space ready.
Plus, reading to your child from birth is extremely beneficial to their development, so you can definitely benefit from having their books all in one place.
To help you come up with the perfect nursery bookshelf idea for your little one's rooms, I've put together this list of super cute bookshelf set-ups.
Whether you want to go simple or DIY, or you need to make the most of a small space, there's definitely something here for you!
Simple Nursery Bookshelf Ideas
If you're looking for a simple solution to your nursery bookshelf set-up, check out these ideas.
They won't break the bank and they all look modern, stylish and cute!
1. Cloth Nursery Bookshelf
These cloth nursery bookshelves are simple, and the cloth covers make it easy for toddlers to identify and grab books.
The fabric sling sleeves can hold books of almost any size, and the shelf is easy to put together and clean.
Plus, it's gender neutral making it a lasting piece of furniture for your family to help you save money!
2. Rolling Cart Nursery Bookshelf
I love the idea of having a nursery bookshelf that you can roll around the room!
These carts are easy to come by and can be used to hold books, toys, stuffies, and more.
You can get them in a variety of colors or decorate them with stickers to match your little one's room.
3. Metal Nursery Bookshelf and Toy Storage
I love how this bookshelf has plenty of room to display books as well as shelves to hold toys, stuffies, and other items.
You can easily use this shelf to create an amazing reading corner for your little one.
Nursery Storage Bookshelf Ideas
No matter the size of your little one's room, it never hurts to make the most of the space!
These nursery storage bookshelf ideas double as awesome storage areas for your little one's stuff.
4. Organized Nursery Bookshelf
If you're looking for a nursery storage bookshelf you can use to organize books and toys, you don't have to get anything fancy!
A simple three-level bookshelf is perfect for storing books. You can add plastic containers or baskets for toys, making it easy for your little ones to grab what they want.
5. Nursery Bookshelf Reading Chair
You can get really creative by making this nursery storage bookshelf shaped like a chair.
What a great idea for creating a reading area in your child's room!
The cube shelves can also be used to store toys and games as your little one gets older.
6. Nursery Bookshelf Storage Bench
By turning a simple bookshelf sideways and adding a padded cushion on top, you can easily create a nursery storage bookshelf that doubles as a sitting area.
This one uses bins to create storage space, but you can easily place books here as well.
And they're at ground level – perfect for your little budding reader!
7. Nursery Bookshelf and Toy Bin Combo
This nursery storage bookshelf has plenty of space for books and toys – a double whammy!
What a great way to keep your little one's room clean and organized. This may look like a complicated DIY project, but it's really straightforward to put together.
Nursery Wall-Mounted Bookshelf Ideas
For more ways to maximize the space in your nursery, check out these nursery wall-mounted bookshelf ideas:
8. IKEA Nursery Wall-Mounted Bookshelf
These adorable wall-mounted bookshelves are IKEA's FLISAT shelves, and they make for an aesthetic and practical nursery bookshelf.
What's great about IKEA products is that they are totally customizable, so you can easily paint them to match your nursery's decor!
9. DIY Floating Bookshelves for Nursery
This DIY hanging bookshelf for your nursery is easy to make and install!
All you need are three pieces of wood:
Use nails to attach the pieces together and screws to attach them to the wall. You can also customize these shelves using wood stain.
10. IKEA Spice Rack & Picture Ledge Nursery Wall-Mounted Bookshelf
Again, IKEA is a goldmine for hacks and customization!
These bookshelves are made from IKEA spice racks and IKEA RIBBA picture ledges. I like the spice rack version since it has the little ledge to keep books from toppling over.
The picture ledge shelves are a great idea, too, because they make grabbing books easy for your little ones.
11. DIY Wall-Mounted Bookshelves
For a similar look to the IKEA spice rack nursery wall bookshelf, you can easily make these ones on your own – for $4 each!
Easy DIY Nursery Bookshelf Ideas
Are you an avid DIYer? Do you want to make your own nursery bookshelf? Check out these ideas!
12. Modular Crate Bookshelf for Nursery
With a few crates, you can DIY a bookshelf for the nursery by stacking them on top of each other.
For safety, make sure you attach the crates to each other!
I love the modular design of this bookshelf, but you can also get creative with the way you stack them – and with the color you paint them!
13. Rain Gutter Bookshelves
Did you know that you can make a nursery wall-mounted bookshelf out of rain gutters?
They're the perfect shape to hold books and can be painted to match the decor of your kid's room!
14. Nursery Bookshelf Makeover
Create something fresh and new by upgrading an existing bookshelf!
This one is super cute and super easy to do. Simply add some wallpaper to the back of the shelf and hang some adorable curtains.
The best part? It can also double as a dollhouse!
15. Cardboard Nursery Bookshelf
Nursery bookshelf ideas don't have to be fancy or expensive!
Check out this easy DIY cardboard bookshelf made from, you guessed it, cardboard!
It's covered with fabric, so you can easily match this bookshelf to the rest of the room.
Unique Bookshelves For Your Nursery
For a look that pops in your little one's room, here are some unique nursery bookshelf ideas you should definitely check out:
16. Bookcase Secret Door
How cool is this? You can turn a bookcase into a secret door for your little one's room.
If your nursery has a closet, this would be the perfect place for this nursery bookshelf! Plus, as your little ones get older, they'll definitely think this idea is cool too.
17 Corner Nursery Bookshelf
To maximize space in your child's room, here is a neat idea! You can create a corner nursery bookshelf to store your kiddo's books and other items.
This one is placed behind a door, so it doesn't really take up any usable floor space in the room.
18. Book Bin
Instead of a nursery bookshelf, why not a nursery book bin?
This library on legs is a great way to let your little one browse their book collection. Plus, it can be reused for storing other items!
19. Book Tree
If you're handy with a saw and nails, check out this adorable book tree!
Not only does it easily hold your child's books, but it makes a great addition to your home's decor.
Nursery Bookshelf Styling Tips
To add a stylish touch to your little one's room, you can make your nursery bookshelf look organized and pulled together instead of just a cluttery mess.
If you have a smaller bookshelf, this isn't really possible – but taller shelves provide the perfect opportunity to get creative!
Here are some tips for styling your nursery bookshelf:
Empty the shelves, so you have a blank canvas to work with!
Purge items and books your child no longer uses, keeping those that are still important and memorable.
Add some artwork! Frame your child's creations and lean them against the back of the bookshelf.
Use different textures to add interest, such as potted plants and woven fabrics.
Group objects for visual appeal, starting with larger items to create focal points. Place smaller items around the larger ones in a triangle pattern.
Stack books both vertically and horizontally to give your nursery bookshelf a balanced look.
There! Not only do you have a functional bookshelf for your kiddo, but a stylish one as well!
Nursery Bookshelf Ideas for Your Little One
There they are – amazing nursery bookshelf ideas to inspire your creativity!
I always like to remind moms that your baby's room doesn't have to cost a fortune or look like something that came out of a magazine.
As long as the essentials are there and it's safe, you're good to go!
Whatever nursery bookshelf idea you choose, make sure it fits your budget and doesn't cause you a headache to put together.
I know that whatever you choose, it's going to look amazing!
Oh, and here are some more nursery ideas you should check out:
Now it's your turn – Which idea do you love? Or do you have another idea you'd like to share?
Let me know in the comments. I'd love to hear it!