Get small nursery ideas & tips for your apartment or small home
Excited for your new baby's arrival? As a mom close to their due date, one of the last things to think about is setting up a nursery room. But, wait!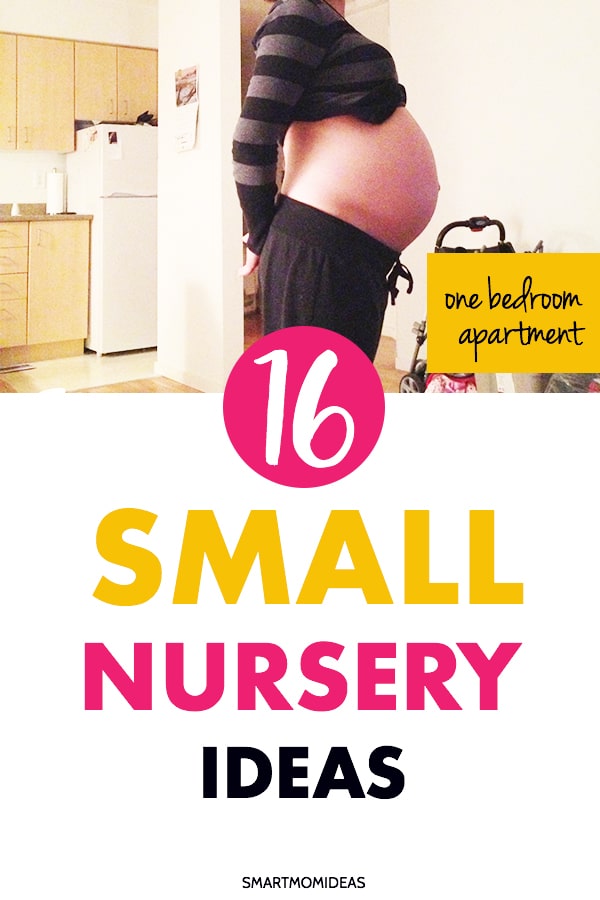 You have a small space. How can you fit a baby nursery in your small space? Nursery room ideas are brimming, right?
When I was pregnant with twins we were still living in our one bedroom apartment and knew we would have to put our nursery in our bedroom. We had only a one-bedroom and it was a small apartment.
For many of us, budgeting for baby also happens for people living in small spaces.
To help you out, check out these 16 small nursery ideas!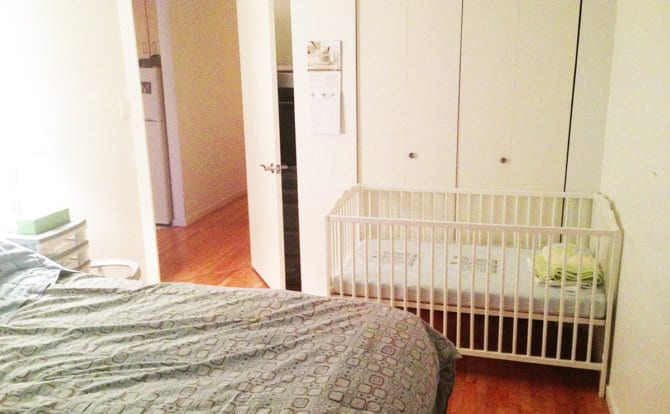 Small Nursery Rooms Layout
Parents sharing a room with baby doesn't have to be a challenge. There are ideas on how to plan a nursery room so that it's not over-crowded.
Our master bedroom was large enough to fit a small home office for my husband and one crib and dresser.
Even though we had twins, we had no room for two cribs and I knew that they would probably benefit from sleeping together (they stayed in one crib until they were around 6 months).
1. Opt for No Crib or Mini Crib
Our twins didn't sleep in their crib right away. They woke up frequently and I was breastfeeding so it was easier to have them closer to my bed.
In the first few months you can opt not having a crib in a small space and instead, go with something smaller like this HALO bassinet.
This type of bassinet is perfect if you end up having a c-section (like I did). You don't have to bend down far and it sits right up to your side of the bed.
This makes it easier to recover from a c-section.
Another option is instead of buying the little bouncers and swings that wont fit in your house, opt for the Snuggle Me. The Snuggle Me can be placed safely on your bed or couch or floor – with supervision – and can accommodate a growing baby.
It hugs the baby and acts like a swaddle for baby and it's great to encourage sleeping on your back and to aid in reducing acid reflux (which is common in newborns).

If you like the look of a baby crib, you can try a portable crib like this one that can be folded up easily and be used for over nights at gran and grandpa's.
Either of these choices can help with your small space nursery room solutions and free up what little room you have.
2. Use a Dresser for a Changing Table
Another space saving idea for nursery rooms is instead of purchasing a changing table, get a dresser and change pad. Babies are known to come with a lot of things, but if you don't have room for those things – or you need to budget for baby – a dresser can act as a place for storage as well as a changing table.
This is what we ended up doing and what's great about this option is that the dresser is more practical and useful after the newborn stage than a diaper changing station.
3. Use a Shoe Organizer for Diapers and Toys
Try using your vertical space for your small baby room layout. The back of your door can be used to hang a simple soft shoe organizer to place your diapers, diaper products like diaper cream & wipes, and baby toys.
This frees up space in your small nursery room and makes it look organized too!
4. Get a Small Nursery Glider
There will be a lot of night wakings from your newborn. My twins woke up every three hours, and sometimes not at the same every three hours! Essentially, I was awake every hour and didn't get any sleep that first year!
Since I was breastfeeding and using bottles, having a place to feed my baby was essential. This small nursery glider is super comfortable, chic and doesn't take up too much space.
For me, I had to use the living room for feedings and rocking, but if your one-bedroom or small nursery room is big enough, get a glider.
5. Use Space Under the Crib
One thing I wish I did was utilize the space under the twins' crib. For some reason, this did not occur to me!
In hindsight this is the perfect place to for storing more baby items like clothing, blankets, baby wraps and more.
Make sure that the items you store are small enough so that you don't trip over them as you walk past the crib or you have to move the crib to reach those items.
6. Use Your Wall to Store Baby Items
With small nursery rooms, you have to think broader when organizing your room. Instead of bulking up your room with storage bins, why not get an industrial peg board (like you would use for your garage) with hooks to hook on your:
diapers
baby wraps
diaper changing kit
You can also place shelves on your wall for more storage space.
7. Get An Ubbi Diaper Pail
Babies come with diapers and the end of the day, you get dirty diapers. If you have a small space, you don't want to use your regular kitchen trashcan for your diapers.
But, having a big diaper pail can take up too much room too. So, what's the option for a small nursery?
It's a slim and sleek stainless steel diaper pail that's only 4 inches in diameter. You can use any trash bag or a cloth liner if you opt for using cloth diapers.

What sold me is the stainless steel. This repels odor, which is a MUST when you have a small space!
8. Have One Statement Piece
If you want to add a touch of color or design, having one big statement piece is perfect when you have small nursery room. Just take look at these gorgeous small nursery ideas:
8 More Small Ideas for Your Small Nursery Room
Remove your closet door
Place two rods in your closet to maximize vertical space
Place toys in a hammock you can mount up high
Keep colors to a minimum
Use one wall to pattern
Put your crib in your closet
Choose a transitional crib that also turns into a playard
Place your dresser in your closet
When Do You Put Your Baby In Their Own Room?
There is no right or wrong answer as to when you decide to move your baby into their own room. For many, it has more to do with actually having the room in their home for their own room than anything else.
We moved out of our one-bedroom apartment when the twins were 4 months old. Traveling across country with baby twins was highly stressful. From our apartment we moved into a place that had two bedrooms.
But, since they were still so young, they stayed in our bedroom until they were around 6 months old. This is the time we separated the twins and had two cribs instead of one.
So, they were able to have their own room by that time.
Other parents may choose to keep their baby in their bedroom until the risk of SIDS is no longer an issue or when their baby sleeps through the night.
When this occurs, it's safe to have your baby in their own room.
Get Ready For Baby Mamas!
Congrats on your pregnancy mamas and for those that are budgeting or live in a smaller place, you can still have a fabulous and loving nursery for your baby! Let me know in the comments any nursery room saving ideas!
Please remember to pin me!