Get these newborn must-haves for your baby registry
Preparing for a new baby is a huge task!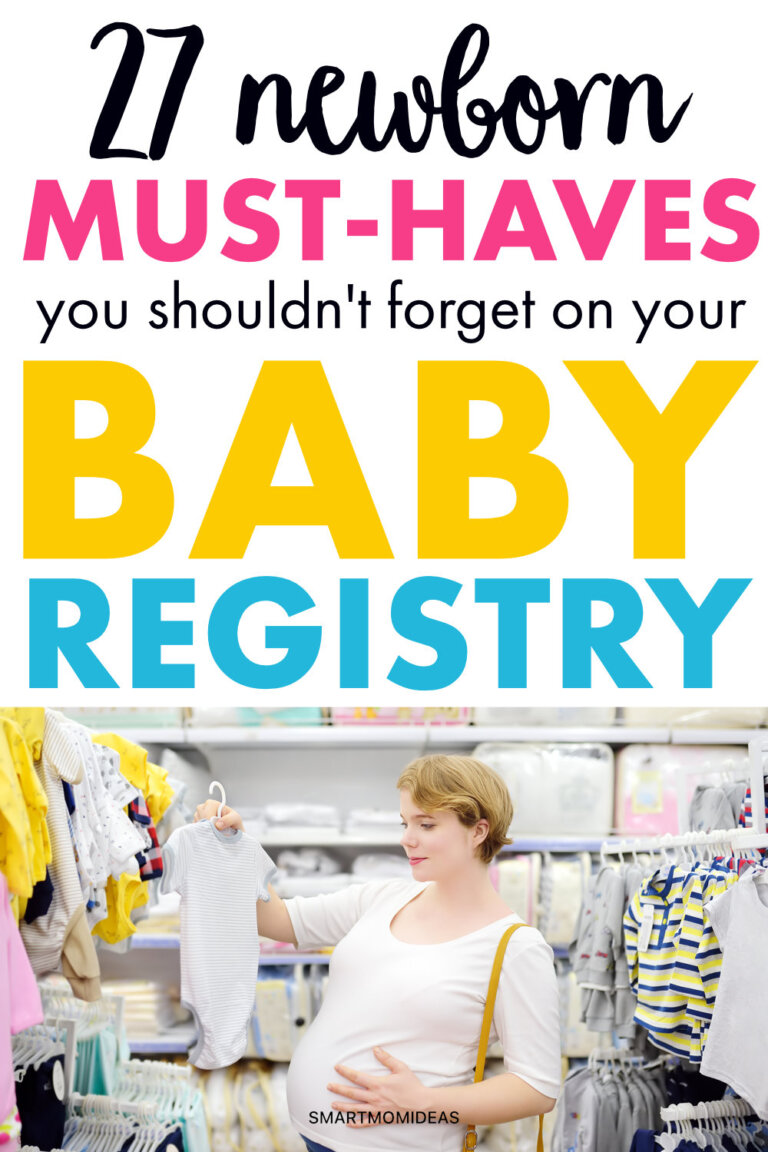 I remember when I found out I was having twins how stressed I was: Will I have enough stuff? Am I really ready for this?
Thankfully, the emotional stress quickly dissipates as soon as you hold your little one in your arms.
The rest?
Well, that's easy to take care of. Just start a baby registry!
A baby registry is a great way to ensure you have everything you need.
It also gives your friends and family an idea of what you are looking for and relieves the burden of finding something useful to give you.
However, you need to make sure you are including newborn must-haves.
Check out the list below to get started!
When Should You Create Your Baby Registry?
When you create your baby registry is completely up to you!
You may want to get started right away when you're at 12 weeks or wait until you know the baby's sex (at around 20 weeks).
You probably don't want to wait any longer than that since it could take you some time to figure out exactly what you need for your newborn and create the actual registry.
Plus, you want to give your family and friends some time to grab the newborn must-haves you'll need for when you're baby is born!
The Best Places to Create a Baby Registry
Now with online shopping being so commonplace, you can create your baby registry practically anywhere you want!
Just keep in mind the types of items you want and the price range you want to stick to for your newborn must-haves.
If you're not sure where to start, here are some of the best places to register for your baby:
My Top Pick: Amazon: Amazon offers a wide variety of baby items and endless product options. Your guests can choose which items to buy you and have them shipped right to your door!
Potty Barn Kids: If you have a specific style in mind, Potty Barn Kids offers some really sweet and sophisticated baby items.
Walmart: Walmart offers amazing discounts and you can even have them curate a baby registry for you simply by answering some questions.
Buy Buy Baby: This site has a variety of items from baby clothes to cleaning materials so there's lots to put on your registry!
Again, when choosing a registry, think about which retailers are going to carry everything you need within a reasonable budget for your family and friends.
Don't Forget To Put These Newborn Must-Haves on Your Baby Registry
1. Bassinet
Some parents like to start their little ones in their own room right away while others prefer to keep them close by to make nighttime feedings easier.
Bassinets are perfect because they allow your newborn to sleep safely in your room. They are also great for traveling!
One of my mom friends absolutely loved the Chicco LullaGo Anywhere Bassinet!
2. Baby Bouncer
Baby bouncers were an absolute life-saver when I had my twins! It's the only way I could have a shower or get some meal prepping done.
They are comfortable and soothing for your newborn.
Plus, the covers are removable in the event of a diaper blowout or spit-up incident.
3. Changing Table
Instead of expecting your friends and family to buy you a full changing table, you can always add a changing pad to your registry and make one yourself!
This way, you can use a dresser that matches the decor of your baby's room and simply secure the changing pad to the top.
Keep in mind that you will need a changing pad designed to do this to make sure your baby is safe during diaper changes.
4. Nipple Cream
If you plan on breastfeeding, nipple cream is a must! Babies are naturally drawn to the breast but they aren't genetically wired to know what they are doing right away.
Breastfeeding is a learning process for both mother and baby and your nipples get the rough end of the deal during the process.
Make sure to add nipple cream to your registry so you have some on hand if things start to get sore.
5. Breast Pads
While nipple cream will help save your nipples, breast pads are great for saving your clothes!
Breastfeeding is a natural occurrence but sometimes your breasts aren't on the same schedule as your baby.
Breast pads will help deal with any leakage that occurs between feedings.
6. Bottles
Whether or not you decide to breastfeed, you need to have some bottles on hand.
This way, if you need to switch to formula or pump breastmilk, you're all set to feed your little one!
There are many styles of bottles out there – even some that are designed specifically for breastfed babies.
When it comes to putting this newborn must-have on your registry, look for bottle starter sets that include bottles, nipples, and brushes for cleaning.
I adored the Dr. Brown Baby Bottle set for my twins. These bottles helped with gas my daughter had.

7. Bottle Sterilizers
Making sure your newborn's bottles are properly cleaned and sterilized can be a tedious process.
Do you need a sterilizer? Technically, no, but having one can save you a whole lot of time.
You can even get sterilizers that work in your microwave and won't break the bank!
8. Sippy Cups
Okay, so your newborn is likely not ready for sippy cups, but can you predict when they will be?
Children grow and develop at drastically different rates so it's best to have some on hand for when your little one is ready to switch to a cup.
You can get 2-in-1 sippy cups that automatically convert to a straw cup as your baby grows into a toddler.
9. Other Baby-Friendly Dishes
While you're adding sippy cups to your registry, be sure to throw in a few baby-friendly dishes like plastic bowls that suction cup to the table or highchair and plastic spoons.
Again, you want to be prepared for when your little one is ready to start eating solids.
10. Tummy Time Mat
In order to best develop and strengthen their backs and necks, babies need to spend some time on their tummies to encourage head and neck movement.
Tummy time mats are great because they are soft, comfortable, and often have bright designs and interesting textures to hold your baby's attention.
11. Instant Pot
No, I'm not expecting your newborn to start cooking your meals but imagine how much easier the process will be for you with an Instant Pot!
Think of the Instant Pot as your one-pot quickie meal maker! I have one and it has made all the difference when it comes to cooking meals, even as my twins got older.
12. Window Shade
Window shades are a lifesaver on bright and sunny days. They help to keep your baby cool when driving around in hot weather.
Plus, you can continue to use them for years even as your children grow up.
13. Baby Gates
You'll notice many of the newborn must-haves I'm suggesting are not relevant to an infant but setting up your registry is all about preparation!
I know moms who have had their children up and walking by ten months old. You'll want to make sure you're ready by having gates handy to keep your home safe.
14. Baby Proofing Items
Likewise, it's important to have some baby-proofing items on hand as well.
These include doorknob covers, cabinet latches, and plug protectors. Consider adding a multi-pack kit to your registry so you have everything covered.
15. Diapers and Wipes
When it comes to having babies, diapers and wipes are a huge cost! Why not stock up by adding them to your baby registry?
Keep in mind that it's hard to predict how big your baby is going to be when it's born. Be sure to include both newborn sizes as well as size 1 diapers.
16. Bum Cream
Diaper rash can be a pain in the butt – literally!
Be sure to add some bum creams to your registry in case your little one gets a rash.
17. Diaper Bag
Once you have all the diapers, wipes, and bum cream you need, you'll need a good bag to carry everything when you are out and about.
Diaper bags are also handy at home since you can keep your supplies in one place and use it no matter where you do diaper changes.
Check out my list here of what to pack in your diaper bag.
18. Onesies
Any mom will tell you that onesies are a lifesaver when it comes to dressing your newborn.
The snaps along the bottom make it super easy to change diapers and remove the onesies in the event of spit-up or diaper blowouts.
Be sure to add some multi-packs of onesies to your baby registry. You're going to need them!
19. Swaddlers
While swaddlers aren't' necessarily a newborn must-have, they come in handy when you can't quite figure out how to swaddle your baby with a blanket.
Swaddling is often recommended because it makes your little one feel safe and secure when putting them down to sleep.
20. Receiving Blankets
After your baby is fed, you'll need to burp them to release any leftover gas so they don't feel any discomfort.
Protect your clothes by adding some receiving blankets to your baby registry. They are also helpful when it comes to quickly cleaning up any other messes and spills.
21. Infant Pain Reliever
Your newborn baby isn't going to start growing teeth right away, but having some infant pain reliever on hand is super helpful when they do.
Add some pediatric-approved infant pain reliever to your registry so you are prepared for this memorable life stage.
22. Baby Bathtub
Although you don't need to bathe your newborn all that much in the early days, it's helpful to have a baby bathtub for when you do.
This way, you don't have to worry about holding your baby while washing them. Baby bathtubs make giving them a bath safe and comfortable for your little one.
24. Washcloths and Hooded Towels
Along with a baby bathtub, make sure you have some soft washcloths that are gentle on baby's skin.
Hooded towels are great too since you can easily wrap up your little one, including their head, to keep them nice and warm.
25. Baby Soap and Shampoo
Speaking of your baby's skin, add some baby soap and shampoo to your registry.
These products are formulated to be gentle on the skin and prevent your baby's skin from drying out. Look for gift sets to get you started!
26. Baby First Aid Kit
Baby first aid kits include useful and essential items such as a nasal bulb, baby nail clippers, a thermometer, and more.
This one from the Red Cross includes grooming and health items in an easy-to-view tote bag.
27. Baby Carrier
Think of how often you use your hands throughout the day. You can say goodbye to this convenience after your baby is born.
Thankfully, baby carriers exist! You can keep your baby close and comfortable while going about your day-to-day tasks.
They are available in sling styles as well as more structured styles.
For when my twins were newborns, I used the soft Moby Wraps. They fell asleep instantly!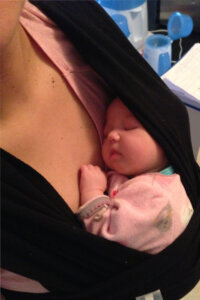 Get Ready For Baby!
This list has all the newborn must-haves you need to get started!
Just make sure you add them to your baby registry.
How about you? Are you ready for baby? Let us know how you're preparing in the comments!