Get some easy dump and go Instant Pot dinner recipes for those busy nights mama!
With school back is session and extracurricular activities gearing up again, us busy moms have less and less time to prepare hearty and healthy meals in our kitchens.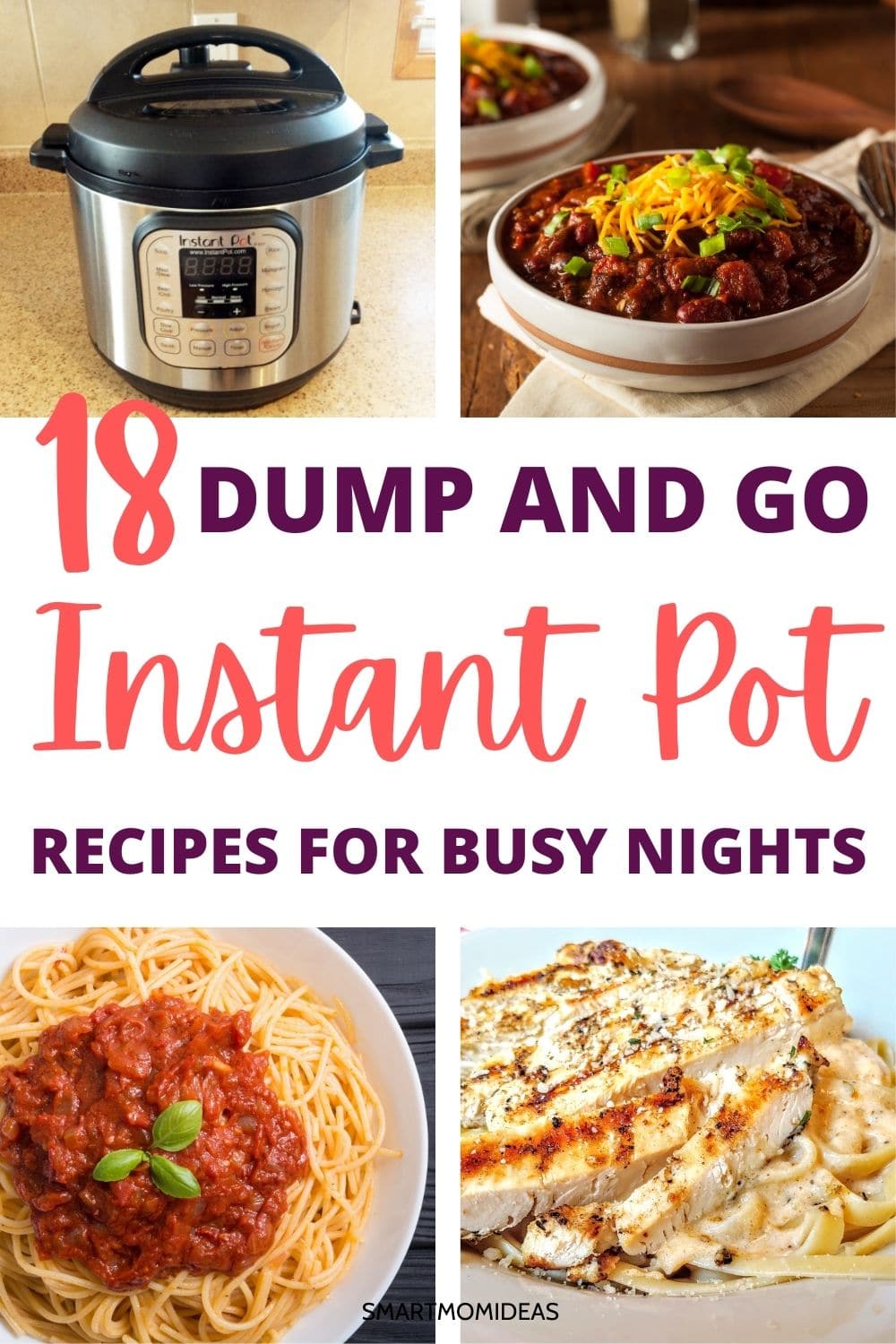 I know I do! I have to rely on tried and true easy prep meal ideas to make it through a week.
If I don't do this then sit-down family dinners turn into quick burgers at a drive through or gas station sandwiches while running kids from one activity to another.
This is where Instant Pot dinners come in so handy!
What's even better than an Instant Pot dinner?
A dump and go recipe that you hardly have to think about.
The best thing about dump and go Instant Pot dinners is that you can literally just toss some ingredients in your Instant Pot, go about your business, and boom, dinner's done!
No worrying about coordinating different dishes and sides, overboiling accidents on the stove, or a sink full of pots and pans to clean up afterwards.
One pot, one meal, a no brainer!
The Instant Pot has become a kitchen staple for my busy family, and for good reason! Quicker cooking times and fewer dishes, I'd say that's a win-win.
The one I use is the 6-quart version and I'm in love with it.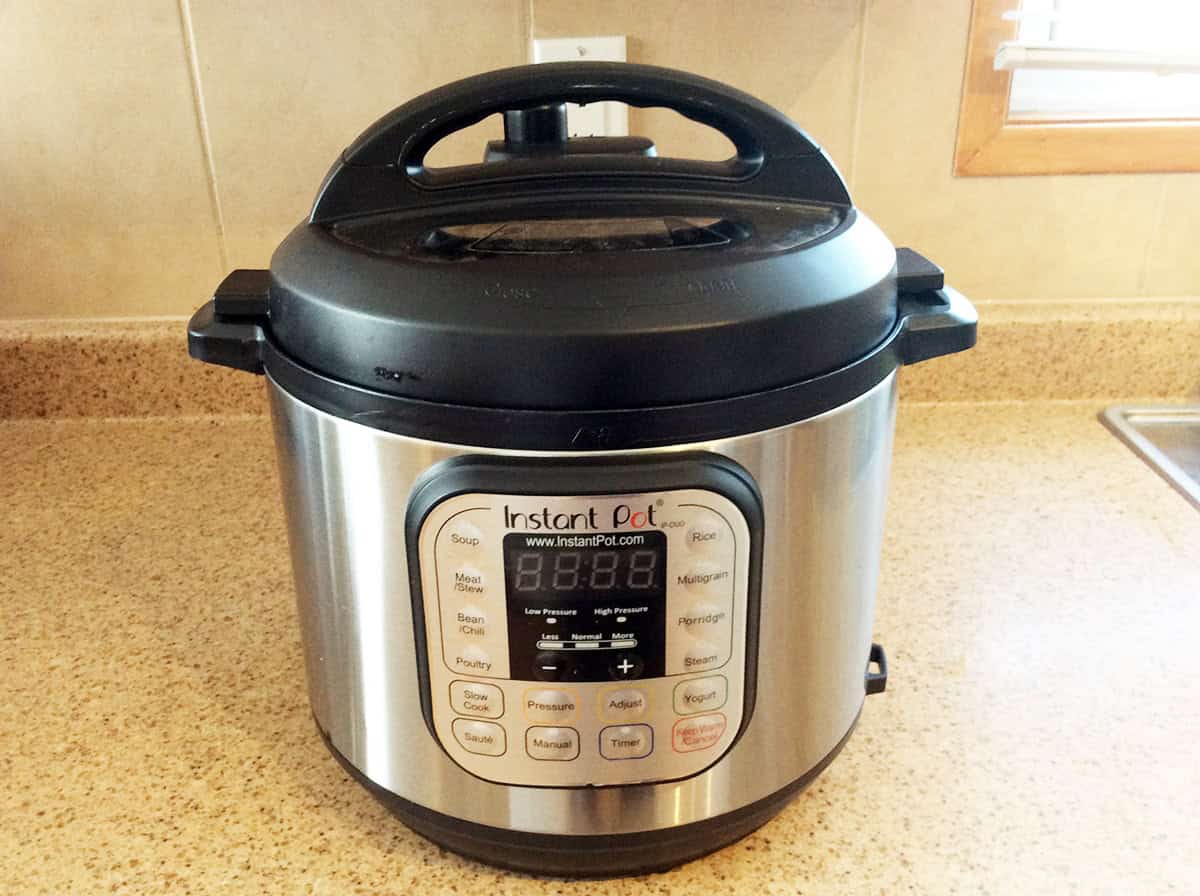 So for those busy nights when you just don't have enough time to spend an hour or more in the kitchen, here are 18 dump and go Instant Pot recipes that the whole family will love.
Instant Pot Cheesy Chicken and Rice
Don't you Just love the Six Sisters' Stuff Youtube channel and blog? I'm hooked on these ladies' easy dump-and-go meal ideas.
Chicken and rice is a wonderful, hearty recipe that your entire family is sure to love.
While there is a little more work involved in preparing the chicken, that could easily be done ahead of time or the day before if you are short on time for cooking dinner.
This recipe includes many staples that you should already have on hand, like chicken broth, rice, onion, and mixed veggies.
Instant Pot Chili
Everyone needs a great classic chili recipe in their meal plan.
While you will technically need to use your Instant Pot twice for this recipe, you can cut down your cooking time by cooking any meat you are going to add ahead of time.
While this recipe already includes a few veggies, you can easily sneak in more for a nutritional punch, such as corn, zucchini, sweet potato, or peppers.
Instant Pot Breakfast Casserole
Who doesn't love a good breakfast casserole for a quick dinner?
This recipe truly is a dump and go dinner, just mix up your ingredients and place in the pot. The great thing about this recipe is that it is perfect for using up leftover ingredients, like veggies, meats, and cheeses.
You can also freeze any leftovers for quick grab and go meals for the future.
Instant Pot Baked Ziti
Pasta is always a great option for dump and go Instant Pot dinners.
Pasta dishes are easy and generally even the pickiest of eaters will scarf them down. This baked ziti is a vegetarian dish and includes some great hidden veggies that your kids will never know are there.
This is a versatile recipe that you can add meat to as well as hide some more veggies in.
Instant Pot African Cinnamon Peanut Butter Chicken
Searching for some gourmet recipes that you can make in a flash (without the gourmet hassle)?
Then this African Cinnamon Peanut Butter Chicken is sure to impress without leaving you stressed. This is a warming and fragrant recipe perfect for a cooler evening. This recipe can be enjoyed all on its own or over rice or noodles if you would prefer.
Instant Pot Spaghetti
Spaghetti is another crowd pleaser when it comes to making dinner for your family. While you will have to use your Instant Pot twice, once to cook the meat and then a second time to cook everything together, it's still a very quick recipe. You can also save time by cooking the meat in advance. You can easily cook batches of things like ground beef and turkey and then freeze in one pound portions to quickly add to recipes. This recipe is as simple as cooking the beef, adding the noodles, water, and sauce and then set and forget.
Instant Pot Tuna Casserole
This isn't your traditional tuna casserole from a box, this is a flavor packed, tuna casserole that will quickly become a family favorite.
A fantastic, creamy one pot meal that you can quickly cook in between picking up kids. You can also add a crunchy topping, if desired, after cooking for that old school feel.
Instant Pot Beef Stew
Beef stew is one of these dinner staples that just about anyone can include in their dinner rotation.
Stock up on some beef stew meat when it's on sale to be sure that you always have the right ingredients on hand. For those that are meat and potato fans, this dinner is sure to be a win.
Dump in your main ingredients of beef, potatoes, and mixed veggies, along with spices and broth for a quick and hearty dinner that will please the whole family.
Instant Pot Rice and Beans
This rice and beans recipe can be used in so many ways.
You can use it as a dip, to eat in tortillas, a taco salad, served as a side, or just a bowl by itself.
This is also a great recipe for using up canned beans and rice that you might have a surplus of. Another super easy recipe that you can personalize and add other ingredients. Want a spicier bean and rice recipe? Add more peppers.
Create more of a meal by adding ground beef or turkey.
Instant Pot Stroganoff
Seasoned ground beef, mushrooms, onions, noodles, and a creamy sauce. Oh so good!
Even with having to cook the ground beef first, you are still only looking at 30 minutes from start to finish!
While traditional stroganoff calls for beef stew meat, the use of ground beef (or turkey) makes this recipe quicker and easier to make as well as more affordable.
Dump and Go Instant Pot Fettuccine Alfredo
With a handful of ingredients, you can easily make delicious and creamy fettuccine alfredo.
Ready in under 20 minutes, this is a simple and quick dinner that the kids will be sure to ask for again and again.
Pair with some easy to make garlic bread and you have an Italian favorite that everyone can get on board with.
Instant Pot Sweet Potato and Black Bean Chili
Everyone should have a few favorite chili recipes in their dinner arsenal. My kids love a sweet potato chilli and this combination I'm sure they'll adopt easily.
They are perfect to warm you up on a cool evening, filling, and you can easily pack in a bunch of veggies for picky eaters. This sweet potato and black bean chili is a delicious and healthy vegan recipe that you can feel great about feeding your family.
Instant Pot Hawaiian Chicken
With just three ingredients and less than 10 minutes of prep time, this sweet and savory Hawaiian chicken will become a favorite to make. Another dish that you can easily pair with rice or noodles for a quick and easy dinner.
Pro Tip for quick dinner prep. You can make batches of rice or other grains in advance in your Instant Pot and freeze them into serving portions to use with your dinners.
Dump and Go Instant Pot Buffalo Chicken
Buffalo chicken is another really great and versatile recipe staple that you can make into so many different things.
Simply toss in your chicken and other ingredients and walk away. You can use this buffalo chicken as a main dish, atop rice or noodles, stuffed into tortillas, scrambled with eggs, or to top potato skins. So many possibilities!
Dump and Go Instant Pot Split Pea Soup
Soups are one of the easiest dump and go types of Instant Pot recipes that anyone can make.
This ham and split pea soup is what you would call a "set it and forget it" recipe.
This soup is another way to sneak in veggies for those picky eaters without a fight. This is another great recipe that you can make ahead of time and freeze for later.
Instant Pot Mac and Cheese
Of course this list would not be complete without a homemade mac and cheese recipe.
This mac and cheese is crazy easy to make and oh so creamy! You can easily customize this recipe by adding different cheese variations, spices, or left over items like chicken, bacon or hot dogs.
Instant Pot Crack Chicken
There is a reason they call this recipe crack chicken! Your family will be going back for seconds and thirds of this dinner. Chicken, bacon, ranch, cream cheese, what more could you ask for?!
Instant Pot Not So Common Ramen
While kids could pretty much live off of boxed ramen, there is literally nothing healthy about it.
This ramen recipe is almost as easy to make as the boxed recipe but so much better for you!
It's cheap to make and has way less sodium than it's packaged counterpart.
You can also add a lot of different variations to this recipe, depending on what you have on hand. Add a poached egg on top for an authentic flair, different veggies, make it spicier with jalapenos or red pepper flakes, and even change up the flavor with different types of stocks.
Dump and Go Easy Instant Pot Recipes
Skip the drive thrus and ordering in on busy nights with these 18 quick and easy, dump and go Instant Pot recipes.
Many of them you can make in 30 minutes or less and include many common ingredients you probably already have on hand.
Make sure to check out my other easy meal prep guides:
Please remember to pin me!