In your third trimester? Now is the time to make some easy and cheap slow cooker meals to last many months postpartum!
So the time has almost arrived…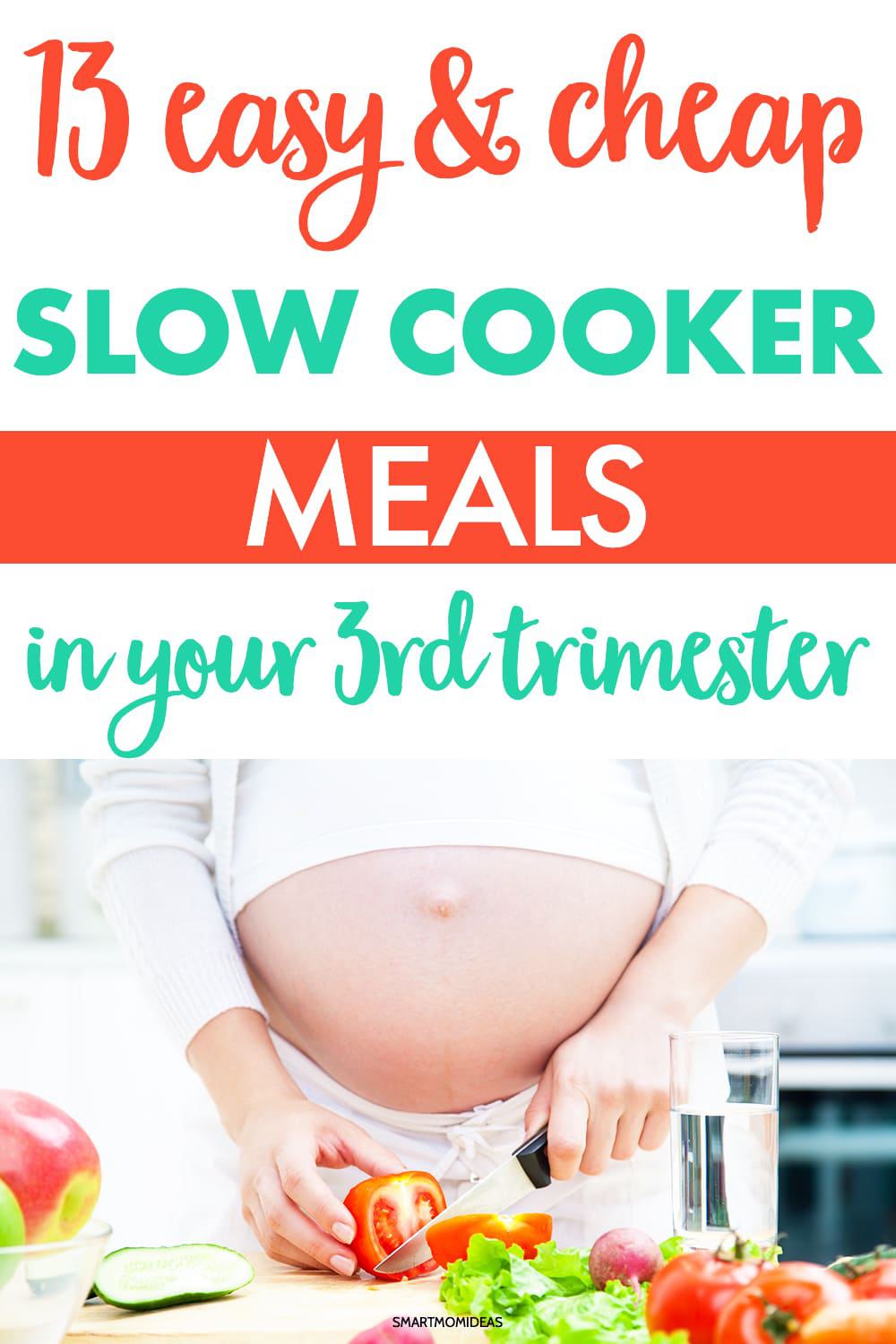 It has been a long couple of months waiting in anticipation for your little one to finally make their appearance.
You have the nursery all set up, all of their adorable little outfits perfectly folded in their dresser, and the car seat strapped into the car and ready to go.
But do you actually have everything ready that you need?
While most moms are concerned about making sure they have everything for their new baby, they often forget about themselves and their significant other's needs.
You know, like the essential task of eating.
After a long hard day (and sleepless night) of taking care of your new little one, the last thing you are going to want to do is spend hours in the kitchen meal prepping or making dinner from scratch.
I know for us we were fortunate to have help. My sister and MIL came and made 3 weeks worth of make ahead meals for us! That was a lifesaver mama!
So in order to avoid the headaches and potential arguments about who's turn it is to make dinner, I have put together a list of 13 easy and cheap slow cooker meals to prep in your third trimester.
The great thing about these meals, other than the fact that they are easy and cheap, is that you don't have to put much thought into them when it comes time to actually make them.
And because mom brain is a real thing and it's easy to forget about the stuff you started cooking on the stove when baby is demanding to eat.
It's way easier to toss something in the crock pot in the morning and not have to worry about it for 6-8 hours.
Get read for these slow cooker meals to prep in your third trimester that are cheap and easy to make!
Meal Prep Tips and Tricks
But first…if you aren't used to meal prepping, it can be a bit of a learning curve.
You can't just grab items out of your pantry and start throwing things together. You need to have a plan.
There are two ways you can go about planning your meal prep.
You can see what you already have in your pantry/fridge/freezer and start your meal planning there. Search for recipes that include ingredients that you already have.
Or, you can search for recipes that you want to make and start your shopping list there. This works great if you don't have a ton of staples at home already.
The best kind of meal prep ideas are ones that you can freeze to use later. It's so easy to prep by throwing your ingredients into a bag that you can then just toss right into your freezer or slow cooker.
You can also prepare a meal in a slow cooker beforehand and then put them in meal prep bowls to eat for later. This is a great option if you are trying to make healthier meals for yourself.
Here are some essentials for making sure your meal prep in your third trimester go smoothly:
Here are a few tips to help get you started and minimize your frustration later on:
Freeze the bags flat, this makes storage WAY easier.
Make sure to date your meals, they can be stored for up to three months.
When writing your grocery list, don't forget to check for deals!
You CAN freeze raw meat and veggies together, freezing kills any mold or bacteria that might grow.
Write out your menu for the week/month beforehand. This helps a ton, you or your partner can get the crockpot going in the morning and by dinner time, everything will be ready.
Slow Cooker Meals to Prep Before Baby's Arrival
Now onto the good stuff…
Freezer to Crock Pot Pulled Pork
Pulled pork isn't just for sandwiches anymore (although that is a favorite in our house!)
Recipes for pulled pork are great because they make a lot and leftovers can be used for a ton of other recipes. Like pulled pork tacos, atop mac and cheese, or smothering tasty nachos.
And for those what want mac and cheese…
Slow Cooker Mac and Cheese
Who doesn't love some creamy mac and cheese?
Whether plain, topped with pulled pork, or bacon and panko breadcrumbs, mac and cheese is a meal that everyone can appreciate. The ultimate comfort food for any season.
Crockpot Sloppy Joes
Sloppy Joes always remind me of childhood dinners.
They are such a simple and easy to make meal that everyone loves.
Simply toss in the hamburger meat and sloppy joe sauce and let it do it's thing. Once it's finished, you can easily add a simple side, like fries, steamed veggies, or maybe some mac and cheese!
Slow Cooker French Dip Sandwiches
One of the great things about slow cooker sandwiches is that you can also freeze the buns that go with them until you are ready to eat everything. Simply remove the buns from the freezer when you take the food out.
These french dip slow cooker sandwiches are so easy to prep. Grab your ingredients out of the freezer and toss in the crockpot. Seven hours later you will be enjoying your new favorite dinner.
Beef Stew (Instant Pot or Slow Cooker)
Beef stew is one of those meals that just makes you want to cuddle up under a blanket next to the fire. A hearty meal that is great for those cooler months.
The great thing about this meal is that you can freeze everything together and then pop it into your slow cooker or instant pot when you're ready to cook.
Freezer to Crockpot Scalloped Potatoes and Ham
This freezer scalloped potatoes and ham is another super simple recipe that will have you going back for seconds.
While fresh potatoes don't freeze great, you can get already frozen potatoes and substitute them for fresh, which will also drastically cut your prep time.
Pot Roast
Who doesn't love a good pot roast? A simple and hearty meal that lends itself to many left over ideas.
Leftover pot roast can be used in sandwiches, fajitas, and even shepherd's pie (which is also another great freezer meal!)
Crockpot Chickpea and Vegetable Curry
If you are trying to avoid eating a lot of meat after you have your little one, why not meal prep some vegan and vegetarian options? This chickpea and vegetable curry is a hearty and warming dish. You won't miss the meat in this meal!
Everything Chicken
When meal prepping things for your crockpot, they don't always have to be full meals.
This everything chicken is a simple dish that can be used in everything. From tacos, to pasta, to stir fry, this chicken is a versatile recipe that will quickly become a favorite go to.
Freezer Crockpot Sweet Potato Chili
This sweet potato chili is another hearty, meatless meal. While you are going to need to thaw this meal before throwing it into your slow cooker, it's still one incredibly easy and delicious meal to make when you have zero energy to cook.
Slow Cooker Chicken Alfredo
Chicken alfredo in a slow cooker…need I say more?
While I love me some chicken alfredo, it can be so time consuming to make. Especially when you are making it from scratch and not using jarred sauce.
This is a made from scratch slow cooker alternative that is simply amazing!
3 Ingredient Hawiian Chicken
One of the things that I love about slow cooker meals is that you don't need a ton of ingredients to make an amazing meal.
This crazy good chicken only requires three simple ingredients, chicken, pineapple, and bbq sauce. That's it!
It's best served over rice, which you can easily make a quick batch in your instant pot or batch cook and freeze for later.
For the exact recipe you see in the pin, click here!
Cilantro Lime Chicken Freezer Meal
Some of the most popular freezer meals and crockpot meals include chicken or ground beef. Why?
Because it's easy to make, you can often find them on sale, and they are so versatile! This recipe is great because it infuses the chicken with fresh cilantro and still tastes amazing after it's cooked.
This recipe works great over rice or stuffed into a tortilla shell as a taco.
Best Slow Cooker Meals for You In Your Third Trimester
There you have it, 13 cheap and easy slow cooker meals that you can prep in your third trimester in preparation for baby's arrival. Of course, don't forget to properly label each one of your meals and make sure you have any additional sides available.
For example, if you are going to serve the cilantro lime chicken with rice, you can make the rice ahead of time (when you are preparing the chicken) and freeze it in a freezer bag alongside the main meal. Then all you have to do is thaw it out and warm it in the microwave when it's time to eat.
Of course, don't forget your meal prep bowls to store leftovers for later.
Many of these recipes you can freeze once they're cooked so you don't have to worry about eating the same meal for an entire week.
For more meal planning ideas, check out these posts:
So grab your shopping list, hit the store, and get to work!