The yummiest crock pot freezer meals for the entire family!
As if grabbing an already prepped dinner from the freezer to cook for supper wasn't great enough – what if you could simply dump that dinner into a crock pot and forget about it all day?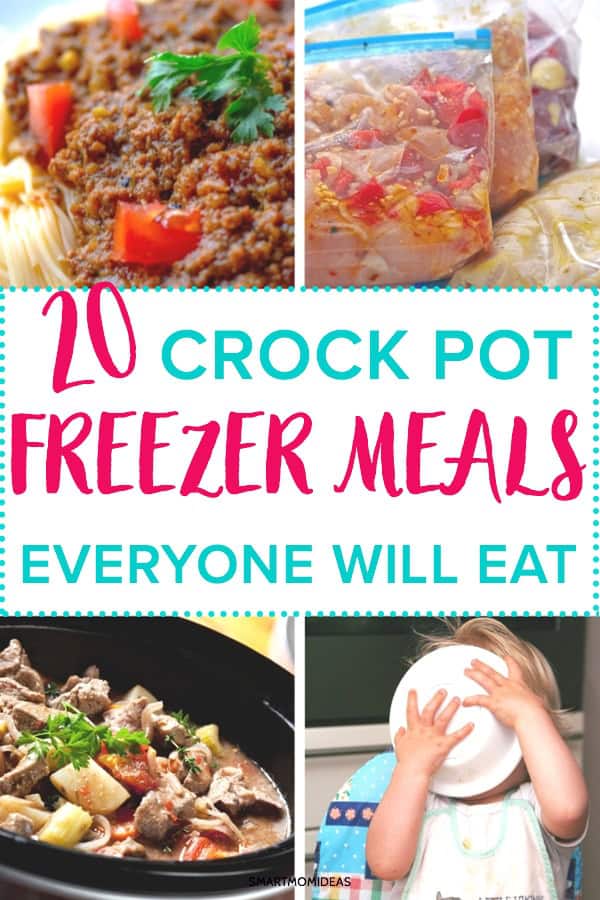 The thing about evenings is that everyone is busy getting home from work and school, doing homework, participating in extracurricular activities and then, at some point, relaxing and getting ready for bed.
Throwing your freezer meal into a crock pot in the A.M. means that come suppertime there is no prepping, preheating or, well, waiting. As soon as the clock hits chow-time, dinner is served!
While all of these recipes are for the crock pot freezer meals, some do not specify freezing ahead of time. Worry not! Every recipe in this list can be prepped and frozen, ready to use on those super busy nights!
Crock Pot Freezer Meal Tips
Before you dive into the world of crock pot freezer meals, here are tips and tricks you should know to make things much easier:
Use name brand heavy-duty freezer bags. You want something that won't rip or allow your food to become freezer burned. Invest in a high quality product like the ones I use.
You can freeze raw meat and vegetables together. Freezing at 0°F deactivates bacteria, yeasts and molds.
Take the time to search the flyers for deals on ingredients. You can often find amazing sales which will make your crock pot freezer meals even more worthwhile!
Freeze the bags of food flat. This will give you more freezer space and will help speed up the thawing process.
Freezer meals can be stored in the freezer for up to 3 months.
Choose the right crock pot for your needs. If you are prepping larger meals, you may need a 6 quart crock pot instead of a 4 quart. You may also want to look into a programmable crock pot to make life easier.
1. Cilantro Lime Chicken
What better way to maximize cilantro's citrus- y flavor than with a splash of lime? Add in some chicken, corn and black beans – serve with rice or tortillas – and you have a refreshing Latin-inspired meal!
This is a simple and refreshing recipe that can go straight from your freezer to the crock pot!
2. BBQ Pulled Pork
Quick! How many dishes can you use pulled pork in?
Quite a few, right? Pulled pork is such a versatile dish and can be used in or on:
Sandwiches
Tacos
Nachos
Omelets
Fried Rice
Burritos
Freezer Meals 101 has you covered with this delicious pulled pork recipe that will feed your family over and over and over and over…
3. Chicken Curry
Made from scratch, this chicken curry recipe is sure to have your taste buds dancing! Serve with pita bread, naan or rice for a rich and filling meal.
This slow cooker chicken curry recipe you should check out.
If you're worried about the spiciness for your little ones, you can cut down the amount of curry you use or add more coconut milk or plain yogurt. Adding more dairy will help to tone down the heat (and this works for other dishes too!).
4. Macaroni and Cheese
Nothing screams "Comfort Food!" like a big ol' bowl of mac and cheese! This classic family favorite just got easier, since you can prep and freeze it for any day of the week.
This recipe is simple, creamy and cheesy.
You can even hack this meal by adding the following in once it's cooked:
Cooked and crumbled bacon with chipotle
Canned tuna and cooked peas
Tomato soup and cooked ground beef
Ketchup and cooked hot dogs (don't knock it 'til you try it!)
5 Stuffed Peppers
These stuffed peppers crockpot freezer meal idea require very ingredients and will have your home smelling a-maze-ing.
A meal of their own, these little guys are packed with ground meat, onions and pasta sauce. Simply grab from the freezer and toss into the crock pot!
6. Hawaiian Chicken
This Hawaiian chicken uses only 3 ingredients! So prep is quick, freezing is easy, thawing a breeze and cooking is just a crock pot away!
Nothing beats no effort when it comes to enjoying this sweet and savoury chicken on a busy family night!
7. Beef Stew
Another classic comfort food, beef stew is the perfect "warm-me-up" meal that brings about feelings of comfort and coziness.
This easy-to-make recipe from Pinch of Yum is sure to make your family, and their tummies, happy and satisfied!
8. Chicken Alfredo
This crock pot freezer meal chicken recipe is designed to go right into the crock pot, but the ingredients are easily freezable! The recipe explains how to make the sauce – so all you have to do is boil up some noodles.
Guaranteed even your pickiest of eaters will be licking their plate clean!
9. Sausage with Peppers and Onions
This recipe from Everyday Good Thinking is another straight-to-the-crock-pot recipe with ingredients that can be frozen together and used later.
Sausages make for a hearty meal, but these delicious links can be served over pasta or on a sub roll. Don't forget to top with some basil and grated Parmesan cheese!
10. Sweet Potato Chili
This sweet potato chili recipe is vegan, gluten-free and does not require any sauteing. Simply dump into the crock pot, hit the "on" button and away you go!
You can serve this yummy chili with tortilla chips, avocado, cheese and Greek yogurt.
11. Everything Chicken
As this recipe implies, you can use this chicken for EVERYTHING! With just a few simple ingredients, you can make tasty and multifunctional chicken.
You can use this chicken in salads, tacos, stir fry, soups, stews and pastas.
12. Chicken and Mushrooms
Here is another versatile chicken recipe to be used as quick crockpot freezer meals. It can be served on its own or over pasta, rice and potatoes.
This one does involve sautéing before placing in the crock pot, but you can easily do this before freezing.
13. Scalloped Potato and Ham
Got some leftover ham from a special occasion? Cooked a big ham and don't know what to do with it? Make some crock pot scalloped potatoes and ham!
This easy recipe and suggests using frozen potatoes to save time on all the slicing!
14. Ranch Pork Chops
The best recipes are the ones that use only a few ingredients – and this one only has 3!
From prep to freezer to crock pot, this recipe from The Mom Maven will take you no time at all to make! (And probably no time to eat, too!)
15. Pot Roast
Leftovers are the gift that keep on giving – and a nice pot roast offers some delicious dinner, lunch and breakfast options!
Try this pot roast crock pot freezer meal and use the recipes for:
Beef stroganoff
Fajitas
Shepherd's pie
Roast beef sandwiches
Stir Fry
16. Chicken Tikka Masala
If you like authentic Indian curry this delicious chicken tikka masala recipe is for you. You can make the curry paste from scratch (which really isn't too hard) or you can save some time and buy a paste.
Serve with naan bread and rice.
17. Chickpea and Vegetable Curry
Whether you are a vegan, vegetarian or simply need a delicious side dish to some tikka masala chicken, this vegetable-based curry is the perfect savoury choice.
While the curry flavors of this dish are pretty mild, you can still tone down the spice with Greek yogurt or sour cream.
18. BBQ Meatballs
Squished between bread or sitting atop of spaghetti, everyone loves meatballs!
Even your little ones, who can easily pinch and grasp a meatball when they first start to feed themselves.
This recipe from Kristine's Kitchen walks you through making your own marinara sauce but, in a pinch, you can buy the it off the shelf as well.
19. Balsamic Braised Beef
This recipe may sound fancy, but putting it together is anything but!
This balsamic braised beef recipe that requires very few ingredients. Also, the beef can be swapped out for chicken or boneless pork.
20. Sweet Potato Basil Soup
No crock pot freezer meal list would be complete without a hearty soup recipe!
This sweet potato basil soup recipe is great for a warm and delicious comfort dish.
There Ya Go!
The best crock pot freezer meals for busy nights and to ensure everyone will love!
In the comments share your best tips for freezer meals!
Please remember to pin me!