Are you trying to eat healthier? Eat less (or no) meat? These vegetarian and low-meat based instant pot recipes will keep you and your kids happy with a full tummy.
One of my New Years goals is to try to incorporate some new plant-based recipes.
I'm a bit of a meat eater, but know how important it is to be a fit mama.
Plus, vegetarian and low-meat dinner recipes are so delicious.
I recently made a sweet potato black bean chili and it was to die for.
My entire family gobbled it up.
So, my goal is to try a low-meat recipe once a week…with a twist.
For Christmas, I received an Instant Pot that instantly changed how I cook.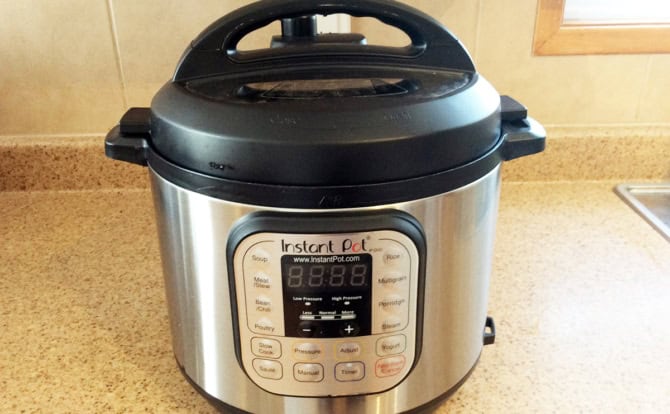 For a busy mom with twins in school, activities on the weekend and a home-based business, I loved how fast meals were in my Instant Pot.

But, I was preparing the same types of food with my Instant pot. So, why not try something new that's healthy and even something the kids will like?
To kick off the new meal plan, here are 25 instant pot recipes for anyone who wants to up their veggies without the sacrifice!
1. Instant Pot Pineapple Fried Rice
Cook with Manali has a delicious and easy pineapple fried rice for the Instant Pot. What's great is that this meal only takes 20 minutes to cook from start to finish!
I don't think my twins will like the red pepper it this dish, so I won't add that when I make it, so I'll just double the pineapple!
2. Instant Pot Lo Mein
This recipe from Snap Dash Mom looks amazing. Sadie suggests that if you haven't used your Instant Pot yet, to try this recipe first.
It's that simple!
You can use different veggies to change it up and even add this on top of rice if you want this dish to be more filling!
3. Instant Pot Vegetarian Tortilla Soup
Cooking Whiz Cafe has a delicious vegetarian soup that any child will love to slurp up. This soup is super healthy too and you don't have to feel guilty to have 2 or 3 helpings!
4. Vegan Quinoa Instant Pot Burrito Bowls
DetoxInsta has a mean burrito bowl that's plant-based inspired. I haven't experimented much with quinoa but it's something I want my twins to try and since they love Mexican food, this should go over well!
5. Mexican Red Lentil Soup (Instant Pot)
Use odds and ends from your pantry and fridge to whip up this great tasting red lentil soup from The Cent's Able Shoppin.
This recipe does have a lot of ingredients but once all prepped you just add it to the Instant Pot and it only takes half the time too cook than if you cooked it on the stove.
6. Instant Pot Creamy Garlic Veggies & Pasta
OMG! This recipe from Adventures of a Nurse looks creamy and delicious. My twins will gobble this up for sure.
This recipe isn't truly vegan since the stock is from chicken, but you can easily switch that to vegetable stock for a plant-based meal.
7. Butternut Squash and Apple Soup
The Mother Maven has a Whole 30 compliant, gluten-free, dairy-free and adapted to be vegan and plant-based too!
What I like about this recipe is how minimalist it is! There is only 4 ingredients! And you know what that means!
It's kid-approved!
8. Instant Pot Loaded Baked Potato Soup
I've been on the hunt for the perfect baked potato soup and this one from Our Food Fix looks like one I will definately try out.
Dawn and Garett use a white sweet potato for the base of this soup, which is something I've never cooked with! Challenge accepted!
9. Instant Pot Walnut Lentil Tacos
My twins will LOVE this! It looks so good. Delish Knowledge has a plant-based taco meal with lentils and walnuts.
I've never cooked with walnuts, but from what Alex and her readers say, it's not something to ignore!
10. Instant Pot Broccoli & Cheddar Pasta
Adventures of a Nurse has another pasta recipe that's kid-friendly! This broccoli and cheddar pasta looks delicious that your family will surely love. Pair this with a salad and you're good to go!
11. Instant Pot Sweet Potato and Kale Soup
Oooo! Doesn't this look delicious? I love the idea of mixing sweet potato and kale for a soup! This recipe from Simply Happy Foodie uses coriander, cinnamon and coconut milk (+ other yummy spices) to make this an exotic and tempting soup.
12. Instant Pot Steel Cut Oats
Who says you can't have breakfast for dinner? It's one of my favorite dinners! Recipes From a Pantry has an easy 30 minute steel cut oats recipe for your Instant Pot.
13. Vegetarian Instant Pot Chili Mac
Kara Lydon has a yummy vegetarian chili mac that any child would enjoy. This only takes five minutes in the Instant Pot!
14. Instant Pot Tomato Basil Spaghetti Squash
I've been replacing our pasta with spaghetti squash and I love it! It's healthy, filling and delicious! I can't wait to try this Instant Pot recipe from The Gunny Sack.
15. Instant Pot Stuffed Bell Peppers
While this recipe from The Typical Mom includes ground beef, you can easily omit that to turn it into a vegetarian meal.
I like how colorful this meal is and how even children can enjoy this too!
16. Instant Pot Lasagna Soup
Vegan Richa has a totally vegan pasta dish! My twins love pasta and I don't see why they wouldn't love this lasagna soup!
This is an easy recipe that's well balanced and ingredients you can easily substitute.
17. Vegan Mac and Cheese
Who doesn't like mac and cheese for dinner? Karissa's Vegan Kitchen's recipe is delicious, easy to make and kids love it! And this makes it healthy by using vegan cheese and cashew milk. Score!
18. Instant Pot Vegan Sloppy Joes
Yes! A dinner where it's okay to be sloppy. Instant Loss has an easy sloppy joe recipe using lentils to make it vegan and healthy.
19. Red Lentil, Sweet Potato, Hemp Burgers
This recipe from The Veggie Queen takes a few steps to do and you have to decide the best consistency for your burgers. This is something I want to try and see if my twins will like! I'm sure if they can use ketchup, they'll like it!
20. Asian Steamed Dumplings
My daughter loves dumplings and this one from Healthy Slow Cooking looks delicious. These dumplings are made up of just cabbage, carrot and mushrooms. Feel free to add any veggies your family likes!
21. Italian Minestrone Soup
You know, I've never had Minestrone soup before! So, this recipe for my Instant Pot likes like a great try for my family!
La Bella Vita Cucina has a hearty and healthy soup that can feed your entire family and neighbors.
22. Yellow Rice With Peas & Corn
We are a rice family. So, this recipe from Instant Pot Eats has a delicious and healthy homemade yellow rice recipe.
This calls for turmeric, peas, and corn with Basmati rice. This recipe calls for chicken stock, but you can easily swap that for vegetable stock to make this a pure plant-based recipe!
23. Pho in Instant Pot
OMG! This looks delicious! I LOVE Asian soups. While this recipe from Chef de Home does call for lamb, you definitely don't need to add this meat to make it taste good.
To make it kid friendly I would also not add any spices like jalepeno but, this recipe is customizable with your favorite veggies and add-ons.
24. Smoky Vegan Split Pea Soup
When I was little, I remember my dad driving to a Danish restaurant to get their famous split pea soup (my dad is Danish).
I loved it. This recipe from Healthy Slow Cooking looks like it can taste the same as traditional split pea soup, without the ham!
25. Cheesy Corn Casserole
A great kid-friendly plant-based dinner from The Typical Mom. This recipe presents itself beautifully if you use a bundt pan.
While this recipe isn't the healthiest – does use a packages muffin mix – for those hectic and stressful nights, this can come in handy!
Healthy and Fast Instant Pot Recipes
There ya go!
Try having a plant-based or low-meat dinner once a week as a way to make yourself and family more healthy!
Please pin me!