Get some cheap dinner ideas that even a picky toddler will enjoy!
Oh the picky toddler…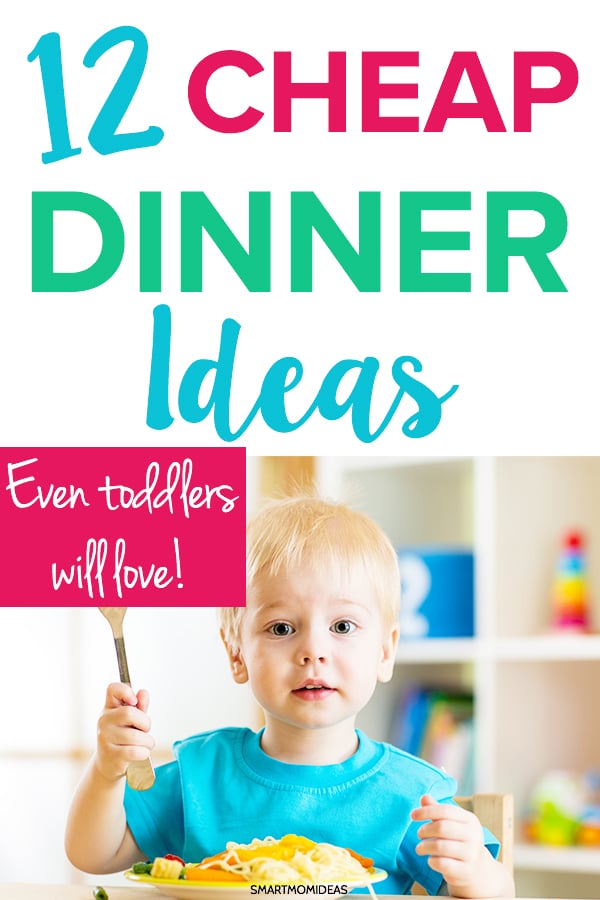 Finding cheap dinners picky toddlers will eat seems like a never ending battle in some homes.
One day they love noodles, the next day they are spitting them all over the floor and feeding them to the dog.
What's a parent to do?!
Toddlers are also, generally speaking, very messy eaters.
While finger foods and small portion sizes are great, they aren't always the best option for the whole family to eat.
While your toddler might be fine with living off of hotdogs and tater tots, they need a wider variety of nutrients, which can be really difficult to fit in when you have a picky eater on your hands.
So what is a mother to do?
Here are 12 easy cheap dinners that even your picky toddler will gobble down and won't have you stressing about what to make for supper.
Tacos
Everyone loves tacos!
The best part about tacos is that they are so customizable. Lettuce, cheese, sour cream, black olives, YUM!
When my kids were smaller, I would make a simple, soft shell taco with refried beans, meat, and cheese. Pop it in the microwave for a bit to get the cheese all melty to hold it together better and serve it up to the little ones.
Tacos are also a great way to sneak in additional veggies. Check out these hidden veggie tacos:
Burgers
Burgers are another great meal that everyone loves. Things like tacos and burgers are easy to make and fully customizable. Not to mention you can make most of the meal in advance to save on time.
Another great thing about burgers is that you can even make them toddler sized (sliders) to make them easier for your little one to handle. Not to mention, burgers are very affordable!
Sneak in some extra nutrients with these hidden veggie burgers. Or, turn them into cheap vegan dinners!
Spaghetti
Seriously, what kid doesn't like spaghetti?
Spaghetti is the all-time food for cheap dinners.
One of the things that I love about spaghetti is that you can make it ahead of time and freeze portions and leftovers. This comes in super handy when you have a busy night and no time to cook anything from scratch.
Simply grab your frozen spaghetti and microwave for a quick and hearty meal.
Not to mention, this is another great dish to sneak in some hidden veggies for picky toddlers.
There are literally so many different kinds of veggies that you can add to spaghetti sauce; other than tomatoes. You can add things like canned pumpkin, squash, mushrooms, onions, zucchini, carrots, peppers, eggplant, and even grains like quinoa.
Try and experiment and make it your own.
If you want a good place to start, check out this hidden veggie spaghetti sauce.
Pizzas
Everyone loves pizza, including your toddler. You can turn just about any bread product into a pizza; tortillas, english muffins, pita bread, french bread, bagels, and of course, store bought pizza dough.
You also have an endless variety of toppings. You can go with plain cheese or your toddler can pick their own toppings.
Here is a pro parenting tip: kids are going to be more excited to eat food that they help make, even your picky toddler.
So step back and let them play and get a bit messy, let them help put on the sauce, cheese, and the pepperoni eyes.
I know it can be hard knowing the mess that you are going to have to clean up. But they will be so excited to eat the pizza that they helped make when it's done baking.
The other great thing about little personal pizzas is that they are great for using up random, leftover ingredients, making it perfect for those cheap dinners.
Got some leftover olives from making tacos? Spinach that is about to wilt? Use them as toppings for your pizzas!
Not sure if your topping idea will work? Check out these 95 pizza topping ideas.
French Toast
Why not have breakfast for dinner?
I used to love having breakfast for dinner when I was a kid, it was like a special occasion. Now I realize how simple it is to make things like french toast, pancakes, sausage, waffles, and bacon for dinner.
They are quick and everyone loves them!
With french toast, you can make full-sized for the rest of the family and french toast sticks for your toddler. They are easy to handle, dip in syrup, and fun to eat.
Check out these freezer-friendly french toast sticks that your toddler is sure to love.
Ravioli
Ravioli is a great choice for both parents and toddlers. I'm not talking about the canned ravioli that stains everything it touches; I mean good, real food ravioli. You can either buy the premade cheese or veggie ravioli or easily make some yourself.
You don't even need one of those fancy pasta cutters, you can make delicious and fuss-free homemade ravioli with an ice cube tray and a rolling pin.
Also another great way to sneak in some greens or veggies!
Simply make some homemade pasta with just a few ingredients, lay in the ice cube trays, and place the filling in the pasta. Then top with another layer of pasta and roll with a rolling pin to seal, cut apart, then pop in boiling water to cook.
Check out the video below for step by step instructions.
Hot Pockets
Homemade hot pockets are another great toddler dinner idea that everyone will enjoy. This is a great meal to make ahead of time and quick pop in the microwave on busy nights. They are also another great meal that is easily customizable. Some filling ideas for toddlers are ham and cheese, broccoli and cheese, or pepperoni and cheese.
The pockets themselves are easy to handle, although the filling can be messy.
You can easily make a big batch of homemade hot pockets with a few simple ingredients.
Broccoli Tots
Toddlers love tater tots and all things french fry related. Why not sneak in some extra veggies with these homemade broccoli tots. Serve with ketchup and a protein like chicken tenders (see below) or kielbasa.
These broccoli tots are made with four simple ingredients and they won't even realize they are eating something healthy.
Baked Chicken Tenders
Instead of opting for the store bought version of chicken nuggets with questionable ingredients, make your own tasty chicken tenders.
These chicken tenders are baked, not fried, so they are better for both you and your little ones, and packed with flavor from Ranch seasoning mix and Panko breadcrumbs.
These are a perfect dinner on their own or paired with french fries or broccoli tots.
Salads
Salads as easy cheap dinners?
Sign me up!
The earlier you can get your kids to start eating salads and veggies the better. Salads can be a fun way to get your toddler to eat more fruits and veggies. Same as with the pizzas; put out a spread of salad items and let them go to town.
Make sure to start with your greens; iceberg lettuce or Romaine. Have some options for proteins (chicken, ham, hard boiled egg, chickpeas), fruit, cheese, and of course, dressing.
My daughter loves salads, but my son, is still cautious about them.
You can start with a deconstructed salad and let them add things together as they would like.
Other great options include taco salads, pasta salads, and fruit salads.
Show them the things that you are adding to your salad and make sure you let them know how delicious it is when you are eating.
Quesadillas
Similar to tacos, but so easy to handle and eat. You can go with plain cheese, sneak in some veggies, or even make a breakfast quesadilla.
You can quickly and easily make quesadillas on a griddle or in a pan. While some toddlers prefer rather plain tasting foods, you can customize to each child's tastes by adding some spices, such as onion or garlic powder, and a dash of pepper.
The key to getting that delicious, crispy outside, BUTTER! Melt some butter in the pan or on the griddle and you will get that light, golden brown, crispy outer part. It's SO good!
Pigs in a Blanket
Pigs in a blanket are great for little fingers and a delicious family classic. You can also switch them up and make a breakfast version by wrapping sausage links in pancakes (a favorite in our house!)
The simplest pigs in a blanket recipe is wrapping a hot dog in a crescent roll and baking. If that is too much for your little one to eat, you can also use the little cocktail weenies with the crescent rolls sliced up. These are a great option for little hands and of course taste great with ketchup.
Easy Cheap Dinners
There are so many more cheap dinners for toddlers, this list hardly scratches the surface. If you are looking for more ideas of what to feed your toddler, I have a whole Pinterest board dedicated to toddler snack ideas.
Thanks for stopping by and remember to pin me!