Learn the best bottles for breastfed babies!
Although breastfeeding is one of the best things you can do for your baby, it also presents many challenges.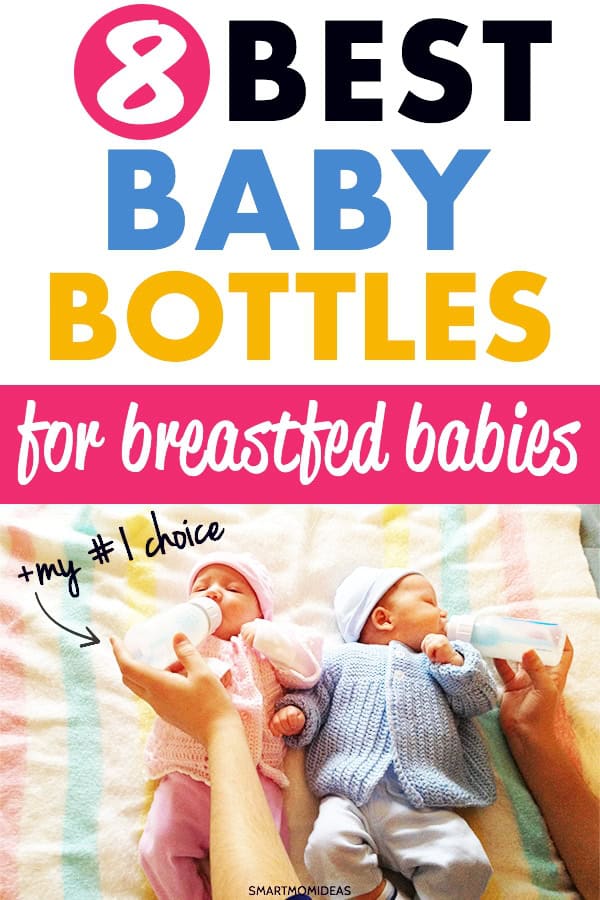 It creates that special bond with mama and baby, has countless health benefits (like burning calories!), and is much more economical than formula.
However, if you are not exclusively breastfeeding, say you have to return to work or have more than one baby to feed at once, then there are some external factors to consider.
If you are a breastfeeding mama and it is time to introduce a bottle to your little one, you might be stressing out a bit.
"What happens if I introduce a bottle and baby doesn't want to latch on anymore?"
"What if my baby doesn't even want to take a bottle?"
"What if bottle feeding makes my baby too gassy?"
I get it. As a mother of twins, I needed a little extra help and wasn't always able to breastfeed both of them at the same time. Talk about a balancing act. Thankfully my husband was there to help.
However, when it came to choosing THE RIGHT bottle for my babies, it was very overwhelming!
What's the best nipple shape? The best-shaped bottle? Should I use a BPA free plastic bottle or liner, or a glass bottle?
It can be exhausting just thinking about it!
But it doesn't have to be.
Picking a bottle should be stress-free and another exciting milestone for you and your baby to share.
So I wanted to share with you the bottle that I used with my little ones as well as some of the other best bottles for breastfed babies.
Just remember…every baby is different and what might work for one baby, another baby might hate.
So, if you try a bottle and after a few times it still seems like your baby doesn't like it, don't be afraid to try another one until you find a good fit.
Best Bottles for Breastfed Babies
There are so many bottles to chose from, however, when it comes to choosing a bottle to accompany breastfeeding sessions, make sure to look for ones that are specifically designed for breastfed babies.
Here is a list of the best baby bottles, specifically to help you transition from breast to bottle and back again without frustration.
1. Comotomo Baby Bottle – The Best Option

Ok, I will admit when I first saw these Comotomo baby bottles I thought "what the heck?!"
But after doing a bit of research, I soon realized what a great option the Comotomo bottle was for breastfed babies. The actual bottle itself mimics the feel of soft skin so that baby won't become confused by a hard plastic bottle.
The nipple of the bottle is also designed to minimize nipple confusion so that mama and baby can easily switch from breast to bottle and bottle to breast without any issues.
Some of the other advantages are the wide mouth opening on the bottle, making it very easy to clean, even without a brush (like dads can actually fit their hands in there, no more excuses guys!)
It is also a very simple design so you don't have to worry about extra pieces as you may have to with other bottle brands.
It also has a dual-anti colic valve on the nipple, rich helps to reduce air bubbles and a fussy baby. The soft, squishy body also makes it easy for babies to hold when they start to feed themselves.
One of the things I was afraid of was that it would not work well in a bottle warmer due to the silicone body, but as long as the warmer has a wide enough opening, it warms them up just great.
The only downside that I can see to these bottles is that due to the nipple area being so large, to get that last bit of milk out you really have to tip it. Which is really not that big of a deal.
2. Dr. Brown's Bottles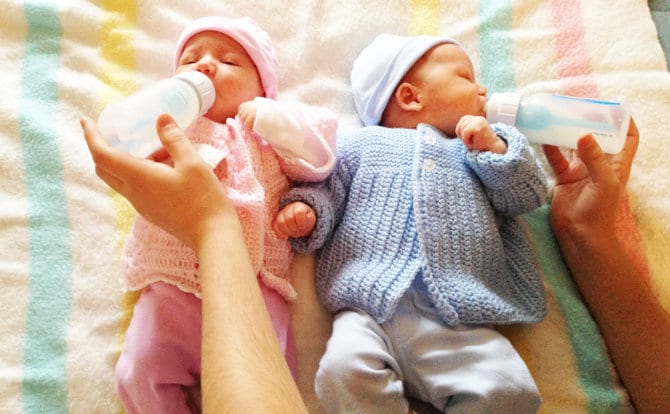 Dr. Browns bottles were the bottles that I personally used (after trying several others). I really like these bottles for several reasons.
They seemed to work the best for my little ones when it came to relieving gas. Gassy babies are cranky babies!
Also, because my wonderful husband was helping me out with feedings, I had to take his comfort into consideration as well.
He suffers from tendinitis since he works online. These bottles did not make his tendinitis flare up and we used these bottles for feeding our twins for the whole first year.
The unique valve system helps to prevent spit up, colic, burps, and gassiness.
It is supposed to mimic breastfeeding by creating a vacuum seal of sorts so that minimal air gets in while baby is eating. Another really neat thing about the unique venting system is that seeing there is minimal air introduced to the milk, it doesn't oxidize as fast, which helps to preserve those precious nutrients.
Dr. Brown's bottles also come highly recommended by lactation professionals and doctors alike to make the transition from breast to bottle and back again easier.
The only downside to these bottles is it can be a pain in the butt to clean the valve stem, so make sure you have something like a straw brush to clean it out!
3. Munchkin Latch Bottles
I really like the design of these Munchkin latch bottles and how the nipple is flexible. Another great option if you are specifically looking for anti-colic bottles for your breastfed baby.
The nipple is very soft which makes it easy for baby to stay latched and moves with baby, just like the breast does.
With this specially designed nipple, baby can stretch it, pump it, and move it around, which further mimics breastfeeding by providing more milk as baby applies pressure to the bottle's nipple.
Just be careful when cleaning the valve part. DO NOT attempt to put a bottle brush through there as it can rip the valve causing a huge mess with leaking.
4. Playtex Baby Bottle with Drop-Ins Disposable Liners
One of the great things about this Playtex bottle is there is less to wash, and when you are tired, breastfeeding mama, one of the last things you want to do is wash bottle parts.
Similar to the other bottles mentioned, the nipple and the bottle are designed to mimic breastfeeding while reducing gas and colic.
With disposal liners, it is very unlikely that air will get into the bottle as the liner collapses as baby drinks.
There are some potential disadvantages to using a bottle with a liner though. There is the additional cost of purchasing the liners as well as more waste created.
One of the first bottles we used for our twins were the Playtex baby bottles with liners. While they were very handy and easy to make, it ended up being too costly to have over time.
However, you shouldn't have to worry about reaching for a dirty bottle when you have a screaming baby in your arms. Just pop in a liner and you are good to go.
5. Mimijumi Breastfeeding Baby Bottle
This innovative Mimijumi breastfeeding baby bottle not only feels like a breast, but it also looks like one!
This bottle will help baby seamlessly transition between breast and bottle without nipple confusion.
Due to the soft design of the nipple and air flow vents, it makes it easy for baby to control how much milk they are getting.
Although, depending on your bottle warmer, you might have a difficult time fitting in there to warm it up.
Best Glass Bottles for Breastfed Babies
One of the main advantages of glass bottles is that you don't have to worry about any cross-contamination or bad smells leaking into the glass. Have you ever opened a bottle with sour milk in it? It's not pretty!
Also, when properly taken care of, they last a very long time.
One thing I would like to add about glass bottles, that I would highly suggest that you get ones with a silicone cover or some type of protective sleeve.
When babies start to feed themselves, they have a tendency to throw their bottles.
6. Chicco Natural Fit Glass Bottles
Chicco Natural Fit Glass bottles a great for a couple of reasons.
First, the design of the nipple offers multiple benefits.
It is tilted which helps very small babies latch on right away. It also has dual vents on each side of the nipple to help decrease air bubbles. Plus it comes with a silicone sleeve!
7. LifeFactory Glass Bottle Set
LifeFactory holds their glass bottles (water bottles, wine glasses, beverages glasses, and food storage containers) to a pretty high standard.
All of their glassware is "thermal shock resistant borosilicate glass" meaning that you can take the bottle from fridge or freezer to boiling water without it shattering. I wouldn't suggest this with other standard glass bottles.
They do have smaller nipples but also come with a sippy cup and flat top attachments so that baby can use the bottle well beyond breast and bottle feeding.
8. Avent Natural Glass Bottles
If you are looking for the durability of the LifeFactory bottles but prefer a wide nipple for an easier transition from bottle to breast, then the Avent natural glass bottles are a great choice.
It also comes with a protective sleeve that doubles as an insulation sleeve.
Before you run out and start buying bottles, establish what you are looking for in your ideal bottle.
BPA free plastic, glass, uniquely designed ventilation to help with colic or perhaps excessive spitting up.
The most important thing is that you are choosing a bottle that will allow you to easily switch between bottle and breast without nipple confusion.
Babies that are being newly transitioned from breast to bottle might initially show resistance, but don't give up! With a little trial and error, you are sure to find something that suits both of you.
What's My Choice for Best Baby Bottle?
I'm a little biased when it comes to baby bottles! I tried many different types of bottles and in the end Dr. Browns was the clear winner.
But, Comotomo Bottles weren't available when I had my twins and this bottle may have won!
My suggestion is to try the Comotomo Bottle first and if your baby experiences gas or is uncomfortable, then opt for Dr. Browns!
Over to you – are you using a baby bottle that isn't on this list and that you recommend? Please let me know!
Remember to pin me!