Get some creative pregnancy announcement ideas for your parents!
Announcing your pregnancy to your parents is an incredibly special moment that is filled with excitement, anticipation, and joy!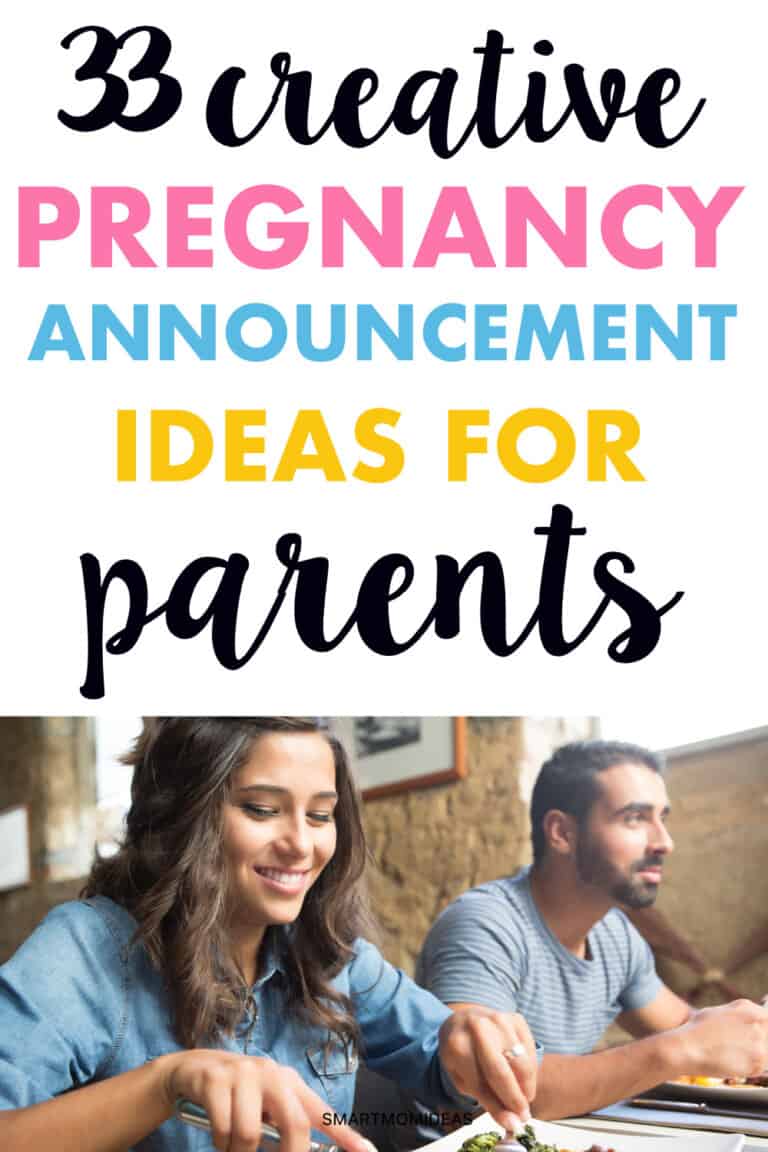 The pregnancy announcement to parents is a milestone that marks the beginning of a new chapter in your life, one that involves growing your family and welcoming a little bundle of joy.
And whether you're planning a surprise reveal or looking for creative ways to share the news, this article is here to guide you through the process of announcing your pregnancy to your parents in the most unforgettable way!
So, let's dive into the world of pregnancy announcements and explore the endless possibilities that will help you create a truly unforgettable moment for your parents.
Get ready to witness their faces light up with delight and see their hearts fill with love and anticipation for the arrival of their grandchild.
Together, let's make this pregnancy announcement to parents a cherished memory that will be talked about and celebrated for years to come!
How to Tell Parents You're Pregnant
When it comes to sharing the incredible news of your pregnancy, there are countless approaches you can take.
Here are a few wonderful ideas that will help you express your love and excitement to your parents in a truly special way:
1. A Personalized Keepsake
Consider gifting your parents a customized onesie or a baby book with an ultrasound photo. This thoughtful gesture will surely bring tears of joy to their eyes.
2. Write a Poem or Letter
Express your emotions through heartfelt words. Write a poem or a letter that captures the excitement and love you feel. Personalize it with details specific to your relationship with your parents.
3. A Small Gift
Surprise your parents with a beautifully wrapped gift that contains a subtle clue or symbol of your pregnancy. As they unwrap it, the realization of your wonderful news will fill their hearts with joy.
4. Family Gathering Surprise
Plan a family gathering or dinner and announce your pregnancy during a toast or a special moment when everyone is together.
Use things like baby carrots or mini muffins to hint at this pregnancy announcement!
Raise your glass and share the news with a heartfelt speech.
Fun Ways to Tell Parents You're Pregnant
Adding an element of fun to your pregnancy announcement can make the moment even more memorable.
If you're looking to bring smiles, laughter, and joy to your parents' faces, consider trying these lighthearted and entertaining ideas.
These ideas will not only create a delightful experience but also leave your parents eagerly anticipating the wonderful journey ahead:
5. Grandparent Survival Kit
Assemble a basket with baby-related items like pacifiers, baby wipes, and a cute onesie. Present it to your parents, and watch their reactions as they piece together the delightful message.
6. Grandparent Gift Basket
This thoughtful gift basket includes sentimental items such as an ultrasound picture, a onesie with a sweet message, and a heartwarming children's book, creating a touching and personalized pregnancy announcement.
7. Guess Who's Expecting?
Organize a family game night and incorporate pregnancy-themed charades or Pictionary. Let your parents guess the hidden meaning behind the clues until the joyous truth is revealed.
8. Balloons Galore
Fill a box with balloons that are either pink or blue (depending on the gender if you know it) and attach a note saying, "Pop the balloons to find out!"
Hand the box to your parents and let them burst the balloons to discover the delightful news.
Surprise Pregnancy Announcement to Parents
Capturing your parents' genuine astonishment and catching them off guard with an unexpected pregnancy announcement can be an unforgettable experience.
If you want to make the announcement a truly surprising moment, here are some ideas that will leave your parents speechless.
These surprising approaches will ensure that your pregnancy news is revealed in a way that they never saw coming:
9. Ultrasound Photo Frame
Prepare a photo frame showcasing your ultrasound picture and wrap it as a gift. Witness their astonishment as they unwrap the present and realize what it signifies.
10. Pizza Delivery
Surprise your parents with a pizza box that unveils the ultrasound photo, symbolizing the "special delivery" of their grandchild. The onesie, hat, and socks add an extra touch of cuteness to the announcement.
11. Fortune Cookie Revelation
Order custom-made fortune cookies with messages like "We're expecting!" or "A grandchild is on the way." Enjoy a meal with your parents and watch their reactions as they open the cookies.
12. Choose Wisely
Playfully present your parents with a box containing various name tags for them to choose from, highlighting the special role they will have as a grandfather. This creative approach adds an element of anticipation and humor to the pregnancy announcement.
13. A Guessing Game
Create a heartwarming and interactive experience by playing the recorded sound of your baby's heartbeat for your parents. Let them listen and try to guess what it is, leading to an exciting reveal of your pregnancy.
Funny Pregnancy Announcement to Parents
If your family enjoys humor and you want to add a touch of laughter to your pregnancy announcement, these amusing ideas are perfect for you.
These comical approaches will not only bring a smile to your parents' faces but also create a joyful and memorable atmosphere as you share your exciting news.
Get ready for some hilarious reactions and precious moments with your loved ones:
14. Promotion to Grandparents
Craft mock "promotion" cards, similar to those used in the business world, with titles such as "Grandma," "Grandpa," or even "Super Grandparent."
Give these cards to your parents and capture their hilarious reactions.
15. Riddles
Engage your parents in a playful guessing game with clever pregnancy riddles.
These riddles will keep them entertained while they try to unravel the exciting news about their impending grandchild.
16. Baby's First Order
Create a custom menu featuring funny baby-themed dishes, like "Pickles and Ice Cream Surprise" or "Diaper Burrito."
Serve it to your parents during a family dinner and watch their puzzled expressions until they understand the delightful news.
17. Grandparent Training Manual
Craft a humorous "Grandparent Training Manual" with amusing instructions and tips for becoming the best grandparents ever.
Present it to your parents, and watch their reactions as they flip through the pages.
Simple Pregnancy Announcement to Parents
Sometimes, a straightforward approach can be just as heartwarming and meaningful when sharing your pregnancy news with your parents.
If you prefer a simple yet heartfelt way to convey your joy and anticipation, consider these ideas:
18. The Bump is Growing
Gather your parents for a casual get-together and wear a t-shirt with the message "The Bump is Growing" or "Coming Soon." Their smiles and hugs will undoubtedly express their joy.
19. Hang On To This
I love this simple pregnancy announcement to parents – it's easy to put together, super cute, and meaningful.
Just add a note to a pacifier, asking the grandparents-to-be to hang onto it just in case.
20. Picture Perfect
Capture the moment by arranging a family photoshoot. While posing for the pictures, hold up a sign that says "Baby on the Way" or simply let your parents discover a baby-related prop or item during the shoot.
21. Grandparent Coffee Mugs
Purchase personalized coffee mugs that say "Grandma" and "Grandpa" or have a baby-related design.
Serve your parents a warm beverage in these mugs and watch their expressions as they realize the significance.
Creative Pregnancy Announcement to Parents
If you're seeking unique and imaginative ways to share your pregnancy news, these creative ideas will inspire you.
These out-of-the-box approaches will help you create a truly memorable and artistic announcement that reflects your personality and celebrates the upcoming addition to your family:
22. Movie Poster Announcement
Create a movie-style poster featuring you and your partner as the stars, with a catchy title like "The Adventure Begins" or "Our Biggest Role Yet."
Present the poster to your parents and watch their delight as they realize the exciting news.
23. Scratch-Off Cards
Craft personalized scratch-off cards with messages like "You're Going to Be Grandparents!" or "Guess What? Baby on the Way!"
Hand these cards to your parents and enjoy their surprise as they reveal the hidden message.
24. Personalized Onesie
This adorable onesie allows your parents to decide what they want to be called as grandparents while emphasizing the joyous arrival of their grandchild.
25. Countdown Calendar
Create a DIY countdown calendar that marks the days until the arrival of your little one.
Decorate it with baby-themed illustrations or photos and present it to your parents as a charming way to involve them in the anticipation and preparation for the new addition.
Christmas Pregnancy Announcement to Parents
Announcing your pregnancy during the holiday season can add an extra layer of warmth and joy to the occasion.
These Christmas-themed approaches will make your announcement even more magical and create a cherished memory for everyone involved:
26. Christmas Ornament Reveal
Choose or create a special Christmas ornament that symbolizes a baby or pregnancy. Present the ornament to your parents and let them unwrap the meaning behind it.
27. Stocking Stuffer Surprise
Slip a small gift, such as baby booties or a pacifier, into each parent's stocking. As they reach inside and discover the baby-related item, their joy will be contagious.
28. Santa's Helper
Dress up as Santa Claus or one of his elves and visit your parents' home during the holiday season.
Hand them a beautifully wrapped gift that contains a baby onesie or a sonogram picture, and watch their faces light up with joy.
29. Grinch Gift Basket
Create a heartwarming Christmas-themed gift basket for your parents.
Fill it with festive items like a Grinch onesie, ornaments, a picture of the ultrasound, and a sign displaying the quote, "Maybe Christmas…perhaps…means a little bit more."
This thoughtful arrangement will not only spread holiday cheer but also serve as a delightful surprise when your parents discover the true meaning behind the gift.
DIY Pregnancy Announcement to Parents
If you enjoy a hands-on approach and want to add a personal touch to your pregnancy announcement, these do-it-yourself ideas are perfect for you.
From crafting unique keepsakes to designing customized surprises, these DIY approaches will allow you to showcase your creativity and create a heartfelt announcement that truly reflects your love and excitement.
Let your inner artist shine and create a special moment your parents will treasure forever:
30. Handcrafted Card
Design and create a heartfelt card from scratch. Use your artistic skills to incorporate baby-related elements and write a heartfelt message inside to share the exciting news with your parents.
31. Customized Puzzle
Purchase a blank puzzle and write the announcement message on it using markers or paints.
Disassemble the puzzle and gift it to your parents, encouraging them to put the pieces together and reveal the surprise.
32. Customized Picture Frame
Purchase a plain wooden picture frame and decorate it with baby-themed stickers, paint, or markers.
Insert a photo of your ultrasound or a cute baby-related quote. Present this unique and personalized frame to your parents, and they will cherish it for years to come.
33. Memory Jar
Create a beautiful memory jar by filling a decorative glass jar with small, folded notes.
Write down special moments or memories that you look forward to sharing with your parents as grandparents.
Invite them to pick a note from the jar, and their smiles will grow as they realize the significance behind it.
Unforgettable Pregnancy Announcements that Celebrate Love and Excitement
Announcing your pregnancy to your parents is an extraordinary milestone in your journey toward parenthood.
By using these creative and heartfelt ideas, you can make the moment even more memorable and share in the joy and excitement with your loved ones.
Remember, the most important thing is to express your love and happiness as you embark on this incredible new chapter together.
Congratulations and a happy pregnancy announcement!
Now it's your turn – Have you ever announced a pregnancy to your parents? What creative ideas did you use or would you like to try? Let us know in the comments!