Find some amazing Christmas pregnancy announcement ideas!
Are you secretly pregnant?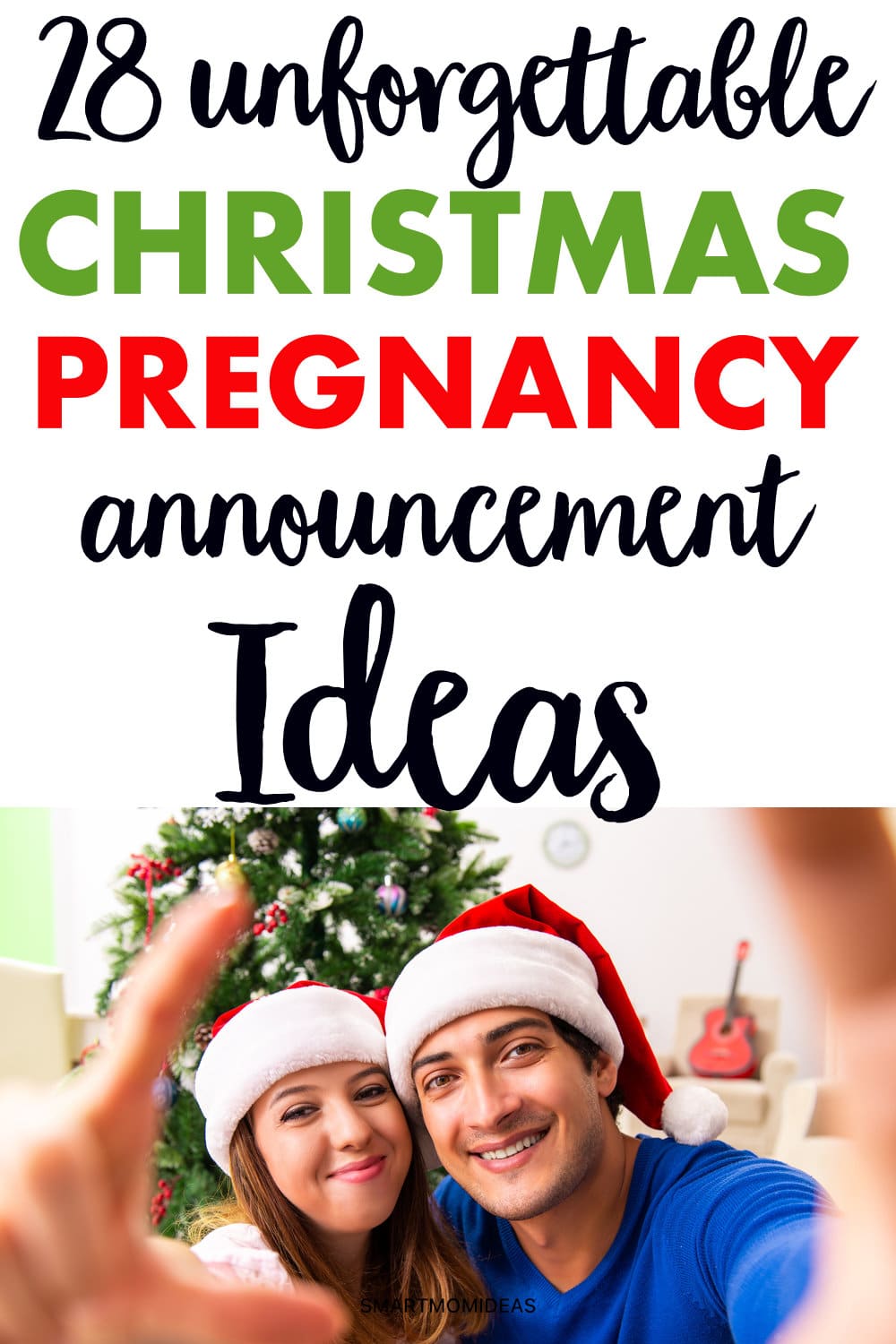 No one knows but you want to tell them?
There's no funner time of the year to announce your pregnancy than during the Christmas holiday!
While there are many fun themes that you can do throughout the year to announce your pregnancy, the holiday season offers so many different opportunities for fun and unique Christmas pregnancy announcements.
If you have been searching for the perfect baby announcement ideas for this Christmas, then I got you covered.
I've compiled lots of adorable pregnancy announcements to help reduce everyone's stress this holiday season and bring much-needed joy to the holiday.
1. Santa Baby
Use the lyrics to the traditional song, Santa Baby, to announce that you will be adding a new addition to your family this coming season.
Using a letter board is a great way to personalize this fun announcement.
There are a ton of different ways to make the announcement using a letter board as the centerpiece.
Include things such as a picture of the ultrasound, baby booties, or a fun little holiday onesie.
2. "We're Pregnant" Ornament
Give a gift with a little extra surprise with this "we're pregnant" ornament.
Whether you are giving this to your parents, in-laws, siblings, or friends, they are sure to be over the moon when they receive this holiday ornament.
3. Little Present
It's always nice to include the baby's first picture when you are giving the big news to your friends and family. This ornament set includes two, heart-shaped ornaments. One with your little bundle's ultrasound picture and the other with a cheeky little saying.
4. Santa's Promoting Me
If you already have a child, a cute way to go about your Christmas pregnancy announcement is to get a t-shirt for your little one to wear. Everyone at your Christmas get-together will be surprised by the news that your little guy or girl brings to the party.
Besides, only the best brothers and sisters get promoted to being a big brother or big sister.
5. On Backorder
If you would prefer to be the one making the big announcement, then consider a shirt with a fun saying on it like this one. If you choose to wear this to your holiday dinner for a big reveal, be sure that you have a nice shawl to cover your shirt until you're ready to see their shocked faces.
6. Dear Santa
You made a list for Santa and he checked it twice. While he might not be delivering it on Christmas, he listed! Grab a sidewalk chalkboard and include your Christmas list to Santa.
You could do this with either mom and dad or with younger siblings.
7. Recipe for Baby
Food-related pregnancy announcements are always fun to do.
With this Christmas pregnancy announcement let everyone know that you are cooking up more than just delicious cookies this season.
You can even add to this pregnancy announcement by including mom and dad in the photo surrounded by some baking supplies. Have fun with it!
8. Festive Wreath
Just like with the letter board signs, a super-easy way to announce your pregnancy this Christmas season is to get a personalized onesie with a cute saying, surrounded by Christmas decorations.
In this particular announcement, the onesie is perched atop a seasonal, light-up wreath.
9. Oh Baby
Back to our baking theme. Get in that kitchen with your man and get to baking.
Whip up some cookies that show you are going to be welcoming a little bundle of joy. Just like these letter cookies that spell out "oh baby."
10. A Sweet Kiss
Just looking to do something simple and sweet for your Christmas pregnancy announcement? Grab a cute little holiday outfit and give your guy a kiss.
You can include this simple picture in your Christmas cards, post it on social media, or add it to your yearly holiday letter that you send out to your family.
11. "Ho, Ho, OH!"
Everyone will get a good laugh out of this pregnancy announcement this holiday season.
Whether it's your first or fifth child, this is a unique way to let everyone know that you are expecting a new addition to the family soon.
12. Naughty Elf
Everyone gets a kick out of hilarious Elf on the Shelf ideas. So why not mix the two and let your naughty little elf announce your pregnancy?
While the pregnancy tests are a great touch, you can also include things like diapers and other novelty baby items.
13. Knock your Stocking Off
How many stockings will you be hanging up next year? Give your friends and family some news that is going to know their socks off; or stockings in this case.
You can either take this picture by your fireplace or put the stocking outside as this couple did.
14. Elf on the Shelf Ultrasound
Those naughty little elves are always up to no good. But this time their cheeky little smiles tell it all. Prop them up with an ultrasound photo and mom and dad in the background for a sweet photo you can share with all of your friends and family.
15. Baby Elf on the Shelf
If you are going for an Elf on the Shelf-themed Christmas pregnancy announcement, then why not just get a baby elf?! These adorable little guys tell it all.
16. Late Arrival
If you are getting something special for the soon-to-be grandma or grandpa, try this fun idea. Put a special message inside of an egg for them to crack open to reveal the big news.
17. Merry Christmas Ultrasound
This holiday pregnancy announcement is going to take a bit of photo editing on your part. You can easily do this by uploading your ultrasound photo to a free software like Canva.
Add some holiday text and a Santa hat (or two if that's the case) for a surprising announcement.
18. Christmas Card Announcement
If you send out a Christmas card every year, this is a great opportunity to make the announcement of your pregnancy to all of your friends and family.
19. Not so Happy
Some of the best pregnancy announcements are those that include older siblings crying about the news. It's always funny to see the reactions of your older children when you tell them that you're adding a new addition to the family.
Either put their reactions on a Christmas card to send out or post it on your social media. This announcement includes the funny saying, "We've all been a little naughty this year…"
20. Snowman Family
Get outside and build yourself a snowman family. This pregnancy announcement is another one that works well if you already have one or more children.
You can either label the snowmen in some way or include a little addition between mommy and daddy.
Better yet, you can figure out a way to actually make the mamma snowman look pregnant! Get creative with it.
21. Visit Santa
Get Santa in on the announcement with this fun idea. He is sure to be just as surprised as the rest of your friends and family with the big news.
22. Dear Santa
You're sure to be on Santa's naughty list this year.
This is another fun way to get the big guy included in on the fun of your holiday pregnancy announcement.
23. Who's Bigger?
If you are going for a fun-themed Christmas pregnancy announcement, then consider this one.
Grab the big guy and have him compare bellies for a cute photo.
24. Belly Painting
Belly paintings on pregnant women are so beautiful.
Celebrate the beauty of the life you are carrying with this belly painting pregnancy announcement idea. From snowflakes to snowglobes, there are lots of creative ways to paint that beautiful belly for the holidays.
25. Baby Booties
Just holding a pair of baby booties in your hands with a light and festive holiday background is a simple way to announce your pregnancy. While there are lots of holiday-themed baby booties to choose from, these Santa ones will be perfect for this!
26. Wrapped with a Bow
If you are already far enough along where you are noticeably pregnant, then wrap that belly up with a bow! Your family won't get a better gift than your new baby this holiday season.
You can add other holiday-themed items to the photo, such as candy canes, or booties.
27. Just Booties
You don't necessarily need holiday baby booties for this pregnancy announcement. Just grab the cutest pair of booties that you can find and put them in front of a great holiday background. You can easily do this with some ornaments and Christmas lights. You can also include some ornaments with the due date in the mix as well.
28. Christmas Silhouette
If you already have your Christmas tree up, then take a stunning picture in front of it to announce your pregnancy.
You can achieve this by turning on just the Christmas lights on your tree and turning off all of the other lights.
Have your mean kneel down and kiss your belly to make a beautiful silhouette of the two of you.
Have Fun With Your Christmas Pregnancy Announcement!
Picking the perfect pregnancy announcement can be nerve-wracking.
It's something that you want to do right the first time.
Choose from any of these amazing Christmas pregnancy announcements to celebrate with your friends and family this season.
Here are more ideas:
If you need more help during the holidays during pregnancy check out my budget post before you have your baby!