Wonderful and thoughtful first grandchild announcement ideas!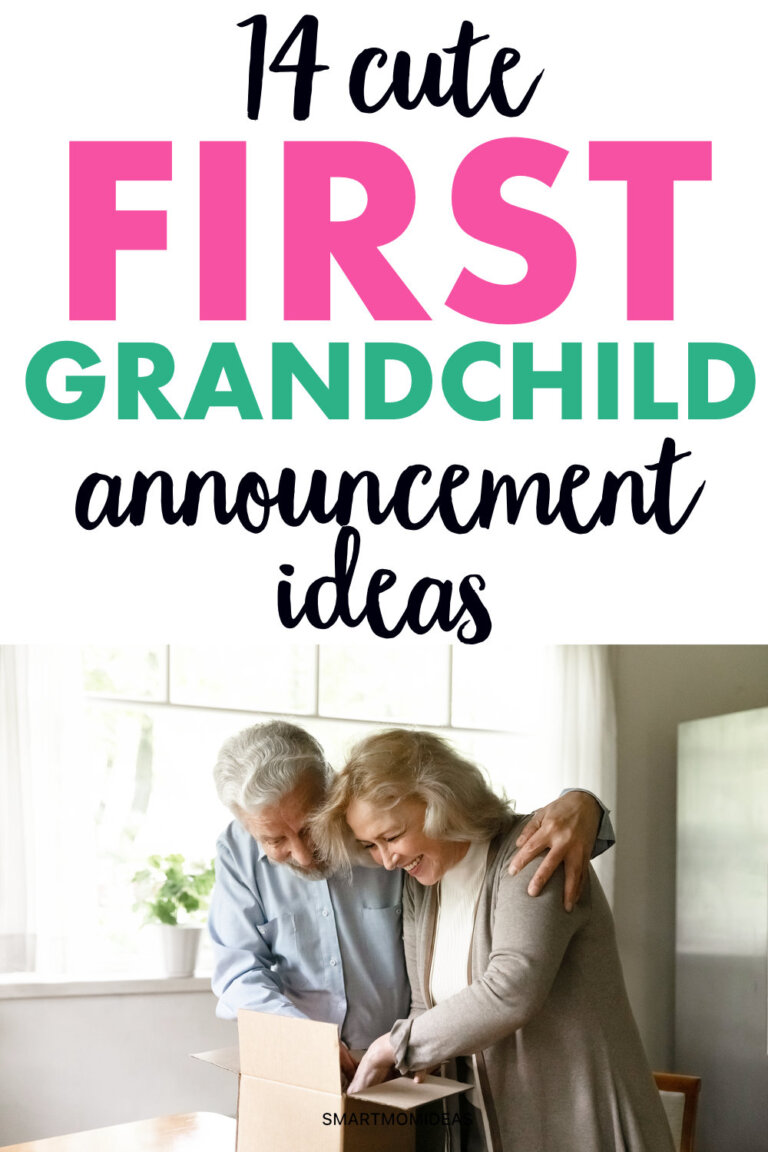 Congratulations on becoming a grandparent!
We hope to inspire you with these
First grandchild announcement ideas.
We searched the internet and found some of the best new grandparent announcement ideas for proud Nanas and Papas.
Of course you'll want to share this exciting time with everyone you know.
Whether you are looking for a cute and fun way to share this announcement on social media or with traditional greeting cards there's no shortage of adorable ways to share about a new addition to the family.
Many of these announcements can be used to let your parents and in-laws know that they are going to become grandparents as well as announcements they themselves can share.
How Do You Announce the Birth of Your First Grandchild?
When you find out you're going to be grandparents, you're going to want to shout from the rooftops to everyone you know about this wonderful new surprise. However, before you start posting all over Facebook and texting everyone you know oh, you sure you have permission from Mom and Dad to make the announcement.
They might give you the privilege to be the first people in on this amazing secret, they might not want to share it with the world just yet.
Creating a post on social media is certainly one of the easiest ways to make this announcement. You want to be sure that it is something special that is going to stand out.
Also, it is still nice to be able to send out traditional paper announcements.
Not everyone is on social media all the time and getting that extra little something in the mail can really brighten somebody's day.
When to Make a First Grandchild Announcement
Again, this should be something that you discuss with Mom and Dad. Announcements of your first grandchild can take place long before the baby is born, or through a traditional birth announcement after the baby is born.
14 Cute and Thoughtful First Grandchild Annoucement Ideas
Let's get into it!
I'm just excited about this new baby as you are!
1. Hello World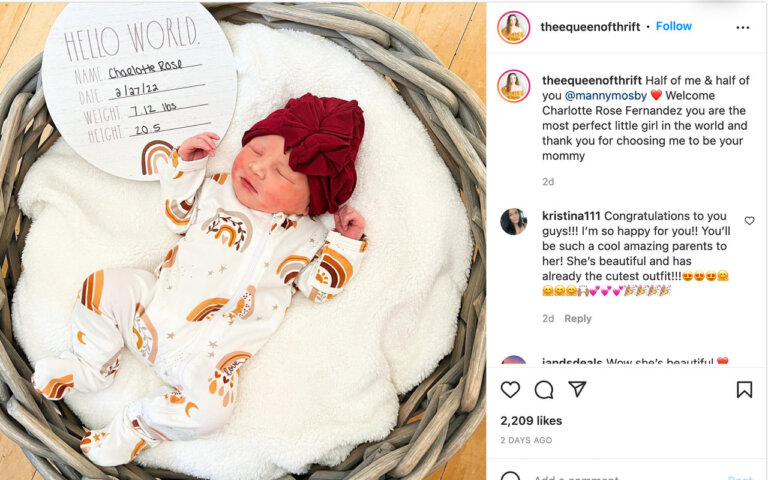 Of course some of the best brith announcements for grandparents include pictures of the baby!
Show off that adorable bundle of joy (preferably in an outfit that you bought for them) like The Queen of Thrift did!
This announcement is easy enough that you don't need a professional photographer, just an oversized basket, a cozy blanket, and a little birth announcement sign. You can always opt for a matching outfit and sign too!
2. Coming Soon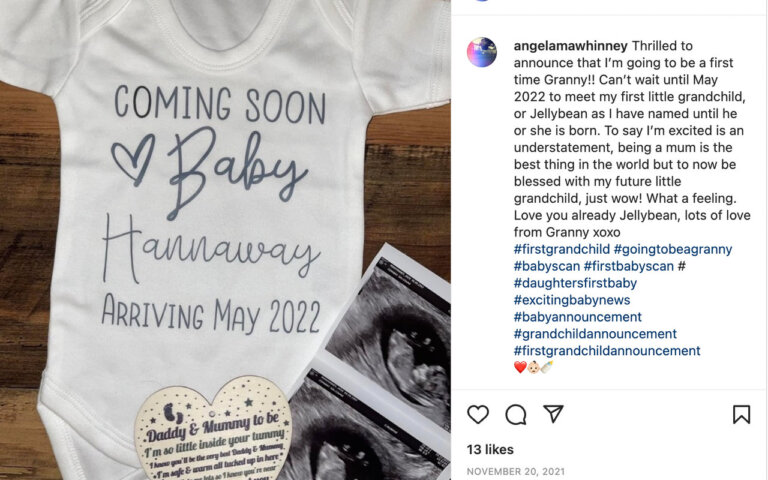 You can never go wrong with a "coming soon" grandparent announcement.
There are lots of different ways to put together a "coming soon" birth announcement to tell the grandparents about their first grandchild.
Of course you have to include a custom onesie.
You can also include a cute pair of booties, a little hat, and even a copy of the ultrasound pictures. Think of how excited your parents will be when they realize they will be welcoming this special new addition to the family.
3. Promoted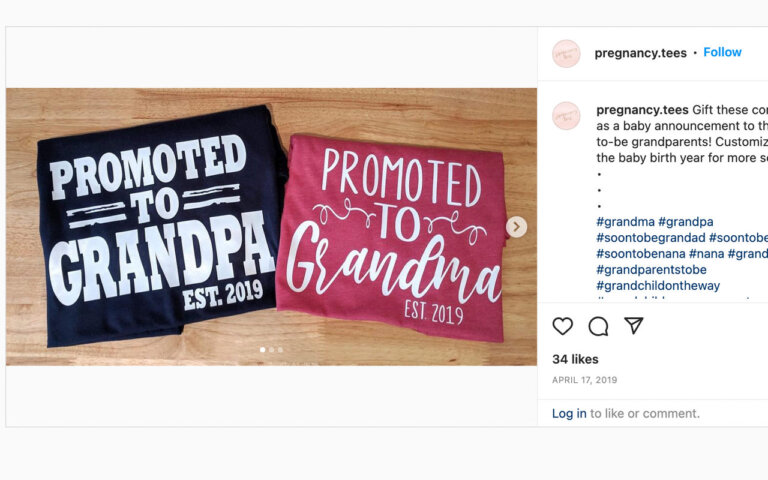 As the saying goes, all the best parents get promoted to grandparents.
Be sure that everyone knows that your parents are being promoted to the coveted grandparent position with these adorable shirts.
A cute way to do this first grandchild announcement to share with others, would be to have them wear the shirts and stand next to the expecting parents. Of course you should have some fun with it too!
Check out some of the available options for "promoted to grandma" shirts here.
4. You're Going to Be Grandma
The ultrasound is the baby's first picture.
Surprise grandma and grandpa with this beautiful frame that also doubles as a birth announcement.
There are plenty of options on Amazon and Etsy to choose from.
Then when it is ok to share the news with the world, they can simply snap a picture of the frame and share it with everyone they know.
5. Christmas Ornaments
If your parents are expecting their first grandchild right around Christmas, then celebrate this special season and the new arrival with a beautiful, handmade ornament.
While there are sure to be more grandkids and more Christmas' to come, there is something truly special about the first one. You can certainly bet that there are going to be a lot of presents under the tree this year!
6. Grandma and Grandpa Est. Mugs
Not a day goes by that your parents aren't enjoying a cup of coffee in the morning together.
This mug is not only a functional gift, it will remind them of how special becoming a first time grandparent is.
7. Lottery Tickets
It's going to feel like they won the lottery when they scratch off this ticket and actually read what's on it.
This is a fun card to give to the expecting grandparents of their first grandchild, or anyone really you want to tell about your pregnancy in a fun and unconventional way.
They're sure to get a kick out of it.
8. Bottle of Wine
9. Grandma's Sign
Grandma is sure to have a lot of pictures of her new grandchild.
Make sure that she has a place to hang them with this adorable wooden sign. While it's not technically an announcement, it is a great way to drop a pretty big hint.
You could even include some ultrasound pictures on the board to start with.
10. Funny T-Shirt
How often do people actually pay attention to what other's are wearing? Not often.
Make a big surprise with one of these pregnancy announcement shirts. Wear it with a sweater over the top and wait for the perfect time to make the big reveal!
Many of these shirts are funny and are sure to give grandma and grandpa a big surprise.
For more pregnancy top ideas, check out my post here!
11. Keepsake Box
You really can't be more direct about telling your parents you're pregnant than by giving them the actual pregnancy test.
This keepsake box is a beautiful way of giving them a stick that you peed on (just be sure to clean it first!)
They are sure to be over the moon when they open this box and are met with such a big surprise.
12. Grandparent Puzzle
Make them work for the news with this wooden puzzle.
With only 15 pieces, they'll be able to easily put it together and will be so excited for the good news.
To make it even better, have them put it together upside down and then turn it over.
13. Ice Cream Spoons
Planning on telling your parents about the big news over dinner?
Wait for dessert and hand them a big bowl of ice cream with these spoons tucked inside.
They'll forget how good the ice cream is when they finally realize what is on the spoons!
14. Grandparent's Name Book
Of course picking a name for your new baby is hard, but what about picking a name for the grandparents?
While other grandparents might be fine with being called the traditional "grandma" and "grandpa," your parents and in-laws might want to do things a little differently.
Some families choose to pick grandparents names based on heritage or might want something a little more playful (especially if they are on the younger side).
Be sure to help them pick a name that is going to suit them that they are ok with.
Cute First Grandchild Announcements
Be sure that grandma and grandpa-to-be are just as excited as the mom and dad to be with these cute and thoughtful first grandchild announcement ideas.
For more pregnancy announcement ideas, check out these blog posts: