Ready to surprise hubby with the big news? Choose from these 20 cute pregnancy announcement ideas!
Congratulations, mama.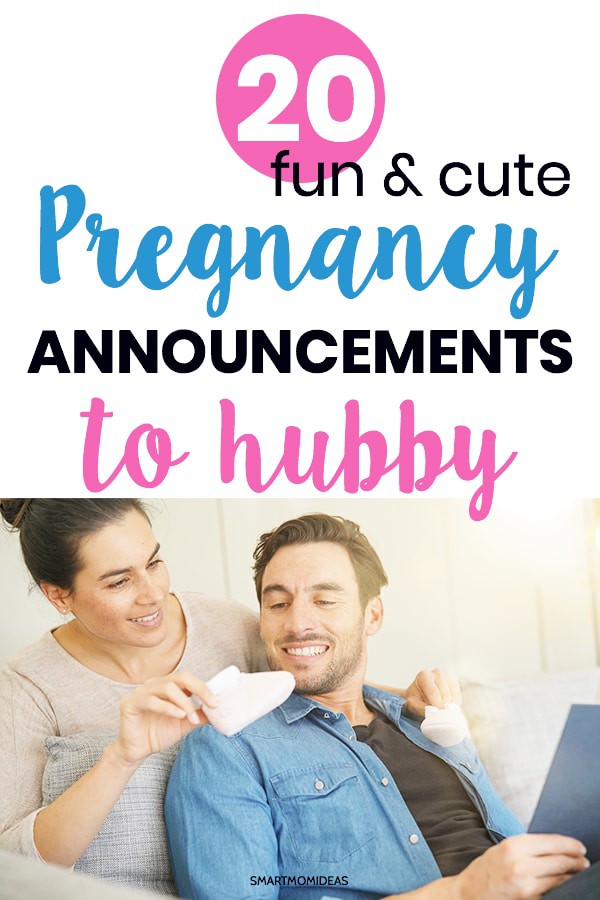 You're pregnant!
But how do you deliver this awesome news to your husband in a fun and exciting way? Your baby is a special gift to you and your husband. And this is a formal occasion.
I remember like yesterday finding out that I was pregnant.
And on top of that, discovering we were having twins was one of the most memorable and exciting moments I shared with my husband.
For us women, our not so pleasant morning sickness and missed periods are the typical indicators that we're expecting a baby.
But for our hubbys…not so much.
We get to spring the news on them. And there are endless ways to get creative about how we tell them!
Don't want to take a pregnancy test while waiting it out with him at your side?
I don't blame you! The element of surprise is key for such a time as this. Check out these 22 ways you can surprise him!
Pregnancy Announcements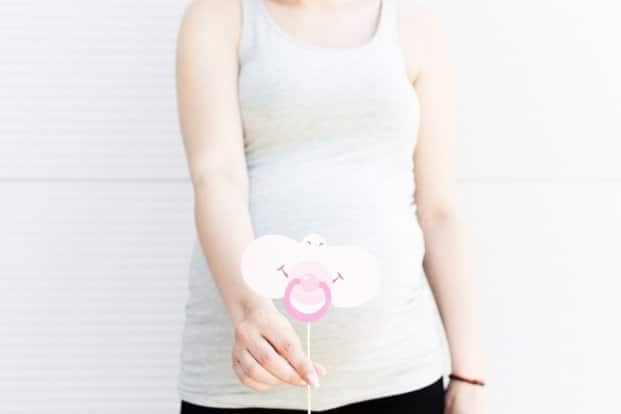 1. Feed It to Him on a Spoon
This spoon is so adorable! Here are a couple of ideas for how you can use it to share the news:
#1 Position yourself for him to catch you eating a bowl of cereal using this spoon in the morning.
Call him over to ask him a question (make sure he gets close enough to read it). Hint: This is less likely to work if he is in a hurry or if he doesn't eat breakfast with you.
#2 Go out to eat together (make sure to bring the spoon!)
Order ice cream or some other food that can be eaten with a spoon.
Find an excuse (planned phone call, wash hands in the restroom…) to get him away from the table long enough for you to slip the spoon in his utensil napkin.
He'll find it when he reaches for his spoon the restaurant should have given him. You gotta be good at being sneaky though. 🙂
2. Fun Pregnancy Scratch Off Card
He'll love this card! You'll have his interest right off the bat.
It reveals the exciting news of your pregnancy while also letting him know how much he means to you!
3. Coffee Cup Reveal
Give him the biggest surprise ever along with his morning coffee.
He won't suspect the news to come by way of a plain white mug. But once he sips his coffee to the bottom, he'll be ecstatic.
Enjoy every moment as he stares at you in shock!
4. "You Make Me Nauseous" Card
This card is a creative way to poke fun at your nauseousness. It'll keep him guessing for a second.
Then when it sinks in, he'll realize that since you bought the card, you probably already know you're expecting.
5. The Chocolate Reveal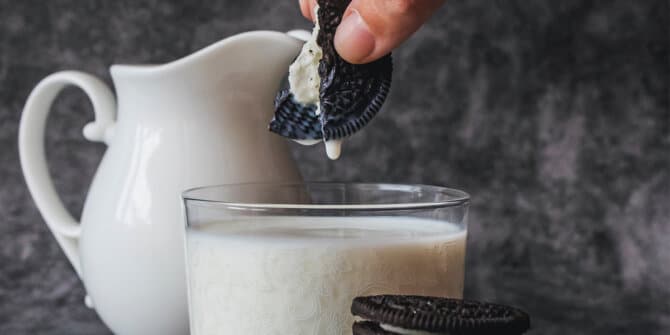 Does he love sweets? He'll love this edible, memorable pregnancy announcement and the thoughtful way you delivered the news to him.
Every bite will remind him of the moment he found out you are pregnant and all the precious moments that are ahead.
6. CupCake Display
Bake up a lovely presentation for him. After you baked a batch of yummy cupcakes, paste on blue and pink frosting. Put them into a bakery box. Create a sign that says "We're expecting!" or "I'm Pregnant!"
When he lifts up the lid, watch his mouth drop open.
7. Hide the Announcement
Hide your pregnancy test inside of an empty baby bottle and place it slightly hidden in the refrigerator.
Send him to the fridge to get something for you or for himself.
It should be a specific item you've already placed near the baby bottle. The key is to make him spend 10-20 seconds looking for it.
Plan on having your hands full so he doesn't give up looking and ask you to come find it.
Note: This works best if you're expecting your first child or if your other children are too old to use baby bottles.
8. Scratch Off Card
Is your husband a big lotto player? If you're not (but he is), it's even more perfect. Turn to him and ask him if you won. He'll love this. This is a fun way to do a group pregnancy reveal involving your husband. These look like real lotto cards!
9. Homemade Pizza Reveal
Edible pregnancy announcements are so cute to me! That's why I love this homemade pizza idea. You can spell out the message using the meat or other toppings.
It can say anything from "I'm pregnant!," "Baby coming next summer!," or "We're gonna be parents!"
10. 2 Hearts Beating for You
There's something so special about the imagery and reality of his little baby's heart beating even before you begin to "show."
Mama and baby's heart is beating just for dad. Place the card directly in front of a bunch of red roses you've placed in a vase.
This will warm his heart.
11. Photo Bombing
I found this to be very unique, and by far the most creative. How will you or your husband ever forget this moment when you capture it all on photos?!
Photos are a fantastic way to tell all your family and friends the amazing news.
12. Football Reveal
If your husband is a big football fan, why wouldn't he love this!? You'll score big in his book because you incorporated his favorite sport and because the ball is an excellent keepsake!
13. Pregnancy Reveal Keychain
Sneakily slip this beautiful keychain on his keyring. It won't take him long to recognize something is different. And when he does, he'll be calling you to scream in your ear! So be ready!
14. Mommy Cup
"Hello, my new name is Mommy" is a super cute way to share the good news. It won't be long before he realizes he's Daddy-to-be!
15. Doggy Tells All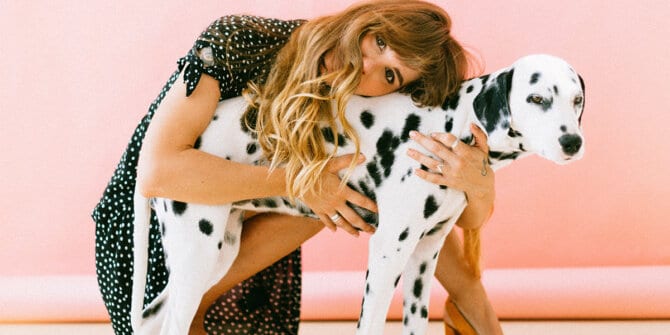 Create a sign that says "You're a Daddy!" on a normal size firm poster board paper.
Put one whole punch at the top of the poster board. Then stream 3 balloons through the hole and tie it to your dogs collar. Tape the poster board to the balloon strings.
This is a cute way to get your pets involved.
16. Nail Art
Nail art can be used for both gender reveal announcements and a pregnancy reveal for your husband.
This is a more subtle and indirect approach. You can do both pink and blue colors since it's too early yet to determine your baby's gender.
17. Welcome Home Pregnancy Board
Are you creative, craftsy, and really want to tug at his heartstrings?
Create this welcome home board that says "Welcome home Dad! Can't wait to meet you! Baby [insert last name] coming [insert due date month]."
You can decorate the board with a baby onesie, a pacifier, and a couple other baby items. 🙂
You can make this announcement in your home.
Or, if your husband works and spends time away on work trips, you can hold up this board as you welcome him home from the airport!
18. Nursery Under Construction Announcement
This is downright a-d-o-r-a-b-l-e! This will bring out the excitement in him for sure!
You can even buy baby's first onesie and a couple of other items baby will need and place them in the room.
When he walks in, seeing baby's actual belongings might be a tear-jerking moment for him.
19. Preggers Shirt
The Preggers (short for pregnant) shirt is super cute. He'll probably pop the jaw-dropping question, "You're pregnant?!"
20.Baby Food Theme
Now here's a unique way to announce your pregnancy….
"My husband and I have been trying for a baby for just over a year now. When I finally get to tell him that he's going to be a daddy, I'm going to make him dinner, but everything is going to be 'baby.' Lamb chops, baby carrots, baby potatoes. I'm going to ask him if he tastes a theme? He'll get the picture!" —Heather
You can hint it off and keep him guessing as he chews his food. 🙂
Get the Support You Need for Your First Pregnancy
Announcing your pregnancy to your husband is such a fun time and a great memory. But, to help you and your husband get ready for baby, it's a great idea to take a prenatal class.
Nowadays, online childbirth classes are the norm and with COVID going around, it's probably best to take an online prenatal class. Hilary's Prenatal Class for Couples is the perfect choice for new pregnant moms.
This online class is for every type of mom from high-risk pregnancies to vaginal births or Caesarian births and more. Sign up today!
Take Your Pick and Surprise Him!
I'm excited for you, mama!
Pick one of these cute pregnancy announcements your husband will love! If you can, make sure to capture the moment on camera and store it with the rest of your family videos.
You'll have fun looking back years down the line at how excited he was.
Check out even more ideas:
This is such an exciting time for you and your husband, so go big! Make your pregnancy reveal fun and memorable. Your best years are still ahead of you, mama!
Now it's your turn! Can you think of any other cute pregnancy announcement ideas that weren't listed above? Let us know in the comments below.
Don't forget to pin me!