Get a laugh with these funny pregnancy announcement ideas!
While sweet and posed pregnancy announcements are all well and good, they are so overdone!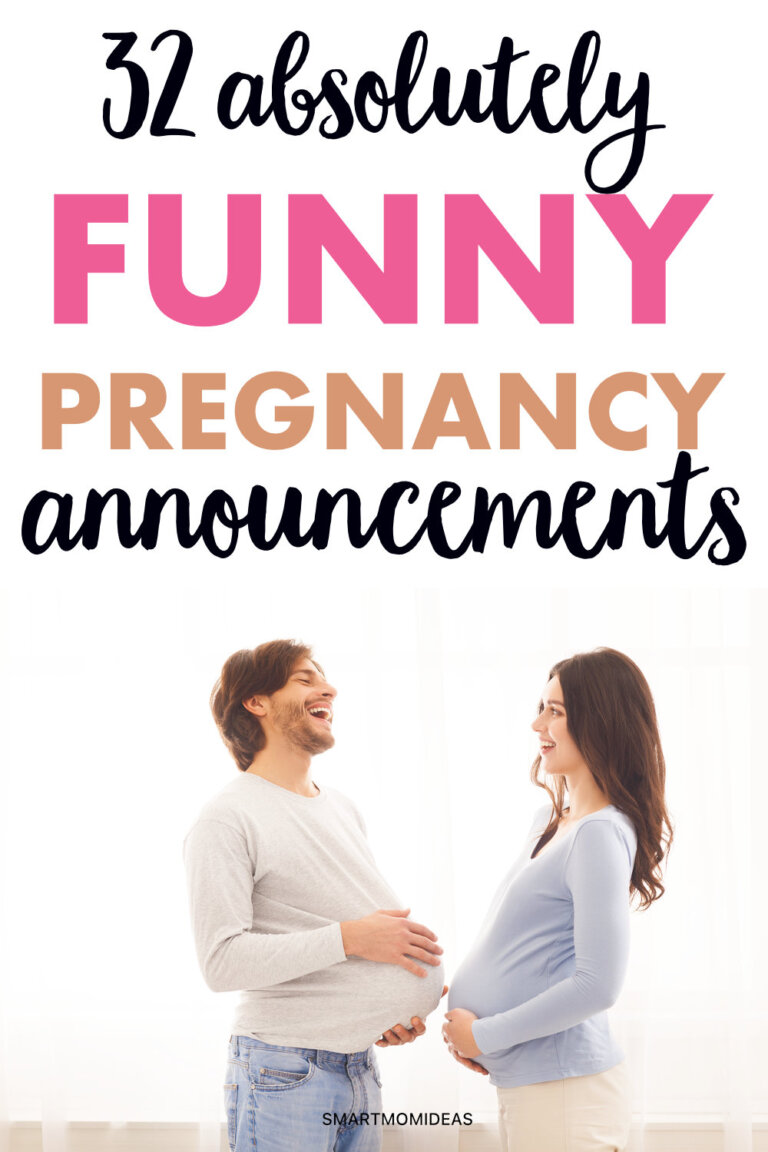 Opt for a funny pregnancy announcement idea that will have your friends and family rolling on the floor.
Doing funny pregnancy announcement ideas are always a good time for mom and dad-to-be and the rest of the family.
This is a great way to get creative and have a ton of fun in the process.
You can get older children, your cousins involved, other family members, and even pets!
There are plenty of funny pregnancy announcement shirts available to base your funny pregnancy announcement on or spell out something creative on a letterboard.
Whatever you decide, just make sure you have fun with it.
So let's get on with the laughs and the giggles, just be sure to cross your legs when you do!
Here are some fun pregnancy announcement ideas for you!
32 Funny Pregnancy Announcement Ideas You Have to See
1. Movie Poster Pregnancy Announcement
I have to admit, I hadn't seen these types of pregnancy announcement ideas until recently, and I LOVE THEM!
For any couple that shares a favorite rom-com classic, these movie poster pregnancy announcement ideas are sure to be a big hit!
From funny takes on "Friends," "Back to the Future," and "Meet the Parents," there are a ton of hilarious and adorable options to choose from.
This is also a great choice if you would like to include your older kids in the mix as well.
Not only is this a great way to announce your pregnancy, but you can also have it printed in a poster size to hang in the baby's nursery for a cute memento.
2. Who Needs Sleep?
Announce your little bundle of joy coming with this funny pregnancy announcement.
Every parent knows they need to appreciate the times without children.
Being able to sleep in as long as they want, going out and doing whatever they want on a whim. Well that all ends once the baby comes, so make some time to enjoy it now!
Don't forget to grab one of these cute letter boards to display your announcement!
3. Pregnant or Just Fat?
However you put together your announcement, this shirt is sure to make people laugh.
It's a great pregnancy announcement shirt for the mommy-to-be to wear out and about or for an announcement photo. A good way to pose this idea as eating from the fridge or snacking in bed.
4. Getting Fatter
It's totally normal to gain weight and have strong and weird cravings during pregnancy. Everyone knows this. Make your announcement with the foods you are craving and your head in the fridge, cuz that's where you're going to find yourself often! Besides, you're eating for two now!
5. I Miss Wine
We feel your pain mama!
For the mother who loves to enjoy a glass of wine after a long day at work, you'll have to find other ways to unwind for the next 9+ months.
While she would never waste a good bottle of Cab, a funny way to make this pregnancy announcement would be standing at the sink, crying, pouring the wine out wearing this shirt.
(You can use grape juice as a substitute also if you don't want to buy wine just to waste it)
6. That was Unexpected!
Whether it is an unexpected pregnancy or just an unexpected baby or two, this simple but funny pregnancy announcement will have everyone laughing and feeling bad for you at the same time!
This works especially well for multiples that might have been a bit of a surprise.
7. Make Dad do the Work!
Why does the woman have to do all the hard work?!
This pregnancy announcement is great for a couple who is always making people laugh.
Dress dad up in some of mom's clothes and give him a belly to carry around for a bit.
A great pregnancy announcement for a dad with a sense of humor.
8. Candy, Baby, Beer?
Make sure everyone gets to show off their bellies with this funny and adorable pregnancy announcement.
Take big brother or sister, mom, and dad and label their bellies.
You can choose all sorts of things for big brother or sister, like goldfish, milk, or candy.
Of course, mommy's will be labeled baby, and dad, well, it's most likely beer. If not, there are plenty of snack ideas to choose from.
9. The Last One

We all know that couple who said the last one…was their last one.
And of course, everyone has to ask them a thousand times if this baby is going to be the last one.
A great way to make an announcement with this shirt is to have all of your older children gathered around you causing a bit of chaos, because that's how it really goes isn't it?
10. Morning Sickness Sucks
Unfortunately some moms experience morning sickness in the first trimester or throughout their pregnancy.
While dads on the other hand get to glide through the next nine months with their heads out of the toilet and feeling great, at least physically that is.
All of his dad friends are sure to get a kick out of this funny pregnancy announcement.
11. Eviction Notice
If your baby's are pretty close together in age, then this eviction notice funny pregnancy announcement is sure to bring a smile to everyone's face, except for the big brother or big sister.
While they might have lots of things to cry about, becoming a big brother or sister shouldn't be one of them.
Don't forget to attach a picture or the little bean to the notice!
12. Nauseous and Can't Eat
There are a whole host of amazing changes that your body goes through during pregnancy.
Most of them are not very pleasant.
While some moms can't get enough to eat, others can't eat due to never-ending nausea.
Another great use of the letterboard.
13. Little Pumpkin in the Patch
Planning your pregnancy announcement right around Halloween?
These funny pregnancy announcement shirts are perfect for the fall season.
While mom is growing a human, dad's belly is filled with pizza, beer, and probably candy.
Whether it's monsters or skeletons, you're sure to have everyone howling with excitement over the news!
14. Tested Positive
Of course we had to throw in a cheeky Covid related funny pregnancy announcement. This kind of testing positive is not a bad thing! Of course, don't forget to include your positive pregnancy test with this adorable and funny pregnancy announcement.
15. A Child is Coming
If mom and or dad are big fans of Star Wars and the Mandelorian, then they would for sure enjoy this "child" themed funny pregnancy announcement.
The Child in the Mandelorian, or as so many loving call him, baby Yoda, is here to announce to the world that "A Child is Coming!"
16. Babies are Friends, Not Food
If your fur baby was your first baby, then this is sure to be a winning funny pregnancy announcement!
Get Fido involved in the announcement with this cookbooked wrapped in a faux book cover.
While you might not have to worry about your pooch eating the newest family member, they are sure to make a great big brother or sister to the new addition.
17. Cheesy Pizza Puns
Having a get together with family members that you want to make the announcement in a subtle way?
Everyone will be taken by surprise when they flip open these pizza boxes.
18. Anime Belly
While mom-to-be might let dad name the baby after his favorite anime character, she's a good enough sport to play along with his silly anime pun.
19. Superheroes and Princesses
Every superhero needs a sidekick and every princess needs a prince.
This funny pregnancy announcement is a great way to bring big brother or big sister into the mix.
Just grab a handheld chalkboard and some colorful chalk to make this adorable announcement shine!
20. Loading 50% Complete
Whether you are halfway through your pregnancy or have just started, this simple and funny pregnancy announcement is sure to bring smiles to your loved ones faces.
Simply paint or draw on what percentage you have made it through the pregnancy and snap a quick photo.
21. Player 2
There are plenty of dads out there who are fans of the classic Mario game.
If dad is looking forward to bringing a new player to the game, then this makes the perfect funny and cute pregnancy announcement. You can either dress dad or the kids up as the other video game characters.
22. I Got Lucky, I Got Pregnant
If you are planning on announcing your pregnancy around St. Patrick's Day, then these matching shirts are sure to bring you the luck of the Irish.
A fun way to announce your pregnancy if you are planning on a family outing with your loved ones.
23. Big Belly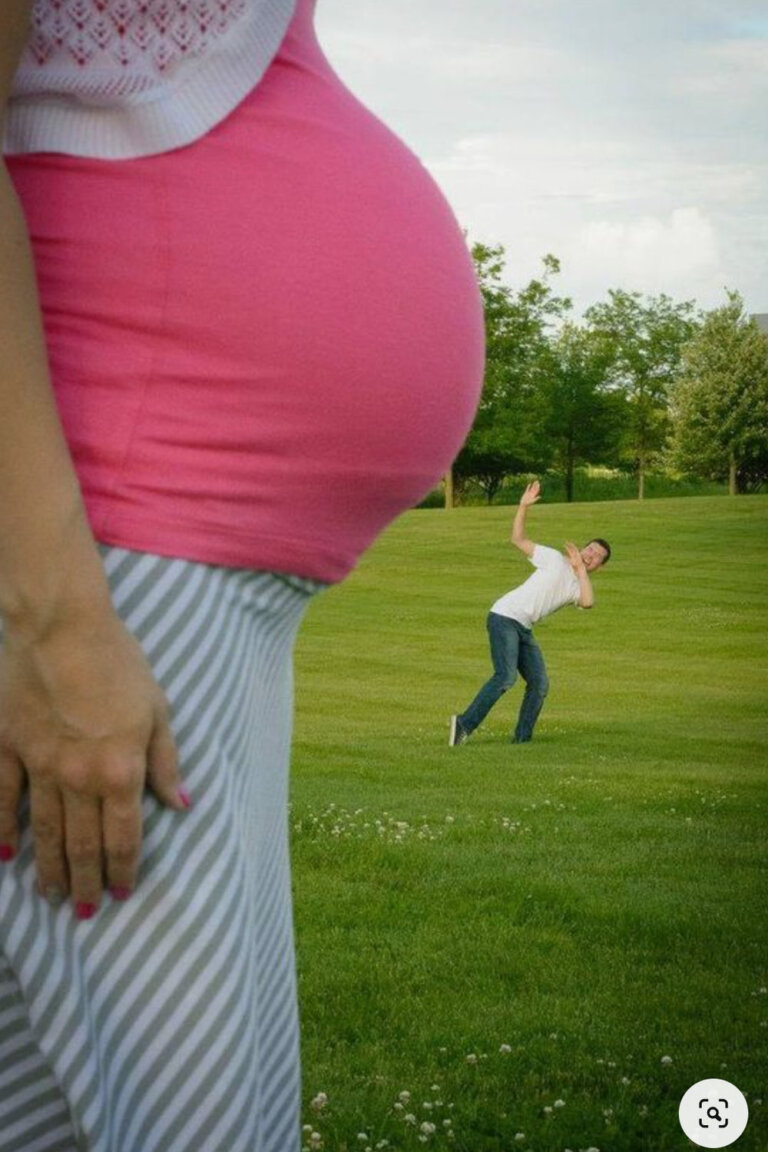 Play with some fun photography and make it look like your big baby belly is attacking your hubby.
You can easily do this photo idea by having mama stand closer to the camera while dad stands further in the background.
Ultimately whatever funny pregnancy announcement that you choose, it will be a wonderful way to welcome your little bean into the world.
24. The Dog Isn't The Favorite
Watch out!
The dog is no longer the favorite!
Don't you love this hilarious pregnancy announcement idea!
25. I Thought I Was Your Baby!
Oh no, more ways to say the dog isn't you're #1 anymore!
But, this is a cute photo though, right?
If you have a dog, set up a photo op like this and make it a cute pregnancy announcement idea!
26. Pregnant….With Twins!
Oh man!
If only I had this funny pregnancy idea when I became pregnant with twins!
27. Even Vagina's Need a Voice
When I saw this funny pregnancy announcement idea, I almost fell over!
Genius!
28. Yes, The Dog Is Part of the Family!
These types of funny pregnancy announcement ideas is what I like more!
Don't you?
29. Don't Eat the Watermelon Seeds
Just in time for summer!
Grab this soft and comfortable pregnancy top to share your new baby announcement.
30. Hoping for a Puppy!
Oh man, this funny pregnancy announcement shirt will definitely get some stares.
Sport your baby bump wearing this as a funny pregnancy announcement idea with your friends!
31. I Just Kicked Mom!

Gotta love these twin pregnancy shirts!
Seriously, I have no idea why I didn't think of this when I was pregnant with twins and a new mom!
32. About Freakin' Time
Oh, man! This is the BEST funny pregnancy announcement idea I've seen!
A sibling announcement with the right emotion for sure!
9 More Funny Pregnancy Announcements
Some of the most popular funny pregnancy announcement ideas are to take a picture in front of grand opening sign, hide some money in a shoe box and have them retrieve it from inside and then announce that they're pregnant.
Use it as a cool and fun birth announcement to your coworkers!
Another idea would be to create fake social media accounts for their baby or make a Facebook page just for their future child.
Parents can also put together a photobook of their child's ultrasound pictures.
Some fun and creative pregnancy announcement ideas include:
Draw a crime scene chalk outline with your pregnancy announcement as evidence
Hold up a sign that says "We're tired…and pregnant!"
Take a picture in front of the hospital or clinic and say, "I'm sick and tired…must be pregnitis"
Make a video announcement as if you're a comedian
Post a picture of the two of you on social media with a caption that says "Bun in the oven"
Get the Ice Ice Baby shirt! Too funny!
No matter how you choose to announce your pregnancy, it will be exciting and memorable.
Be sure to take pictures or videos of your funny pregnancy announcement so that you can look back on this momentous occasion for years to come.
For more pregnancy announcement ideas check out these posts:
Congratulations on your upcoming arrival and those who are newly pregnant like Kelly Osborne!
Please pin me!