Make Christmas memorable but still budget-friendly for your big family!
Christmas is THE BEST time of the year for my twins.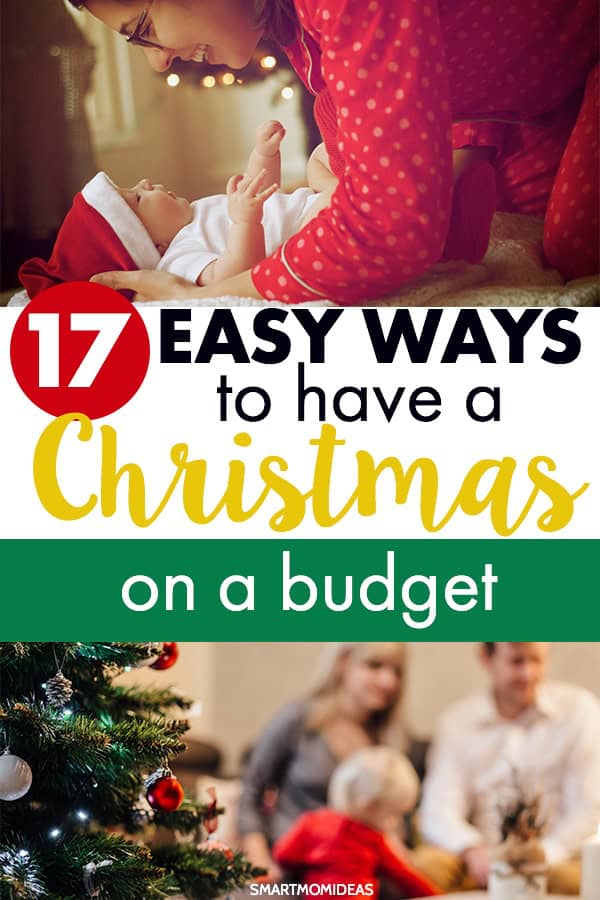 They are five now and starting last year Christmas became a real thing. They understood Santa and the "naughty list" and the importance of giving. It was a great time last year.
But, this year we moved and while I do have a business and blog, I still have to budget. The cost of having twins is no laughing matter mamas!
In the first year, parents of twins can shell out almost $26,000! While the twins don't cost that much as five year olds, budgeting is something we are doing more and more as there are other costs such as hockey, gymnastics and other extra curricular items that cost money.
And with Christmas, many families can feel that pinch. Well, regardless of your budget, your Christmas will still be phenomenal anyways, mama.
You don't have to sacrifice during Christmas. Your children will still love Christmas since it's mostly about family, right?
To help you have a budget-friendly Christmas as a big family here are ways you can get creative with the little you have to still make Christmas a fun and special time for your whole family.
1. Create a Budget Within Budgets
The first thing you're going to want to do is create a budget for all that you plan to spend this holiday. It's an even better idea to create budgets within your budget. So rather than create an over-all budget, determine how much you will spend category-wise.
For example, you see that you have $300 to spend this Christmas. Then, within that price-range, you can define your spending parameters for the following categories:
Food
Gifts
Fun/activities
You can also create a budget for how much you will spend on each person you'll be purchasing gifts for. You can base the dollar amount on whether the person is a baby, older child, teen, or adult. Remember, you do not have to spend money on every person. See what you can manage to pull together from around your home or things you planned on donating anyways.
2. Save Money Using an App or Two
Do you cringe at the thought of spending hours hovering over your desk with your binder and scissors clipping coupons trying to save just a few more dollars? Let's be honest, in today's age saving money just shouldn't be that hard!
Apps like Honey, Retail Me Not, and Ebates make savings simple and at your fingertips.
The best news is that you don't have to be technically savvy to claim your savings! You can shop online, put your items in your cart just like you normally would, and the app will automatically apply those fantastic deals you're looking for.
And if you haven't already, check out Dosh! This app gives you up to 10% cash back on your purchases. So if you're not into rewards systems where you accumulate points, this is the app for you!
3. Make Your Own Decorations
Ever thought about making your own Christmas decorations? Yes, you need to be a bit crafty to make your own decorations, but with a bit of glue, some cutting and maybe sewing you can make some awesome DIY Christmas decorations.
Here are some quick ideas:
When I was a child, my dad taught me how to make Danish hearts as this was part of his heritage as a child in Denmark. It was a special time for my sister and I and I cherish those moments as a mom. Now, I can teach my twins how to make these festive hearts.
To help you get started, check out this awesome video tutorial!
4. Look at Social Media
Most companies strategize ways to beat their competitors when it comes to holiday business.
This is why you can find a lot of your favorite companies promoting deals on their social media pages. Some stores will announce giveaways, special promotions, and discounts that are offered only to their social media followers.
Make sure to follow them on Twitter and Facebook.
5. Save on Wrapping Paper
When trying to save money on a variety of things, shopping at the Dollar Store just makes sense.
Especially when it comes to wrapping paper, tape, or gift bags. Every little bit adds up. Sure, you might find the cutest wrapping paper at Target (even on sale!) but resist the urge to buy it. It's going to make the gift look pretty for a short period of time and then it'll end up in the trash. So it's better not to spend money on expensive wrapping paper.
Plus, you can even save more if you buy wrapping after the holidays! You can stock for the next five years!
6. Buy Cheaper Gifts
Ever since childhood, many of us were made to believe that the fun and excitement of Christmas revolved around the gift-giving. While it's not entirely a lie (receiving gifts are exciting), many families place too much emphasis on getting all the right gifts for their long list of people that they forget the true meaning of celebrating Christmas.
You can still have a wonderful Christmas with or without the expensive gifts. Since your on a tight budget, consider buying gifts that are cheaper than what you would normally buy. Buying simple gifts go a long way.
Try thinking of traditional gifts for your family members.
7. Barter Your Products or Services to Get Gifts
Bartering is a great way to "pay" for the gifts you would like to give to others. Look around your home to find things you can trade. If you have products or services you can offer to someone, go for it!
For instance, if you sell homemade wallets online, maybe you can barter some for another product or service.
8. Offer Your Services or Products as Gifts
In the same way that you can barter products or services, you can also give away your products and services as gifts directly to someone. Are you a massage therapist? Without hesitation, I can tell you at least 50% of the people you know could use a little relaxation and would LOVE a massage.
Or do you sell fragrances? Same thing! If you're short on cash this time around and you have some of your products in stock, why not give a few as gifts?
9. Make Your Christmas Gifts
These gifts come from the heart and don't cost a thing! Take a look at these awesome DIY Christmas gifts:
10. Store Up on Gifts Throughout the Year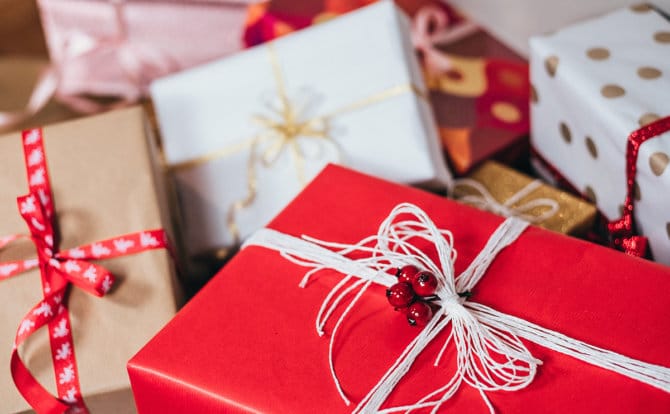 Another way to celebrate Christmas on a budget is to set aside gifts or decorations all year round as opposed to shopping only during the holiday season. This means creating your shopping list ahead of time because if you don't have a list, it could mean you end up spending far more than you budgeted for.
While deals can save you money, things like BOGO (buy one get one free) or 50% can also be a sneaky way to lure you into buying items you never planned on buying. If there's anything that drains a budget faster when holiday shopping, it's the sales on all the cute things you don't need.
So decide ahead of time, you will make (and stick to) your list!
Here are some additional ways you can stock up on gifts throughout the year:
Save things around your home that you would otherwise donate (such as kids toys or great books).
If you already purchase items on Amazon, sign up for Amazon Prime and get free 2-day shipping for 30 days. Amazon has books as low as $1.
Shop sales (especially post-holiday).
Buying gifts throughout the year will save you the hassle of scrambling around at the last minute. When you don't have that stress, you'll be able to make smarter spending choices and thoughtfully choose the best gifts!
11. Have a Theme Based Christmas
We all love the Christmas "atmosphere," don't we?
If you're hosting the celebration at your house this year, you could turn your home into a fun, theme-centric place. Of course, you could use what you have in your home for the decorations. Here are just a few examples:
Winter wonderland
Candy land
The Grinch
Rather than looking at all you don't have or cannot afford, let what you do have become the focal point. For instance, you may not have a tree to decorate, but do you have a lot of food in your fridge and pantry? You could then focus on creating a tasty feast that everyone will absolutely love.
If you don't have many gifts, you can still recall all of your fun family memories while looking at the photo album and sipping hot cocoa.
12. Choose the Most Fun Decorations
Having an extremely tight budget doesn't have to be as tricky as you think. Let's say, $35 is your budget for decorations. You can either try get as many small decorations as you can, or you can go with one decoration that you feel will be perfect for your home(like Christmas lights). Things like dollar-Store candles and popcorn to string around the tree are very cheap.
Whatever you do, try to avoid apologizing that Christmas is not "better" this year because you don't have a lot of money to spend. And don't forget #3 – you can make your own decorations!
13. Plan for Jokes
Looking back years from now, chances are you and your loved ones won't remember the gift you didn't get or give, the fancy decorations or even how much money you didn't have to spend. The wonderful things about children is that they love their parents and will remember of all things how they felt during the holidays with their family.
So just plan on having priceless fun! Decide that your Christmas is going to be remarkable just with all the laughs and smiles alone.
You can have a day of just Christmas jokes. On another day, you can devote to having your kids write letters to Santa and then mailing them.
You can even do Elf on the Shelf and have the entire family think of some funny places to place that funny elf!
14. Get Everyone Involved
Toddler and kids love to help. So let them!
Ever heard the old saying "people will not remember what you said, but they WILL remember how you made them feel?" This is very true.
Christmas is not about the finished product. The snapshot of a hot meal waiting on the table and a perfect home with tons of gifts under the tree does not reflect the true meaning of Christmas. Instead, it's the time you spent on Christmas.
There are many free ways you can celebrate Christmas in your own way as a family.
You can:
Go Ice skating
Volunteer to give food to the homeless
Donate toys
Sing carols in your neighborhood
Offer to put up Christmas lights to your elderly neighbors
Watch Christmas Movies on Netflix
15. Don't Restrict Yourself
If the food you have on hand isn't "Christmas food," so what! Your Christmas should not be compared to those around you.
If you're having guests, serve food that feeds a lot of people for less money and see what you can make from what you already have at home.
16. Resolve to Give This Year
Somewhere near you, there are people who have much less than you have. People that have no family, friends, a home, or even food on Christmas may just need to know that another person on the planet cares for them.
Even of you are a stranger. Taking time to reach out to people in need can be the most fulfilling gift you can give them and yourself.
Too often we tend to think more about getting for Christmas instead of giving to significantly impact another person's life. And let's get real, it's not just the kids is it? Genuinely being a giver brings a satisfaction that receiving never can.
17. Send Free E-Cards
Okay, so it's not as traditional as a physical card, but everyone is online these days anyways, right? And besides, free means you don't have to factor holiday cards into your budget.
Sites like Blue Mountain and Punch Bowl have some great card options that cost you nothing.
Have a Budget-Friendly Christmas This Year!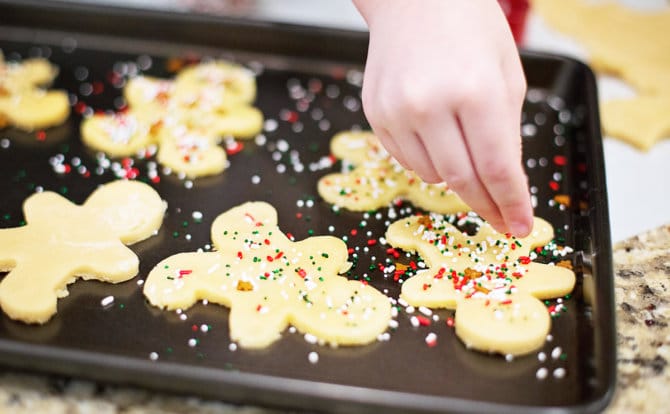 A tight budget does not have to limit you or mean your Christmas is dull and boring. I say go all in and let this be your best Christmas yet.
Now it's your turn. We've all been there. Share with is in the comments below more ways to have Christmas on a budget. I'd love to hear any tips I haven't thought of.
And make sure to pin this!