Get some easy dinner ideas if you're a new mom!
Have you ever been staring into your pantry just willing your mind to come up with something for dinner?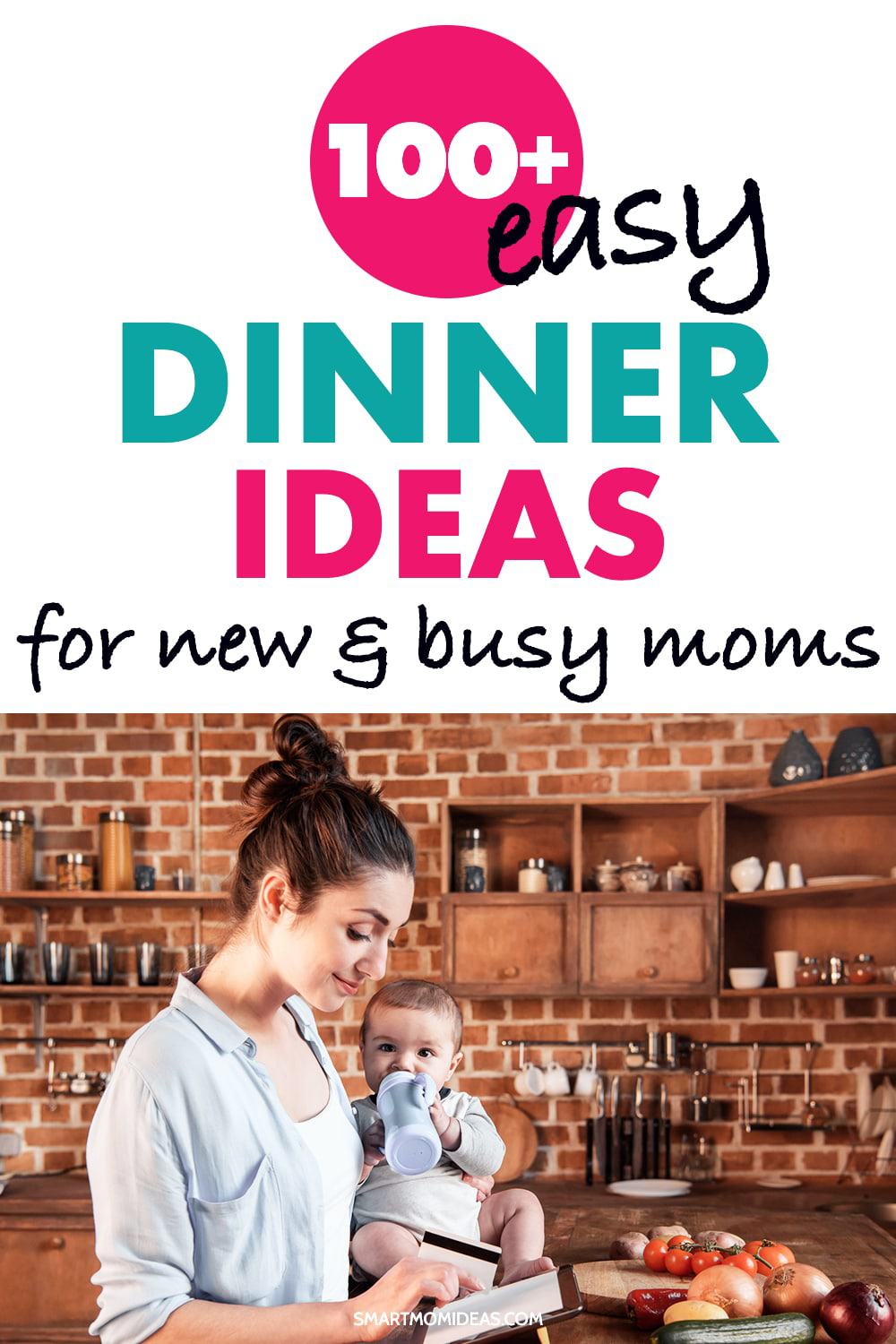 Having a meal plan can save you from that dread, but then you would have to actually plan ahead – especially if you are a new mom to a newborn.
Sometimes when I would sit down to write out a menu plan, I would either be completely stumped and just go with the same go-to trio of chili, spaghetti, and pizza (staples in my house growing up).
OR I would go on Pinterest, waste hours perusing delicious recipes, and end up with a complicated menu that called for lots of ingredients I didn't have and recipes that took way too long to make. UGH.
That's when you just stock the freezer with an avalanche of corn dogs and hot pockets and call it a day.
But creating this one little thing changed all of that: a master list of go-to meals.
After I created a list for my own family, menu planning for an average week gets done in about 2 minutes (and we are eating variety!)
What goes on the list? Easy, quick meals and/or freezer meals that you would make on your average busy day that your family will enjoy.
What doesn't go on the list? Recipes you've never tried and/or favorite recipes that are more involved/time-consuming. You can reserve these for weekends and special occasions.
If you have 15-30 meals on your list that you know your family will eat, and are easy and fast to prepare, then you will most likely save money and eat healthier because you are cooking at home more often.
Just keep your list as a handy reference while making a menu and shopping list and it should make things a lot faster.
What has helped me is keeping a hard copy of my master meals list in a binder with my favorite recipes. The list prompts ideas for the menu creation and then the recipes are right there so I can look over ingredients needed to add them to my shopping list.
Feel like you are in a cooking rut and need ideas? Here are 18 dinner ideas with over 100 variants
(These are not recipes, but a list to help jog your mind about your favorite dishes.)
Spaghetti/Pasta
Spaghetti and Meat Sauce
Spaghetti and meatballs
Million Dollar spaghetti
Baked Spaghetti
Chicken Spaghetti
Carbonara
Pasta with roasted Veggies and Sausage
Lasagna
Stuffed Shells
Cheesy sausage pasta
Chili
Ground Beef Chili
White bean chili
Cowboy Beans
Chili mac
Chili dogs
Pizza
Homemade pizza dough using bread machine + fav toppings
Bagel or french bread Pizzas
Barbecue Chicken Pizza
Taco Pizza
Tacos
Ground Beef tacos
Ranch chicken tacos
Cream Cheese Salsa chicken tacos
Walking Tacos
Fish Tacos
Burritos
Beef and Bean Burritos
Breakfast (Eggs and bacon/sausage) burrito
Steak Burrito Bowls
Chicken and Black bean Burritos
Quesadillas
Chicken and cheddar quesadillas
Black beans and salsa quesadillas
leftover slow cooker chicken or pork quesadillas
Enchiladas
Sour Cream Chicken Enchiladas
Beef Enchiladas
Bean and Avocado Enchiladas
Green or Red Chile Enchiladas
Breakfast for Dinner
Scrambled/Fried Eggs
Omelets
Pancakes
Toast
French Toast
Hashbrowns
Sausage
Muffins
quiche
Frittata
Smoothies
Biscuits and Gravy
Chicken and Rice/Quinoa

Hawaiian Haystacks
Salsa chicken
Citrus Rosemary chicken
Cilantro Lime chicken
Honey Garlic chicken
Coconut chicken
Teriyaki chicken
Sweet and Sour Chicken
Mexican rice and spicy chicken
Parmesan chicken
Beans and Rice
Cilantro Black Beans and green rice
Roasted Bell Peppers, onions, and garlic with black beans and rice
Red Beans and Rice
Refried Beans and Rice
Tex-Mex bean, rice, and Avocado casserole
Asian American

Fried Rice
Stir-fry
Lettuce Wraps
Chow Mein
Chop Suey
Cabbage Rolls
Fish/Seafood
Baked Tilapia
Glazed Salmon
Blackened Bass
Shrimp Scampi
Roast
Cranberry Pork Roast
Beef Roast and Potatoes
Roast Chicken
Potatoes
Baked potato bar
Hobo/Foil Dinners
Shepard's Pie
Sandwiches
BLT Sandwiches
Grilled Cheese and Tomato Soup
BBQ (pork or chicken)
Italian Beef
Sloppy Joes
Baked Sliders
Chicken Salad
Hamburgers
Philly Cheese Steak
Ham and Cheese pinwheels
Salad
Toss Salad with favorite veggies and mix-ins
Romaine Lettuce, craisins, French's onions, cheddar cheese, and ranch dressing
Spinach, strawberries, toasted almonds, avocados, and poppy seed dressing
Pasta Salads
Soup
Stuffed Pepper
Potato soup
Zuppa Toscana
Chicken and Rice
Vegetable Soup
Cheddar Broccoli
Lasagna Soup
Ham and Beans soup with cornbread
Beef Stew
Casseroles/Other

Tater Tot Casserole
Tuna Noodle
Chicken Pot pie
Tetrazzini
Beef Stroganoff
Goulash
Make your own variations or find new ones to complete a go-to dinner list of your own.
More Dinner Ideas
Check out these other posts for quick, easy, freezer meal, Instant Pot and more recipes!
Over to You!
Explore these recipes on Pinterest or on Google and if they are easy ingredients and easy to make add them to you meal plan!
Please pin me!