Check out these MUST-SEE Christmas movies for toddler children!
Watching Christmas movies is probably one of my favorite family holiday traditions.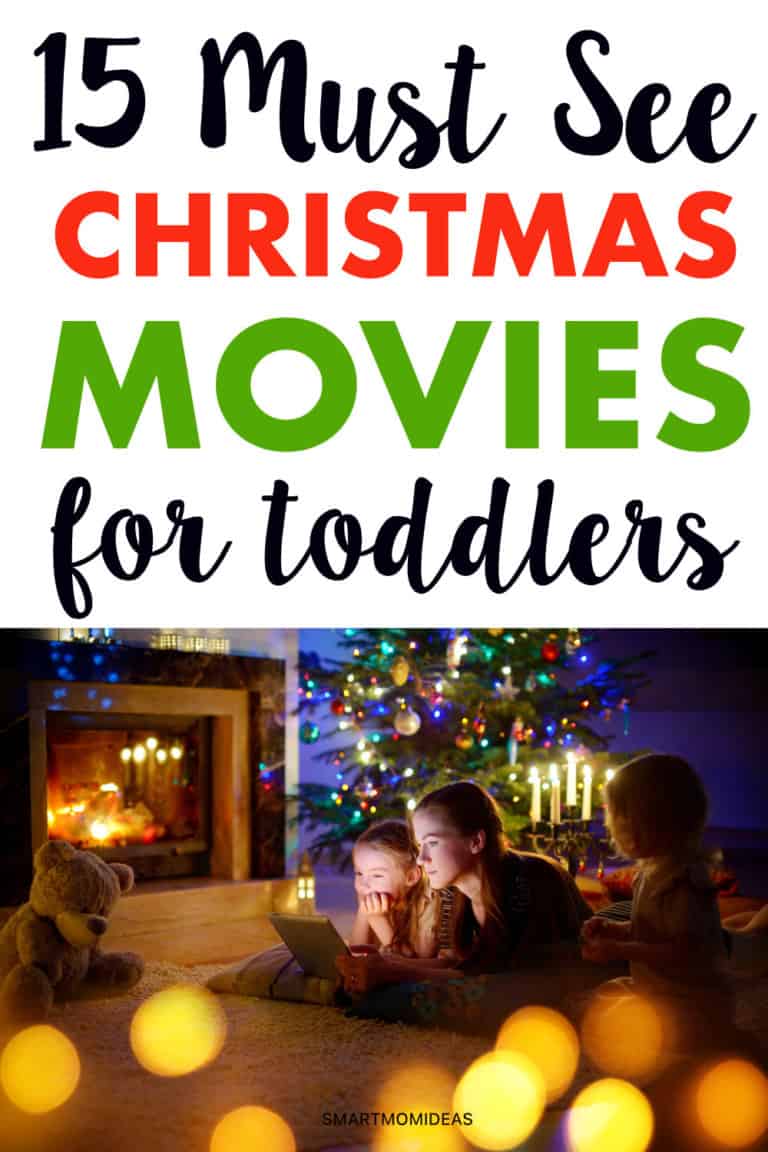 And, over the years, as my twins have grown, I have seen them all!
Though truth be told, there are some classic holiday movies my kids loved as toddlers that we still watch.
If you're ready to get your little ones into the holilday spirit, it's time for some Christmas movies for toddlers!
The movies on this list are fun and engaging, and some of them are nice and short to keep your toddler's attention.
Some are old, and some are new, but each of them truly encapsulates the spirit and meaning of Christmas!
Let's take a look:
1. Rudolph the Red-Nosed Reindeer
Did you know that Rudolph the Red-Nosed Reindeer came out almost 60 years ago? This classic holiday movie has truly stood the test of time!
Taking inspiration from the Christmas carol, this movie follows Rudolph as he is expelled from the North Pole. He meets and joins Hermey, and on their travels, they end up on the Island of Misfit Toys.
There's something magical and whimsical about the animation and story that toddlers are sure to love.
2. A Charlie Brown Christmas
With a runtime of only 25 minutes, this short Charlie Brown film manages to capture the essence of Christmas!
Charlie Brown is having a hard time getting into the Christmas spirit. When his friends make fun of the spindly Christmas tree he found for their play, Charlie Brown learns the true meaning of Christmas.
3. The Snowman
This 30-minute short film is based on the beloved picture book The Snowman by Raymond Briggs.
The story follows the journey of a young boy and the snowman he builds as they visit the North Pole.
The story is told through pictures, music, and action with no words. However, there is a beautiful song called "Walking in the Air" that will take your breath away!
4. Frosty the Snowman
This 1969 TV special is still a holiday favorite for toddlers!
The story follows a group of children who build a snowman and bring him to life with a magician's hat.
Knowing that he will eventually melt, Frosty needs the help of a young girl named Karen to get back to the North Pole.
This classic Christmas film was actually designed so that its characters looked like they came straight off a Christmas card. Very cool!
5. Mickey's Magical Christmas
Can you really talk about Christmas movies for toddlers without mentioning Mickey?
In Mickey's Magical Christmas, Mickey and the gang are trapped in the House of Mouse during a snowstorm, so Mickey decides to throw an impromptu Christmas party.
Sadly, Donald Duck is not in the mood for holiday joy, so his friends do what they can to get him in the spirit.
This movie features a ton of Disney characters, lots of fun, and catching holiday tunes!
6. How the Grinch Stole Christmas
This original animated telling of How the Grinch Stole Christmas remains a classic!
When the cranky Grinch decides to eliminate Christmas for the Whos down in Whoville, he ends up on a journey that helps him discover the true meaning of Christmas.
While the updated versions are fantastic, this one is beautifully narrated by Boris Karloff and only 26 minutes – perfect for short attention spans!
7. Santa Buddies
Santa Buddies is the ninth film in the Air Bud franchise. If you're not familiar, this is a series of movies that features talking dogs.
What more do you need?
In Santa Buddies, the talking pups must save the spirit of Christmas and prevent the magical Christmas icicle at the North Pole from melting.
8. Curious George: A Very Monkey Christmas
What toddler doesn't love Curious George?
In this holiday story, George and the Man in the Yellow Hat are having a hard time figuring out what to get each other for Christmas.
Curious George uses his inquisitive nature to figure it out before Christmas morning.
9. Prep & Landing
This 2009 Disney Christmas flick features a high-tech team of elves that make sure homes around the world are prepped for Santa's visit.
However, two elves face unexpected challenges, and hilarity ensues!
If you're looking for new Christmas movies for toddlers, check this one out!
10. Arthur Christmas
This is definitely one of the best Christmas movies for toddlers that you should add to your holiday traditions!
Arthur Christmas explores how Santa does it all, and it involves a high-tech operation, including combat-style Field Elves and a state-of-the-art mission control center.
But when one child is missed, Santa's son Arthur makes it his mission to ensure the little girl wakes up to the present she wanted under the tree.
11. Merry Christmas, Olivia
Based on the kid's books about a pig named Olivia, this holiday collection features eight different Christmas stories.
In one story, Olivia tries to spread Christmas cheer in the summertime by throwing a holiday party in July.
Sometimes the simplest stories are the best Christmas movies for toddlers to watch!
12. Once Upon a Sesame Street Christmas
It's amazing that after all these years, Sesame Street is still super popular with toddlers!
In this movie, Elmo's father tells him a story about how dreary Sesame Street used to be due to a lack of Christmas spirit.
Fortunately, Elmo's great-great-great-grandfather helps everyone discover Christmas cheer!
13. All I Want for Christmas Is You
Did you think hearing Mariah Carey's belt her holiday hit everywhere you go was enough?
Nope, they had to make a movie!
Seriously, though, this movie is super cute and tells the story of how young Mariah wants a new puppy for Christmas.
Plus, it features more holiday music by Mariah!
14. Annabelle's Wish
Young calf Annabelle realizes wants to become one of Santa's reindeer after meeting Santa and being given the ability to speak once a year.
She befriends a mute boy named Billy, who she must save from his aunt, who is trying to gain custody of him.
This sweet holiday film is a touching Christmas movie for toddlers you need to check out!
15. An Elf's Story
If your family does the Elf on the Shelf as a part of your holiday traditions, then you need to get your toddler to watch this movie!
An Elf's Story provides a fun backstory for the Elf of the Shelf, following a young elf named Chippy, who is assigned by Santa to restore a child's belief in Christmas magic.
Christmas Movies for Toddlers!
Have fun snuggling up on the couch and watching one of these Christmas movies for toddlers!
You never know which one will become a favorite for years to come.
Check out my other posts full of other awesome Christmas ideas:
What's your favorite holiday movie?
Let me know in the comments.
And don't forget to pin!