It's time for those teacher appreciation gifts!
Hey there, moms!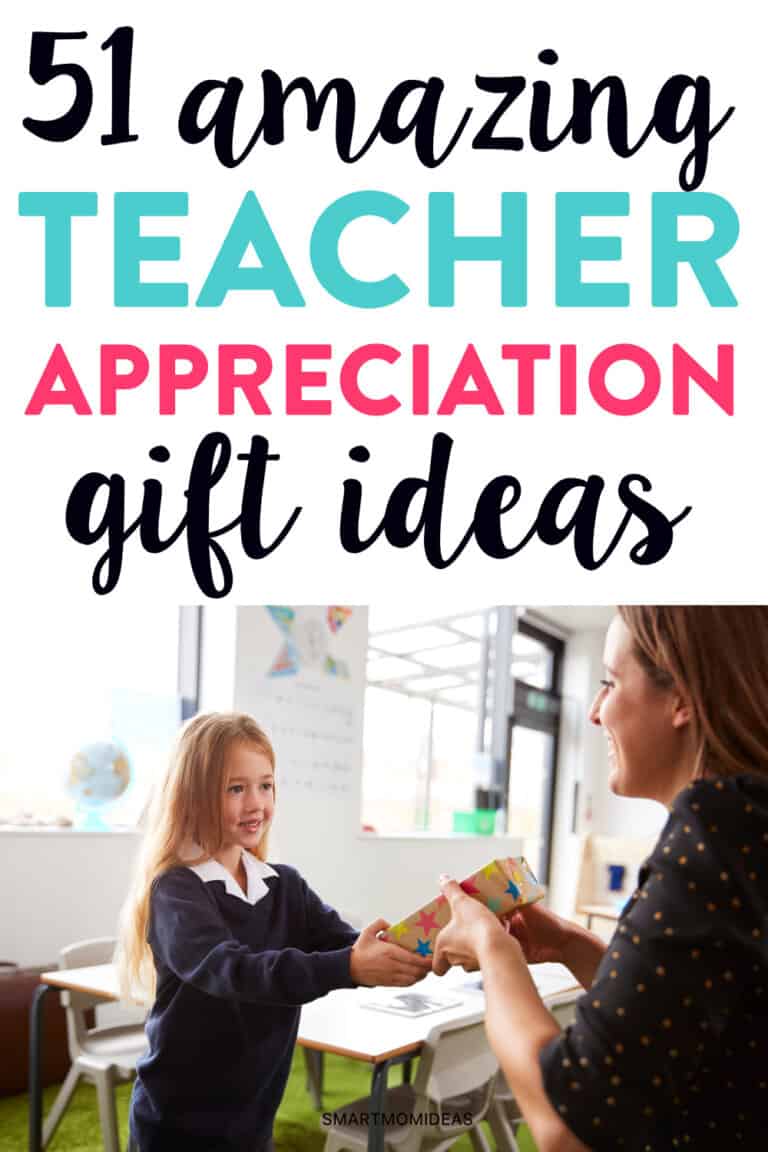 It's no secret that teachers play a vital role in shaping our children's lives.
They educate, inspire, and nurture their young minds every day.
So, why not show them some love and appreciation?
Here are over 50 amazing teacher appreciation gift ideas your child can give to express gratitude for their hard work and dedication.
From personalized treasures to heartfelt DIY projects, let's find the perfect way to say "thank you" to these incredible educators!
Best Teacher Appreciation Gifts
Let's start with the best teacher appreciation gifts that will make them feel truly special. Here are some ideas to consider:
1. Thoughtful Notes and Letters
Taking the time to write a thoughtful note or letter can truly make someone's day.
Encouraging your child to express their appreciation for their teacher's hard work and dedication can not only brighten the teacher's day but also strengthen the bond between the two.
A handwritten note or letter on some beautiful stationary shows that the student recognizes and values the extra effort put into their education.
It's a small gesture that can have a big impact and teach children the importance of acknowledging the kindness of others.
With so many ways to communicate these days, taking pen to paper and writing a heartfelt message is a beautiful way to show someone you care.
2. Personalized Mugs and Tumblers
Get a mug or tumbler customized with the teacher's name or a motivational message to brighten their mornings.
Not only does it elevate someone's morning coffee or tea experience, but it also adds a personal touch that can make all the difference in their day.
For teachers, a customized mug or tumbler can be the perfect pick-me-up they need to get through those early morning classes.
By adding their name or a motivational message, you're not only reminding them of their value but also lifting their spirits every time they take a sip.
These small gestures can truly go a long way in building connection and showing appreciation for the hard work and dedication that teachers put in every day.
3. Gift Cards for Teachers' Favorite Stores
Who doesn't love treating themselves to their go-to café or bookstore?
As much as we appreciate the hard work of our teachers, sometimes we forget that they too need a break from the grind.
Surprise your favorite teacher with a gift card to their preferred spot and watch their face light up!
Think about it, a steaming cup of coffee or a page-turning novel could make all the difference in brightening their day. Show them how much you appreciate their unwavering dedication by giving the gift of relaxation and indulgence. Trust me, it'll make their day!
4. Classroom Supplies or Books
Help replenish the classroom supplies or gift a book that aligns with their subject or personal interests.
Both are essential resources for cultivating a successful learning environment.
Pencils, markers, and paper can be used for endless creative projects.
And a good book can transport students to different worlds and inspire their imaginations.
Plus, there are so many options to choose from, so you can find something that aligns perfectly with their interests and subject matter.
So why not show your appreciation with a little something that can make a big difference?
5. Handmade Crafts and Artwork
Encourage your child to get creative and make something special, like a personalized picture frame or a hand-painted canvas.
Whether it's a customized picture frame or a vibrant, hand-painted canvas, the possibilities are endless.
Plus, your child will love the sense of pride that comes with making something totally original.
So gather your art supplies, blast some music, and watch as your child's imagination takes over.
Who knows? You might even learn a thing or two about creativity in the process.
6. Personalized Stationery Set
Who doesn't love a good stationery set?
And let's take it up a notch by personalizing it with their name or initials. This is not your average gift, my friends. It's thoughtful, practical, and just plain cool.
Plus, who wouldn't want to show off a set of stationery that has their name elegantly printed across it?
It's perfect for sending notes, letters, or even just jotting down your grocery list.
Trust me, if you give someone this personalized stationery set, they'll be thanking you for years to come.
DIY Teacher Appreciation Gifts
For those who love do-it-yourself projects, these DIY teacher appreciation gifts are perfect to showcase your child's creativity:
Customized Tote Bags: Decorate a plain tote bag with fabric paint, markers, or iron-on patches for a practical and stylish gift.
Decorated Mason Jars for Classroom Supplies: Fill mason jars with colorful pencils, markers, or paper clips, and let your child decorate the jars with ribbons and stickers.
Homemade Bath Bombs or Soaps: Create relaxing bath bombs or handmade soaps using simple ingredients and delightful scents.
Hand-Decorated Plant Pots: Paint and decorate small plant pots with vibrant colors and plant easy-to-maintain succulents or herbs.
Personalized Teacher Appreciation Cards: Help your child make personalized cards with heartfelt messages, drawings, or collages.
Handmade Jewelry: Encourage your child to create handmade jewelry, such as beaded bracelets or earrings, as a personalized gift.
Remember, DIY gifts add a personal touch and show the teacher that your child put extra effort into their expression of gratitude!
Easy Teacher Appreciation Gifts
If you're short on time or prefer quick and hassle-free options, these easy teacher appreciation gifts are just what you need:
13. Pre-packaged Treats and Snack Baskets
Who doesn't love a good snack?
Especially one that is pre-packaged and ready to enjoy!
Get pre-packaged treats and snack baskets for a sure crowd-pleaser for anyone with a sweet tooth.
Indulge in some delicious chocolates, munch on some gourmet popcorn, or satisfy your hunger with a granola bar.
This basket is perfect for a teacher, or simply as a thoughtful gift for a loved one.
14. Coffee or Tea Sampler Set
Put together a selection of different coffee or tea flavors for the teacher to enjoy during their break time.
Imagine spending your break time sipping on a delicious cup of coffee or tea that's not your usual go-to.
That's right!
I'm talking about a coffee or tea sampler set, carefully curated just for your favorite teacher.
Think of all the different flavors they can try!
From rich and bold to smooth and mellow, this sampler set will be the perfect companion during their break.
So, let's bring some cheer to the classroom and surprise our teacher with a flavorful gift – because they deserve it!
15. Ready-to-Use Printable Thank-You Cards
Find printable thank-you cards online that your child can easily fill out with heartfelt messages.
With a wide variety of designs to choose from, your child will love picking out the best and personalizing it with their own heartfelt message for their favorite teacher.
Plus, these printable cards are super easy to use – just print, fold, and voilà!
Your child will have a personalized thank-you card that's sure to put a smile on their teacher.
16. Classroom Helper Coupons
Create "coupons" for your child to offer their assistance with tasks like organizing books, cleaning the classroom, or running errands.
Think about how proud your little one will feel as they help their teacher and classmates, and earn amazing rewards for their hard work.
Whether you want to encourage your child to learn new things, or you just want them to feel great about themselves, these Classroom Helper Coupons are the perfect way to do both!
So, don't wait for tomorrow, fire up your printer and let the fun begin!
17. Potted Plants or Flowers

Brighten up their day with a potted plant or a beautiful bouquet of flowers to add some natural beauty to their desk or classroom.
And let's not forget that taking care of plants can be therapeutic too!
So why not treat the teacher in your kids' life to a potted plant or flowers?
It's the ultimate mood-booster that keeps on giving!
18. Themed Gift Baskets
Create themed gift baskets based on their interests, such as a relaxation basket with scented candles, bath bombs, and a cozy blanket, or a movie night basket with popcorn, DVDs, and comfy socks.
19. Inspirational Quote Desk Calendar
Find a desk calendar filled with motivational quotes and inspiring messages to uplift their spirits throughout the year.
Easy gifts can still be thoughtful and appreciated by teachers who deserve recognition.
Teacher Appreciation Gifts Ideas for All Ages
These teacher appreciation gift ideas work well for teachers of all grade levels. Take a look:
Inspirational Wall Art or Posters: Choose motivational quotes or inspiring artwork that they can hang in their classroom.
Educational Board Games: Gift a fun and educational board game that can be played in the classroom during free time or as a learning activity.
Subscription to Educational Magazines or Websites: Give the gift of knowledge with a subscription to educational magazines or online resources related to their field of interest.
Educational Subscription Box: Subscribe them to an educational subscription box that provides fun and engaging activities related to their subject area.
Photo Collages or Memory Books: Collect photos of memorable moments throughout the year and create a photo collage or memory book.
Personalized Calendars or Planners: Customize a calendar or planner with their name and motivational quotes to help them stay organized.
These gifts are suitable for teachers of all ages and subjects, and they will surely appreciate the thoughtful gestures.
Teacher Appreciation Day Gifts
Teacher Appreciation Day is a fantastic opportunity to go the extra mile.
Consider these special gifts:
26. Breakfast or Lunch Treats
Surprise them with a delicious breakfast or lunch delivery, whether it's a homemade meal or from their favorite restaurant.
Imagine how thrilled they'll be when they get a delivery of their favorite meal or even a homemade dish from you!
It's a thoughtful gesture that will definitely stand out from the usual apple or card.
Plus, it's a great way to brighten up their day and show them how much you care.
So, go ahead and make their day with a special delivery that's sure to make them smile!
27. Spa or Wellness Gift Certificates
After a long semester of grading papers and guiding students towards success, teachers deserve a little rest and relaxation.
What better way to show your appreciation for all they do than with a spa or wellness gift certificate?
From the gentle touch of a massage to the cleansing benefits of facials and even yoga classes, these experiences offer a chance to unwind and let go of the stress that comes with teaching.
Give your teacher the gift of self-care and help them recharge for the upcoming school year.
They'll return to the classroom feeling refreshed and ready to tackle whatever challenges come their way.
28. Teacher-Themed Clothing or Accessories

It's no secret that teachers have a deep passion and commitment to education, inspiring and guiding their students on a daily basis.
And what better way to show that love than with some teacher-themed clothing or accessories?
From cute graphic tees declaring "Teach Love Inspire" to fun jewelry pieces adorned with pencils or apples, there is a wide variety of options to choose from.
Perfect as a thoughtful gift for your favorite teacher or a stylish way to show off your own education background, these items are a fun and fashionable way to celebrate the importance of teaching and learning.
So, go ahead and add a little bit of academic flair to your wardrobe with some of these great teacher-themed accessories!
29. Thank You Video Messages
Record short video messages from students expressing their gratitude, compile them, and present it as a heartfelt gift.
30. Surprise Classroom Decorations
Coordinate with other parents to decorate the classroom with banners, or signs before the teacher arrives.
Imagine the look on your teacher's face as they walk into their classroom to find it completely transformed with colorful and whimsical decorations.
With a little coordination with other parents, you can turn an ordinary school day into a memorable occasion.
Adding banners, or themed images can instantly brighten up any classroom and create an exciting atmosphere. Watching your child's eyes light up at the surprise will make all the effort worth it.
It's a simple way to show your teacher how much you care about their role in your child's life.
31. Personalized Desk Name Plate
Have a custom desk name plate made with the teacher's name or a motivational message to add a personalized touch to their workspace.
32. Personalized Photo Frame
Create a personalized photo frame with a picture of the teacher and your child to capture a special memory.
33. Relaxing Essential Oil Diffuser
Provide them with an essential oil diffuser and a selection of soothing essential oils for a calming atmosphere.
Teacher Appreciation Day calls for extra special gestures to honor their dedication and hard work.
Teacher Appreciation Gifts in Bulk
If you're looking for budget-friendly options or want to provide gifts for the entire teaching staff, consider these ideas:
Mini Succulents or Cacti: Give each teacher a mini succulent or cactus that adds a touch of green to their desk.
Classroom Supplies Gift Sets: Prepare gift sets with essential classroom supplies like pens, pencils, erasers, and sticky notes.
Customized Sticky Notes or Stationery: Get sticky notes or stationery personalized with their name or initials for a practical yet thoughtful gift.
Engraved Pens: Have pens engraved with the school's name or a heartfelt message.
Bulk Thank You Cards: Purchase bulk thank you cards and have the students write personal messages of appreciation inside each one.
Customized School Supplies: Get school supplies like pens, notebooks, or folders customized with the school logo or a message of appreciation.
Bulk gifts show your appreciation to the entire teaching staff and ensure everyone feels valued.
Unique Teacher Appreciation Gifts
Sometimes, it's the unique gifts that make a lasting impression. Consider these ideas:
40. Personalized Bookmarks
Create personalized bookmarks with their name and a favorite quote or design.
There's nothing quite like a good book to transport you to another world and leave the stresses of reality behind.
By adding your teachers name and a favorite quote or design, you can create a bookmark that not only helps you keep your place but also reminds you of someone who has made an impact on your life.
It's a small gesture, but it goes a long way towards showing your appreciation and gratitude for all that your teacher does.
Plus, it's a fun and easy craft project that you can tackle solo or with friends. So why not give it a try and see what kind of creative bookmarks you can come up with?
41. Desk Organizer Accessories
Help them keep their desk tidy with stylish and functional desk organizers or accessories.
A cluttered desk can be a source of stress and distraction, but with desk organizer accessories, your teacher can transform their workspace into a well-organized and efficient area.
From pen holders and paper trays to file organizers and desk lamps, there are many options available to suit any teacher's needs and style.
Not only will a tidy desk help your teacher stay focused and productive, but stylish and practical desk organizers can also be a great asset to any classroom or office décor.
42. Miniature Figurines or Collectibles
If your child knows the teacher's interests, consider gifting them a small figurine or collectible that aligns with their hobbies.
43. Handwritten Recipe Books
Teachers play an instrumental role in shaping our lives and it's always a great idea to appreciate them.
What could be better than gifting them a handwritten recipe book with their favorite dishes?
This is an ideal way to show them that you care and that their efforts haven't gone unnoticed.
You can collect recipes from your classmates and compile them into a beautiful keepsake that they will always cherish.
The handwritten aspect is what makes it even more special because it shows them that you've put in the effort to make something unique. It's a wonderful gesture that will truly make their day!
44. Customized Classroom Door Sign
Design a personalized door sign with the teacher's name or a motivational message to add a touch of personality to their classroom entrance.
45. Personalized Teacher Stamps
Create custom teacher stamps with encouraging phrases or positive feedback to make grading and feedback fun and unique.
These unique gifts show attention to detail and make for memorable tokens of appreciation.
Small Teacher Appreciation Gifts
Sometimes, it's the small gestures that can mean the most. Consider these ideas:
Personalized Thank You Keychains: Create keychains with a personalized message or their initials to carry with them wherever they go.
Scented Candles: Gift them a soothing scented candle to create a relaxing atmosphere at home.
Handcrafted Soap Set: Gift them a set of handcrafted soaps in different scents and designs for a pampering experience.
Mini Desk Plants: Give them a small potted plant or succulent to brighten up their desk or classroom.
Chocolates or Treats: A box of their favorite chocolates or a selection of delicious treats is always a delightful surprise.
Customized Pen Holder: Decorate a pen holder with their name or a motivational quote and fill it with colorful pens or markers.
These small gifts can have a big impact and show that you value their hard work and dedication.
Teacher Appreciation Gifts Ideas for Amazing Teachers!
Remember, it's the thought that counts when it comes to teacher appreciation gifts, no matter what time of year.
Whether you choose a personalized treasure, a heartfelt DIY project, or a small token of gratitude, the important thing is to acknowledge and appreciate the incredible work teachers do.
So, let's celebrate these remarkable educators and make their day extra special with these amazing gift ideas!
Also, remember moms, expressing gratitude doesn't have to be expensive or extravagant. It's the heartfelt gestures that truly matter.
Happy gift-giving, and let's show our teachers how much we appreciate them!
Which gift did you like the most?
Do you have any more awesome ideas to add to this list?
Throw them in the comments!