Get your kid's teacher a thoughtful gift for all they do
Teachers hold a special place in our hearts.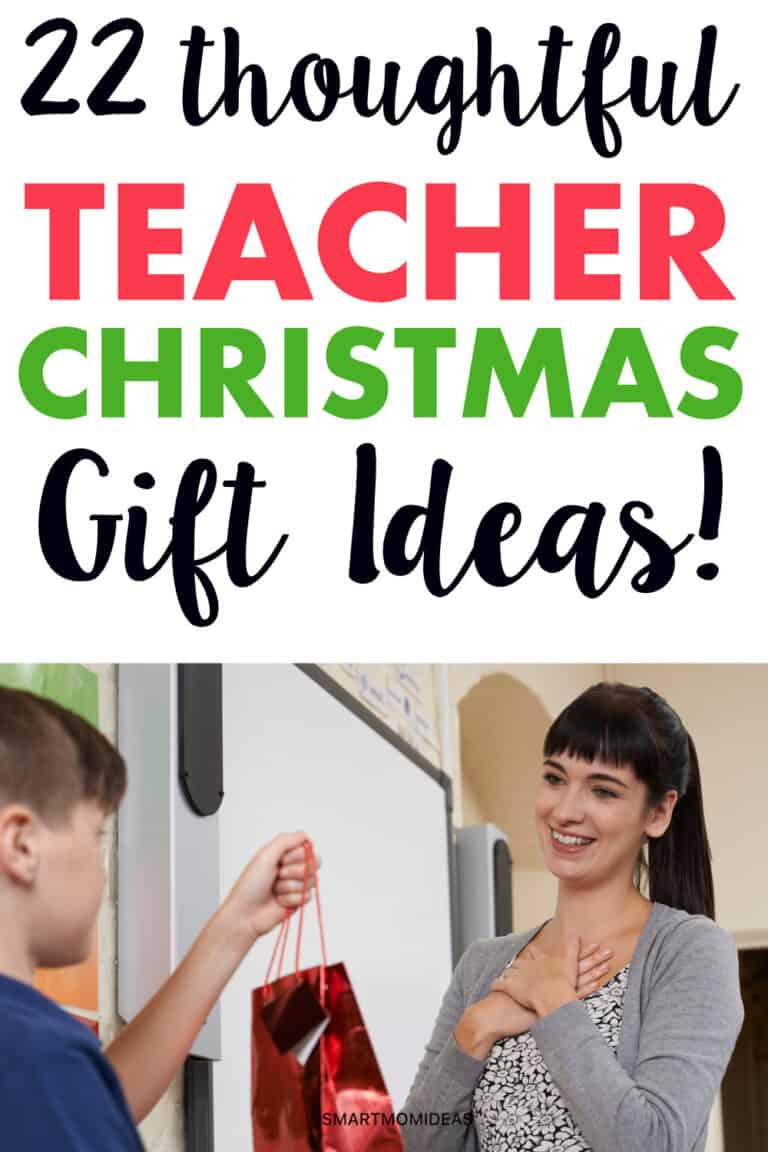 They are with our children everyday, sometimes even more than we are as parents.
They help teach them to read, use their manners, and math problems that no one under the age of 20 actually understands (darn you common core!).
So they deserve a bit of extra love during the holiday season.
While the standard apple is great for an everyday gift, Christmas is the time to go above and beyond.
In this post I will cover some fun and creative DIY gifts for teachers, as well as affordable and thoughtful gifts that won't break the bank.
I know you have a lot of people to buy gifts for this holiday season, so don't feel bad about sticking to a budget.
DIY Thoughtful Teacher Gifts
Ok, I'm going to preface this by saying, if you have a Cricut, then there are way more things that you can make! Hello!
Personalized tumblers, mugs, shirts, etc. If not, that's ok too!
There are plenty of different ways to personalize gifts for those amazing teachers.
1. "Things My Students Said" Journal
No matter what grade they teach, teachers are always privy to those funny things that kids say.
Make sure they never forget them with this fun, little journal. They will be looking back on this for years to come and chuckling about what little Timmy said.
2. Yummy Homemade Cookies!
Who doesn't love some baked goods around the holiday season?
Whip up some cookies with your kids and have them decorate them like their teacher.
Otherwise, if you are a wiz in the kitchen, you can make some school themed cookies with royal icing. Homemade Christmas candy and chocolate dipped pretzels are also acceptable.
3. Reusable Cup with Candy
It always seems that teachers have tumblers on their desks.
Whether it's filled with water or coffee, they need to stay hydrated all day.
Simply grab a cute, reusable tumbler, and fill with candy, gift cards, and a thank you note.
4. DIY Bath Scrub
Teachers, just like the rest of us, need that rest and relaxation when at home.
This DIY peppermint bath scrub is the perfect gift for any teacher that could use a little extra R&R.
5. Cookies in a Jar
Of course we love any type of Mason jar craft around here. These cookies in a jar are an easy to make gift that goes over great with the teachers. If you have a couple of teachers that you need to make or give gifts to, then this is a great idea. You can purchase the ingredients and make a couple cookies in a jar as gifts on a budget.
6. Hand Knit a Chunky Blanket
If you have a teacher that is really special, then consider hand knitting them a chunky blanket. Who doesn't love a soft fuzzy blanket to snuggle up with at the end of the day, or during nap time?
Even if you have never done any sort of textile arts before, hand knitting a chunky blanket is pretty darn easy. And depending on the age of your children, they can get in on the action as well.
Thoughtful Teacher Gifts Under $25
7. Starbucks Gift Card
What teacher wouldn't love a Starbucks gift card?!
Even if they aren't big coffee drinkers, there are plenty of delicious teas, hot chocolate, and other tasty treats that they can get from there.
8. Funny Coloring Book for Teachers
Teachers already have enough to do during the day, but what can they do to take their mind off of things during those much needed breaks?
Color some fun and silly adult coloring book pages. With hilarious sayings like, "3 out of 2 people have trouble with factions."
Of course, don't forget the colored pencils and markers to go with it!
You know, that way they don't have to steal the kids.
9. Willow Tree Teacher Figurine
This is a gift that your teacher will leave displayed in their classroom until their retirement.
A stunningly beautiful and affordable figure of an angel holding an apple.
The perfect symbol of just how impactful a teacher can be on a young life.
10. Pens
If you can find out if they have a favorite type of pen, then get them some more of those!
Otherwise, search for some high-quality, fine-point, smooth-writing, pens on Amazon.
There are plenty available and many of them are super affordable.
It really stinks when you lose your favorite pen, so make sure that they will always have another one handy.
11. "Because I Had A Teacher" Book
This would make a very thoughtful gift for an elementary or preschool teacher.
They are the people that inspire us to be the best that we can be!
Thank those special people in your life by letting them know just how much they mean to you.
12. What do you Meme? Teacher Edition
Most likely, your child's teacher hands out with other teachers and talks about teacher things.
Give them something a little more fun to do at their get togethers with this teacher themed game.
A hilarious game of conversation starters and funny meme images that is sure to have their sides splitting. With cards like, "when a kid asks you what you want to do when you grow up."
Those should provide for some really funny moments.
13. Motivational Stamps

Kids love to see those little motivational sayings on their papers after they get them back from their teachers.
However, figuring out what to write and having to write them all can get pretty overwhelming.
These colorful motivational stamps are great for those teachers in elementary school where kids still get excited about those kinds of things.
14. I'll Just Wait…T-Shirt
Ok, while this might seem more like a Halloween shirt, I found it too funny to not add to the list.
Every teacher experiences that moment, perhaps on a daily basis, where they are talking and the class just overtakes the entire conversation and they can't get a word in. So they sit and wait…and wait…and wait.
Thoughtful Teacher Gifts Between $25 and $50
If you are really looking to spoil your child's teacher this year, then consider some of these amazing gifts for them.
Many of these you can personalize for an extra special touch they are sure to love.
15. Teacher Appreciation Blanket
There are so many fun teacher themed items.
At 60 by 50 inches, it's big enough to snuggle up at any time of the day or night. It features several fun and motivational teacher sayings that they are sure to love.
A great gift to keep at home of display in their classroom.
16. AntiTheft Backpack
While hopefully their students are stealing anything from their teachers, this anti theft backpack makes a great gift for just about anybody.
It comes with tons of pockets to keep everything organized, a built-in phone charger, space to fit their laptop, water resistant, and stylish!
A great gift they are sure to appreciate. Hint-this is a great gift for male teacher also!
17. Teacher Appreciation Gift Bag
When it comes to teacher Christmas gifts, you can't get much easier than this teacher appreciation gift bag.
It comes complete with a cosmetic bag, a wine tumbler for after class, a mug for use during class, and a couple of other teacher themed goodies.
18. Tote
Almost all teachers love bags, tote bags especially.
They always seem like they have so much stuff to carry with them.
This tote bag has plenty of large openings and pockets for pens and all their other necessities.
19. The Teacher Clarity Playbook
Teachers have so much on their plate trying to mold young minds and dealing with all of the bureaucratic red tape.
This book helps them to gain clarity on their intentions and stick true to their values. It helps them to focus on their way and work through the how they are going to get things done.
This leads to productivity and success for everyone involved.
20. Pencil sharpener
Especially around test time, teachers need to have a good pencil sharpener on hand to make sure that all of those #2 pencils are nice and sharp!
With six different sized and shaped pencil holes, everyone will have what they need to complete their tests on time.
21. Acrylic Name Plate
While they might have their name by their door, you can bet that they don't have a beautiful and custom name plate like this one!
Easily customized with the teacher's name and title on their beautiful, one-of-a-kind name plate.
22. Desk Organizer
Make sure that their teacher is able to keep their desk tidy and organized with this metal desk organizer.
With five slots for papers and a top and side rack for all of the small accessories, they'll always have everything they need within arms reach.
Wrap Up
Before you just start clicking the "buy now" button on Amazon, do a little bit of research.
Ask your child what their teacher likes or send a memo to the administrator to ask if there is anything the classroom specifically needs.
Whatever you decide to get, they're sure to love it!