Easy Christmas snacks for toddlers for easy entertainment over the holidays.
Merry Christmas!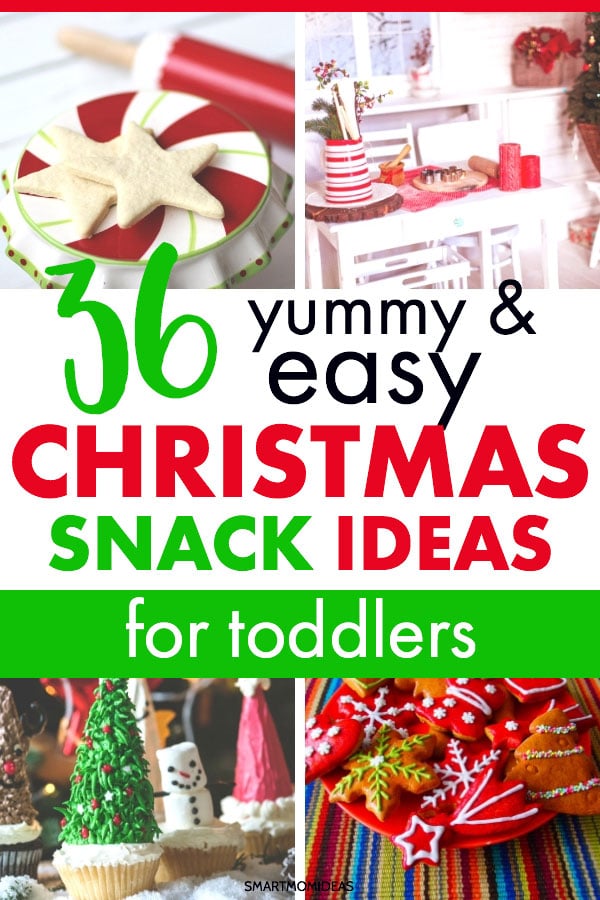 Christmas calls for special foods simply because it's a special time that only comes around once a year. So we carefully plan ahead to make sure that this one 24-hour period will give us the ultimate Christmas experience!
Like many mommies out there, you're ironing out the little details ahead of time, aren't you?
That's awesome mama!
Whether you'll be serving this at home or you're trying to find creative snack ideas to share at a Christmas party or at your child's school, you're at the right place.
These easy Christmas snack ideas are perfect for kids and hassle-free for you.
They also make an excellent Christmas treat for a late-night snack option!
So put on your creative hat and let's look a 36 fun and yummy and easy Christmas snacks your toddlers will absolutely love!
Helpful Tools to Make Christmas Snacks
Before we get started, I want to share some of the tools you'll find helpful to make some (but not all) of the snacks you'll read of below. These are just nice-to-haves, but not required at all.
Christmas cookie cutters – This is helpful because as you'll see later, it can be used for much more than cookies.
Kid's Rudolph dish set – includes plate, bowl, cup, fork, and spoon.
Christmas Character-Themed Snacks
Traditional Christmas characters that are also edible make for the perfect combo! They'll have a blast identifying all the little parts before they devour them. But then again, that's what makes eating fun!
But, you won't find any gingerbread cookies or hot chocolate on my list! This is just too predictable for my taste!
1. Reindeer Nutter Butter Cookies
This snack calls for ingredients you may already have on hand. A little goes a long way so if you plan on sharing, there will be enough to go around.
2. Mitten Sugar Cookies
Cookies are fun to eat and to make! So let your little one join you in the kitchen while you bake and add on the designs. Slow down and really enjoy it mama.
3. Snowman Ice Cream
This is a cool treat and very versatile. Get as creative as you want with toppings.
4. Animal Breakfast – An Easy Christmas Snack!
Who says pancakes aren't good for snacking? You can make your child's favorite animal with pancakes, fruits, and other finger foods. Try to add a variety of color and textures to make it interesting.
5. Santa Hat Mini Pancake Stackers
Strawberries, pancakes, whipped cream, and marshmallows are all you need. You can also swap the strawberries for another fruit like raspberries. Yum…
Christmas Snack Quickies
All of the ideas in this post are fairly simple to make. But are you really strapped for time mama? Whip these up for the kids in about 5 minutes and you're both happy campers.
6. Reindeer Graham Crackers
This is among the cheapest and simplest Christmas treat on this list. You can quickly put this together and even make your own snack mix. Oh wait, it's actually so simple that even your child could do it!
7. Snowman Snack Cups
Although popcorn is a great Christmas snack, it's actually not the popcorn itself that makes this so fun. It's the drawings you make on the outside of the cup!
8. Grinch Kabobs
A little red. A little green. What do you have? The Grinch! You can even go as far as to draw in his face (smiling of course).
These are great to share with the kids at parties because they're easy to just grab and go!
9. Christmas Tree Oreos
These can be downright addictive, but they are excellent edible decorations. Putting them on a stick makes them easy to distribute. You can wrap them individually to give them away or you can place them in a jar or vase-like container for the kids to come and grab. This beats any sugar cookie I've seen, right!
And, they are similar to Brownie Christmas Trees too!
10. Snowman Cheese Sticks
These are cute as ever! No preparing required here, just decorate the outside and it'll be a hit wherever you share these.
11. Snowman Snack Packs
If you're throwing a holiday party or going to one, this is a good snack to bring. Providing food you can "measure" brings peace of mind because you can plan enough snack packs for each child, plus extra. Whereas, you may find they all "disappear" to quickly before all the children have had a chance to dig in.
12. Rudolph PB & Js
Are PB & Js still a hit in your house? Then make it a Rudolph PB & J day!
Healthy and Easy Christmas Snacks for Toddlers
Are you tense after thinking about all the sugary snacks I've mentioned so far mama? Do you want to strike a healthy balance between the traditional Christmas treats and snacks that won't have your little ones jumping off the walls until New Years?
Totally understandable.
Sticking to healthy eating during Christmas time is hard enough just being an adult. But kids added to the equation usually means we just cave in and let ourselves feel guilty afterwards.
After all, it's only a couple of days, right?
Well, I'm here to give you healthy Christmas treat ideas that are far from bland and boring. Colors and all!
And, my favorite healthy Christmas snack is next!
13. Grinch Grape Snack
Trust me, if you bring these to any Christmas party, the other parents will thank you. It'll be refreshing to have healthy options on the table after all the other sugary desserts are gone.
These Grinches have Strawberry Santas hats! Too fun!
14. Portable Apple Sauce With Reindeer Face
Isn't this cute food? You can't go wrong with applesauce. It's healthy, tasty, and individually packaged.
15. Snowman Veggie Tray
If your kids are used to eating raw veggies on a regular basis, this Christmas treat is going to be a real fun for them at Christmas dinner. Arrange an assortment of all your child's favorite fresh veggies and let them have at it!
16. Christmas Egg in Holes
Instead of making an egg in "hole", choose your desired cookie-cutter Christmas shape. For example, you could use a tree, gingerbread man, or a present shape to carve out of the bread and pour your eggs into.
17. Snowman Oatmeal
Make a bowl of oatmeal and make it look like a snowman by adding in fruits, nuts, and raisins to make the face. Don't forget the nose!
18. Veggie Christmas Tree
This is more ideal for a group of kids. There's no way you can make this and not have the kids running up to pick it all apart and eat it. The key is to add lots of different colors. The more beautiful it looks, the faster they'll eat! 🙂
19. Orange Snowman
This snack has a good blend of fruit and dessert, but it mainly contains vitamin C. Yep, oranges!
20. PB & J Fruit Kabobs
Here's where your cookie-cutter comes in handy. You can cut the sandwiches into squares or you can use your cookie-cutter to cut it into different shapes before sliding them onto the kabobs.
21. Sandwich, Fruit, Veggie, and Cracker Mix
If your child is a bit older and it takes more to fill them up, a mini lunch is the perfect way to go. Each food item can be chosen based on what your child likes.
And make sure to check out the best Bento boxes for your kindergartner!
22. Peanut Butter Celery Reindeer Sticks
Do your kids like "ants on a log"? If so, give this a try. It's pretty much the same thing!
23. Fruit Christmas Tree
You can get really creative on this one. The leaves of the tree are obviously better off green. But when it comes to decorating your tree, there are no limitations. You can add fruits, nuts, raisins, or anything else your child likes. You can even make watermelon Christmas tress too!
24. Yogurt and Granola Reindeer
This is a filling and satisfying snack that takes only a couple of minutes to put together.
25. Kiwi Christmas Tree
Kiwi lovers will find this refreshing. Rather than do it all yourself, let the kids help out in the kitchen after you've sliced up all the kiwi. Allowing kids to prepare their own food helps them feel more connected to you, their food, and preserves their love for cooking.
26. Pita Tree Snacks
Mouth watering indeed! Bread-based snacks are super filling and you really can't go wrong with something as delicious as this is.
27. Fruit Candy Cane
This is a real treat because the strawberries in the fall is so refreshing. If you prefer something other than strawberries, you can also try watermelon or raspberries. Just make sure to choose a red fruit so it resembles a candy cane.
28. Snowman Bagel
If you're feeding an older child, you can use both bagel halves for the snowman's face and body. If you're feeding a younger child, you can use just half a bagel for the snowman's face.
29. Banana Snowmen Kabobs
Snowmen are popular, aren't they? Here is yet another way you can use simple foods to create a snowman using kabobs.
30. Snowman Juice Boxes
How many ways can you turn an ordinary juice box into a Christmas snack? Only by decoration! Voila! See how many different ways you can draw a snowman doing different actions. Here are just a few examples:
Melting
As Olaf from Frozen
Laughing
Singing
Waving
Rice Krispy Treats – Easy Christmas Snacks All Kids Enjoy!
31. Christmas Tree Krispie Treat
If you want a snack that's going to stand out, these are the pick! Like a gingerbread house, you can add any candies that you want to decorate your "tree".
32. Reindeer Christmas Krispie Treat
Once you have your krispies made, these can be made fairly quickly. They're also the perfect size.
33. Christmas Reefs
These donut shaped rice krispies look so good that you almost don't want to eat them!
34. "Gingerbread" Men
Rice Krispie on a stick makes eating them more fun. For chocolate lovers, this is the way to go!
35. Christmas Colored Balls
These reflect the real feel of Christmas just because of the colors alone. The ball shapes are pretty plain, but if that's what you like go ahead and try these out.
36. Rice Krispy Treat Presents With a Surprise
This is hands down the most creative Rice Krispie snack idea I've found. It's shaped as a present, but you can fill it with anything from more treats to real tiny gifts or notes. Just let the children know there are tiny gifts inside. Make sure the littles ones are supervised so they do not swallow something they shouldn't.
BONUS: Christmas Snack Mix
I just love this white chocolate Christmas Eve treat. This Christmas snack mix has pretzyls, Christmas M&M's, Rice Chex , Cap'n Crunch cereal, which chocolate and other yummy stuff for an excellent Christmas appetizer. Your kids will think it's Christmas candy and you will think it's just Christmas Chex Mix!
Easy Christmas Snack Ideas for Toddlers
There you have it! 36 different easy Christmas snack ideas for the kiddos.
I hope you enjoyed these Christmas recipes!
Just remember to have fun and laugh a lot. We all need those reminders to enjoy the journey and not live only for the destination alone. After all, life is the journey, right? Our little ones will carry the memories of us that we may forget.
So let's make 'em wonderful.
Enjoy each moment this Christmas mama.
And if you want even more snack ideas for toddlers, check out my healthy snack ideas post!
>>>85 Healthy Meal and Snack Ideas for Toddlers<<<
So tell me, what Christmas snacks will you prepare for your kids this year? Share with us in the comments below!