Best postpartum care plan for new moms so you can concentrate on bonding with your new baby!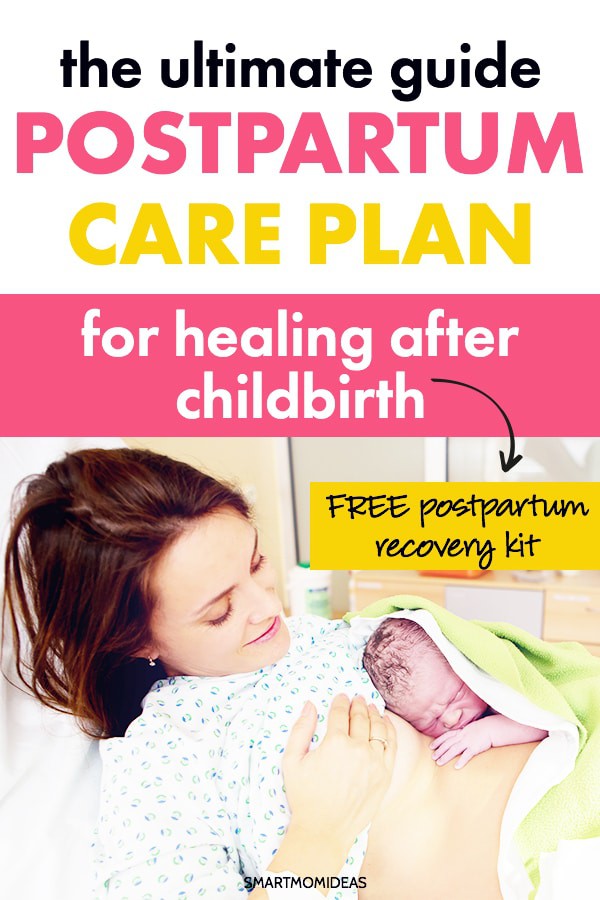 Congratulations!
Your baby is finally here!
And those first few days postpartum are exciting, scary and wonderful, aren't they?
I know you're immersing yourself right now in diaper changes, mastering breastfeeding, AND trying to get some sleep.
So I've rounded up 11 of the best postpartum recovery tips + a free postpartum recovery checklist for new moms to help take care of your postpartum body.
And remember, that this is especially important if you tore during childbirth or, like me, had a c-section.
***Plus, download your Postpartum Recovery Kit Checklist (no email sign up required) and follow along***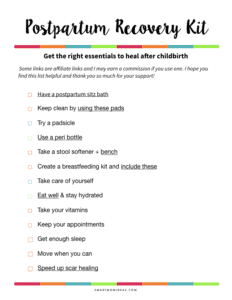 Postpartum Nursing Care Timeline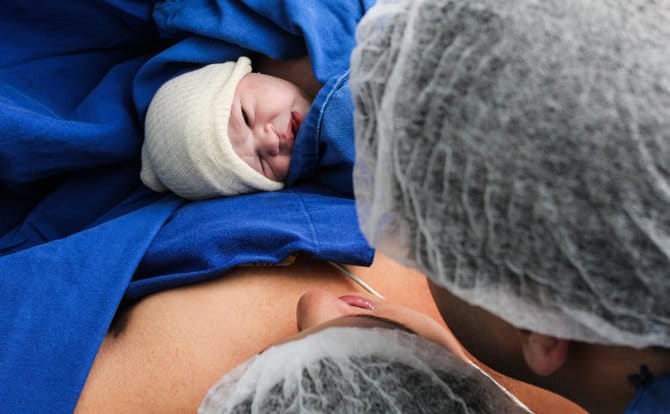 I know you're eager to know when you'll be back to 'normal.' But childbirth is a huge trauma. So give yourself plenty of time and be sure to see the appropriate medical professional if you have any concerns at all about you or baby.
For the first six weeks after childbirth you're officially in recovery – although some researchers think that recovery can take up to a year!
The first week after childbirth can be incredibly intense. Because you're going through all kinds of physical and emotional changes – and trying to master breastfeeding.
C-Section – If you had a c-section, you're likely to spend the first week in hospital recovering. I was in the hospital for four days since I had some complications during my c-section and ended up losing more blood than normal.
After 6-8 weeks you should be cleared to drive and start to do gentle exercise – but check with your doctor first and take it easy! Remember you've had MAJOR surgery!!
Vaginal Birth – It can take between 3-6 weeks for the bleeding and soreness to stop, depending on whether you tore. And if you had stitches they can take between 7-10 days to heal.
After six weeks you should be allowed to start exercising again – but be sure to check with your doctor.
And remember that some postpartum symptoms can take weeks or even months to appear – like postpartum hair loss.
Mama, listen to your body and remember that you're recovering from a major physical and emotional change! And adjusting to life as a mom.
The Postpartum Cure

Postpartum Care Plan For Your Lady Parts
1. Have a Postpartum Sitz Bath
I love a sitz bath for postpartum recovery – it can speed up postpartum healing quickly.
If you've never seen one, a sitz bath is a small portable tub that sits on the toilet. So you can immerse your lady bits in it safely and easily.
So why use a sitz bath?
A postpartum sitz bath will help dissolve your stitches, speed up healing by stimulating blood flow, AND helps keep you clean – because wiping can be painful!!
Soak yourself for up to 20 minutes a day – or whatever is comfortable.
And feel free to add whatever you like to your sitz bath – epsom salts, witch hazel, essential oils. Or you can add a specially formulated mix which is perfect for after childbirth.
If you'd like to try a sitz bath – you'll be glad you did, mama.
2. Keep Clean
OK, this is basic stuff, mama!
But if you've had a vaginal birth, you'll need to keep that area clean. Especially if you've had stitches.
So be sure to stock up on pads and pants to help your postpartum recovery.
You don't have to spend a lot on pads – a few of these basic packs will help keep you clean and promote postpartum recovery. Be sure to change these regularly – even if it means handing baby to a family member for a few moments!
And you can hold them in place with comfy cotton pants. Cotton is great because it's breathable so helps you stay comfortable and fresh. And you want definitely to avoid infection right now!
3. Try A Padsicle
If you're looking for more relief down there, why not try a padsicle?
A padsicle is basically a DIY cold compress for you lady bits with a few wound-soothing ingredients to aid your postpartum recovery.
You can use your postpartum pads. Just lay them out and squirt on some witch hazel and aloe vera on and pop in the freezer.
Caroline from Swaddles and Bottles show us how to make her favorite postpartum healing padsicles.
Get ready to say 'ahhhh,' mama!
4. Use a Peri Bottle
Postpartum peeing can feel like torture!
But a peri bottle can alleviate some of the pain and help keep you clean – especially important if you had stitches.
The hospital may give you one to take home, but they're a budget-friendly item so I'd recommend having one in your postpartum kit, just in case.
5. Take a Stool Softener
With everything you've just been through, mama, the thought of going to the bathroom might feel like torture.
So take the stool softener the hospital gives you.
And don't forget to stay hydrated – dehydration is going to make going to the bathroom even more uncomfortable!
If you're already struggling, try putting a little stool or bench under your feet to slightly raise them off the floor – this one is budget-friendly and you can reuse it when baby is learning to go to the toilet themselves.
6. Create a Breastfeeding Kit for Yourself
Just when you're recovering from the trauma of childbirth, you're also trying to master breastfeeding.
And while breastfeeding is natural, it's not always easy.
So try to find time in your busy day to throw together a breastfeeding kit. Keep it by the couch or your favorite breastfeeding chair so you'll have all the essentials to hand when you need them.
Things to include:
Nipple cream – The pain of cracked nipples! Invest in a good quality nipple cream. It's perfect for breastfeeding moms and you don't need to wipe it off before the next feed. Don't forget to put a tube in your diaper bag for when you're out and about.
I used this a lot when I was trying to breastfeed my twins. It did help relieve pain associated with breastfeeding.
Breast pads – These ones are great because they keep you dry and they don't show through clothing. A good rule of thumb is to stock up on more than you think you'll need – don't be stingy with them, mama. Cracked and sore nipples are no joke.
Breast pump – Overfull, engorged breasts happen when your milk first comes in. But having a breast pump on hand can help relieve the discomfort.
And it doesn't have to be anything fancy – a simple manual pump can be your new BFF! This one comes with a stand so you don't have to cry over spilt milk!!
Nursing Bra – A good quality nursing bra is a must! You will be breastfeeding a lot during the day and you want the proper support of a bra as well as the ease to breastfeed on the go.
Check out my recent posts on breastfeeding for more helpful tips:
6. Take Care of Yourself
I know you're busy, mama.
And I know you want to soak up every sweet second of baby smell – mmmm!
But take time to do some basic self care. The next five tips will help you create a self-care routine as a new mom.
7. Eat Well
Eating nutritious regular meals will help your body recover and satisfy your breastfeeding hunger.
Don't worry if you didn't stuff your freezer with 3 months of freezer meals before baby was born. Now would be a perfect time to invest in an instant pot. I got one for Christmas and it's been a game changer. Take a look at my review and 25 nutritious and delicious meals.
8. Stay Hydrated
This one is a huge!
Drinking enough water is essential for breastfeeding mamas and luckily, it also helps you lose that baby weight. Double win!
Keep a water bottle to hand all day – I love my Thermos water bottle and try to drink at least 8 a day.
9. Take Your Vitamins
Many doctors will recommend that you keep taking your prenatal vitamins – especially if you're breastfeeding.
This one is recommended for before, during and after pregnancy.
And as a bonus, taking your vitamins can help with postpartum hair loss – yes, that's a thing!
But be sure to check with an appropriate health care provider before you take any vitamins or supplements.
10. Keep Your Appointments
I know you're busy, tired and stressed. But you must attend your postnatal checks. And don't be afraid to ask about anything you're concerned about.
11. Get Enough Sleep
I know this is a tough one!
But you're going through huge physical and emotional changes and your body needs sleep. Don't be afraid to let family and friends know how they can help. And please don't think that you have to do everything.
Postpartum C-Section Recovery
A c-section is major abdominal surgery.
And it can leave you feeling broken.
I want to share a couple of my favorite tips here.
12. Move When You Can
Try to avoid exercise until you're given the go ahead by your doctor, usually at the 6-8 week mark.
Walking for healing is important though. My husband and I used to strap on our babies and walk around the neighbourhood after dinner. And walking is great for losing that baby weight too.
13. Speed Up Scar Healing
Five years on I can still see my scar, but thankfully it's less noticeable because I took some time to massage my scar after my 6 week check up.
You can use ordinary honey. But there's a less messy option, too.
A c-section is no walk in the park. But the pain doesn't last forever mama – and then you can wear that scar with pride!
Life-Saving Postpartum Recovery Tips
There you have it – 13 fast postpartum recovery tips for healing after childbirth.
You've just done an amazing thing, mama – please remember to take time to heal yourself.
I hope these tips help you recover from childbirth and enjoy your precious first few weeks with your new baby.
Don't forget to pin for later!Over to you – what's the most difficult thing for you about recovering from childbirth?
Tell me in the comments and don't forget to pin me!