Your postpartum recovery timeline doesn't have to be long if you use sitz bath recipes!
Your baby has finally arrived!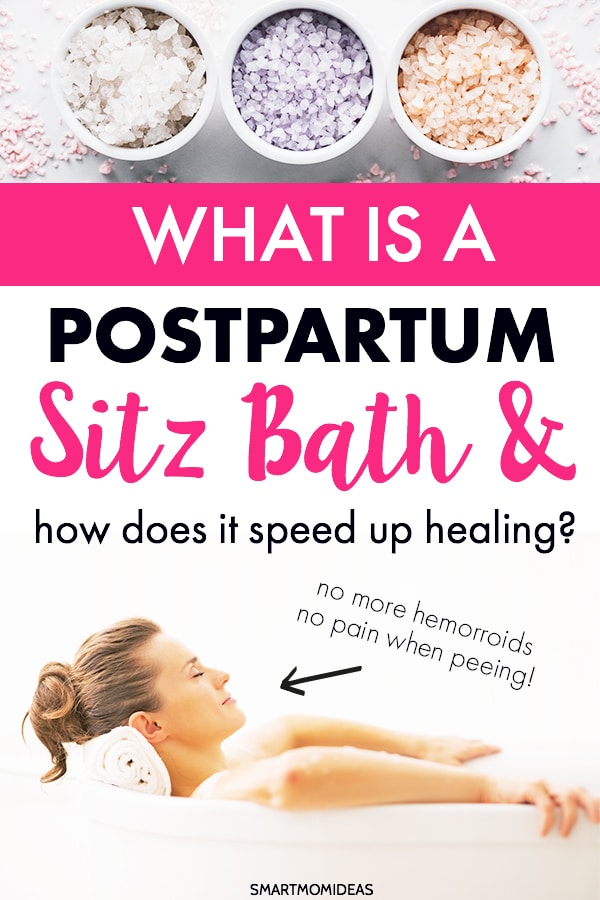 Congratulations, mama! Just like many mothers out there, are you looking for a way to relieve the pain, inflammation, and find a way to aid your body in healing faster after giving birth?
Diaper changes, 'round the clock feedings, cleaning, meal preparations, and sleep deprivation are extremely daunting during the immediate weeks following delivery. There are many aspects to even approaching normal again.
Healing after childbirth takes time.
For some women, tearing during labor left stitches and pain when peeing. Or having to use forceps to deliver or even having an episiotomy can leave women in utter pain for weeks.
While you can take Tylenol and even use padscicles to combat the pain, there is something you can do to speed up your recovery and find relief faster.
A postpartum sitz bath may just be what you need to heal faster and relieve your pain each day.
What is a Sitz Bath?
If you're unfamiliar, a sitz bath is a small portable tub which is designed to sit on the toilet. It allows you to immerse your hips and buttox in what is essentially a mini bath. You can use an above-the-toilet sitz bath to make it easy and safe to do.
Soaking in a sitz bath can help with you to recover faster after your delivery.
Make sure not take a postpartum sitz bath until you have been advised by your doctor to do so.
Why Are Postpartum Sitz Baths Beneficial?
1. It Helps Dissolve Stitches
If you had a vaginal birth which required minor surgery (stitching), allowing yourself to soak in water will help the stitches to dissolve. It won't happen overnight but it will help them to dissolve.
2. It Speeds Up Overall Healing
A sitz bath helps you to regulate the blood flow in that area of the body which, in turn, aids in faster recovery.
3. It Helps Keep You Clean
Immediately after giving birth, it's not recommended to sit in a normal bath to prevent infections. It's tough not being able to thorough clean your perineal area with soap. Dabbing helps, but it doesn't cleanse well. A sitz bath helps to cleanse the area, making it more difficult for bacteria to grow and multiply.
4. Helps With Peeing After Childbirth
If you have a vaginal birth, peeing after childbirth isn't fun. It hurts, it stings and it's uncomfortable. Using a sitz bath as part of your postpartum recovery will benefit your peeing! Peeing will be less painful.
5. It Helps Relieve Pain
The sitz bath helps to sooth the pain from your delivery. If you're itchy and inflamed, go ahead and give this a try because it may help!
6. Soothes Hemorrhoids
No one wants to talk about what happens down there, but it must be talked about! Haemorrhoids after childbirth are real. You'll be constipated as you get used to the breastfeeding demands your body places on you. Not to mention the pain medications you will be taking will add to constipation. And that just leaves you itching…and itching and moving around when you're seated! Good times mama!
A sitz bath for hemorrhoids helps relieve the itch down there so make sure to try it out.
7. It's Relaxing
Relieving your pain alone is a good enough reason to try the sitz bath! But it's also incredibly relaxing.
For some postpartum mommies – especially me – just bending over is painful or uncomfortable. That's another reason why the sitz bath is a great option if you don't want to lift your legs or get into a squatting position in your bathtub.
What Do You Put in a Sitz Bath?
Allowing your bottom to soak for 20 minutes a day can be relaxing and healing in itself. But you can also add herbs and salts that are designed to help you heal faster. Just think of it like a little mini-vacation where you get to treat yourself. 🙂
If you had no tearing then you can use epsom salts and essential oils, but if you tore during delivery, I suggest you avoid the essential oils until you feel more comfortable.
Here are some of the herbs and oils you can out into your bath.
Teas
Organic teas and herbs have been used traditionally to treat women and help heal their perineal area.
Epsom Salt
Are your joints achy and you just find it hard to loosen up? Are you constantly tense? Toss in some epsom salt which can help you soothe and relax those achy joints and muscles!
It's cheaper if you buy in bulk too!
Essential Oils
1. Chamomile
Chamomile oil offers a natural way to get fast relief from the pain of hemorrhoids. You can drop the oil directly into your bath or apply it directly to the pain area.
2. Tea Tree Oil
Tea tree oil has anti-inflammatory properties that can do wonders when it comes to healing. You can use a cloth, cotton ball, menstrual pad to soak up the oil and apply it to the infected area.
3. Lavender
Many of us are quick to grab the bottle of IBUProfen to reduce pain without an afterthought. But did you know that Lavender oil has an amazing impact on the body in its ability to relieve pain?
According a study, it actually has a greater ability to relieve pain than IBUProfen! However, that doesn't mean to stop taking IBUProfen.
Witch Hazel
The benefits of witch hazel are more than amazing. Here are just some of them.
Fights infections
Reduces skin irritation
Fights acne
Protects against skin damage
Preparing a Postpartum Sitz Bath – DIY Version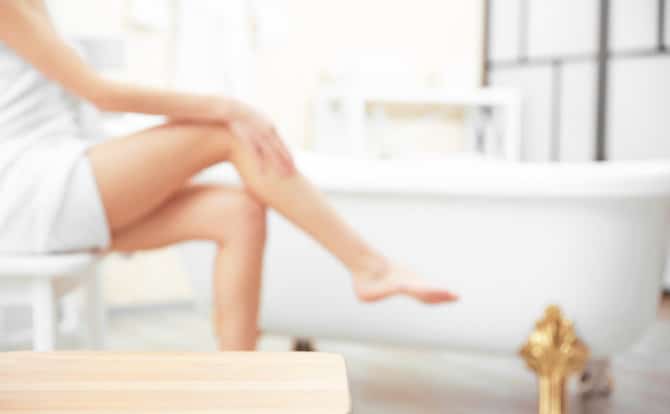 The nice thing about a sitz bath is that it's something you can do yourself, and it's quite easy!
Lift the lid on the toilet seat. Place the sitz bath securely around the rim of the toilet seat so it does not move. If you don't have a sitz bath, you can add water to your clean and sterilized bathtub. Make sure that when properly cleaning your tub that you use bleach and rinse it out very well.
Fill the sitz bath – or bathtub – with warm water (some women prefer cold – if that's you, go for it!). Make sure the temperature of the water is comfortable for you. Put in enough water that it covers your perineum. Don't fill the water to the top of the bath or as you sit down, it will overflow.
Pour in the herbs and medicines you prefer (as long as your doctor has approved).
Sit down gently onto the sitz bath slowly.
Soak in the sitz bath for about 20 minutes. You can do this once or twice per day to get relief if advised by your doctor.
If you need any help sitting or standing, ask a family member or friend to assist you!
To avoid the spread of germs, always make sure that your plastic sitz bath is thoroughly cleaned each time before and after use.
If your postpartum recovery has been a rocky road and all that you've tried thus far has not brought the relief you wanted, try this! Of course, speak with you doctor or midwife first.
The Quick Postpartum Recovery
I want you to have a quick recovery and get back to feeling well again, mama. Trust me, the pain doesn't last forever!
Was this helpful? Comment down below on your experience using a sitz bath after delivery. I'd love for you to share your experience and tips with the rest of us!