Grab these awesome goodie bag ideas for your next kids' birthday
Are you getting ready to plan a birthday party for your little one?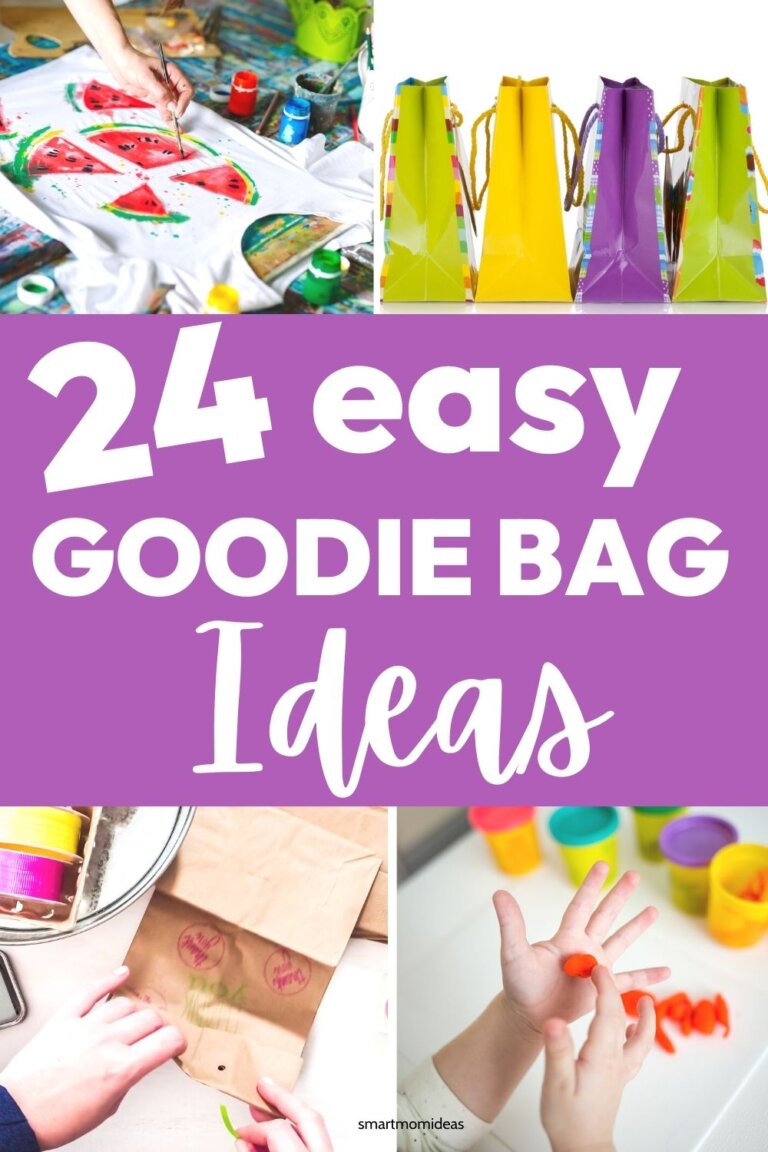 Decorations? Check.
Cake? Check.
Presents? Check.
Guestlist? Check.
Invitations? Check.
Goodie bags?
Uh oh.
Parents put a lot of time and effort into their child's birthday party because we want it to be a memorable and fun day, but it takes a lot of planning!
Part of that includes sending the guests home with a goodie bag to thank them for joining in this important celebration.
If you're wracking your brain trying to come up with goodie bag ideas, I've got you covered!
Check out these awesome bags as well as some amazing ideas of what to put in them
Best Goodie Bags
Before you can choose party favors for kids, you need something to put them in!
Here are my top picks for the best birthday goodie bags.
Plastic/Cellophane Treat Bags

Oh, the classic plastic treat bag. You can't go wrong with this simple goodie bag – and they come in so many different colors and styles!
1. Paper Gift Bags
Paper gift bags have a really classy look for goodie bags.
And they can be used for birthday gift bags if you have leftovers!
2. Color-Your-Own Goodie Bags
Chances are that a plastic goodie bag will get tossed (but at least birthday gift bags may get reused!).
If you want to cut down on waste and give the birthday guests something memorable to take home, use these color-your-own goodie bags that they can customize!
3. Drawstring Goodie Bags
I love this goodie bag idea because it's simple and unique!
These drawstring bags are perfect for kids party favors as well as homemade baked goods, popcorn, and more.
4. Non-Woven Polyester Treat Bags

Do these look like little reusable grocery bags to you? I thought so too!
These cute little bags come in a variety of colors and can be used to send home party favors for kids.
They can also be reused as lunch bags or mini totes.
5. Cloth Goodie Bags
For older kiddos, check out these burlap cloth bags with a peep-hole that you can use for birthday favors. You can personalize them with some cloth paint or sharpies.
Write the guests' names on them or create a tic tac toe bag for the guests!
6. Unique Party-Themed Goodie Bags
I love throwing birthday parties with themes!
Amazon has a huge selection of theme-specific goodie bags you can use.
I got a kick out of these Minecraft loot bags.
My son would enjoy these as he's still a huge Minecraft lover.
Here's what I did for a quick Elf on the Shelf Idea last Christmas!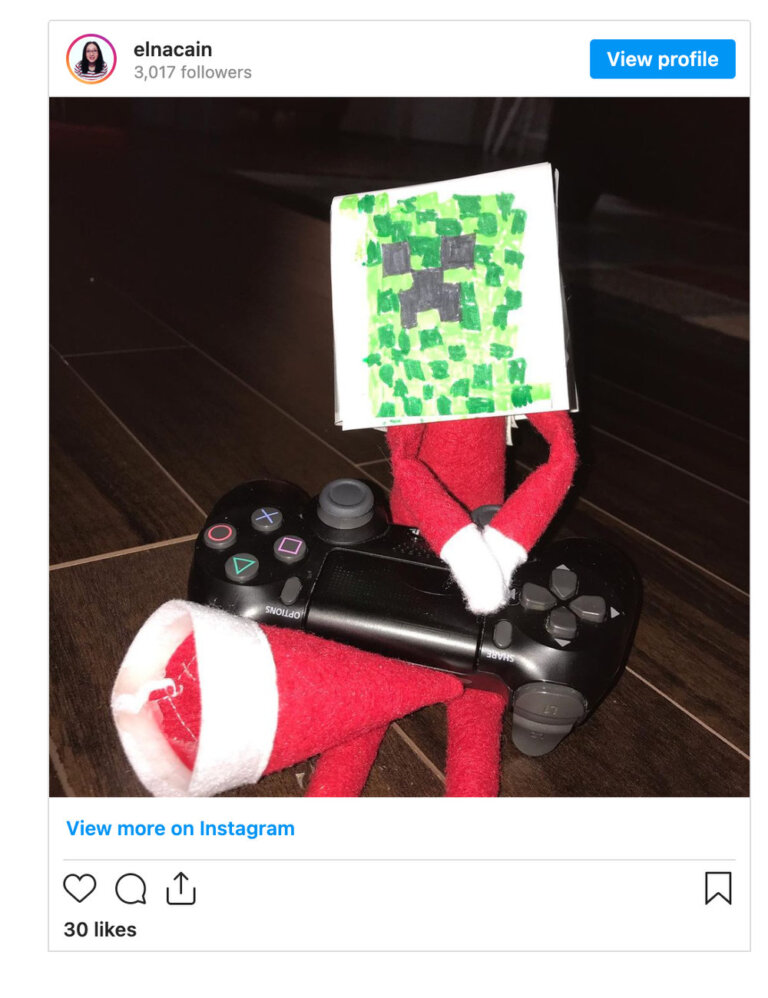 Here are more themed loot bag ideas you can try:
7. Small Metal Buckets
Who says you have to use a bag for kids party favors? Check out these small metal buckets with a chalkboard, which can hold just about anything!
This is perfect if your child's birthday falls in the spring time.
You can have a gardening loot bag or a bug-inspired goodie bag with these metal buckets!
8. Drawstring Backpack Goodie Bags
How versitle!
You can turn your goodie bag into a backpack with this goodie set!
This would be cool for a slumber party party favor or if you had a movie night out birthday party.
Either way, check out other backpack goodie bags:
9. Reusable Plastic Tumblers
One birthday goodie bag I gave to my twins' class was a reusable plastic tumbler.
It was perfect. I could stuff a few cool small items as a party favor!
Plus, the goodie bag could be used as a drinking cup!
10. Beach Buckets
Don't you love playing in the sand with some sand castle buckets?
Well, why not use them as goodie bags? You can put tons of party items into each sand beach bucket and if you have a beach birthday party, this idea is perfect!
What Do You Put in Goodie Bags?
Now that you have some amazing goodie bag ideas for your next birthday party, what are you supposed to put in them?
The beauty of kids party favors is that the sky is the limit! You can put anything in them, really.
However, to give you some inspiration, here are some awesome goodie bag ideas to help you figure out what to give to the party guests:
(PS: Most of them are party favors that are not junk! Bonus!)
11. Playdough
I love how those little metal buckets are used for small items such as playdough.
Playdough is such a great kids party favor for younger children – it's cheap and fun!
12. Flower Pots and Seeds
If you are looking for party favors that are not junk, consider sending the party guests home with a small flower pot and some seeds.
They can plant them during the party, and you can personalize the pot if you have time.
13. Teacups
For older kids, like tweens and teens, you can have a tea party-themed birthday and send the guests home with their own teacups and teabags.
You can use cloth bags to pack them up!
14. T-Shirts
I love the idea of combining birthday party activities with birthday favors!
Have each child design and decorate their own t-shirt that they can take home with them.
15. Scavenger Hunt
To keep the little ones busy during the birthday party, hide treats around your home and yard for a fun scavenger hunt!
They can use their goodie bags to collect their prizes.
Some items to hide:
Bubbles
Slime
Costume jewelry
Candy
16. Pinata
The same thing can be done with a pinata!
Although, I would make sure you have some sort of goodie bag at the ready since kids can become quite competitive during this game, and you don't want some kids going home with more treats than others.
17. Sleeping Masks
If you're planning a sleepover birthday for your kiddo, why not put a sleep mask in their goodie bag? You can really use goodie bag ideas to work with the party's theme!
18. Thank You Note
Kids party favors are really just a way for you and your child to say "Thank You" for attending the birthday party.
Have your kid write up and decorate some thank you notes to include in the goodie bag.
19. Summer Toys
If you're throwing a birthday party in the summer, give the guests some fun summer toys as birthday favors.
Think sunglasses, bubble wands, mini beach balls, sidewalk chalk, and jump ropes.
20. Fidgets
Fidget toys are a hot commodity nowadays! Your kid's birthday party is sure to be a hit when you send the guests home with some brand new pop-its and spinners.
Trying to throw a party on the cheap?
Grab a fidget pack like this one and split them among the goodie bags.
If you want to throw in another birthday party activity, have your child and guests trade to make sure everyone gets what they want!
21. Temporary Tattoos
There are some goodie bag traditions that will never go away, like giving out temporary tattoos!
I'm sure at some point in your life you scored a temporary tattoo or two from a birthday party.
22. Homemade Slime
If you're more of a DIYer, make some homemade slime for your goodie bags.
Will your guests' parents hate you? Maybe, but the kids will love it!
Want to include another birthday activity?
Get the kids to make the slime themselves! Just provide the containers so they can take their creations home.
My daughter loves making slime! She makes it two or three times a week and loves to try different slime recipes!
23. Books
You can send the party guests home with a small book for them to enjoy. Throw in a joke book, fact book, or a "Would You Rather" book.
Personally, I love the Try Not to Laugh Would You Rather: Ew Edition. Yes, it's as gross as it sounds! (But so much fun!)
24. Craft Kits
Craft kits are fun, cheap, and the perfect kids party favor. You can look for little woodshop kits where the little ones can build tiny houses, birdhouses, planes, boats, and more!
25. Playdate Coupons
I thought this goodie bag idea was so cute! Include a coupon for a future playdate with your kiddo.
This is such as great way to to show the party guests that they are more than welcome to come back for more fun!
How Many Items Are in a Goodie Bag?
How many items you put in each goodie bag is completely up to you! However, if you're looking for affordable goodie bag ideas, stick to about 3-5 items in each bag.
Just remember that it's better to have a few fun items the kids will actually use instead of ten cheap items they won't even play with.
Plus, if you do something like t-shirt decorating or slime-making, don't worry about putting too many other things in the goodie bag.
Overall, it's important not to go overboard with goodie bag ideas. Look at your budget and consider the other things you have to buy for the party: decorations, food, drinks, games, activities, cake, etc.
Don't worry about being that mom that gives the "best" goodie bags. Most of the time, little birthday party guests have so much fun at the actual birthday that they don't really pay attention to what they are bringing home!
Let's Party!
Ready to throw an awesome birthday party for your kiddo?
Now that you have some amazing goodie bag ideas, you are good to go!
Now I want to know: What theme are you planning for your little one's birthday party? How old are they turning? What are you going to put in their goodie bags?
Let me know in the comments!