Get some amazing and cute 2-year-old birthday party ideas on a budget!
Although it seems like yesterday that my twins were 2 years old, I do miss throwing birthday parties for kids!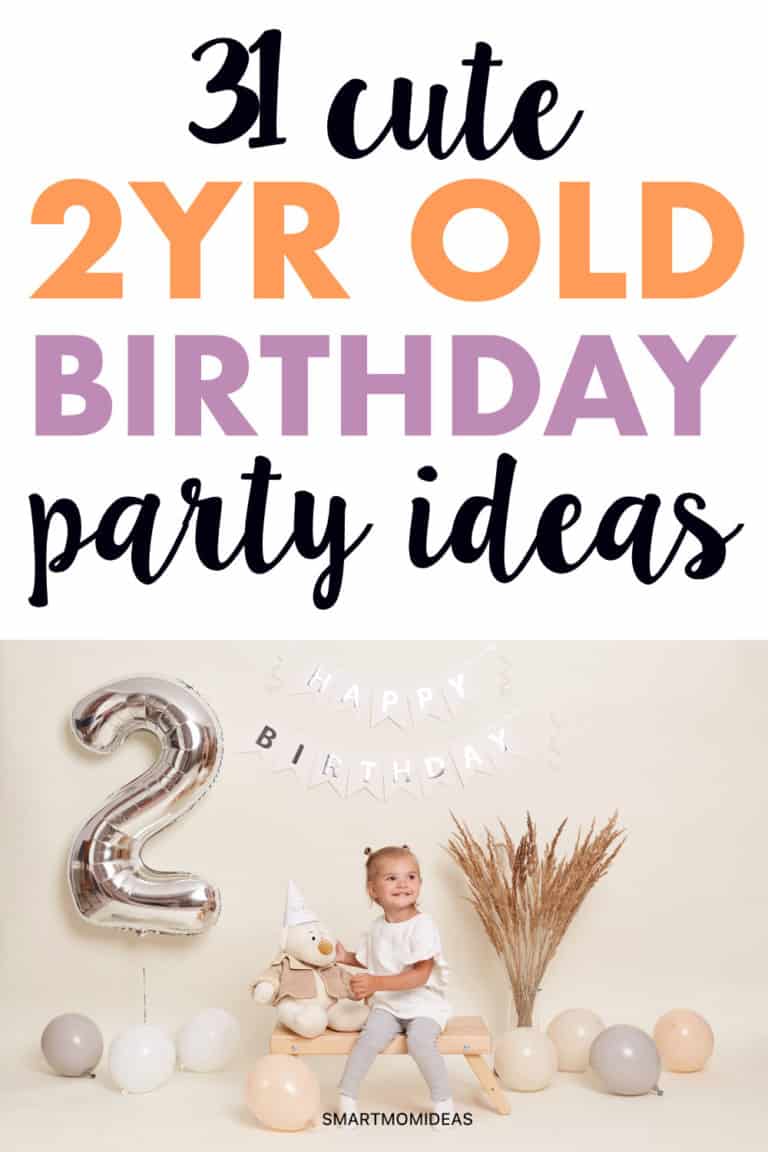 We still have fun every year, but there's something about toddler birthday ideas that are super fun to put together.
I remember trying to find ways to make each birthday party special, but there's something about your little one turning two that really motivates you to throw an awesome bash.
It's probably because this is likely the first year that they will remember their birthday party.
So, if you have a little one that is turning 2 years old, you're probably wondering how you can make this year super special.
Don't worry!
I have some amazing 2 yr old birthday party ideas to inspire you, as well as some tips, food, and activity ideas.
Ready to check them out?
2 Yr Old Birthday Party Ideas
These party ideas for your toddler will sure be a hit!
1. Petting Zoo
To keep your little ones busy with an amazing birthday play activity, you can hire a petting zoo!
Check on Google to find one in your area.
Most of them will bring smaller animals, such as chickens and rabbits, for the little ones to pet and hold.
2. Two the Moon
Having a space theme is a perfect 2 yr old boy birthday party idea, but can definitely be used for girls as well!
You can decorate using moons, stars, and rocket ships.
3. Bouncy Castle
What do you get when you combine 2 year olds with a bouncy castle?
Tons of fun!
You can also work in a ball and bouncy theme around the bouncy castle, creating a ball pit with a child's swimming pool and balls.
4. Two Wild
I love animal-themed birthday parties, and they make for great birthday party ideas for a 2 yr old girl and boy.
This one focuses on wild animals to utilize the play on words!
5. Bubbles
Grab a bubble machine and throw a bubble birthday party! You can even give the party guests their own bubble wands or a bubble wand set to join in the fun.
6. Two Sweet
If you're looking for birthday party ideas for a 2 yr old girl, check out this Two Sweet theme.
You can decorate using any color you want and serve cupcakes instead of birthday cake.
7. Taco Two-sday
Your child's birthday doesn't have to be on Tuesday to enjoy this Taco Two-sday 2 yr old birthday party idea!
Although if your little one's birthday is on a Tuesday, all the better!
8. Art
Spark some creativity by throwing an art birthday party.
This can include finger painting, crafts, face painting, and more!
9. Circus
Circus birthday parties are super fun for 2 yr olds. There are some really cool circus party decorations you can grab to make the day exciting!
10. Tea for Two
This is one of the sweetest birthday party ideas for a 2 yr old girl – have a little tea party!
You can serve beverages in teacups and cupcakes, and finger foods. Purchase a kid's tea set for the party guests to play with.
11. Rainbow
A rainbow birthday party is a perfect 2 yr old boy birthday party – and great for girls too!
It's colorful and fun, and you can incorporate a variety of different foods and activities to fit the theme.
12. Pool Party
I'm not saying you should let a bunch of 2 yr olds run wild in a pool, but you can throw a safe and fun pool party by using kids' pools, sprinklers, and water toys.
13. Chugga Chugga Two Two
This is definitely one of the cutest 2 yr old boy birthday party ideas I've seen!
You can do so much with a train theme, such as making cardboard box trains for the party guests to decorate and play with.
14. Little Boo is Two
If your little one happens to be turning 2 around Halloween, or you just want to throw a Halloween-themed birthday, check out this 2 yr old birthday party idea!
You can stick to the traditional oranges and greens associated with this holiday or get creative with bright pinks and blues.
15. Superheros/TV Characters
I'm sure your 2 yr old is obsessed with a TV or movie character – so why not use them for your 2 yr old birthday party ideas?
You can throw a Bluey birthday party or focus the theme on your little one's favorite superhero.
16. Dinosaurs
For some reason, there's hardly a toddler out there who doesn't love dinosaurs!
There are tons of super cute dinosaur birthday decorations out there to pull off this fabulous birthday party idea for a 2 yr girl or boy.
17. Two Fast!
When it comes to 2 yr old boy birthday party ideas, I love this race car-themed one!
You can use black and white balloons along with checkered decorations to make this birthday party super special.
18. Puppy Pawty

If your little one loves dogs, you can throw a Puppy Pawty!
Some of the best decorations you'll find for a Pawty are actually for pets – but they are super cute and perfect for a dog-themed birthday party for your kiddo!
19. Summer Camp
Set up a mini summer camp to celebrate your toddler's birthday!
You can include activities such as making s'mores and use trees, tents, and logs in your decorations.
Oh, and you can make "camper" shirts for each guest!
20. Two-nado
I love this unique 2 yr old birthday party idea!
You can really get creative with this weather-themed party, like decorating a cake to look like a tornado and making rain clouds out of balloons.
21. Farmyard
Around the age of two, little ones are starting to learn skills such as how to identify farmyard animals and know what sounds they make.
So why not throw a farmyard birthday party?
Grab some gingham tablecloths and some barnyard animals, and you're good to go!
Birthday Play Activities
You don't need to have a particular theme to throw the perfect 2 yr old birthday party – but you do need some fun activities!
Here are some birthday play activities you can use to engage and entertain a group of 2 yr olds:
22. Musical Games
There are tons of fun games you can set using music!
Here are some classics you should try:
Musical Chairs
Freeze Dance
Musical Bumps (like Musical Chairs but have the kiddos sit down on the floor instead of a chair)
Dance Contest
23. Scavenger Hunt
Kids love exploring, and you're sure to keep party guests busy by setting up a scavenger hunt.
Hide small items inside or outside of your home (one for each child) and give them a list of what they need to find.
Let the party guests keep their treasures for their goodie bags!
24. Crafts
There are many different 2 yr old birthday party ideas when it comes to crafts. Setting up a craft is a great way to get the kiddos to sit for a few minutes.
Here are some easy crafts you can try:
Decorate party hats
Masks
Paper plate crowns
Sock dolls
25. Obstacle Courses
Get the party moving by setting up an obstacle course – you can do this inside or outside.
Use chairs, pillows, tunnels, and more to create a challenge for the party guests.
You can even set up a game of Floor is Lava!
26. Races
You can also keep the kiddos moving by having some fun races for them to participate in:
Balloon and Spoon Race
Balloon Waddle Race (have the kids hold a balloon between their knees)
Bottom Shuffle Race (by scooting on their bottoms)
27. Fun Games
Of course, you can't have a birthday party for kids without some fun games!
Here are a few classics:
Duck Duck Goose
Simon Says
Hot Potato
Pass the Parcel (wrap a small gift in multiple layers of wrapping paper and whoever is "caught" with the gift has to unwrap it; whoever unwraps the last layer keeps the prize)
Hide and Go Seek
Pin the Tail on the Donkey
Birthday Party Food Ideas for 2 Yr Olds
If you're going to have a birthday party for your 2 yr old, you can't forget the food!
Here are some easy and budget-friendly ideas you can use:
28. Cupcakes
Instead of worrying about getting a cake big enough for all of the guests, you can make individual cupcakes.
This way, everyone gets one!
29. Finger Foods
When serving up food to 2-year-olds, you don't want to make anything too messy.
Some great finger food ideas include:
Mini pizzas
Mini corn dogs
Chicken fingers
Hot dogs
Crackers and cheese
Fruit
Veggies and dip
Popcorn
30. Drinks
When you're feeding toddlers, try to avoid giving them anything too sugary – which can be hard when trying to decide what drinks to serve.
Here are some low-sugar and healthy ideas:
Water
Naturally flavored water (with real fruit)
Smoothies (not premade ones, they are loaded with sugar!)
Fruit punch (made with natural juices)
Milk
31. Don't Forget the Grownups!
When you're throwing a birthday party for toddlers, it's likely that parents are going to stick around to keep an eye on their little one and help out.
Make sure the adults get some grub, too!
Pizza is the perfect party food, but you can also do sandwiches or a bbq.
2 Yr Old Birthday Party Tips
To make sure the birthday party goes off without a hitch, here are some useful tips:
Have Interactive Activities
To keep little ones occupied at a birthday party, it's best to have interactive activities set up.
No matter the theme you choose for your 2 yr old's birthday party, here are some fun activities you can have ready:
Water tables
Cookie decorating
Sensory bins
Sidewalk chalk
Having interactive activities set up will ensure some "downtime" during the party between games, activities, cake, and gifts!
Set Up Stations
Once you decide what activities you want to include in your 2 yr old's birthday celebration, set them up in different stations.
You can set up some interactive activities in one area and coordinate a race in another.
This is especially helpful if you have a ton of guests – this way, everyone will stay busy and have fun!
Keep the Party Contained
Try to contain the party in one area of your home. The last thing you want is to have a group of 2 yrs old running through every room!
Even if you have to use a couple of rooms, make sure there are designated party areas.
Happy Birthday, Little Ones!
Your child's second birthday is such a special time, and I know that these 2 yr old birthday party ideas are going to inspire you to throw the best bash ever!
Just remember that you don't have to go outside of your means when planning a birthday party for a toddler.
Yes, they will remember this birthday, but they're going to remember the fun more than the money put into it.
Have fun!
Don't forget to check out my other posts for amazing birthday ideas:
Now it's your turn – How do you plan on celebrating your little one's birthday? Let me know in the comments.
And don't forget to pin!